by

Eric Barton

|

October 31, 2023
A Visit to the New Orlando—The One That's a Dining Destination
Flamingo contributor Eric Barton dines with the James Beard Foundation and introduces the newest side of O-Town.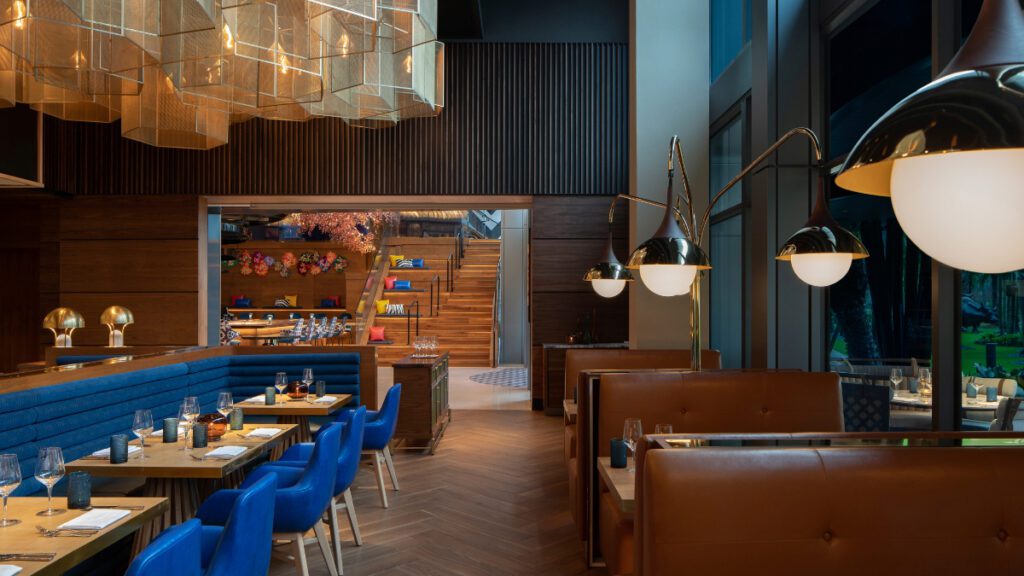 The outdoor setting looked like a scene captured in some food influencer's post on Instagram: big circular tables covered in linen as thick as duvet covers, elaborate floral centerpieces, twinkly lights dancing overhead in a light breeze, a surrounding garden full of sculptures that towered above the princess palms. The host was the James Beard Foundation, and the chefs preparing the tasting menu could name-drop Michelin-starred restaurants where they trained. Sounds like something that would happen in Naples or Palm Beach. But no, this was the land of Mickey Mouse.
These days, Orlando's tourism folks are recasting the city as a place with serious dining credentials. Which is why, for locals perhaps, it didn't seem out of place for it to host a James Beard dinner last weekend on the grounds of the Lake Nona Wave Hotel.
Admittedly, I might seem like an unlikely guest to be offered a seat at a James Beard dinner, considering that in this publication last year I asked this question: Can We Really Salvage the James Beard Awards? That article begins with an anecdote from an Orlando food writer who questioned why Orlando, and Florida overall, keeps getting roundly snubbed by James Beard.
So why did James Beard land in a city that it has for so long treated like the ugly stepchild? And why would I show my face at an event for an organization that I said had a "built-in bias" baked into the process?
After I got an invitation to the dinner from the folks who run the Wave (a fairly stunning hotel full of art and pretty impressive tech, by the way), I coincidentally got an email from the Visit Orlando tourism board that described the city as having an "incredible and growing food scene."
No doubt, the city most people associate with overpriced and oversized theme park junk food has gotten a whole lot more attention lately for its more delicate approach to dining. That's in large part thanks to the 2022 arrival of the Michelin Guide, which has so far recognized 46 Orlando restaurants, four with stars, 11 with its affordable-but-good Bib Gourmand designation and 31 listed as recommendations. My initial skepticism quickly gave way to curiosity.
Like it did in Miami, the arrival of Michelin will likely fundamentally change the way high-end restaurants are conceived in Orlando, with more of a focus on trying to attract attention from the guide. I asked about this when, at the James Beard dinner, I found myself at the same table as Nathaniel Brethold, director of restaurants, bars and events for Coraltree Hospitality, which runs the Wave Hotel for its developer, Tavistock. Brethold says it would be a mistake for a restaurateur to be thinking about Michelin stars while opening a restaurant. But when his company installed two restaurants in the hotel, they brought in talented chefs from around the country with experience in restaurants with Michelin stars. And in the first year the hotel opened, one of its restaurants, BACÁN, received a recommendation from the guide. From a meal I had at a second restaurant on the property, Nami, which I'd argue is even better positioned to receive attention from Michelin, especially considering its culinary director, Freddy Money, just earned a star this week for his Atlanta restaurant, Atlas.
Also seated at my table at the James Beard dinner was Izabela Wojcik, director of the Friends of James Beard Benefits, the foundation's arm that puts on these traveling events. I asked her if Orlando's efforts to recast itself as a place to travel for its culinary scene was a factor in the foundation's decision to hold the event here. It's coincidence, she insisted, since mostly she's looking for great venues that align with James Beard's goals, like sustainability and an emphasis on locally sourced ingredients.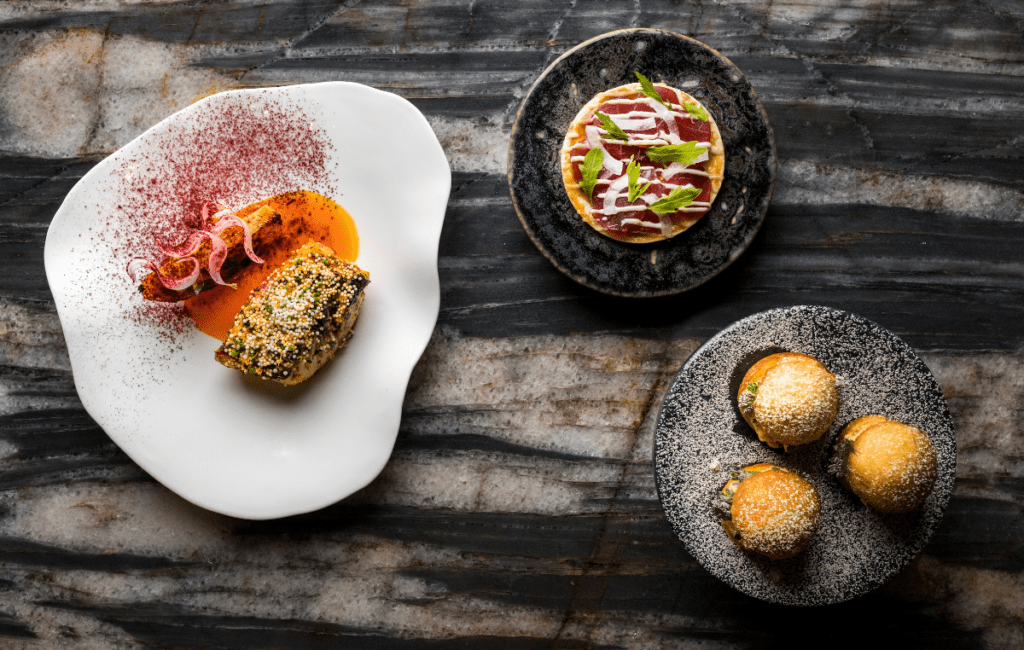 The $180-a-plate dinner, as it turned out, was a real journey into creativity and took some chances, especially considering the event hosted 90 people. The hamachi arrived with ribbons of daikon looking like calligraphy. The duck breast came well spiced, with a crispy bit of crackling skin rising on top. The wagyu steak came dressed up with a mushroom it wore like a Kentucky Derby hat, with a pink daikon radish on the side cut into mouse ears.
That little nod to Mickey gave most of us at the table a laugh. The person who created that dish was Nami's chef de cuisine Jason Beliveau. I had met him the night before, and we talked about the restaurants he had worked at from L.A. to New York, including his stage, where he toiled away at menial tasks without pay, just for a shot to work the salad station. He was working in New York when a former mentor called to tell him about the job in Orlando. "Orlando?" he asked with a laugh. Then he heard about what they're trying to do, hopefully creating this new mecca of well-trained chefs and collecting, if they're lucky, Michelin stars.
Las Vegas did it, not that long ago, redefining itself not just as a gambler's destination but also as a place you go to eat. Perhaps now it's Orlando's turn to do just that, to become a city known as a foodie's travel destination.
Most likely the James Beard Awards will continue to snub Orlando and Florida overall. And maybe that's fine, because those of us who know where good food goes on plates will continue to enjoy the spoils minus the crowds that follow a James Beard nomination and relish in the knowledge of that great little-known restaurant just down the street from Cinderella's Castle.