by

Emilee Perdue

|

February 17, 2023
Let Inspiration Strike at the Hotel Palms in Atlantic Beach
This boutique hotel combines coastal culture, international art, design and all around good vibes to create a local experience unlike any in North Florida.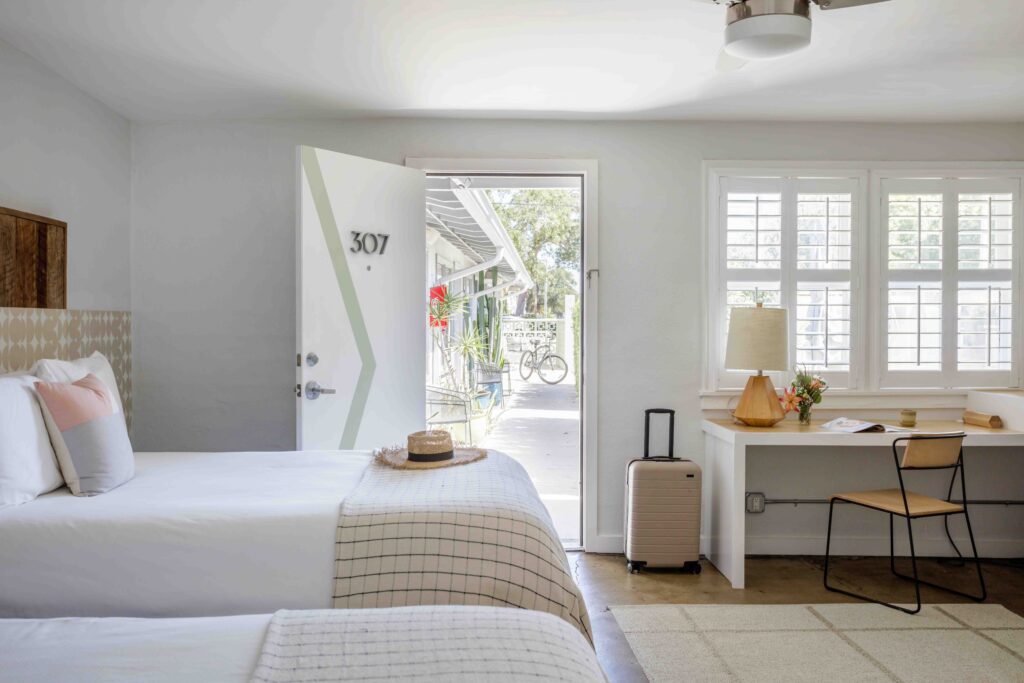 It's funny how something as simple as traveling to a new city can refuel our creative energy and provide a fresh take on those things most familiar. That's exactly what happened to North Florida native Greg Schwartzenberger after 2014 trip to Austin, where he and a friend stayed at Hotel San Jose, a refurbished 1930s bungalow-style motel. The concrete boutique hotel with its lush courtyard and twinkling lights reminded Greg of an old neighborhood landmark: the Palms Retro, a 1940's–era motor-court motel in Atlantic Beach. Suddenly a place he had driven by without pause his entire life took on a new meaning. Inspiration struck on that serendipitous weekend in Austin, setting Greg, his wife Julie Schwartzenberger and sister Stevan Brown on a new journey to create magic at the classic inn back home.
"We like to make people that stay here feel as if they live in the neighborhood"
A year later, the trio transformed the rundown Palms Retro into the tres chic Hotel Palms, a one-of-a-kind, 11-room boutique hotel emanating a laid-back style equally appealing to surfers and skaters as it is to contemporary art collectors. While the boutique property has always worn the name "The Palms" in one way or another, it wasn't always the colorful hub for art and affability it is now. Built in 1947, the Palms Inn was once a popular motor court in the growing beach town. After several decades, a complete renovation and rebranding, the property now modishly welcomes discerning travelers, with its small-town charm and urban cool (artisanal cappuccino, anyone?), while remaining a cornerstone for both locals and newcomers on the Atlantic Beach scene.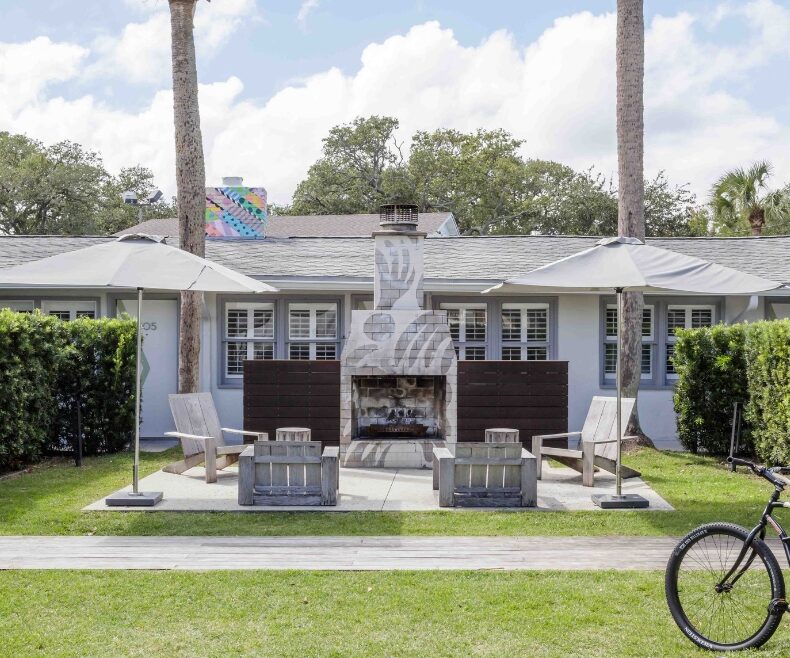 Minimalist Luxury
When transforming the nostalgic motel, interior designer Julie Schwartzenberger wanted to introduce modern flair while still paying homage to its vintage Florida roots. In 2015, Julie focused on reclaimed wood and industrial themes, but more recently, she's incorporated lighter colors, textured throw pillows and funky tiles.
"As the space evolved over the years, we also wanted this to be a reflection of me as a designer and what we're drawn to," she said. The design of each room—both elevated and endearing—feels inspired by the area's coastal culture with clean lines, minimalist luxury and nods to independent artists. At the center of Hotel Palms' signature hedge-lined courtyard lies a custom wood-burning fireplace—a gathering place where you're just as likely to bump into professional surfers in search of the swell or international artists like Los Angeles-based Terry Urban painting a new canvas.
Art at the Heart
Hotel Palms is much more than a place to wind down at the end of a beach day—it's an unorthodox art gallery. While Julie cultivates the hotel's aesthetic, Greg focuses on maintaining and building new relationships with artists. From the beginning, Hotel Palms has been a platform for artists near and far. St. Augustine muralist Jason Woodside made the first mark on the hotel transforming the cinderblock wall at the entrance into a piece of public art with electric colors and geometric shapes.
In addition to showcasing local artists, Hotel Palms beckons creatives from coast to coast. "We love to bring artists from outside the community in," Greg said. In fact, each year the hotel, alongside artist Lucas Beaufort, hosts Art Camp, a week-long residency for 10 artists from all over the country, who collaborate on a new mural, create individual pieces and spend time sharing with kids from the neighborhood. Another upcoming event is a hotel takeover by Ash "Wolfdog" Hayner. The Atlanta-based artist was inspired during the first Hotel Palms Art Camp, realizing that his bright expressionist pieces can bring peace without the pressure of perfectionism, creating the concept for his solo exhibit, "Tranquility."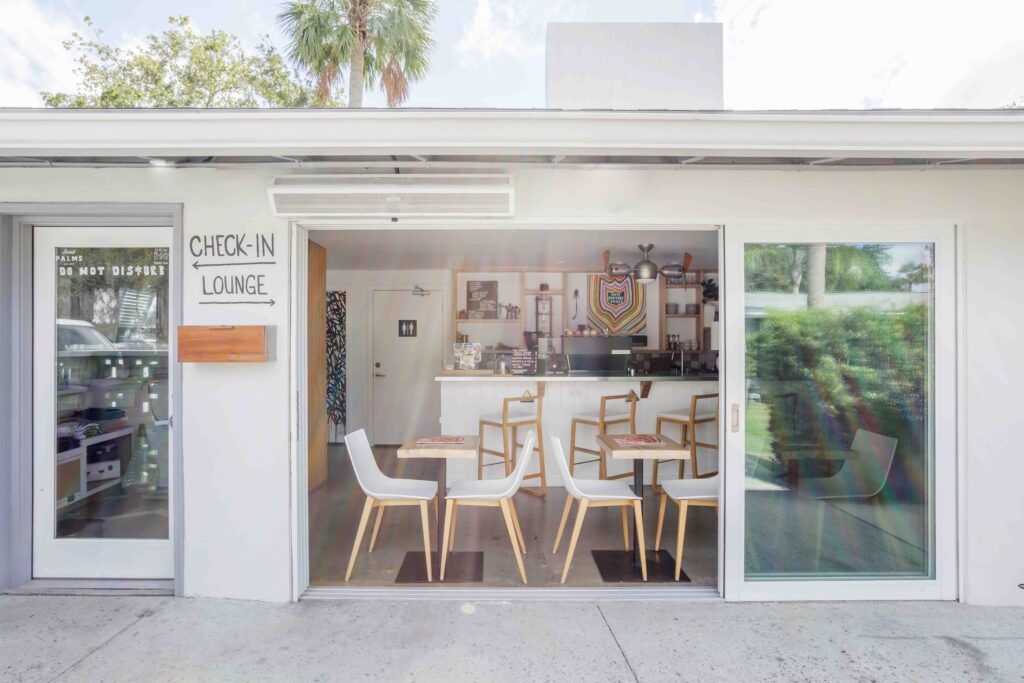 No Tourists Allowed
Every guest at Hotel Palms is made to feel like a local. And that all comes back to Greg and his family's pride of place and shared love of travel and independent hotels.
"Since the Hotel Palms is locally owned and operated, we feel like that's something that really differentiates us from other hotels in the area," said Stevan, who runs point on community relations for the business. "We like to make people that stay here feel as if they live in the neighborhood," Greg added.
Hotel Palms isn't just about guiding guests out into the community, but about bringing the community to them. One of the ways this happens is through Show Pigeon Coffee, a charming coffee bar nestled next to the check-in desk. Jamie Rice, owner of Show Pigeon Coffee, takes her craft seriously, pouring original, artisanal brews, like the Leche de Tigre (espresso, burnt orange spice, milk and buzz button garnish), that are unlike anything found in standard coffee shops. "Her coffee is designed, in my opinion," Julie said. "It's not just delicious to drink, it's actually beautiful." Show Pigeon Coffee has evolved into an Atlantic Beach favorite where the perfect brew of visitors and local residents mingle and refuel their own creativity.
"A hotel guest is sitting down and talking with someone who lives a few blocks away," Greg said. "And when we travel, we find that's the best way to get familiar with an area and to be made to feel at home."