by

Jamie Rich

|

November 10, 2021
Miami's Breakout Boy Aaron Dominguez Stars in New Hulu Hit Show
The actor on his breakout role in Only Murders in the Building, growing up in Miami and costarring with Hollywood legends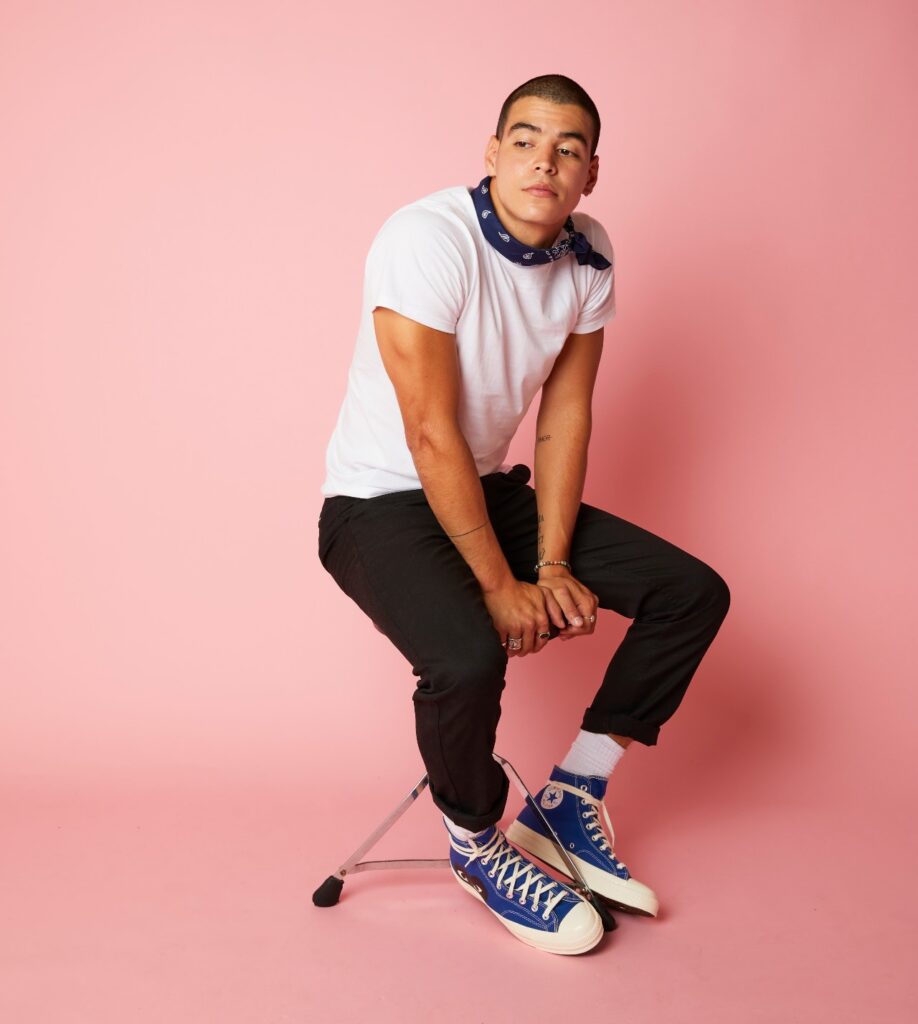 Was it the "tie-dye guy," with the knitting needle, in the stairwell? Don't worry, we won't spoil it for you, but what we can say about Hulu's latest binge-worthy series, Only Murders in the Building, is that there are plenty of unexpected plot twists, laughs and one very talented Floridian to keep you tuning in till the very end. In his Hulu debut, Aaron Dominguez plays the hoodie-wearing Oscar—a childhood friend of Mabel, played by Selena Gomez. Dominguez costars alongside Gomez, Steve Martin and Martin Short in the mystery-comedy series, which premiered this summer and follows the antics of the main characters as they become obsessed with creating a true-crime podcast and solving a murder in their New York City apartment building. Dominguez, 27, is a fresh face in Hollywood, but no stranger to life in show business. His parents immigrated to Miami from Venezuela in the early '90s, working as professional dancers, singers and actors and even launching their own theater company. Dominguez and his two siblings grew up on stages alongside them, soaking up their parents' work ethic and passion for the arts. However, life wasn't always easy in South Florida, and his parents moved the family to the suburbs of Atlanta, where Dominguez says he struggled with culture shock before embracing the move as "life-changing." We recently caught up with Dominguez to talk about his early years in Miami, what it means to be "famous" and that time Martin Short brought him to tears on set.
Tell me a little bit about your upbringing in Florida.
AD: My parents both met in theater school in Venezuela, where they're from, and moved to Miami in '92. When they got there, my brother was 10 months old, and my sister was born not too long after, and then I came along in '94. Both my parents were professionals in the field. When it came to acting, my dad was a professional ballet and jazz dancer. He had lots of fun in the '80s. He toured with Janet Jackson. Then my mother was a singer-songwriter and actress. My parents were very much involved in the arts in Miami, from telenovelas and Spanish soap operas to Spanish theater.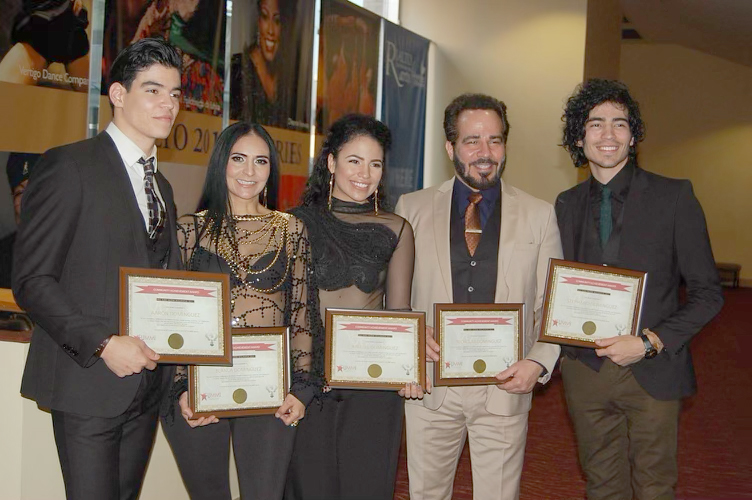 What was it like growing up in such an artistic family?
AD: So, my first taste of all that was watching my parents and falling in love with theater. My dad was my hero growing up, so getting to watch him not only perform and act on stage but dance as well alongside my mother, and watching my mother sing, and watching them do musical theater as a kid, it was a thrill.
What was it like for your parents to immigrate to Miami?
AD: We first lived in Little Havana, and then from there moved to Miami Lakes. It wasn't always super easy. We were working-class. I'm the son of two immigrant parents who came to better themselves in this country. So it's not like my parents got to Miami and things just started flourishing. [My dad] worked every job you could ever think of, from construction work to fast food to security jobs. There was a little window in my life where I remember not seeing my dad a lot because he was working so much.
Your family was so involved in Miami's arts community. Why leave?
AD: There were times where we all kind of felt stuck. One of the reasons we moved to Georgia was because my brother was starting ninth grade, and this high school he was supposed to go to was called American [Senior] High. American High School Miami Lakes is notorious for being a not-very-good high school. I mean, you know, problems every other day—drugs and all these different things. We would drive by there often because it was probably a mile from the house. My dad would always stay looking at the high school, whether there was a news station there or the police. My dad would look at the high school while he was driving, and he'd be like, "There's no way my kids are going to this school."
You were 12 when you moved to Atlanta. How did that impact you?
AD: Getting to Atlanta was a huge culture shock for me. Miami was a melting pot. I mean, you had Latinos, you had African-Americans, you had white, you had Asian, all walks of life. So, when we got to Kennesaw-Marietta, I felt like a misfit. I was like, "No one here looks like me, and no one dresses like me." I just, I remember not being happy moving. And I couldn't see what my parents were trying to do. My first day of seventh grade, there was a kid that walked up to me and said, "Do you speak Mexican?" And I was like, "What?" And then he proceeded to say it again. He didn't finish the sentence the second time.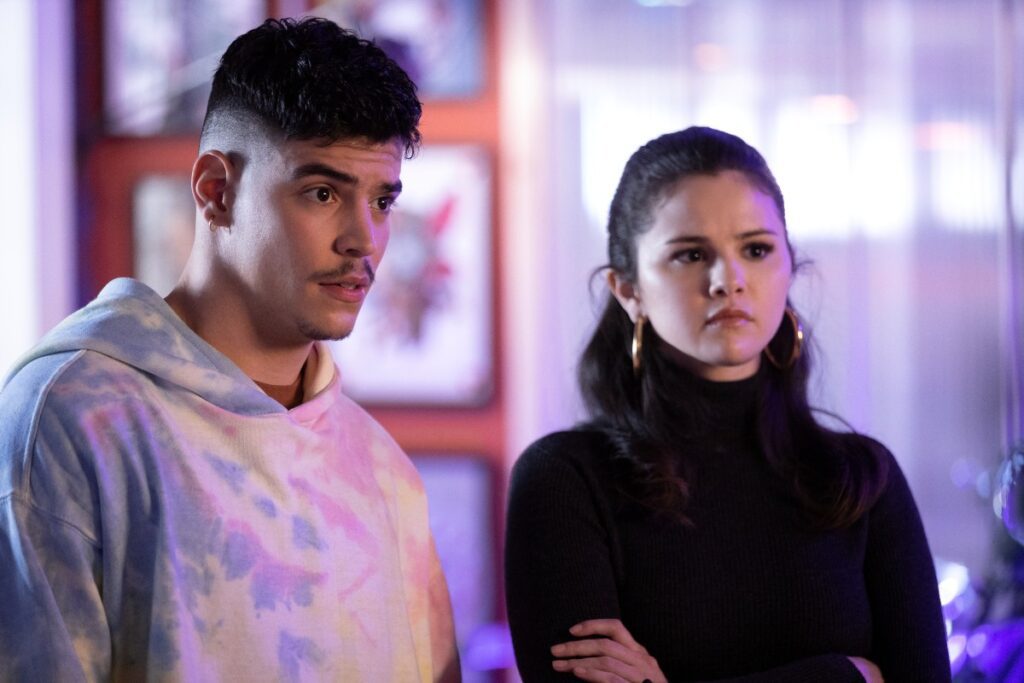 How did that incident go over with your parents?
AD: On the car ride home, my dad said something like, "Oh, you're back right where you started." And I remember crying just because I was emotionally frustrated. I was like, "You don't understand. This isn't what I thought it was gonna be like. And my dad was like, "You're not gonna understand now, but you will later. Everything I do, I do for you guys."
Do you have a different perspective now?
AD: Now? It changed my life. It truly did. And I'll never take it for granted.
Did you always want to be an actor?
AD: For a long time, pursuing acting full time scared me because of the inconsistency that I saw financially in my family growing up. There was a tug-of-war within me. As involved as I was with my parents' theater company, doing theater at school, doing musicals or plays in the local area of Marietta, and with my siblings being involved with it—we were known as the Dominguez clan—I think within all of us there was a fear of the unknown. Although my parents, financially, were doing much, much better in Georgia, I just always thought back to Miami. Sometimes we were doing well, and other times the lights were off, and the hot water wasn't running.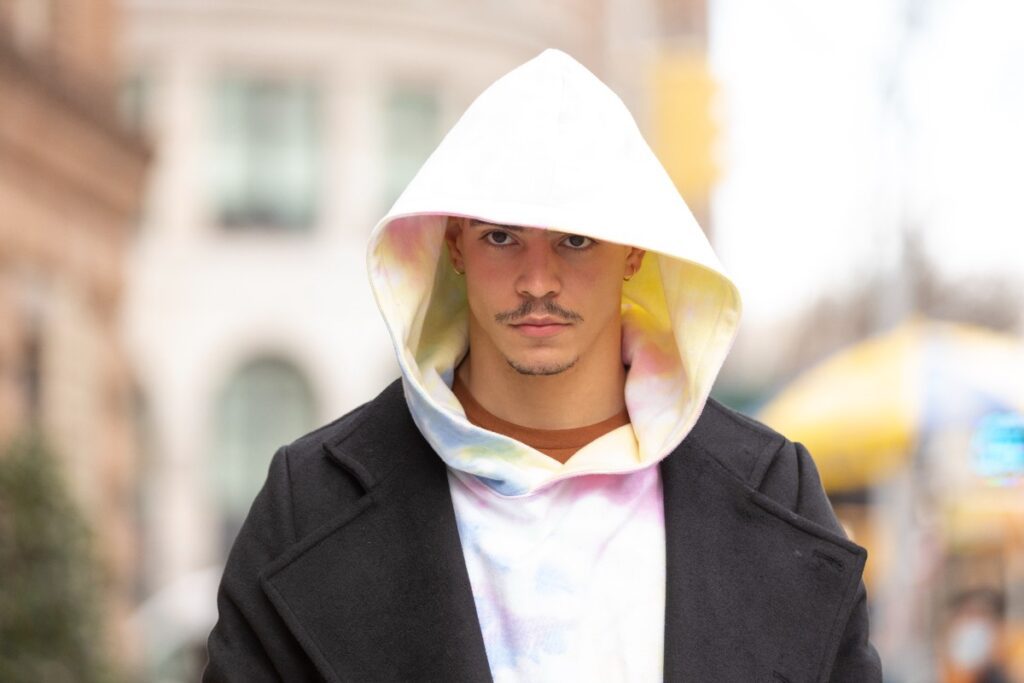 Was it challenging to pursue acting full time?
AD: I worked every job you could ever think of. I worked in fashion. I worked in retail. I worked for a logistics corporate company. I even worked construction for a while. There was a moment when I think [my dad] was frustrated from seeing the potential that I had or maybe I just wasn't dedicated enough. My dad and I started going back and forth. At the time, I was always telling him, "You have no idea. The industry has changed a lot since you were in it. It's not just show up at this casting office and give your headshot." I think this was 2015. My dad looked at me and he said, "That's the thing with you, you don't want it bad enough. … Do you want to be famous? Or do you want to work? Because if you want to be famous, just get naked and run across the street. Eventually the cameras will show up, and you can get fame that way. But if you want to work, trust me. I know how hard it is to make it in this type of industry." I think that kind of ignited something within me.
You have some impressive credits and films to your name, but is Only Murders in the Building your big break?
AD: It is 100 percent. I remember when I got the initial audition for this show because of who I saw was attached: Steve Martin, Martin Short—legends—and then Selena Gomez, just a trifecta in and of herself. I remember telling my sister, I was like, "I'm gonna book the show because I can see myself playing in this world with them." I just felt like something was brewing at the time. All of 2019, there were a lot of things that we were up for, and they just didn't go my way. When you feel that pressure constantly, it's almost like something's got to give sooner or later. I always say that the job is not mine until I see the final product. So not even shooting it, not even getting the job, it's until I actually see the final product on screen.
What do you think now that you've seen the show?
AD: I think we've got a hit show on our hands. It's hard not to be biased for the show that you're a part of, but I've gone into watching the episodes being like, I'm not going to laugh because I know these guys or I had fun in the scene, but I've actually genuinely laughed.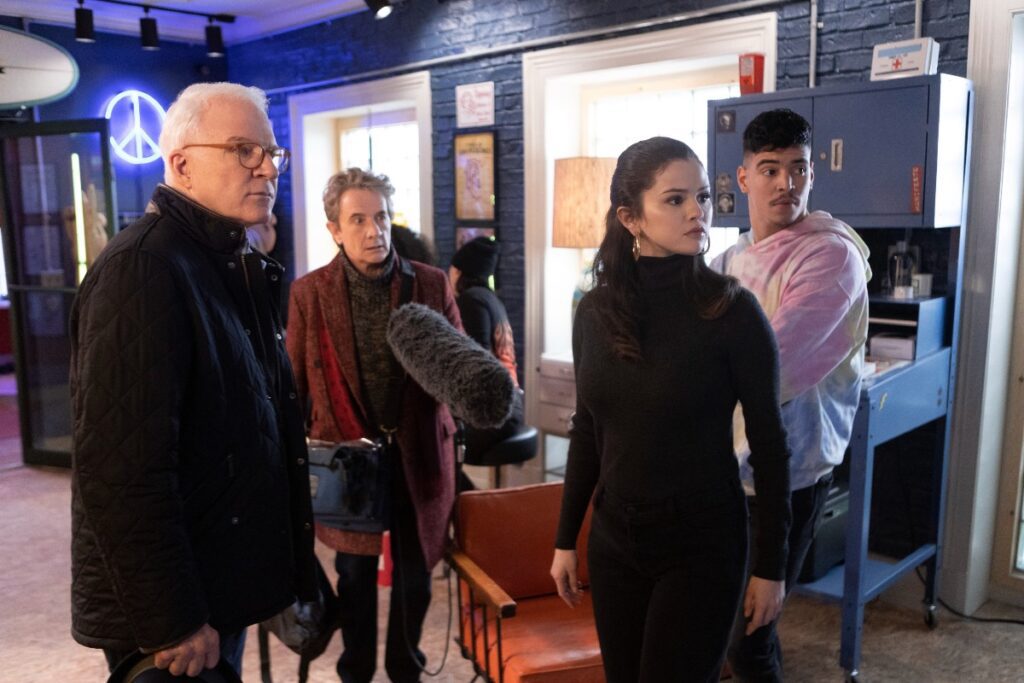 What was it like working with such an all-star cast?
AD: I couldn't ask for a better breakout kind of project, because Steve and Marty—I never took a single day for granted when it came to going to work with them and getting to learn from them. And same thing playing opposite of Selena. Her work ethic is second to none. There was never a dull moment, constant jokes the entire time. I was clearly the actor that was always breaking character. I kid you not, Marty kept doing this bit that wasn't even a part of the script. And I think I broke 12 times in a row because everybody behind the camera was laughing too, and at one point our writer, John Hoffman, comes on. He goes, "Aaron," and he's in tears, "come on." And I was like "Yeah, I'm trying. … Look at you, you're crying, you get it." And I looked at Marty, and I was like, "You're thriving off of this." But yeah, it was amazing.
I'm sure it's an exciting time for you now, but what's next?
AD: I think that's the beauty and the terror within this industry and within the arts, is you never really know what's next until it's there. I'm just looking to ultimately build upon the great opportunity that Only Murders in the Building has been and will continue to be.