Up Your Salad Game with This Greens & Grains Recipe from Red Rooster Overtown
When you can't force yourself to eat another Caesar salad, try this simple-yet-delicious alternative from chef Marcus Samuelsson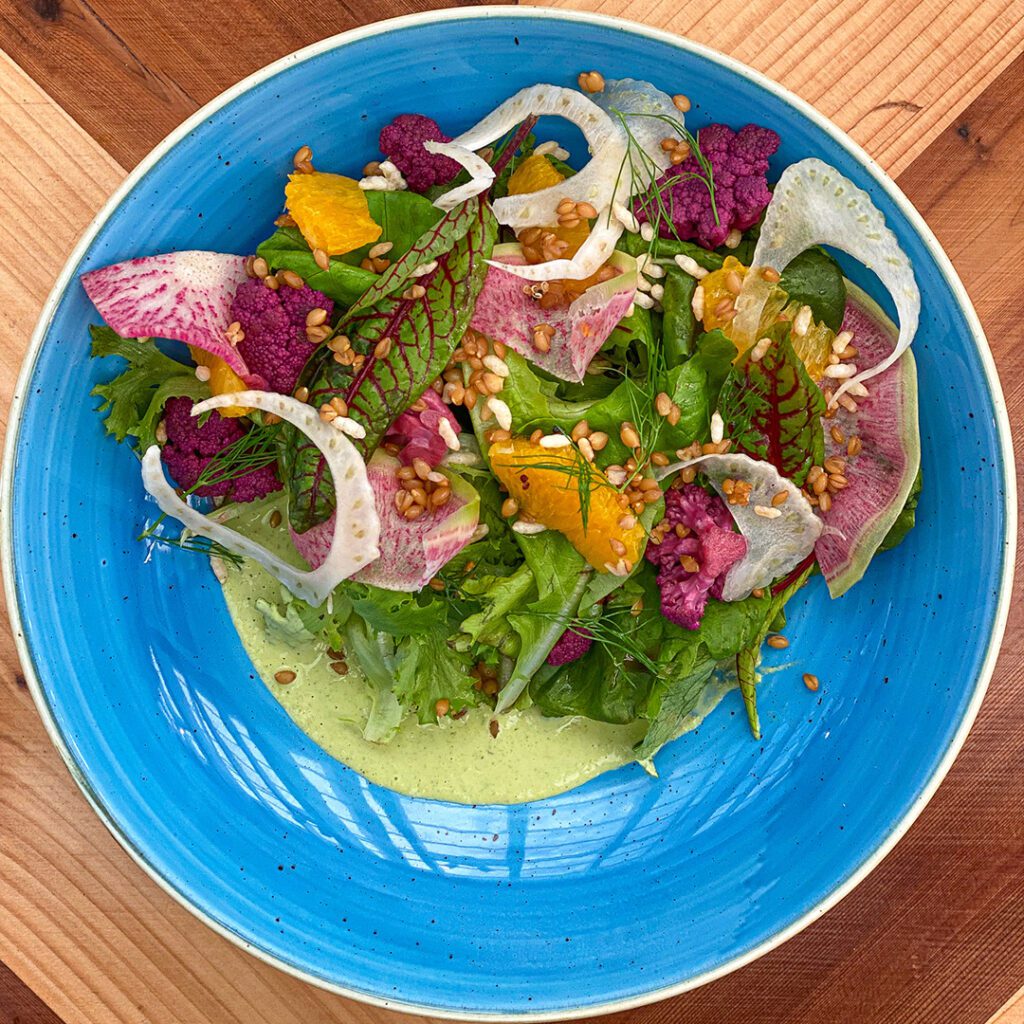 Greens & Grains Salad
Assembly for 1 serving, but can be multiplied as needed
3 cups of high quality greens (The more colorful the better. The Red Rooster Overtown team likes Red Oak, Frill Mustard, Kale, Frisee, and Red Sorrel)
1/2 cup cooked farro (quinoa or freekeh will also work)
¼ cup radish, sliced thinly
¼ cup orange supremes
¼ cup pickled cauliflower
½ cup fennel, shaved
¼ cup Green Goddess Dressing, recipe below
¼ cup Orange Vinaigrette, recipe below
PREPARATION: In a large bowl, combine the greens, farro, radish, oranges, cauliflower, and fennel with the orange vinaigrette. Lightly toss to gently combine.
On a serving bowl, evenly spread the Green Goddess on the bottom. Place the dressed salad on top and serve immediately.
Green Goddess Dressing
2 eggs
2 tbsp capers
1 tbsp garlic
1 tbsp dijon mustard
1 tsp fish sauce
2 tbsp lemon juice
2 tbsp worcestershire
4 cups grapeseed or canola oil
2 tbsp honey
¼ cup sour cream
2 tbsp Tabasco
4 tbsp soy sauce
½ cup white wine vinegar
1 cup spinach, packed
1 cup basil leaves, packed
1 avocado
Salt and pepper, to taste
PREPARATION: In a blender, place the eggs, capers, garlic, dijon, fish sauce, salt and pepper. Puree until smooth.
With the blender running on low, slowly stream in the oil until the mixture is emulsified & thick. Once that has occurred, blend in the honey, sour cream, Tabasco, soy sauce, white wine vinegar, basil, spinach and avocado.
Taste for seasoning, adjust with salt and pepper and serve immediately.
Chef's Note: this will make more than you'll need for Greens & Grains salad, but it's great served as a dip with crudites or as a spread on a sandwich.
Orange Vinaigrette
1 cup fresh orange juice and zest from the oranges
1 cup white balsamic vinegar
2 tbsp shallot, minced
1 tbsp ginger, minced
½ cup good quality honey
3 cups grapeseed or canola oil
Salt and pepper, to taste
PREPARATION: Combine the orange juice, zest, vinegar, shallot, ginger and honey in a large bowl. Slowly stream in the oil and whisk vigorously until mixture comes together. Don't worry if it is not totally emulsified. Season to taste with salt & pepper.