Chef Michelle Bernstein Shares her Perfect Cuban Sandwich Recipe
This easy recipe from the James Beard Award-winning chef's restaurant, Cafe la Trova, will be your new lunch go-to.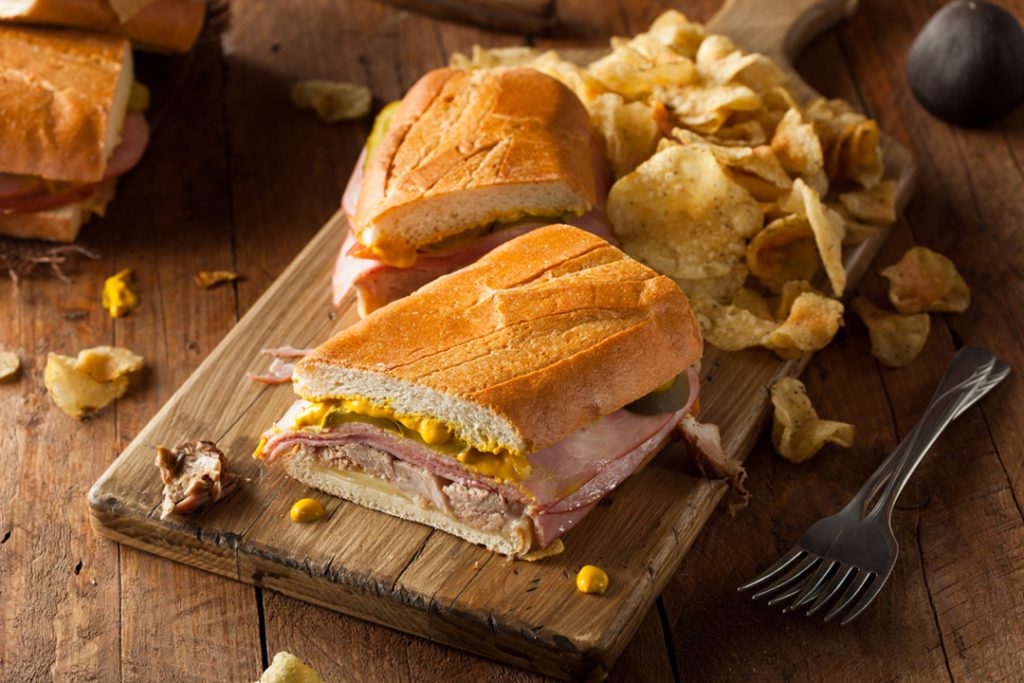 CUBAN SANDWICH FROM CAFE LA TROVA
Yield: 3–4 sandwiches
Roast Lechon
1 cup cilantro leaves, or 1 ½ cups cilantro leaves
1 cup parsley leaves
5 garlic cloves, smashed
2 tablespoons ground cumin
1cup lime juice
1 cup orange juice
1 boneless pork shoulder (3 to 4 pounds), cut into 4 pieces
Salt and black pepper
PREPARATION: Combine all ingredients except pork shoulder, salt and pepper in the bowl of a food processor and pulse until combined but not totally smooth. Rub the pork shoulder pieces with the marinade, cover and allow to marinate overnight in the refrigerator.
Heat oven to 275 degrees. Remove the pork from the refrigerator about 1 hour before cooking, to come to room temperature. Place pork on a baking sheet and season heavily with salt and pepper. Cover with aluminum foil and bake until it reaches an internal temperature of 200 degrees, about 2 ½ to 3 hours, or until a fork inserted into the pork can be rotated 90 degrees with little resistance.
Remove the pork from the oven and allow to cool enough to handle. Shred the meat, discarding any skin or fat. Strain the cooking liquid, skim off and discard any fat and mix a little of the juice with the cooked pork. Season to taste with salt and pepper.
Mustard sauce:
1 cup mayonnaise
¼ cup Dijon mustard
2 tablespoons yellow mustard
1 jalapeño, roasted, peeled and seeded, chopped fine
PREPARATION: Mix all ingredients together.
The sandwich
1 loaf Cuban bread, cut open lengthwise
1 to 1 ½ cups roast lechon, warmed
8–10 slices Swiss cheese
8–10 slices serrano ham
12–16 slices bread and butter pickles
4 tablespoons mustard sauce
1 tablespoon unsalted butter, softened
PREPARATION: Spread about 2 tablespoons of mustard sauce on each side of the bread. Layer the serrano ham on the bottom piece of bread, with each slice slightly overlapping the previous. Top with about 2 cups of the pulled pork. Top with cheese and pickle slices. Close the sandwich.
Cut the sandwich into 3 to 4 portions. Spread about 1 teaspoon of butter over the top of each sandwich and wrap tightly in aluminum foil.
Heat a griddle or large pan over low heat. Place wrapped sandwiches on the pan, press with a heavy skillet, and heat for about 5 to 6 minutes on each side. Carefully remove foil and serve!
---