by

Eric Barton

|

March 16, 2020
How Chef Michelle Bernstein Finally Found Her Groove
Despite a roster of award-winning restaurants and a lauded career, Chef Michelle Bernstein says she's finally found the right beat with Cafe La Trova.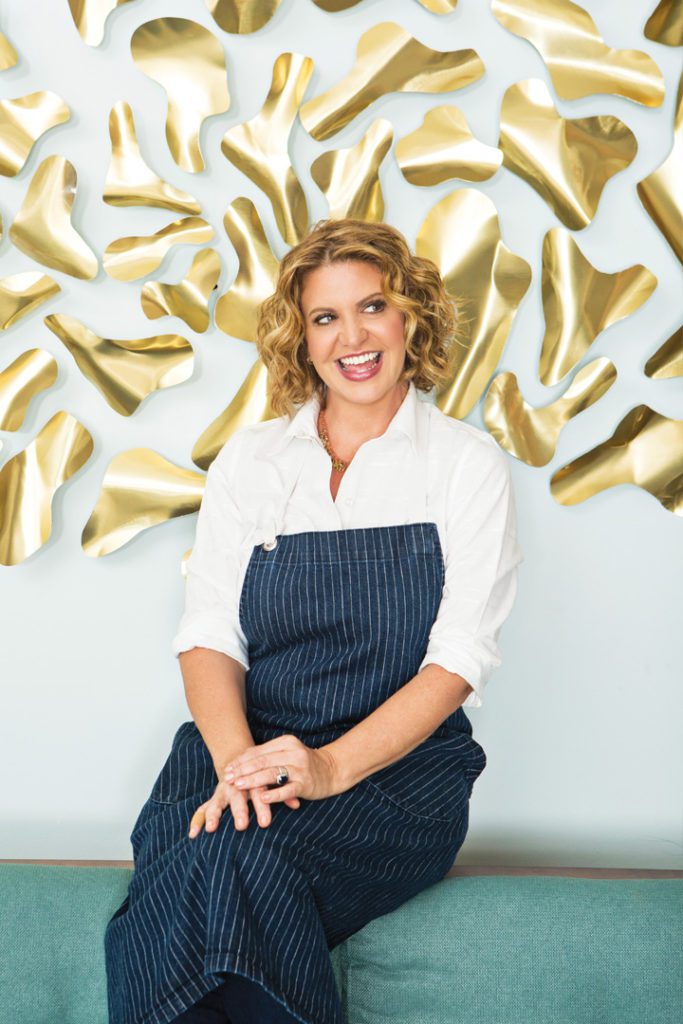 Some people smile with simple half circles, the corners of their mouth upturned. Not chef Michelle Bernstein. Her delight comes through in a wide, toothy expression that fills her face. And on a recent trip to a neighborhood fruit market, she beamed with her signature joyfulness, elicited by the sight of mounds of fresh produce and the friendly faces of the market vendors.
It's a simple place, an open-air bazaar nestled in the heart of Miami's Little Havana, crates loaded with coconuts and guava and tomatoes haphazardly stacked in the center. A woman roughly shoved sugar cane stalks into a crusher, catching the lime-colored juice in a pitcher and filling the place with the faint smell of candy.
Bernstein took a seat at a table covered with a frayed quilt. "Isn't it amazing?" she said, still with that infectious smile.
It's called Los Pinareños Fruteria, and it's five blocks from Bernstein's latest restaurant, Cafe La Trova, a name that pays homage to a style of Cuban pop music. Bernstein is as Miami as the cafe cubanos served up at the market's counter nearby. Named best chef in the South by the James Beard Foundation in 2008, Bernstein became a local celebrity thanks to a high-profile win on Iron Chef, in which she beat Bobby Flay, and her role as a judge on Top Chef, not to mention local TV programs she has hosted for years. She did all of this while running a slew of lauded restaurants—the kind of places you bring a first date or celebrate an anniversary. She's known for food that seems both homey and exotic, combining her own Argentine, Russian and Jewish heritage. But with Cafe La Trova, now open for one year, she says she finally figured things out.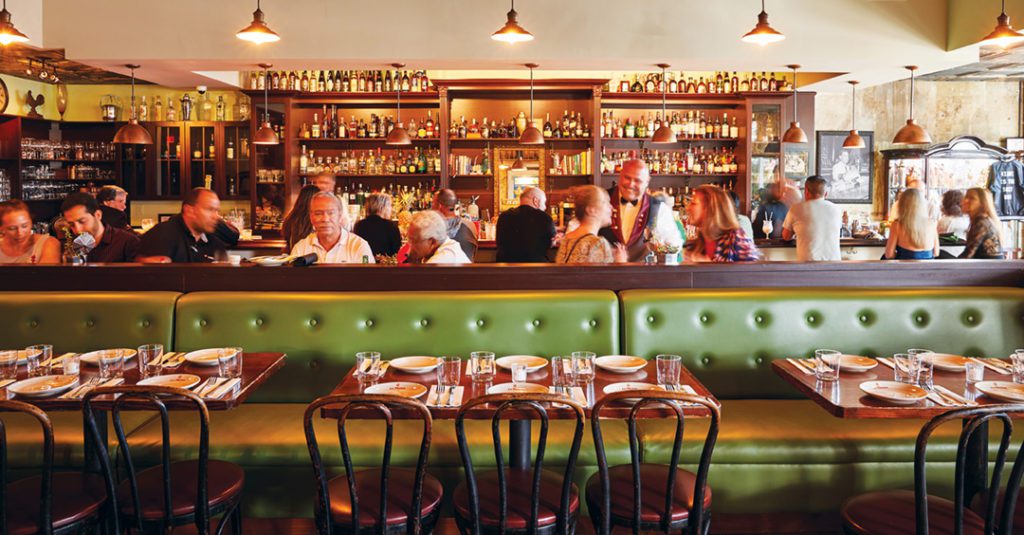 "You know when you're younger how you're always trying to define yourself?" she said. A baby chick navigated between the legs of the table beneath her while Enrique Iglesias' "Bailando" blared from a speaker somewhere.
"We're not pretending to be anyone else. We're just ourselves, and either you like me and my cooking or you don't. And I'm OK with that."
Bernstein opened Cafe La Trova in January 2019 with longtime friend Julio Cabrera. They met nearly 20 years ago when she went to Mexico to open a restaurant. When he came to Miami, the city didn't have the kind of cocktail scene it's known for now, and Cabrera gets credit for ushering it in, training many of the city's star mixologists. In those first few months of Cafe La Trova, Bernstein says she took criticism for whether the place was authentic enough, or whether classic Cuban dishes should be redefined. She turned 50 shortly after it opened, and that sparked some introspection. When she stopped caring what anyone else thought, she says the place started to kill it, to the point where now she's booking it up nightly.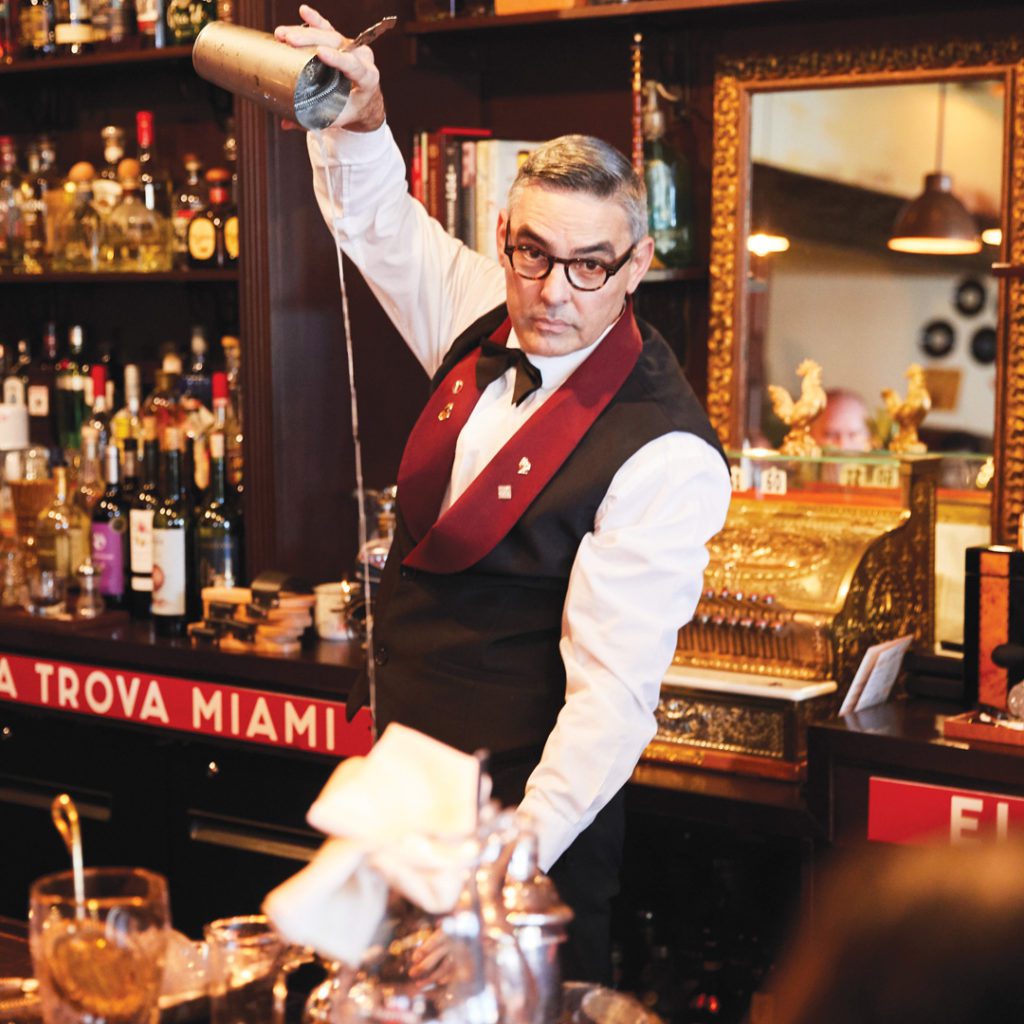 ---
---
In figuring out what the menu should be, Bernstein says she looked at her own background. Growing up in Miami Shores, she ate classic Latin dishes like ropa vieja and also Jewish dishes like latkes and cabbage rolls. Cafe La Trova's menu reflects that cultural fusion, spelled out in a culinary lineup found nowhere else: chicken empanadas with corn and fermented garlic; croquettes with spinach and feta; a tres leches cake with bananas, bourbon gel and corn flakes for crunch. The place feels classic Cuban, with wrought iron and floor tiles harking back to another era, and the bar just inside the front door reminiscent of a 1950s Havana supper club. Cuban bands play from a stage along the wall facing the bar, with tables crowded between them giving it a party vibe. Cabrera runs two bars: one in the front of the house serving people waiting for a table and a second bar elevated in the back for anybody just stopping in for the mojitos.
During Bernstein's recent visit to the fruit stand, she had been ruminating on brunch ideas and hitting the market regularly to load up on guava, plantains and papaya. In planning a brunch menu, she considered that midmorning meals in Miami mean kicking hangovers with the rich and fatty, a bit of pork belly somewhere on the plate. But she also knows that both the hungry and the hurting patrons want something sweet, and she answered that with creations like her Cuban French toast, with an undeniable inspiration from Miami's pastelitos, those ring-box-sized pastries served at every coffee counter in town and often filled with tangy cheese and guava jam.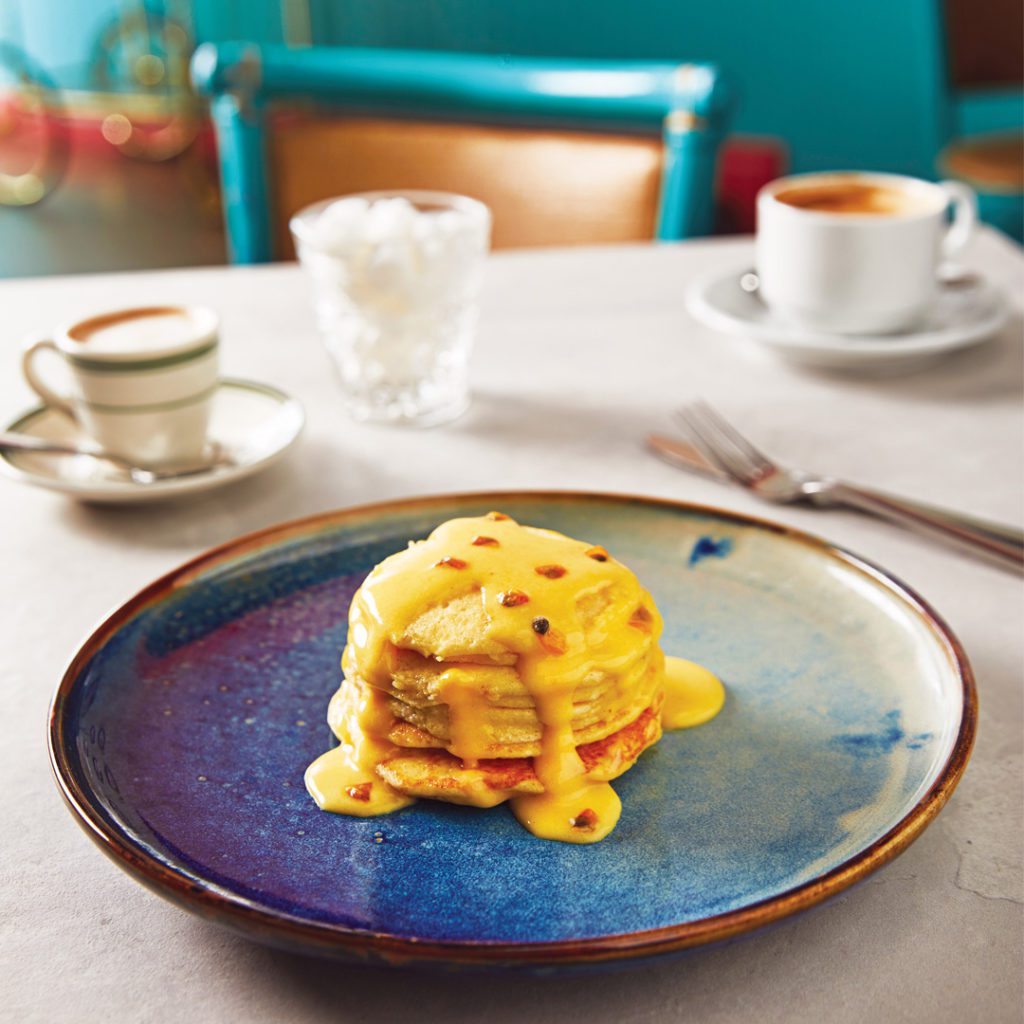 With brunch officially launched in January, she's on to new challenges. "I always have eight jobs," she jokes. She's working on a new restaurant and in discussions for a second TV show and a children's book.
She might have found herself, but Bernstein says she's far from done. "I have to keep going," she says. "I have to keep moving."
Before we leave, she gives a crate of gourd-shaped guavas a once-over before settling on one that's equal parts neon green and yellow. "You feel that?" she says, pushing on the skin gently. "That's ripe. This one's going to be good."
It's not always clear with fruit, she explains. Sometimes it has spent time on the vine and simply didn't ripen well. But sometimes, when you're lucky, everything comes together just right.
---
Cafe La Trova
— Location —
971 S.W. 8th St.
Miami
— Hours —
LUNCH
Tues. - Sat. 12 p.m. - 3 p.m.
BRUNCH
Sun. 11 a.m. - 3 p.m.
DINNER
Sun. - Tues. 6 p.m. - 10 p.m.
Wed. - Thurs. 6 p.m. - 11 p.m.
HAPPY HOUR
everyday 4 p.m. - 7 p.m.