Fledglings: Meet Two Violinists Busting Stereotypes
South Florida hip-hop and strings duo Black Violin are boldly blending music genres with a fresh, modern sound.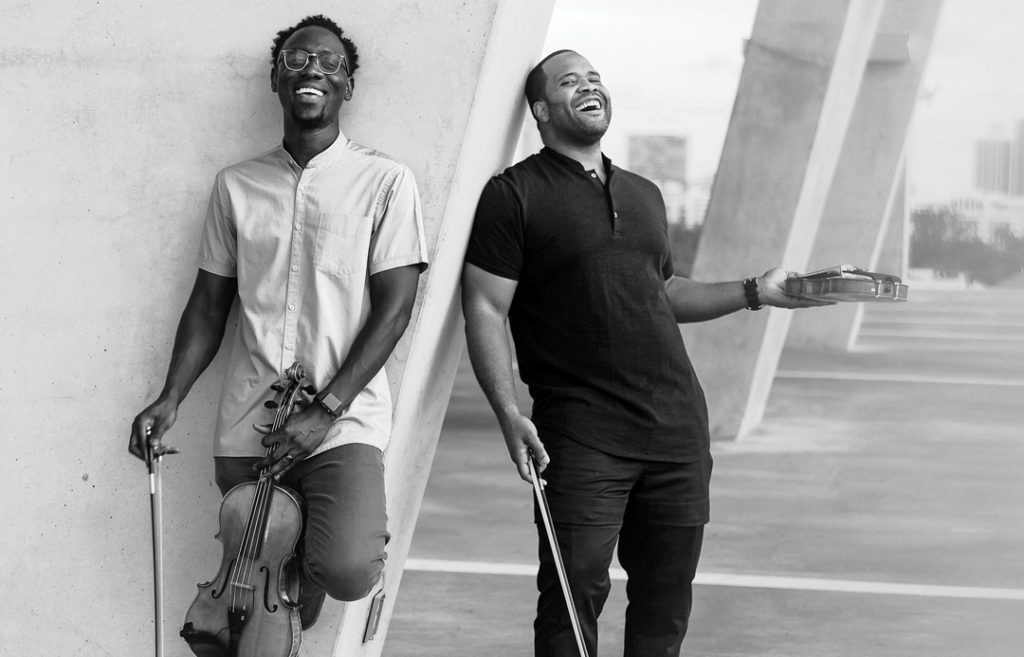 Kev Marcus is cozied up in his favorite sweatpants, American Giant hoodie and Ferragamo sneakers. The 37-year-old violinist is on Black Violin's tour bus, heading to Kalamazoo, Michigan, talking about obstacles he's overcome and the ones he knows are coming.
In the midst of their 135-stop American tour, Black Violin, a hip-hop strings duo, have been throwing down a 100-minute show that leaves Marcus feeling both high and drained.
Easy to chat with, Marcus thoughtfully reflects back on the moment when he met Wil Baptiste, 38, now his partner in Black Violin, in music class at Fort Lauderdale's Dillard High School. He recalls the group's first big break in 2005 on Showtime at the Apollo and expresses gratitude for the gigs and exposure they get from supportive superstar pal Alicia Keys. Below, more on the duo and their "slow snowball roll" to "becoming a household name."
Describe your ride since you became a band.
It took us 15 years to get here, and I don't take it for granted. Once I'm on the tour bus, I recognize what I'm doing. But it's hard being away 21 days at a time from your kids, wife, dog and bed.
You guys get hyped to bust stereotypes. Elaborate.
I'm 6-foot-2, 275 pounds. I look more like a linebacker than a violinist. Wil is 6-foot-1 and three quarters; he's built like Dwayne Wade. When we perform, I'm more of a rapper, Wil is more of a singer. He'll make you cry with something slow and beautiful. Queen Latifah once said to me, "Kev, you play with so much physicality."
Tell us about the new album.
Take the Stairs dropped Nov. 1. This is our fourth. It's an homage to our career, referring to how we have grown steadily. We've done everything in our business—payroll, balance books, settling up after a show. We understand the business and have had a more fulfilling route.
How has being Floridians influenced your music?
Our music wouldn't sound this way if we lived anywhere else. It helped us unapologetically blend genres. I lived on Calle Ocho, the heart of Miami's Latin culture district, a melting pot with cross-genres like Afro-Cuban funk.
Who do you have a music crush on?
Beck. His instrumentals are incredible. I want to meet him and get in studio with him. A lot of his music inspired Take the Stairs.
Do you have an outdoorsy Floridian side?
I love riding my bike. We bought bikes for my family and love going around our neighborhood in Davie. We go to our beach and grill food and time slows. What's cool about Florida is the water—it's connecting to divinity.
---
6 Florida Shows with Black Violin
---