Grove Stand: Chef Lauren Macellaro, Well Read
What began with a Cornish hen nuked for her dad has evolved into a lauded career for James Beard semifinalist Lauren Macellaro of St. Petersburg's Reading Room.
[caption id="attachment_10273" align="aligncenter" width="960"]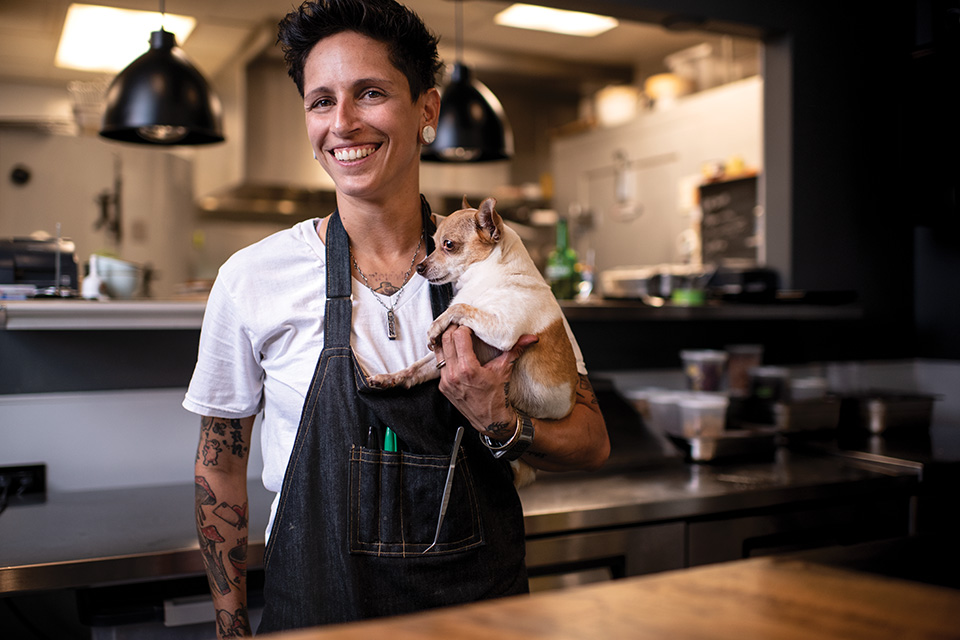 Chef Lauren Macellaro with Chicky Barone; Photography by Meagan Klementowski[/caption] Lauren Macellaro is tiny and pixieish with a short shock of dark hair, a wide grin and those big-gauge ear plugs. Her right forearm is extravagantly tattooed. She looks like a chef. She's 36, chef at the celebrated
Reading Room
in St. Petersburg and a James Beard semifinalist for best chef in the South this year. I'm guessing her family never saw it coming. When she was a kid, lunch was peanut butter and jelly, maybe peanut butter and honey sandwiches. "I had some bad eating habits as a kid. I was very obsessive and would eat only one thing and nothing else for six months. I would never eat school lunch." But whether nature or nurture, something from her big Italian family must have sunk in. Her Sicilian uncle Albert had a double lot in Queens, used one of the lots for his garden and made wine in the basement. Her Italian mother would make squash blossoms with ricotta, snipping herbs from a pot outside. But all that good modeling wasn't what got her started in the kitchen. It was a commercial for a brown-and-crisp microwave bag (seriously, microwave cooking was big back then). She begged her mom for it, bought a Cornish hen because it fit in the bag and accessorized it with yellow squash and a pat of butter. Wipeout. Soggy, blotchy poached skin. Her dad ate it anyway, because dads rock that way.
---
---
In college, Macellaro studied psychology in Maryland; she was the kind of person people told their secrets to, so a career as a therapist felt like a solid goal. It didn't work out, and she needed a job. Applying to be a waitress, she was convinced to do something in the kitchen instead.
"The food was awful, but I liked what I was doing," Macellaro says. "I thought it was exciting. You're the people behind the curtain." She attended the Institute of Culinary Education in New York and was offered two jobs, one at Gramercy Tavern and one at Tabla, now closed. She chose to work with Floyd Cardoz at Tabla because he fed her a cube of watermelon with mango powder, sea salt and a little lime.
"It was insane," she says of the small bite.
Despite her having worked in some other kitchens, this is where she says her education really began. It was regimented, no one goofing around, ingredients taken seriously. She started on the vegetable side in what was a traditional French kitchen. She hopped to restaurants in Philadelphia from there: Fork, Silk City Diner, an Indian concept called Bindi, Mémé—this last a tiny 36-seater that made her fall in love with intimate dining rooms where "guests feel like they're in my living room." She'd started a long-distance relationship with partner JP Palombo. With Palombo in Florida and Macellaro in Philly, they met in the middle and moved to Asheville, North Carolina, in 2009. It wasn't the frenetic foodie city it is today. Macellaro worked for Whole Foods for a while before becoming the No. 2 to Brian Canipelli of Cucina 24. She was there for five years, her star rising as his did (he's another James Beard semifinalist). [caption id="attachment_10275" align="aligncenter" width="960"]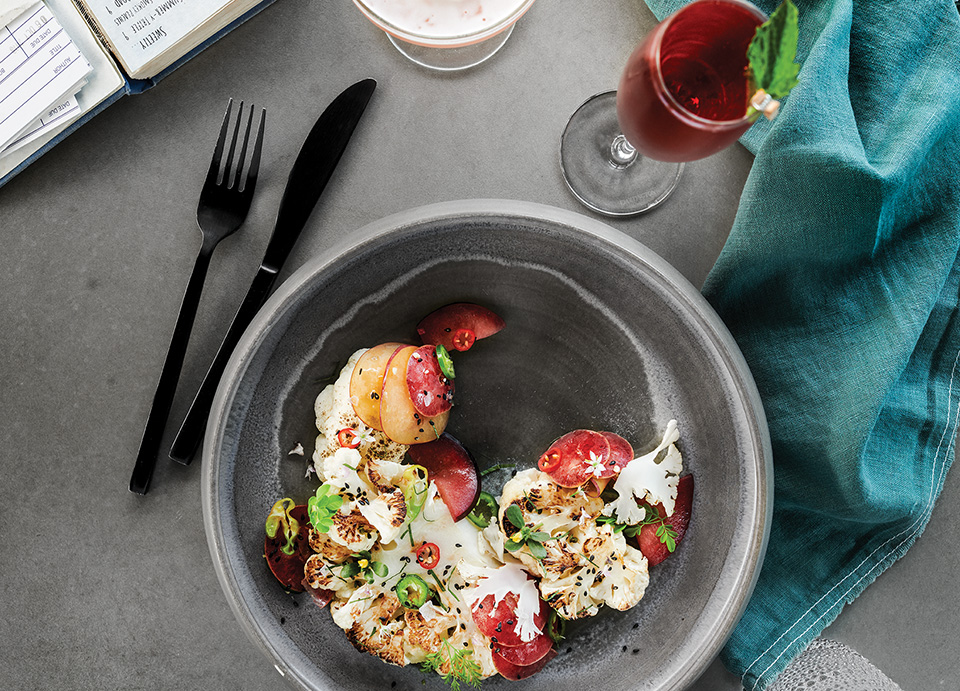 Macellaro's roasted cauliflower and salted plum dish; Photography by Meagan Klementowski[/caption] "Chef [Canipelli] is one of my best friends to this day," she says. "We wrote great menus together. His kitchen was another foundation for me, where we carefully treated these great ingredients and had a good time doing it. Not so militant and strict, it was a complete juxtaposition from Tabla." Macellaro came to Florida specifically to open a restaurant, though she worked first at Locale Market and then at Rooster & the Till, transitioning to full-time work at Rooster in April 2015. Chef Ferrell Alvarez's sensibility appealed to her.
"I like small restaurants. I liked Rooster's intimacy and attention to detail, and there was care about where the food was coming from."
---
Read more about chefs that are changing Florida's culinary scene here.
---
Her big break came when FreeFall Theatre owner Kevin Lane and partner Kevin Damphouse decided to open a restaurant next to the theater, with space enough for a large garden. Macellaro jumped at the chance (thanks, Uncle Albert). The Reading Room opened at the beginning of 2017 in what was formerly a Christian Science Reading Room. It's a small but lovely dining room, the air perfumed by wood smoke, the vegetables largely harvested outside and shepherded in for expert nurturance. Menus are tucked into old hardbacks. Swiftly getting high marks from local and regional publications, the Reading Room became one of the coveted reservations in town without hitting splurge territory with its prices. The food is rustic but gorgeously arrayed, never precious or overworked. They make their own bread (a must-order starter), which is a great accompaniment to the chicken liver mousse with pickled and fermented grapes and maybe a little bowl of olives. The menu is divided into three groupings by size, all of it sharable. So how does Macellaro describe what she does in the kitchen of the Reading Room? "I approach food very thoughtfully," she says. "There's a lot of intention in every flavor and bite. When I think about a dish, I think about where it came from—I think about where it came from in my brain and I think about what it will mean for people." In other words, she reads the room.