Grove Stand: Stirring the Pot with Chef Jim Shirley
With a trove of eight restaurants, a cookbook and countless columns to his name, Shirley has built an empire by infusing good ol' Southern fare with modern flare and a sustainable mindset
What do you do if you make a dish and it gets famous—really famous? If, say, your "Grits à Ya Ya" is named by a statewide publication as one of the best Southern dishes in Florida and is marched to Washington, D.C., to be served at "Taste of the South," a celebration of Southern culture held annually on Capitol Hill? [caption id="attachment_9555" align="aligncenter" width="1080"]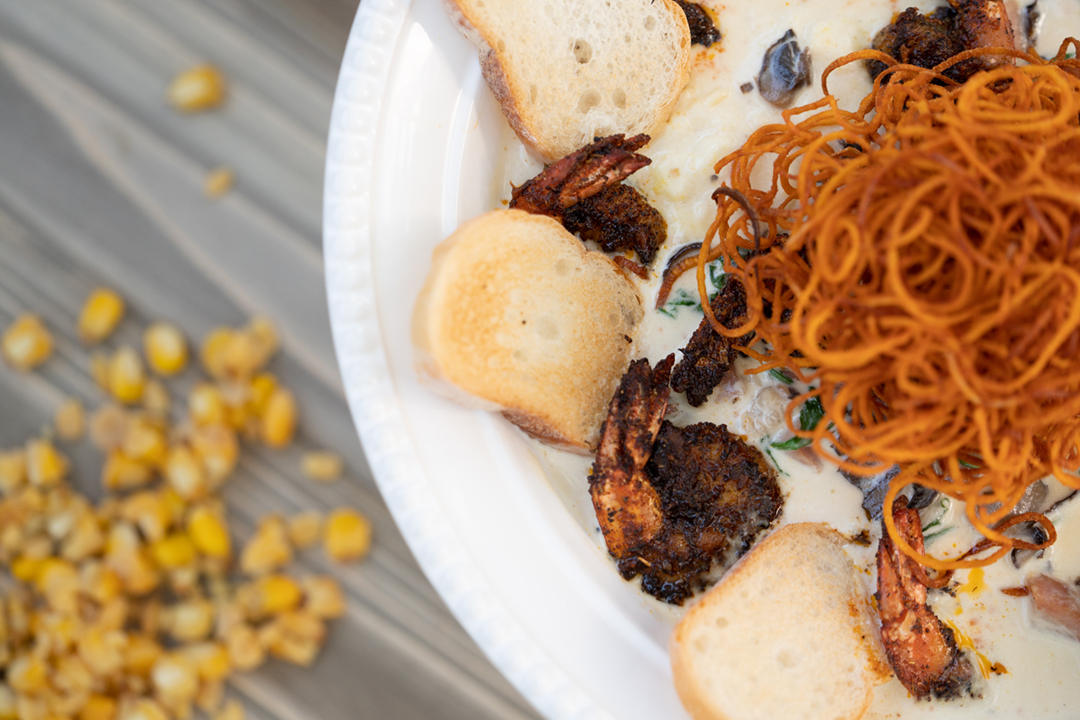 Chef Shirley's popular "Grits à Ya Ya"; Photography by Chandler Williams[/caption] You can ask chef Jim Shirley. His answer, it seems, is keep making it, make it with some new spin and sass, and always keep moving forward. Shirley, 55, is the owner of several restaurants in the Beaches of South Walton and Destin areas, as well as the co-owner of Great Southern Restaurants, the group that owns eateries including the Fish House, Atlas Oyster House and the Fish House Deck Bar, all in Pensacola. Shirley grew up mostly in Pensacola, but as the son of a Navy pilot, he also did stints in Southern California and Reykjavik, Iceland. "We ate all over the world, whether we wanted to or not. In Southern California, we made our own tortillas. We ate strudels in Reykjavik. I started flipping burgers at Tastee Freez when I was 14; I was alone in the kitchen for $1.10 per hour." [caption id="attachment_9558" align="aligncenter" width="1080"]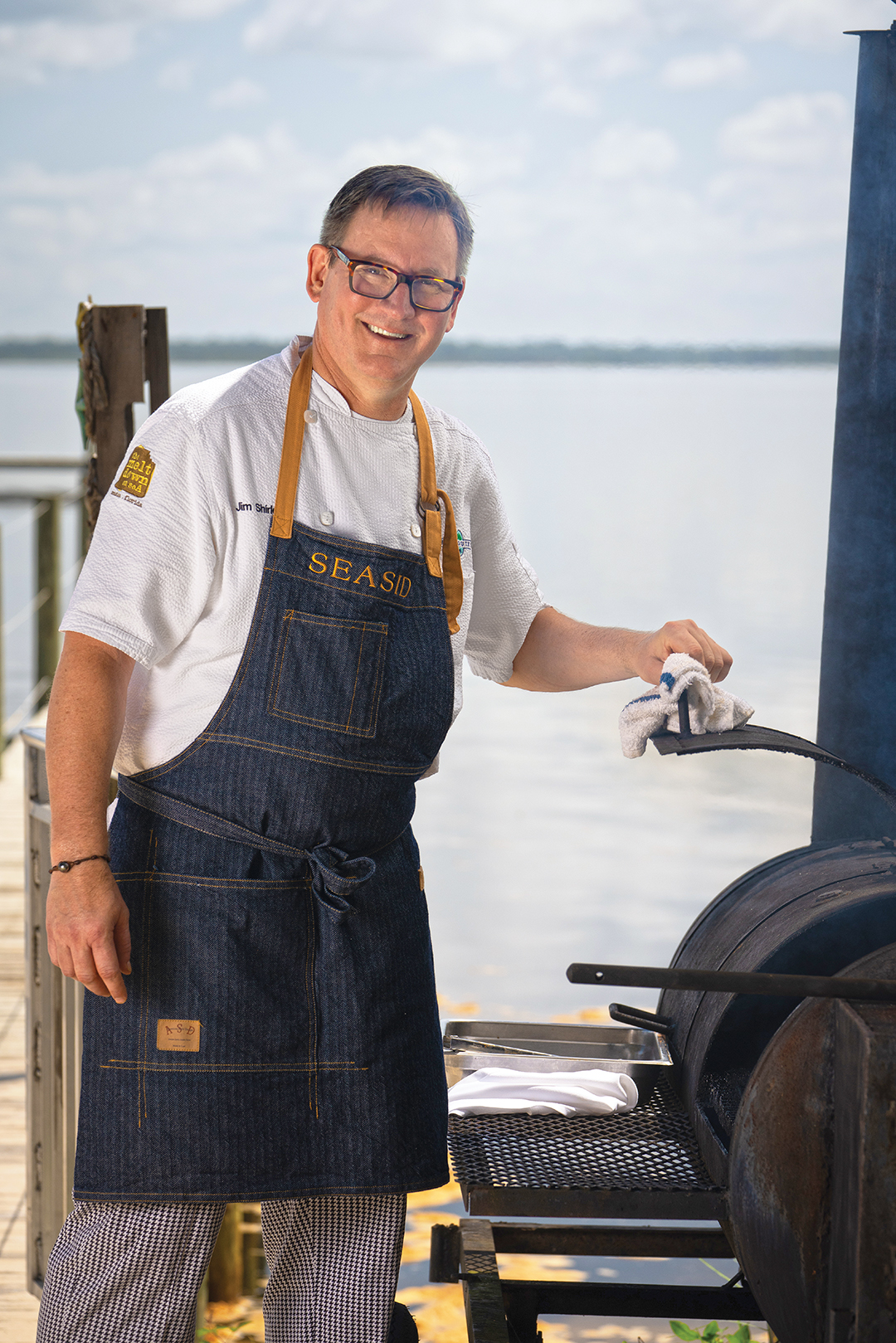 Chef Jim Shirley manning the smoker outside The Bay restaurant in Santa Rosa Beach. Photography by Chandler Williams[/caption] Shirley ended up running a Pensacola pizza place when he was 17. During college at Mercer University, he worked at Beall's 1860, a restaurant in Macon, Georgia (totally haunted, ask anyone), among others. He jumped ship from a graduate program in neurology at the University of California, Davis to work at A.J. Bumps, a biker bar that drew Hells Angels and academics alike. Shirley returned to his hometown in the early 1990s and doubled down, working his way up to culinary director at Jubilee Oyster Bar & Grille (he'd worked there immediately after college as a bartender and server, too). Long considered Pensacola Beach's premier restaurant, Jubilee was known for its new Florida cuisine, heavy on the chargrilled oysters and fresh Gulf seafood napped in luxurious beurre blanc. [caption id="attachment_9559" align="aligncenter" width="1080"]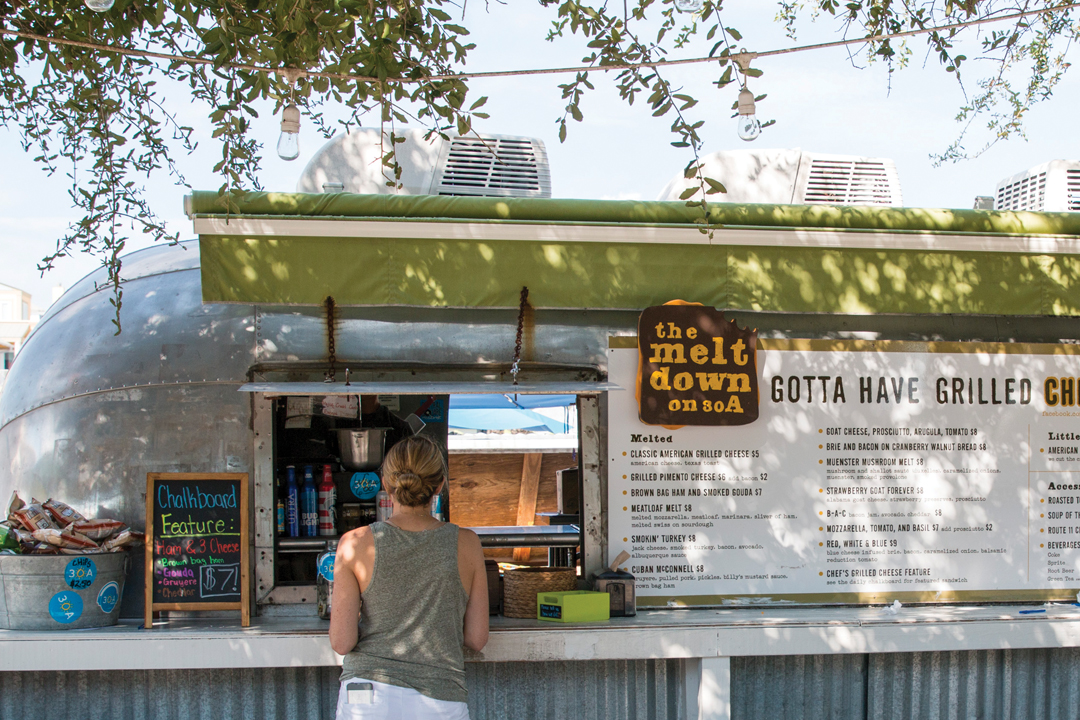 The Meltdown on 30A; Photography by Collis Thompson[/caption] As is the case with so many chefs, Shirley was itinerant, refining his craft, signing on at different restaurants and taking on more responsibility at each one. In 1995, he opened his first restaurant in Pensacola, Madison's Diner (named for his daughter), which was followed by Screaming Coyote in 1997 and the Fish House in 1998. Something else was going on in his life, too. Shirley became an activist of sorts, promoting local products and lamenting the demise of Pensacola Bay's formerly vaunted seafood industry. "Local snapper had been overfished, and seafood processing had moved east and west. A lot of the local seafood got packed up and sent to Lettuce Entertain You in Chicago, the oysters were gone, and the paper mill and Monsanto had done a number on the Bay."
---
Read more about chefs that are changing Florida's culinary scene here.
---
Shirley got involved with the Southern Foodways Alliance, started writing for the
Pensacola News Journal
and became interested in the tenets of Robert Davis's new urbanism, a community design movement then going full steam down state Route 30A in Seaside and the Beaches of South Walton. In 2006, he moved from Pensacola to Seaside (you know, the idyllic town depicted in
The Truman Show
) and began putting down roots, opening restaurants and promulgating his ideas about modern Southern cuisine. Since then, he's done dinners at the James Beard House; written a successful cookbook,
Good Grits! Southern Boy Cooks
; and contributed diligently to local charities and celebrity chef events. [caption id="attachment_9561" align="aligncenter" width="1080"]
Chef Shirley's grilled pimento cheese with bacon melt; Photography by Collis Thompson[/caption] But through it all, he's evolved as a chef, building dishes that already make sense and making them make
more
sense, keeping up with the zeitgeist as it shifts. He invented "Grits à Ya Ya," for example (while listening to the Stones'
Get Yer Ya-Ya's Out!
, naturally), a dish consisting of smoked Gouda cheese grits; a saute of applewood-smoked bacon, portobello, spinach, cream, garlic and shallots; and sweet potato "hay" and spiced shrimp on top. He and partner Kelli Castille do sly spins on grilled cheese at their Meltdown, an Airstream-cum-food-truck turning out combinations like bacon and brie on cranberry walnut and bacon jam, avocado and aged cheddar on Texas toast.
---
---
At The Bay, one of Shirley's South Walton restaurants, dishes have an international flair. "We make 'Thai-Mollys' with masa and curries from scratch, plus an Asian pesto with cilantro, basil, peanuts and sesame. Our crab cakes have a hint of fish sauce and Southeast Asian influences." Shirley's about pushing forward. Where can new Southern cuisine take us? He's toying with the idea of writing a second cookbook and looking at new opportunities, happy with improvements in sourcing and sustainability in the state. So, what does someone with so many balls in the air do in his downtime? "Cook. But I'm ready to go fishing."
---
The Great Southern Café
---
45 Central Wine bar
 — Location — 45 Central Square Santa Rosa Beach fortyfivecentral.com
---
The Meltdown on 30A
 — Location — 2235 E. County Highway 30A Santa Rosa Beach meltdownon30a.com
---
The Bay
 — Location — 24215 Highway 331 South Santa Rosa Beach baysouthwalton.com
---
Baytowne PROVISIONS
---
The Fish House & Deck Bar
---
The Atlas Oyster House
 — Location — 600 S. Barracks St. Pensacola atlasoysterhouse.com