Discover A.B. Newton and Company: Mapping the Heart and Soul of Florida's Cities
Winter Garden's A.B. Newton and Company is out to put their hometown, and other cities, on these custom prints.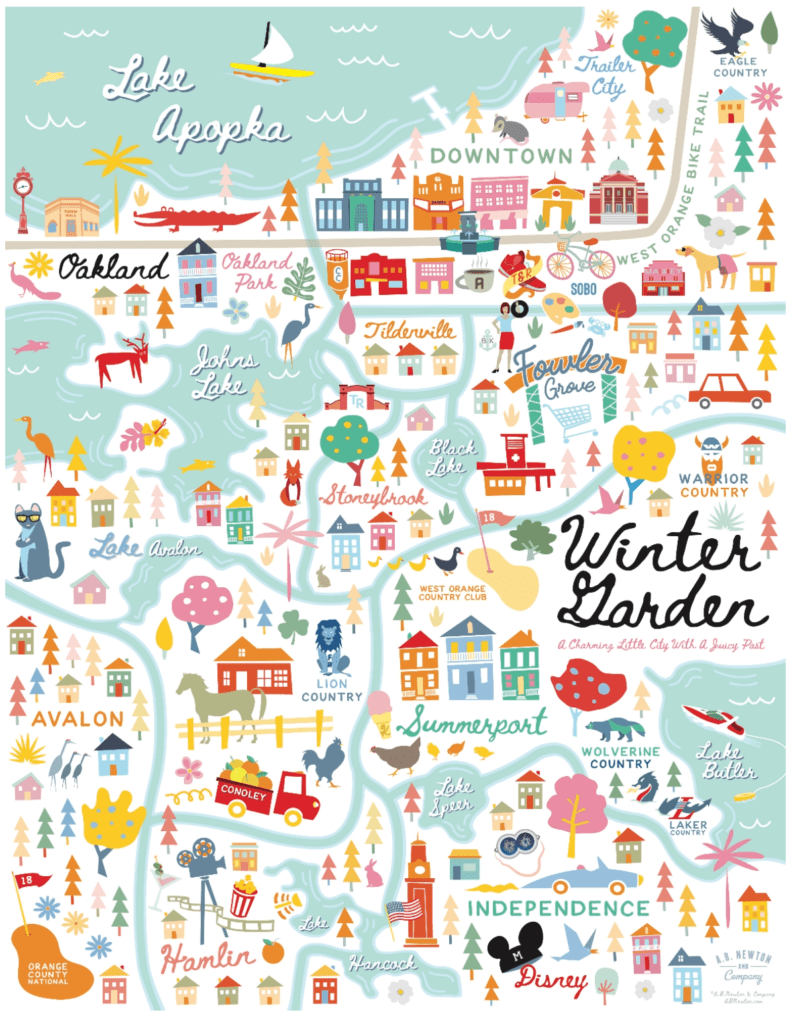 Close your eyes and think of a map of Orlando and its major landmarks. Does Disney come to mind? Of course. Is the University of Central Florida there? Probably. How about a barbecue joint named Pig Floyd's? Eh, unless you're a foodie, probably not, but that's the point of Winter Garden-based A.B. Newton and Company's City Series Art Print Collection. While their colorful maps and cards have universal frame appeal, the attention to detail and insider approach to cartography sets them apart. Hometown pride is exactly what got this Central Florida-based design shop started back in 2014. Two of the three A.B. Newton owners grew up in Winter Garden, a historic industrial town less than 20 miles west of downtown Orlando.

"My grandmother was in the first graduating class of Lakeview High School, so my family's been there since the early 1900s," says co-founder Will Blaine. His business partner, Andy Crabtree, grew up with Blaine, and his family's roots date back in the city just as long.
"People used to call Winter Garden 'Winter Garbage.' It was not a destination. Then they turned the railway into a bike path, and that turned everything around," explains Blaine. Before long, a clock tower was constructed in the city center, buildings and restaurants underwent renovation projects and the doors opened to Plant Street Market, Winter Garden's always bustling indoor artisan market.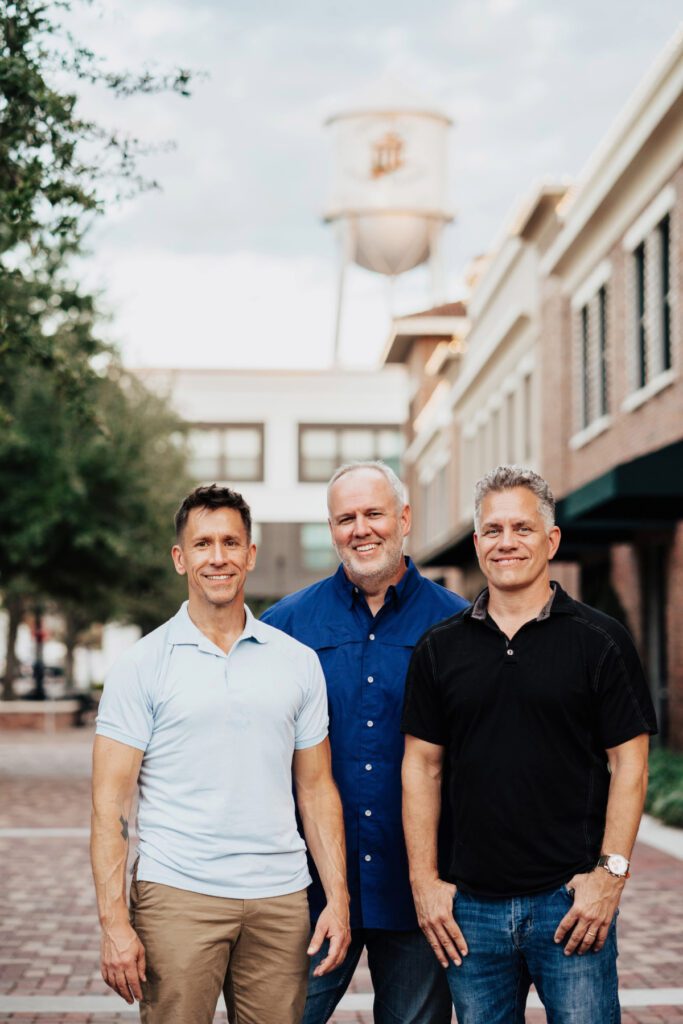 "Andy looked at me one day and said, 'We've got a lot to celebrate here—we should start getting behind what's going on,'" Blaine said. "So, we truly started out as a hyper-local thing, and A.B. Newton became our side hustle." The duo, both graphic designers, began selling Winter Garden branded T-shirts with recognizable and well-loved local symbols: the bike trail, an orange, a dog. They sold them at the farmer's market, and their side hustle grew from there. With Crabtree's background of owning his own design firm, Crabtree Ink, and Blaine's graphic design degree from Florida State University, the twosome began as more of a grassroots design shop, selling their goods around town.
As for what to call their endeavor, Crabtree came up with the idea to call the project A.B. Newton and Company as an ode to the founding father of Winter Garden, Arthur Bullard Newton (or A.B., as people knew him). A.B. was instrumental in the town's beginnings, serving as its first postmaster and mayor, and had a hand in numerous undertakings, including a rival general store of Blaine's great-grandfather. "We love that kind of creative and entrepreneurial spirit," says Blaine.
About two years into launching A.B. Newton, they caught the attention of Matthew Peacock, the founder of a digital design studio called Anonymous Creative, working just a few doors down. Blaine and Crabtree had worked with him on previous projects, so when he asked to join in, it was a no-brainer. "He's got a lot of business acumen, and he was always asking why we aren't doing this or that," explains Blaine. "Andy and I were just artists, having more fun than anything, but Matt said let's make this a legitimate business. Since then, we've been growing."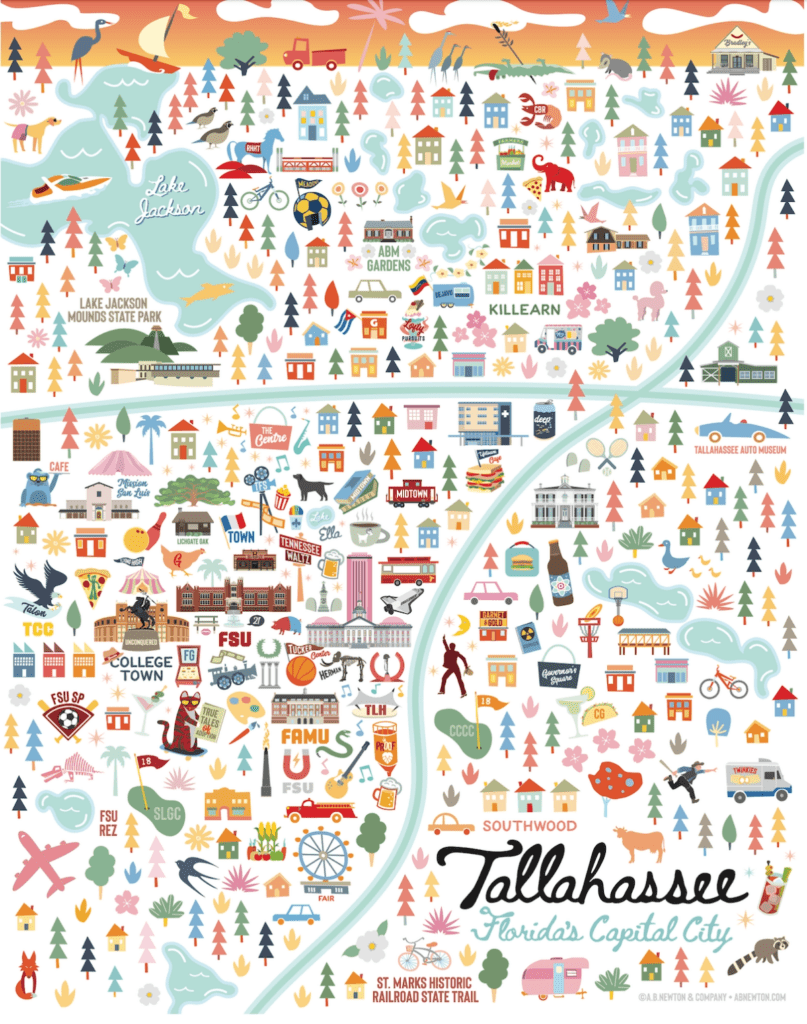 According to Blaine, they threw all their ideas out there to see what would resonate with the community. One stuck: a whimsical map of Winter Garden. With digital renderings of local haunts and locally known icons (such as the Tire Lady statue that once stood outside Clark Tire & Automotive), the art print collection took off. "We realized it was a thing," continues Blaine, and soon their city prints became a cornerstone of their business. Fifteen of their maps highlight Florida cities, with Sarasota most recently added to the roster. Another 19 cities showcase metropolitan neighborhoods across the U.S.
The creative process behind their popular City Series starts on the ground. Blaine loves to get behind the wheel of his car to explore a new place and dig up what the locals love. "You get so much local color when you're driving," he says. "I'm into everything from doughnuts and pinball to old record stores and bookstores. Of course, I try to sample stuff renowned by locals too, so if somebody says to check out a cheesesteak, we listen."
A.B. Newton also pays tribute to geographical hot spots with a series that features landmarks and theme parks. These collections spotlight singular places such as Winter Garden's Railroad Museum, New York's Washington Square Park and various Disney princess castles.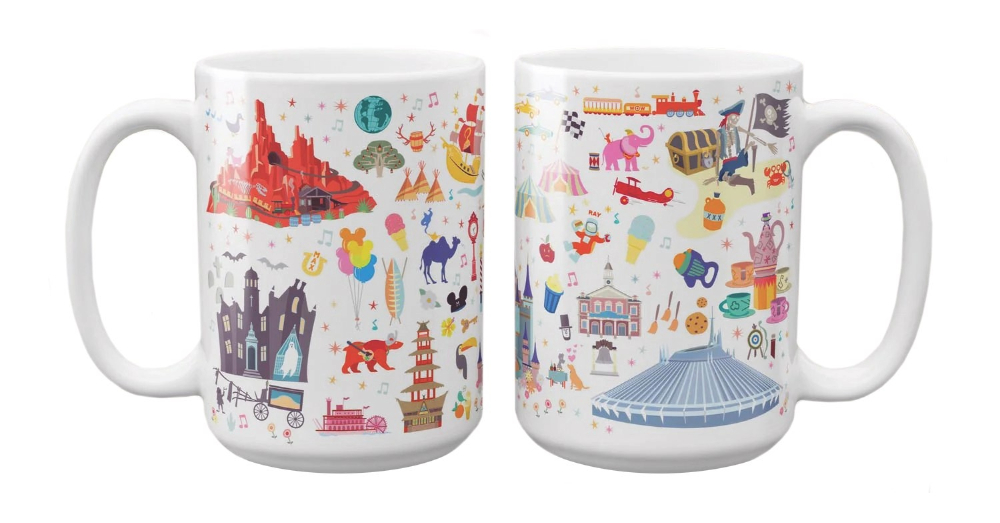 A.B. Newton isn't just dabbling in home and wall decor, they're experimenting with different products as well. "Matt is always stirring the pot with what to do next," explains Blaine, crediting him for coming up with items such as candles, solid colognes and soaps. While body care may seem like a departure from the brand's bread-and-butter prints, they're all infused with A.B. Newton's signature Florida flair. I mean what Sunshine State native wouldn't get a kick out of room scents such as Swamp Ass, featuring a blend of cypress and balsam, or Florida Man, with a cool pine forest scent?
Even as A.B. Newton's presence grows throughout Florida and the U.S., their roots are still firmly planted in Winter Garden. Not only are they still a presence at the weekly farmers market, but it's the highlight of Blaine's week. "We really get great feedback," he explains—and sometimes inspiration. One encounter with a Milwaukee transplant even led to a new city print. "She was so enthusiastic about her city and sent me the background on it. When I started looking into it, I was like wow," explains Blaine. "Before I knew it, a Milwaukee map had come together. I think that's the magic of our company, being a touchstone for what's good about the place you call home."