by

Prissy Elrod

|

October 26, 2023
Girls' Weekend Gone Wild
What happens when an artistic weekend with friends takes a turn for the unusual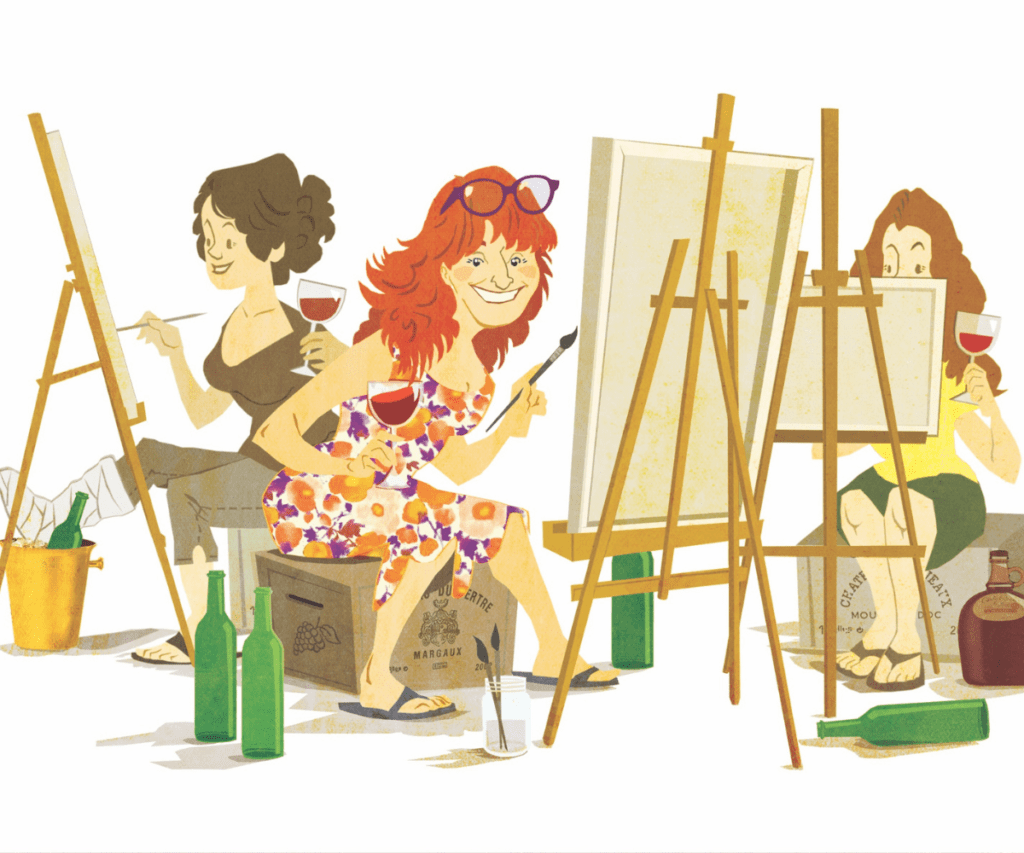 Embarking on an adventure with a car full of girlfriends unlocks a world of possibilities. The laughter, connection and unforgettable memories become the fuel propelling us forward.
I was looking forward to a much-needed getaway from my daily routine and lobbied three friends to join me for an artistic workshop and weekend retreat. Once upon a time I was more artist than author. I poured my creative juice into painting canvases of children, pets, landscapes and barns.
The three invitees have been my girlfriends for decades, each of us with our own unique quirks and set of know-it-all tendencies, me being the most headstrong with my you are what you eat mentality. My holistic beliefs and certitude have no doubt exhausted everyone who knows me. Despite my goings-on they profess to love me.
Laden with luggage and bags of favorite foods, our anticipation filled the air as we loaded up my spanking new vehicle. My intention was to scan the owner's manual before the trip. Of course, I didn't. Who does, seriously? My mantra has always been learn it by doing it. Truth told, that's the story of my life.
The destination for our artistic retreat was the idyllic St. Simons Island, Georgia, the largest barrier island in the Golden Isles. As a child, I watched how the moss-draped oaks danced in the breeze, casting playful shadows that mimicked brushstrokes on a canvas. The tapestry of vibrant colors blends harmoniously with the lush greenery and salt marshes. I spent my childhood summers at Sea Island and St. Simons, so both hold a space inside my heart.
We arrived at the quaint two-story beach house delighted to find a charming, pastel-colored abode with white-washed wooden shutters. The front porch had cozy mismatched wicker rockers adorned with plush cushions. Inside, the beach house exuded a comfortable, yet stylish atmosphere, with an open concept living space and a staircase leading to the second floor. The ocean was only a block away.
Once we unloaded the car, chaos ensued. Each of us was convinced our way of organizing the house was the right way, which led to hilarious disagreements over bed assignments, fridge organization and even bathroom claims. Piles of snacks, desserts and wine bottles spilled out onto every available surface. "Are we here for painting or a drunken binge?" I heard one of them mumble.
Starting on the Wrong Foot
The mingling meet-and-greet cocktail reception started an hour after we arrived at the house. We hurriedly unpacked and dolled ourselves up, ensuring every strand of our colored hair was in place, and set out for the Anderson Fine Art Gallery.
We were late, with barely enough time to speak to Mary Anderson, the owner and sponsor of the workshop. We missed meeting our infamous art instructor, Gary Bodner, a retired OB-GYN physician from Atlanta, now a full-time artist. As the reception ended and the room emptied, I lingered to admire the landscapes, still lifes and figurative paintings that lined the gallery walls.
"Let's go, we'll be late." Fran, one of my girlfriends, said. The next event was an informal dinner scheduled at a private club on the island. The summer heat and humidity blasted us as we exited the gallery. 
"Stay in the shade. I'll get my car and pick y'all up," I offered. There you go, that's why my friends like me.
I scurried off to find the car and forgot it wasn't white like the last four cars I owned. Finally, I found my gray SUV and climbed inside. The sweltering heat swallowed me. Fumbling for the air conditioner among the fancy buttons, I pushed and pulled until a burst of hot air blasted through the vents, making my overfrizzed hair swell and perspiration pool on my chest.
I pulled in front of the gallery and honked the horn for the lot of them. One jumped in the passenger seat, the others in the back. Doors slammed shut, and, amid the chatter, someone urgently shouted, "Hurry up, we'll be late!"
The beach house, now a repository of memories, stood empty, awaiting the arrival of future souls seeking solace and renewal who just might invite a piece of craziness into their weekend.
I assumed the entire motley crew had squeezed in. Oblivious to the commotion inside my car, with their boisterous voices and my state of heat, I moved the gear, which happened to be a newfangled circle spinner found between the front seats. I pressed on the accelerator, causing the car to lurch backward instead of forward. Unbeknownst to me, Linda's left foot was still on the ground with the rest of her body half inside the car.
"Prissy, you RAN over my foot!!" Linda screamed. Suddenly, hollering and panic seized our shocked silence.
"Go forward!" someone yelled.
"No, go back!" another hollered.
Safe to say I had not mastered the art of shifting gears with the unfamiliar circle mechanism of my shiny new Genesis. I twisted until the back tire of my monster cleared her foot. To say I started the weekend on the wrong foot (pun intended) would be an understatement.
"I don't see any blood," Linda said to Gayle, who sat beside her in the backseat.
"That's not even possible, I ran over your damn foot!" I cursed through my scream.
With no idea what I should do, Fran took charge. "Go, go, go. Let's find our group. Remember, the instructor is a doctor!"
Our frantic GPS search, and my reckless speed, led us to the venue where our group gathered. I pulled up, left the nitwits in the car, and bolted inside. I spotted our instructor and ran over to him. Without wasting a moment, I explained the mishap and pleaded for his help. He followed me to the car to assess Linda's situation.
He examined her wounded foot with a calming presence. "It looks good, no broken bones or torn ligaments, not even a flesh wound. Your shoe protected you." His eyes twinkled with a deep understanding of life, likely from dealing with crazy pregnant women all those years, not to mention bringing babies into the world.
Miraculously, the expensive Italian wedge shielded her foot. Even the shoe itself appeared unscathed. It seemed unbelievable, especially for me. An ounce of prevention was worth any price she paid for her pounded Italian shoe.
"Come inside, we'll ice it to keep the swelling down," he suggested.
So, we propped Linda and her foot in a fancy chair inside the swanky club. We drank martinis throughout dinner. Linda only had one, what with her instability and all. I had one, plus one, plus one more, only because I deserved it.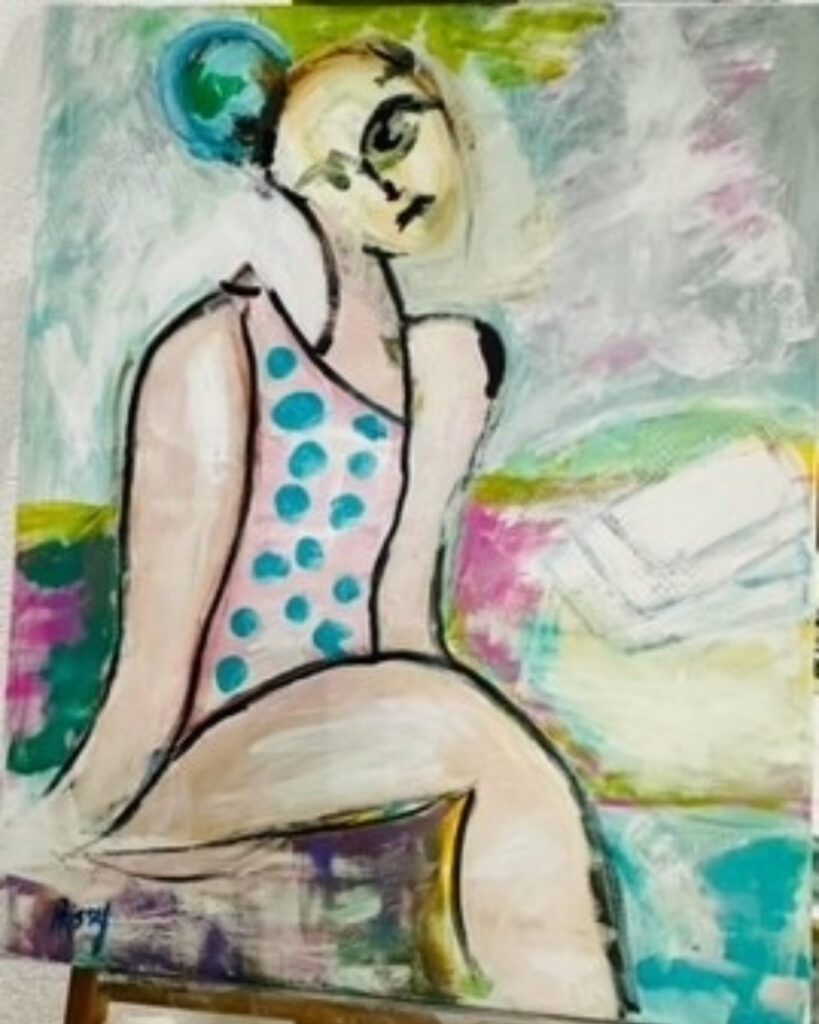 The Healing Powers of Painting
And that's how we came face-to-face with our weekend art retreat instructor for the first time. Chaos met compassion, and camaraderie prevailed.
The next day, under his guidance, we explored different artistic techniques and mediums. Our retreat became a kaleidoscope of vibrant hues, as portraits, landscapes and abstract pieces appeared from our canvases. Bold strokes of crimson and gold brought life to Fran's portraits. Delicate brushwork transformed Gayle's landscape into a captivating vista. Linda painted a scrub jay with meticulous detail and captured the feather's texture and the jay's slender beak. Her range of colors, from deep cerulean blue mixed with lighter blues and soft grays, brought it to life. As for me, I painted what became a frazzled Picasso-styled character who mimicked my state of mind at the time.

On the final day, we gathered our self-expression artwork, exchanged numbers with strangers who had become friends, and bid everyone goodbye. Back at the cottage we gathered our unused and uneaten this, that and everything else, and reloaded it back into the car. The beach house, now a repository of memories, stood empty, awaiting the arrival of future souls seeking solace and renewal who just might invite a piece of craziness into their weekend. We can't be the only ones, right?