by

Prissy Elrod

|

May 18, 2023
Prissy Elrod Bares it All on a Roman Holiday
It turns out less is more on this surprising Italian vacation.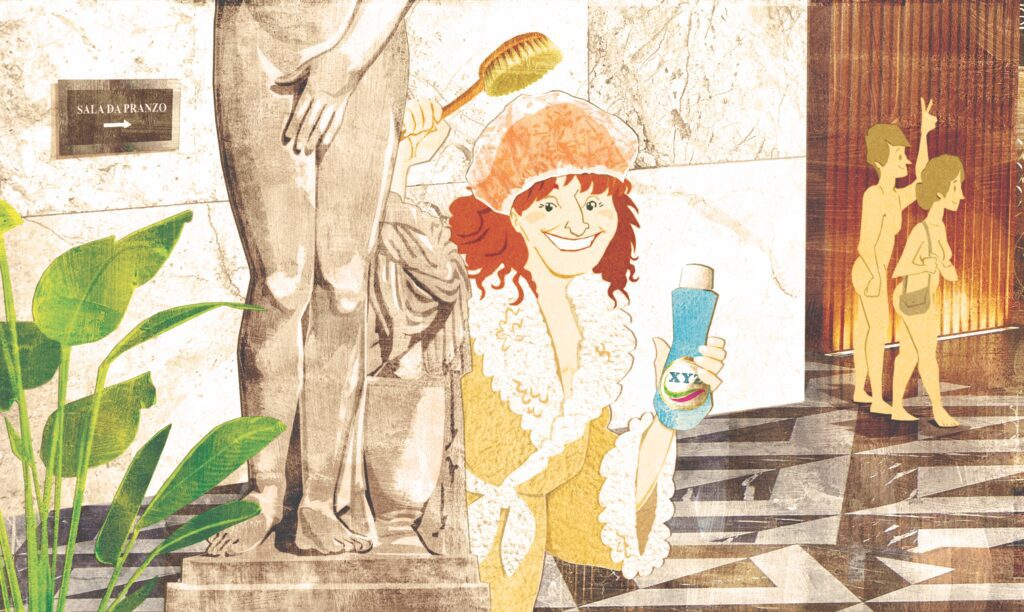 As we strolled the cobbled streets along the Amalfi Coast, I absorbed the charm that brought us there. Having visited Italy several times before, it was my first time in that region. It was also the last two days of a two-week vacation that I wasn't ready to end. The next day we would journey to Rome for our final night before returning home to Tallahassee.
For the five-hour scenic drive to Rome, I had decided to hire a driver recommended by our Positano hotel concierge. The next morning, as we settled into the back seat of the car, I handed him the paper scribbled with the name and address of our destined hotel. It was on the outskirts of town and near the Leonardo da Vinci-Fiumicino Airport. He read the paper and shook his head.
"I am from Rome and never heard of this hotel," he announced.
"Really? Well, it's close to the airport and has hundreds of glowing reviews," I boasted.
Oh, how I love finding those offbeat hotels that tourists, and even some locals, don't know about. In years past I had escorted groups of 25 women on annual all-inclusive trips to Italy, even Hong Kong. That alone might be why I'm a bit crazy. Let me just say (although I shouldn't) that women really are the most difficult species to please. My chosen hotel accommodations were always gold nuggets and met my own picky criteria of being high-end, stylish, small and nontouristy. Often enough, however, they did not satisfy my persnickety guests' expectations. For them, five stars just weren't enough. Shamefully, (I won't lie) I did lie. The next time I advertised one of my Far Outside the Ordinary tour adventures abroad, I told those headaches I was sold out. I'm not proud of myself. But, cliche or not, karma really is a bitch and one must reap what they sow. I mean, shouldn't they?
Our driver entered the address into his GPS. Five hours later, he was still trying to find my unmapped gem. Even the GPS had trouble. Finally, he called the hotel for proper directions. As we drove through the wrought iron gates, he babbled in his broken English, "I do not know this. I drive to airport many times for many years."
"Well, now you do and can tell your passengers and hotel concierges," I replied, beaming with prideful glee knowing I taught the lifelong Roman something he knew nothing about.
"Yes, yes, I will. It is so beautiful," he said.
The facade and surrounding grounds reminded me of one of the plantations in Thomasville, Georgia. It screamed elegance and isolation. As we bid goodbye, he thanked me again for introducing the place to him. "Why did I not know?" he whispered, still dumbfounded.
Best-Kept Secrets
As we checked in, the desk clerk offered to make dinner reservations at their restaurant. "Great, how about 6:00?" I asked.
"I think 8:30 is better; we have a complimentary reception at 7:00," he suggested.
"OK, that's perfect." A cocktail sounded so good after our long car ride, the last leg of it spent driving around in circles. Dale, my introverted husband, didn't bother to reply to either of us. He knew how much I loved meeting people and liked to say, "I'm just along for the ride." Whatever that means.
The desk clerk made our reservation for 8:30 and handed over a gold tasseled key to the bellman. We followed him through the enchanting lobby into an elevator up to the fourth floor. He unlocked the door to an elegant king-size suite layered from floor to ceiling in luxury. The decor was distinct with its Venetian plastered walls and a palette of white, beige and ornate gold embellishment. A jasmine-scented breeze nudged the azure silk drapes framing the wide-opened windows. I heard laughter and splashing coming from somewhere outside in the distance. I looked through the windows to see a large fence nearby. Hmm, sounds like the party already started.
When the bellman left our room, my weary husband plopped down on the posh linen duvet. Next to him lay two plush terry robes, artfully laid out with fresh rose petals sprinkled around.
"Scoot off those robes," I scolded, as any tired woman would. The man was fast asleep before my scoot command was commanded.
I went into the luxurious marbled bath and found an oversize tub large enough for a family of four. A generous supply of toiletries, branded in white-and-gold packaging, lay scattered in piles around the tub and both sinks. I'd never stayed in a hotel with so many complimentary items: razors, lotions, shampoos, conditioners, Epsom salts for softening, invigorating and relaxing—all in different colors with various scents. There were pedicure and manicure kits and even serum for my parched hair.
We were hungry enough to eat an elephant but not enough to strip into robes.
I filled the tub with gallons of water and slid into my impressive tent of bubbles. A stack of indulgences on the ledge of the tub called out. I opened, poured, exfoliated, shaved, relaxed, meditated and then dabbed my locks with the serum. Forty-five minutes later, I climbed out and slathered more potions on my damp skin. I swear I glistened and was beyond energized.
"This place is six stars, not just five," I told my husband, as we made our way to the cocktail reception. I was all dolled up, both of us famished by then. A waiter with chilled wine perched on a silver tray greeted us at the door. I retrieved two glasses from him. "Thanks!" I said, smiling.
"The attire is robes," he said, unsmiling.
"You're funny," I chuckled.
"I'm sorry, but robes are the policy."
"Did you say robes?" I asked, my head cocked to study the creature. Say what, you crazy a*s! I thought. "But we have dddd-dinner reservations over there," I stuttered and pointed to the restaurant behind him.
"Did you not find signature robes on the bed?" he asked with what looked like a smirk as he continued scolding.
We stared, both stunned, then guzzled our wine with no comment. Three gulps gone, we handed him our two empty glasses and walked away. We were hungry enough to eat an elephant but not enough to strip into robes.
The Fine Print
As it turned out, my jeweled hotel was nothing but a cubic zirconia. In my neck of the woods, we call it a nudist colony. Italians label it a Roman bath retreat. It seemed during my hotel research I stopped reading once I read the word retreat. Clearly, the hotel should have printed: NO robes. NO dinner. NO uptight Americans.
We undressed for bed and not for dinner. Only after did I discover my hair wasn't infused with hair serum after all. No sirree! It was something more personal, as in lubricant. The word was stamped on every other product in the bathroom—once I slid on my glasses and closely read what was in all those white-and-gold packages.
As it turned out, my jeweled hotel was nothing but a cubic zirconia. In my neck of the woods, we call it a nudist colony.
Chagrined and unfed, we crawled into the crisp sheets in our stale, wrinkled pajamas. A harmony made up of two growling stomachs and an orgy of nudists singing backup (behind that tall privacy fence) amplified the room's silence. Before being lulled to sleep, I will confess, I may have counted mental images of chiseled, naked Italian men and not the customary sheep.
In my lifetime, I've come to believe almost anything that happens can be a lesson, of sorts. The purpose is to dissect, learn and grow from it—or through it. Sometimes, both at the same time.
I wouldn't trade my naughty nudist adventure for anything, though I'm sure my "along for the ride" husband would. I'd like to believe I learned from it.
One being, I guess I'm not the savvy travel expert I have bragged too often to be. Two, I should wear my glasses and read what's in hotel bathrooms before slathering it everywhere. Three, read the fine print in all hotel descriptions. There was a reason the devout Catholic driver didn't know where that hotel was. And to think I suggested he share my find with his passengers and concierges. Four, nobody likes a bragger. So, don't brag about anything, ever. Five, (and this one is mostly for me) don't be the last living authority on everything you know nothing about. Point taken, Mr. Takeaway.
I still try to remember that one, but mostly I don't, and probably won't. Ask all those who know me. Better yet…please don't.