by

Craig Pittman

|

December 21, 2022
The Wackiest Florida News Stories of 2022
Makeshift tailgate strip clubs, dog poop versus machete matches and a whole lot of alligators in unwanted places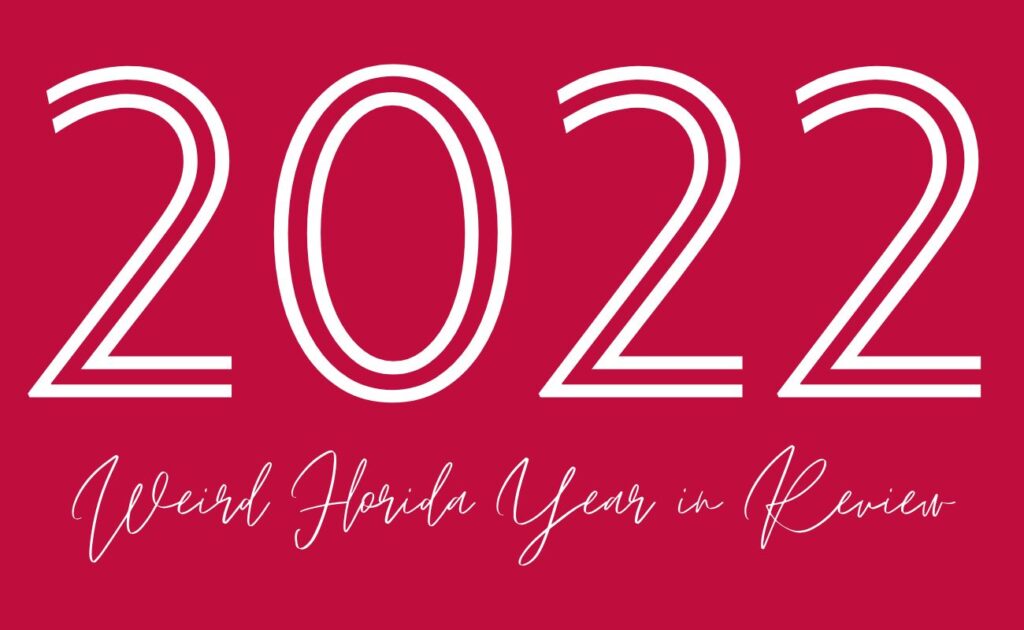 I think we all remember where we were when we first heard the news.
No, I don't mean the news about Hurricane Ian making landfall, or Gov. Ron DeSantis being reelected, or even that time he showed up in Arcadia in those white boots that reminded everyone of Nancy Sinatra.
I mean the news about the Okeechobee County Sheriff's Department drug raid that netted, among other folks, a man dressed head to toe in a cow suit.
"Florida man dressed as cow among several in drug house bust," blared the WSVN-TV headline in June. I will always recall seeing the photo the first time, gazing in befuddlement at the defendant gazing back in befuddlement.
There were a lot of headlines about the Cow Man Capture. The media really milked that story. And it was just one of a myriad of tales this year that proved, amid all the storms and political strife, that we here in Florida are still just as weird as we've always been.
Driving the Getaway Car
If you're looking for trends, we had lots of stories about strange getaways. My favorite one involved a Hialeah Medicaid fraud suspect who tried to escape to Cuba aboard a Jet Ski (it broke down south of Key West, and he had to be rescued).
Some getaways were more spontaneous. When Okaloosa County deputies showed up to serve a warrant on a man who was riding a lawnmower, he tried fleeing on the mower. They ran after him and shot him with a Taser. I wish I could report that he yelled, "Don't Tase me, mow!" But alas, he did not.
I wish I could report that he yelled, 'Don't Tase me, mow!' But alas, he did not.
A more sedate pursuit happened at the Orlando airport. A woman, barred from boarding her flight because she was intoxicated, cussed out a police officer and then rode away on her motorized luggage. An officer pursued her through the airport—on a bicycle.
By far the wildest getaway happened in St. Augustine. That's where an 8-foot crocodile broke out of the back of a zoo van and scrambled off down A1A. Recapturing it and wrestling it back into the van took five people.
Animal House
Animals starred in plenty of crazy Florida stories. For instance, an iguana caused a widespread power outage in Lake Worth, suggesting they are escalating their assault on human civilization. Speaking of reptile dysfunction, in March a 7-foot crocodile planted itself on a runway at NAS Key West. The base had to summon a state-licensed trapper to relocate the big lizard so planes could land. Meanwhile, a 12-foot alligator blocked traffic on—where else?—Alligator Alley.
In March, a high school swim practice in Monteverde had to be canceled when a 3-foot alligator turned up in the team swimming pool. I would have held the practice with the gator in the pool. Consider it an incentive to speed up your backstroke.
Not all gators were willing participants in the news. A Collier County man pulled over by deputies because he was driving with a suspended license turned out to be carrying drugs, guns—and, in a plastic bathtub in the bed of his pickup, a small alligator.
Pythons, which showed up in a lot of unexpected places last year, were more discreet in 2022. However, linemen restoring power to Marco Island in October found one that was so big that it took eight of them to hold it for a selfie. Meanwhile a pair of snake-hunters searching for a python near Naples instead caught a 9-foot albino boa constrictor.
Bears made headlines too. One was wandering around Heathrow, prompting one homeowner to go searching for it so he could take a picture. He couldn't find it, so he went home. Later he discovered the bear on his own porch—asleep. (Yes, the homeowner got the photo.) Perhaps this was a rental via Bear BnB.
Fake it 'til you make it
Floridians are no stranger to strange tourists, and not all visitors receive a warm welcome. In July, a Zephyrhills family rented a home in Cape Coral for a week and then discovered, to their dismay, that across the canal was a house occupied by numerous men who hung out by the pool naked. When one waved at their kids, the family called 911. Turns out the men were tourists from Switzerland, where public nudity is legal.
One of my favorite stories of the year concerned a Chumuckla man who was unhappy with a more recent arrival. Homebuilder D.R. Horton built driveways to new homes that ran across his property without his permission. He retaliated by building and stocking a pigpen across one of the driveways.
Other Floridians who showed off their creativity include the Miami Dolphins fans who set up a makeshift strip club at their tailgate in the Hard Rock Stadium parking lot.
Speaking of stripping, when the crypto company FTX went bust, the Miami Heat needed a new sponsor for their arena. One bid came from a strip joint named the Booby Trap. Another came from pornography producers known as the BangBros.
Some Florida businesses achieved acclaim in other unusual ways. For instance, Tampa International Airport won the national Best Bathroom in America contest. Airport staffers were flush with pride.
The other big airport story involved Transportation Safety agents at the Fort Lauderdale airport who found, sealed in plastic inside carry-on luggage, a raw chicken. Inside the chicken: a gun. Sounds like someone planned some airborne fowl play.
Florida law-enforcement officers have gotten pretty good at spotting a fake. A woman who crashed into multiple cars, including a Martin County deputy's cruiser, attempted to get away by throwing a fake snake at the cops. A Spring Hill man called 911 to find out if the drugs he'd just bought were fake. Meanwhile a Pinellas County fraud suspect tried to throw off prosecutors by producing a fake pardon from then-President Donald Trump.
Perhaps he should have tried a simpler gambit. Boaters pulled over by Palm Beach County deputies avoided a ticket by beating the deputies at rock, paper, scissors.
We saw a wide variety of weaponry this year, including a weed whacker, a sex toy, a breakfast sandwich, a bowl of chili, a slab of raw steak and a cat. Two Cape Coral boys were charged with battery for spraying Silly String at other kids. Two women were arrested for throwing glitter on a Clearwater man (the charges were later dropped).
There were quite a few machete-related crime stories, as often occurs. The Lee County neighbors who wound up in a dog poop-versus-machete feud had the best one, in which a dog owner brandished a machete after his next door neighbor returned a fresh pile to the dog owner's front steps and accused him of letting the hound go to town on his property. The owner, however, knows that his pooch was not the one to blame because "the poop was all mushy. My dog don't go mushy. My dog's poop is solid," he told NBC2. Far more mysterious was the man in a shirt and tie, carrying a machete, who showed up on the doorbell cameras of several Lauderhill homes, where he knocked on the door but then disappeared.
Regular weapons can lead to injurious complications. A Jacksonville man, who allegedly stole a gun, shot himself in the groin with it. He told police he was fine but that was another display of questionable judgment.
The poop was all mushy. My dog don't go mushy. My dog's poop is solid.
Florida crooks often display such off-kilter thinking. A Madeira Beach DUI suspect, rather than undergo a sobriety test, instead showed the cops that she could do "multiple ballet and Irish folk dance moves." A Port St. Lucie man swore to the Veteran's Administration that his injuries prevented him from lifting more than 10 pounds—meanwhile posing for photos showing off his workouts to prepare for bodybuilding competitions. That's still not as bad as the 69-year-old Polk County sheriff's volunteer who was caught selling drugs out of his patrol car, while in uniform.
In August, a man who'd just been released on bail from the Pinellas County Jail tried breaking into three vehicles in the jail parking lot. All three were sheriff's department cars.
Cars themselves sometimes led to trouble. A Boca Raton man bought a $700,000 sports car, then a week later crashed it into a palm tree while doing 35 mph because he didn't know how to drive a stick.
Of course, you don't really need a car to get into trouble. A Melbourne man on a motorized scooter was charged with DUI for the way he was he was careening around inside a Walmart.
A Not-so-Smooth Criminal
In many cases, the people arrested made the cops' jobs easy. A Flagler County drug dealer texted a potential customer asking if he wanted to buy anything. The aggressive salesmanship backfired because the potential customer was a county commissioner who promptly reported the offer to the cops. The only thing worse was the guy in St. Cloud who decided the right time to rob a Walmart was in the middle of a Shop with a Cop event, when there were 40 deputies in the store.
The list of people charged with crimes included some you wouldn't expect. A Longwood bride was busted, along with her caterer, for allegedly serving marijuana-laced treats at the reception. Even more surprising, the ex-executive director of the Miss Florida pageant was charged with stealing $100,000 in donations and spending some of the money on online dating services. PS: She's 76.
Sex showed up as a factor in some Florida stories. After an SUV crashed into a FedEx truck in Fort Lauderdale, fire rescue personnel discovered the driver and passenger in the SUV were naked. The female passenger had been performing oral sex on the male driver who, according to one TV report, "sustained injuries to his private area."
Naked people showed up in the news a lot, as usual. My favorite was the one in Volusia County who covered his nudity with a stolen American flag. I bet he's got a future in politics.
A Leesburg woman snapped a photo of a naked woman on a motorcycle who ran a stoplight, then commented, "If I was naked, I wouldn't stop at traffic lights either."
As the Cow Man learned, even donning a costume couldn't keep trouble away. A professional mermaid who performs at the Wreck Bar in Fort Lauderdale sued an ex-mermaid who's a self-professed witch and her husband, a Broward County deputy for harassment.
My favorite crime story of the year, though, involved a burglar who bored a hole in the roof of a shoe store called Luxe Miami. While climbing down, he fell to the floor, jumped up, grabbed as many shoes off the display rack as he could carry—about 20—and then fled. Apparently the burglar and an accomplice were unaware of the way shoes are displayed in stores.
"They took left-feet shoes," a police officer told a Miami TV station. "They didn't take a pair of shoes, they just took single shoes that were on the rack." I bet when the crooks discovered they'd left the rights, they said something like, "Oh, foot."