by

Craig Pittman

|

December 21, 2021
The Craziest Florida Headlines of the Year
An ode to all of the emotional support snakes, floating tiki bar thefts and tipsy billy goats that made the news this year.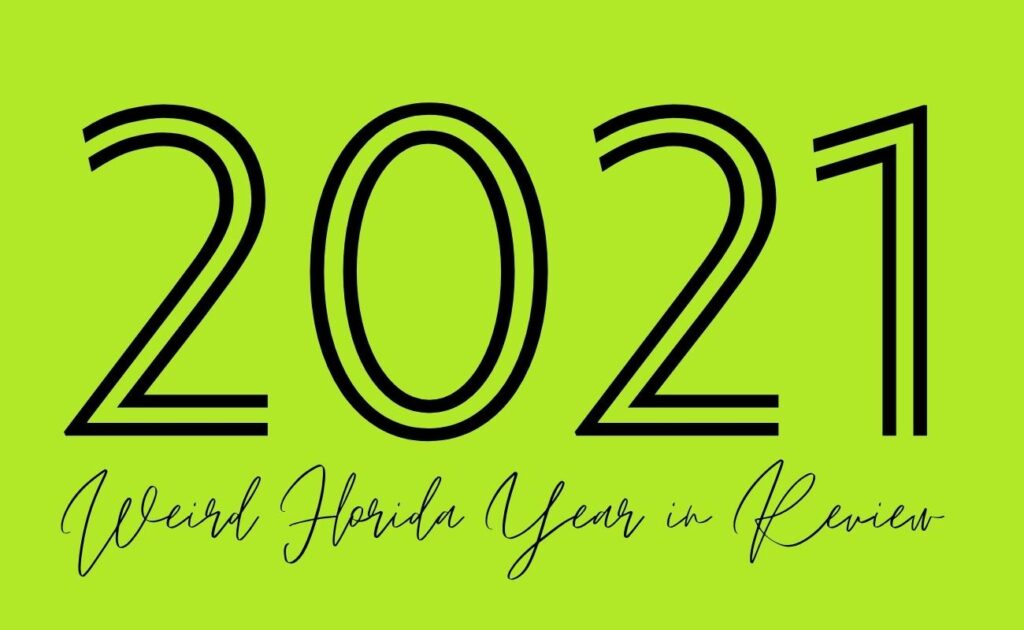 As 2021 draws to a close, it's time for us Floridians to look back at how we dealt with the year's biggest challenge. No, I am not talking about the omicron variant, mask debates or the spurious claims of election fraud.
I'm talking about Netflix's decision to film its new "Florida Man" series someplace other than Florida—namely, North Carolina. I mean, how weird is that? The show will follow an ex-cop who returns to the Sunshine State in search of a mobster's runaway girlfriend but "what should be a quick gig becomes a spiraling journey into buried family secrets," the description reads. You know, in Florida, we call that "Tuesday."  Listen, Netflix, you are missing out on some really rich source material here. Despite the pandemic, Florida has consistently produced massive amounts of weird news. 
For instance, 2021 was clearly the Year of the Unexpected Reptile.
We in Florida have grown accustomed to stories of the professional python hunters—male and female—pulling big snakes out of the Everglades. Those are not unexpected. When I refer to "unexpected reptiles," I mean snakes that turn up in places so unusual that Samuel L. Jackson would have a fit.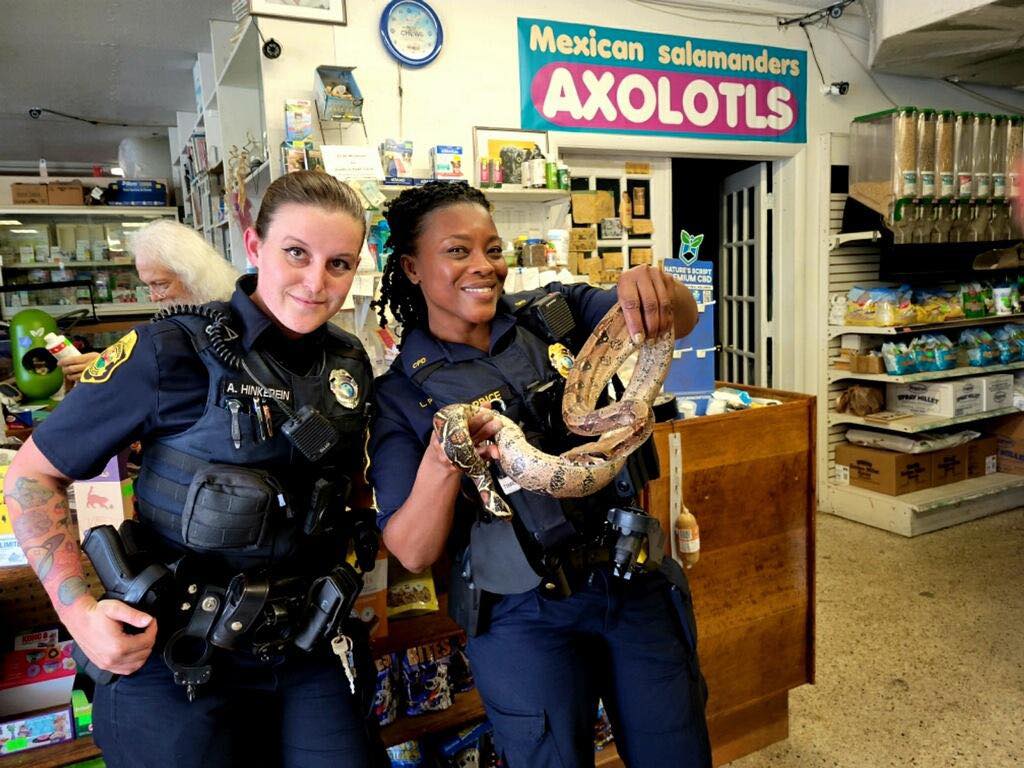 So far this year, people in Florida have found ginormous snakes inside the shower stall of a sailboat off Marco Island, in the cushions of a recently purchased couch in Clearwater, on the counter of a bathroom in Orlando, inside a clothes dryer in Groveland, inside a new stove in Miami and emerging from the hood of a car in Palm Coast.
The one that slithered out from under the hood crawled onto the windshield while the car was in motion. That prompted the driver, who was oh so safely recording the whole thing, to shout things like, "OK, so this is a little much. This is a little much. OK, Florida!" and "Florida, you have outdone yourself."
I read that and thought to myself: Lady, you have no idea.
I say that because that same month, the Fort Walton Beach police pulled a driver over for a DUI and found the car contained what the driver claimed was an "emotional support snake." Just looking at the pictures of that python curled around the police officer's arm made me feel like I was the one needing some emotional support.
Another unexpected reptile story featured a Mount Dora man who became a surprise Internet sensation after a video of him capturing an alligator near his house by the strategic positioning of a trash bin went viral. The difficulty was increased because, in true Florida Man fashion, he was wearing socks and slides. Not only did he catch the gator, but he also rolled it down a hill and released it back into the wild—so it's still out there, and now has a healthy fear of garbage cans. Iguanas also got in on some of the Florida reptile fun. A South Florida trapper reported that he was getting 10 calls a month about iguanas popping up in toilets in Hollywood. If you want to give someone an iguana for Christmas, I know where you can get several somewhat damp ones for free.
Love Thy Neighbor
Neighborhood disputes created a lot of headlines this year. A man in Alachua who objected to the way his neighbors were parked decided the best way to get their attention was by shooting fire from his flamethrower. Meanwhile, an Orange County elementary school principal driving a BMW was charged with trying to run over three neighbors while they were out walking their dogs. One said as they jumped out of the way, he saw her holding up both of her middle fingers at them. (I am not sure she was still gripping the wheel.) A Cape Coral resident feuding with a neighbor named John put three toilets in his front yard sporting messages for his nemesis across the street. The porcelain thrones did have plants in them, so one could argue they were decorative. I can't wait to see what happens next; the situation is flush with drama!
A man in Alachua who objected to the way his neighbors were parked decided the best way to get their attention was by shooting fire from his flamethrower.
— Craig Pittman
Another Cape Coral neighborhood produced a mystery. In the spring, neighbors frantically phoned police to report scary noises—"like an alligator eating a dog," one said—emanating from a backyard. The source turned out to be a stagnant swimming pool full of frogs. They were (ahem) mating.
Nastier than a pool full of horny toads was one rather snooty community in Palm Beach Gardens. That's where a lawn care worker rushed to help a driver having a seizure in a rolling car (who eventually recovered) while the neighbors yelled, "Get off our lawn!" and "Have him die somewhere else!"
On the other hand, some neighborhood problems were solved through sheer ingenuity. A St. Johns County neighborhood that repeatedly had parents clogging their streets before a nearby school let out was saved by a fabulous drag queen named Spar-Kelly. She stood in the roadway waving a sign that said, "THIS IS NOT STUDENT PICK-UP, HONEY."
A situation in Miami Beach required similar creativity. Pedestrians reported repeat airborne attacks on one street. Aggressive black birds kept swooping down on them like the demonic seagulls in Alfred Hitchcock's famous horror film. City officials identified the dive-bombing birds as boat-tailed grackles that were nesting in the trees lining the street. They were protecting their nests. Federal law dictates no harm befall the grackles, so instead of killing them, the city hired a master falconer to dispatch his bigger bird to scare the grackles away.
This was far from the only story that seemed strictly the birds. A cage full of homing pigeons fell off of a truck in Volusia County, and their flying feathers startled motorists. When no one stepped forward to take the homing pigeons home, and the birds themselves didn't appear to know the way, they were turned over to Universal Orlando to become players in a flight show.
Good Cop, Bad Cop
As usual, our police sometimes had trouble policing themselves. A Collier County deputy was fired for having sex while on duty—in his patrol car, while in uniform (well, some of it). Tampa police officers bought booze and lap dances for themselves at a strip club as part of what they claimed was an undercover operation that somehow yielded no leads or arrests. And a Monroe County detective was charged with stealing spiny lobsters from a boat he'd pulled over.
The most surprising bad-cop news of the year, though, came out of Pensacola. The new sheriff of Escambia County discovered, to his dismay, that his predecessor spent $37,500 of the taxpayers' money on a life-size bronze statue—of himself.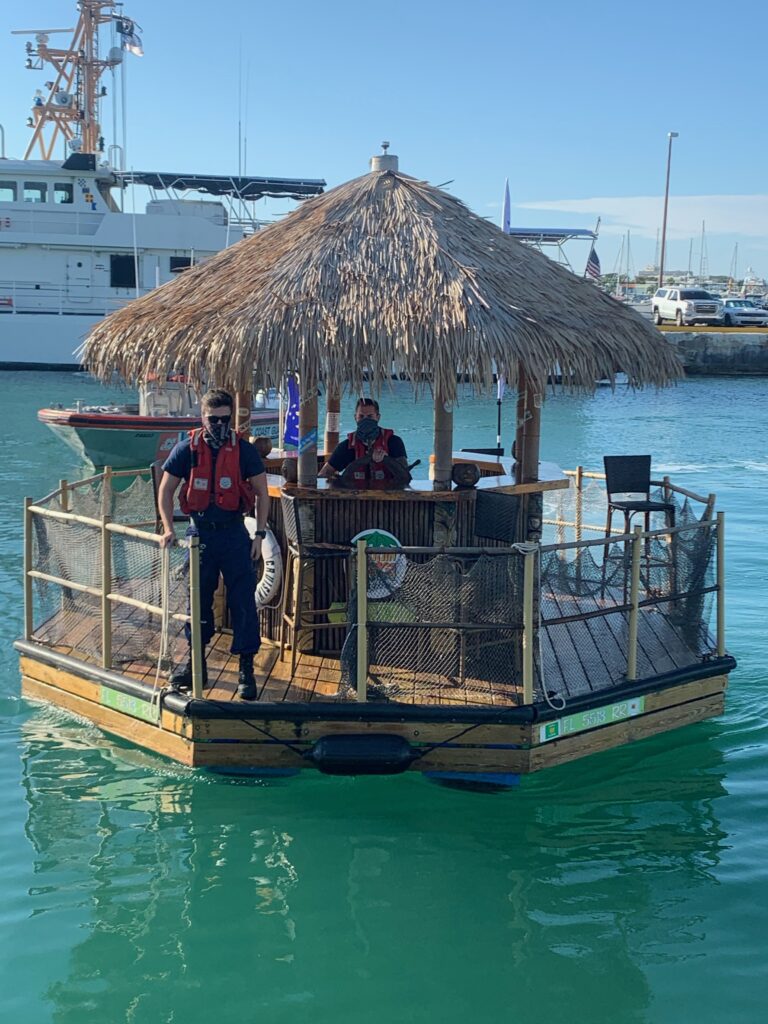 In their defense, our cops had to deal with plenty of oddball crimes. My favorite was the theft of a bucket containing 13 vibrators from a bar in Gulfport. The local paper's headline: "Vibrator Theft Shakes Up Gulfport." A close second was the St. Petersburg burglar who used a homeowner's samurai sword to rob him but then left his own cell phone behind. One thief conked out on his heist halfway through. A tourist swiped a floating tiki bar from Key West and drove it 60 miles before passing out, which made him pretty easy to catch.
The easiest criminals to catch? The Jan. 6 insurrectionists who posted pictures of themselves and their friends to social media. One who went viral was the Parrish man who paused to pose for a photo while walking off with Speaker Nancy Pelosi's lectern. The most on-brand traitor, though, was the Orlando man who was arrested while appearing in a roadshow production of "Jesus Christ, Superstar." He played Judas.
'I Didn't Know Driving Reckless Was Illegal'
Florida, as usual, ranked first in the nation at running over bicyclists and pedestrians. But we've got a good excuse! We were distracted!
For instance, someone captured video of a car cruising along I-75 in Collier County with a topless female passenger leaning out the window to flash other motorists. The Florida Highway Patrol confirmed this was illegal. She should've been wearing a seatbelt (and a shirt).
The ultimate distracted driver was the 20-year-old lady from Deltona who managed to hit a bicyclist and then kept going. The cyclist just happened to be Volusia County Sheriff Mike Chitwood. The driver was too busy shopping on Amazon to stop and see what—or rather, who—she'd knocked down. She told someone she thought it was a mailbox.
The least distracted, most determined driver was a man with a lightning bolt tattoo on his face who stole an ambulance while its crew was busy inside a Brooksville hospital. He took it for an 8-mile joyride that ended only when it got stuck in some mud.
Speaking of joyriding, a naked man drove through the cash lane of a Central Florida toll booth. Then he did the same thing six more times over the course of three days before state troopers caught up with him.
Drivers came up with some pretty weird excuses for their behavior. One in Titusville told police he'd been driving too fast to pull over because he would have crashed. A man caught doing 120 mph near Vero Beach said he was driving so fast because he was listening to a rap song titled "Ciento Veinte," which means "120." He told officers, "I'm sorry, I didn't know driving reckless was illegal."
I think the most Florida of the Florida drivers, though, was the 22-year-old motorcyclist in Clearwater who led police on a high-speed chase, weaving in and out of traffic at speeds of up to 100 mph. When he was finally pulled over, he told his pursuers that he was "trying to show off" for his female passenger, with whom he was on a first date. She was the opposite of impressed; the police report said she told the arresting officers she kept screaming for him to stop.
A man caught doing 120 mph near Vero Beach said he was driving so fast because he was listening to a rap song titled "Ciento Veinte," which means "120."
— Craig Pittman
Equally unimpressed were the employees of a Lake City car dealership when a man tried to trade in a stolen vehicle. Where was the vehicle stolen from? That very dealership. The surveillance system captured his theft on camera.
Some of the oddest automotive antics were a product of the retirement mecca known as The Villages, where an angry resident was arrested for what VillagesNews.com described as a "golf cart road rage incident." While another Villages local was busted for doing 25 mph in a golf cart on the Florida Turnpike.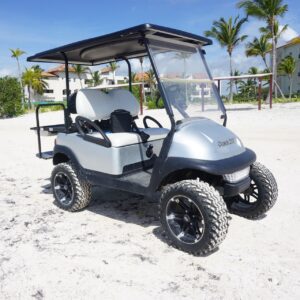 There were other golf cart-related crimes. A Fort Myers man tried stealing a golf cart from the Sun-N-Fun RV Park, but his getaway was foiled because he could not locate the park exit. Pinellas County deputies dealing with an armed standoff in Dunedin were startled when a naked woman in a golf cart drove into the middle of the crime scene.
There was no nudity but putting courtroom proceedings on Zoom produced some interesting visuals. One Miami court case accidentally broadcast a patient getting a butt injection, while another showed a man shaving his eyebrows. Someone who was twerking Zoom-bombed a court hearing involving the construction of a Wawa in Coral Gables, which was probably a lot more exciting than anything else going on in court.
Not all our legal scares came from Zoom. In the days before Halloween, a Citrus County man built a haunted house for his neighborhood, then got arrested for trying to bribe the fire chief to ignore its safety violations. Meanwhile, a man spotted driving around Bunnell with a creepy clown mannequin was pulled over for having an expired license and then police discovered he was also carrying a live grenade.
The Great Homecoming Con
Florida politics has always been weird, and this year was no exception. For instance, a controversial former Miami police officer who was running for mayor was arrested in Key West on a charge of impersonating a police officer. Despite repeated claims of a rigged election, the one election police said was crooked wasn't a presidential one. It was the vote for high school homecoming queen in Cantonment. The homecoming queen wound up facing charges, along with her mom, a school administrator with access to the student balloting system.
A lot of political gaffes made the news, like the Holmes Beach commissioner who was elected on a platform of ending noise problems who was himself the target of a noise complaint after he left loud, thumping music playing at his house for three days while he was out of town. Meanwhile the mayor of Oviedo proposed feeding the homeless by planting edible plants in city parks, which she promised would be safe because "we already are spraying it with pesticides."
Gov. Ron DeSantis' campaign began selling the governor's balls—two DeSantis-branded golf balls in a package labeled "Florida's Governor Has a Pair"—without thinking through the ultimate fate of golf balls. Fore!
Communication errors abounded. A Jacksonville principal had to apologize for scheduling segregated assemblies to discuss racial disharmony. Even more forehead-slapping, an aerial banner plane flew over Pembroke Pines pulling a sign that read, "Jew, I have a question." The owner said it was a marriage proposal for a woman named "Jewel," and they didn't realize it could be read another way until they got a call from the Anti-Defamation League.
Meanwhile, pictures taken at the Jacksonville Main Library showed COVID-19 patients lying on the ground and moaning while they were in line for monoclonal antibody treatments. The company the state had hired to run the treatment site dealt with this bad PR by posting signs saying, "Please do not sit or lay on the floor." (It's "lie," by the way, not "lay.")
Sometimes we had more literate crooks than usual. Two guys in Fort Lauderdale smashed the windows on the parked car of best-selling children's author Laura Duksta and made off with two boxes of her books. Fortunately, they crashed while fleeing police, so this story has a happy ending.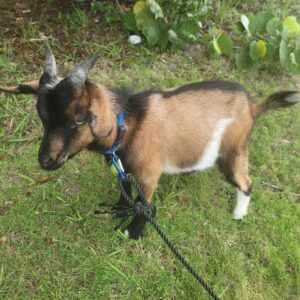 Speaking of endings, I think the Floridian who best sums up all this year's craziness is Keys resident Cindy Cody, the owner of a miniature goat named "Billy Bob Thornton."
She explained to the Miami Herald that it was no big deal that a man stole her goat so he could use it as a prop for panhandling around Big Pine Key (and got the goat a little tipsy). As she put it: "It's just a normal day."