by

Steve Dollar

|

November 1, 2022
These New Restaurants are Upping the Panhandle's Culinary Culture
Two local chefs and one brewmaster revive the culinary culture in this hidden pocket of the Panhandle.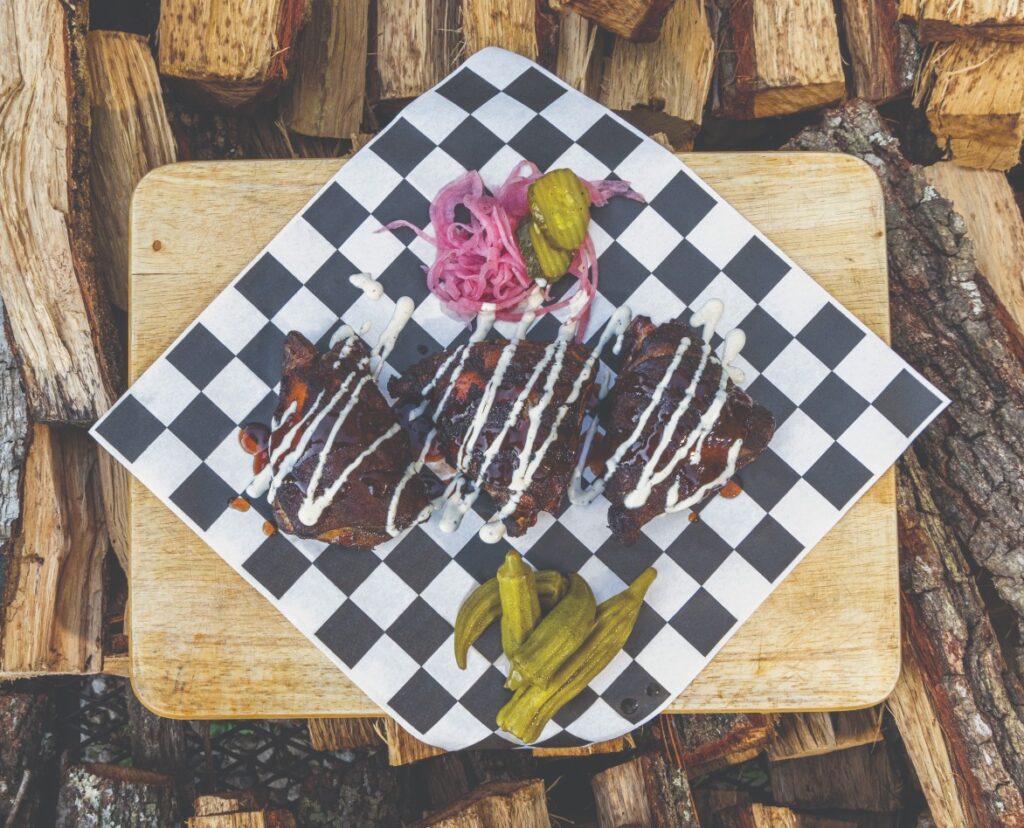 Smoke rises from a humble parking lot off the side of two-lane U.S. Highway 319 as it passes through Crawfordville, a signal for drivers to slow down and pull up into a spot next to a sign of a pig. Most of the businesses along this stretch are generic—fast-food franchises, discount stores—interspersed with storefront gospel churches, auto garages and signage boasting some combination of the words "vape," "nails" and "CBD." Just beyond the commercial facades lies literal wilderness: the Apalachicola National Forest, the Aucilla and Flint Rock Wildlife Management Areas and the St. Marks National Wildlife Refuge. It might be easy to overlook Ryry's Kitchen. Yet, if you happen to sail past the customized 1993 Penske moving truck—emblazoned with the caricature of a grinning porker in shades and a chef's hat, smoking a cigar clenched between its teeth—don't worry. On any given day, Ryan Richardson will be serving up his barbecue at one of a score of locations within a one-hour radius, posting routine updates to his various social media accounts.
Three years ago, Richardson launched a one-man enterprise, selling pulled pork, ribs, brisket and sausage smoked with his own bespoke mixture of oak, pecan and hickory woods and seasoned with a rub that includes uncommon secret ingredients, including some inspiration from the Spaniards who arrived in Florida in the early 1500s. He hashtagged it #floridaque. He was an instant success.
"It was crazy," he said. "My first two to three months open here in Crawfordville was insane. I mean, insane." A lot of that, admittedly, was timing. When the pandemic shut down local restaurants, Richardson's truck was the only option for many.
"I would have lines down the sidewalk," he said.
The entire world has changed since then, but they're still lining up for Ryry's rib candy and clever side dishes like his watermelon and cucumber salad. Along the way, he's creating a new regional barbecue identity.
"Florida doesn't have a style," said Richardson, as we hopped into his truck behind the Wakulla Teen Center lot where he set up shop for the day. "You have Texas barbecue in Florida. Carolina barbecue in Florida. Alabama barbecue in Florida. Hey, I'm doing Florida barbecue in Florida!"
What that means for Richardson is putting his own mojo on the "old-school" Alabama style that nurtured him, growing up around Montgomery, Alabama, where his grandfather ran a string of country stores in Montgomery and Macon counties. "He made moonshine and had pool tables in the back and always had the barbecue pit going," Richardson recalled. He picked up important life skills—shooting pool, playing Pac-Man, making moonshine. "That's where I fell in love with barbecue. Hanging out behind my grandpa's store and just listening to the old folks talk and get drunk and cook and watching and learning and listening." His mentor was an older African American employee of his grandfather's named Gus, who they called "Goose."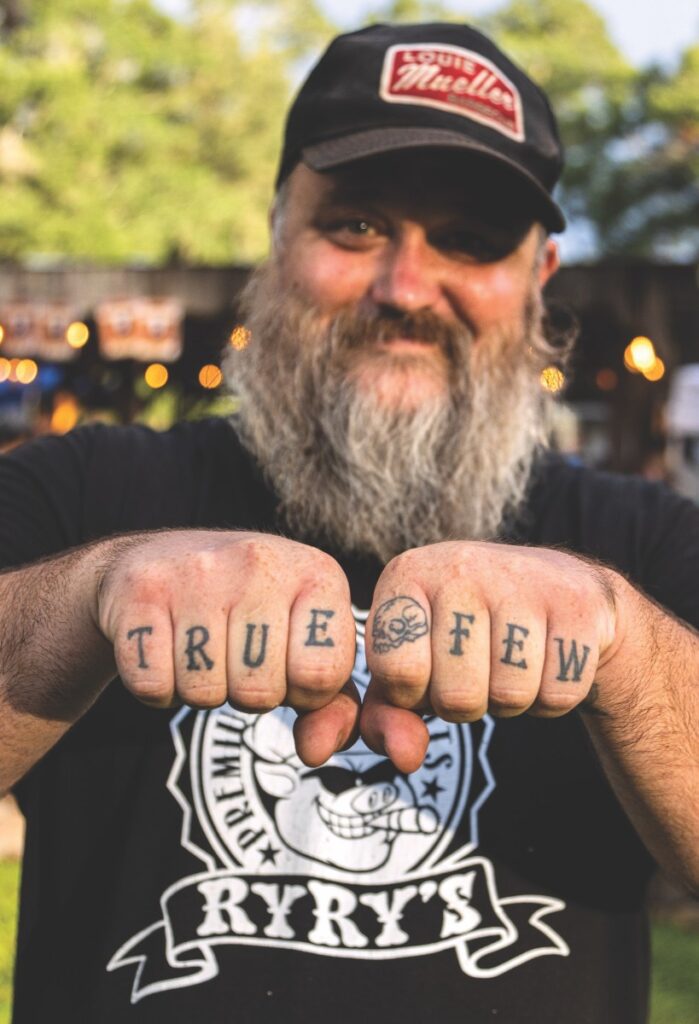 "He was the only person my grandfather would turn me loose with," Richardson said. "Out in the country, there never was a big deal about Black or white. We were just country people."
Teenage Ryan's departure for the wider world was hastened when he beat up his sister's boyfriend and landed before a judge. The choice was jail or enlist in the military. His next stop was the United States Marine Corps boot camp.
"It changed my life, big time," said Richardson, whose knuckles are tattooed with the words "True Few," an homage to the Marines' slogan: the few, the proud. "I was an asshole."
Not quite two decades later, Richardson found his way to Wakulla County, where his mother and sister had resettled—his late stepfather hailed from Alligator Point—and quickly made his mark, running the camper kitchen in back of The Wilbury, the popular bar between the Florida State University and Florida A&M University campuses. Despite the success of Ryry's Kitchen, which now has a couple of employees and has expanded into catering, Richardson heeds his grandfather's advice "not to get too big for his britches." His agenda pretty much remains a man, a truck and a lot of smoked pig. But he's going (even more) mobile.
Last month, Richardson sold his house in Wakulla and bought a camper. Crawfordville will remain his base, but he plans to take his act on the road, taking his #floridaque to music festivals around the country. "I'm a hippie at heart, my parents were hippies," said Richardson, who has a Grateful Dead skull tattoo "with the Widespread Panic symbol in the middle of it" on one of his legs. "I don't even have a house anymore to have a kitchen," he said. "I wanted to be able to be out on tour for the rest of my life."
Where There Are Hops, There's Hope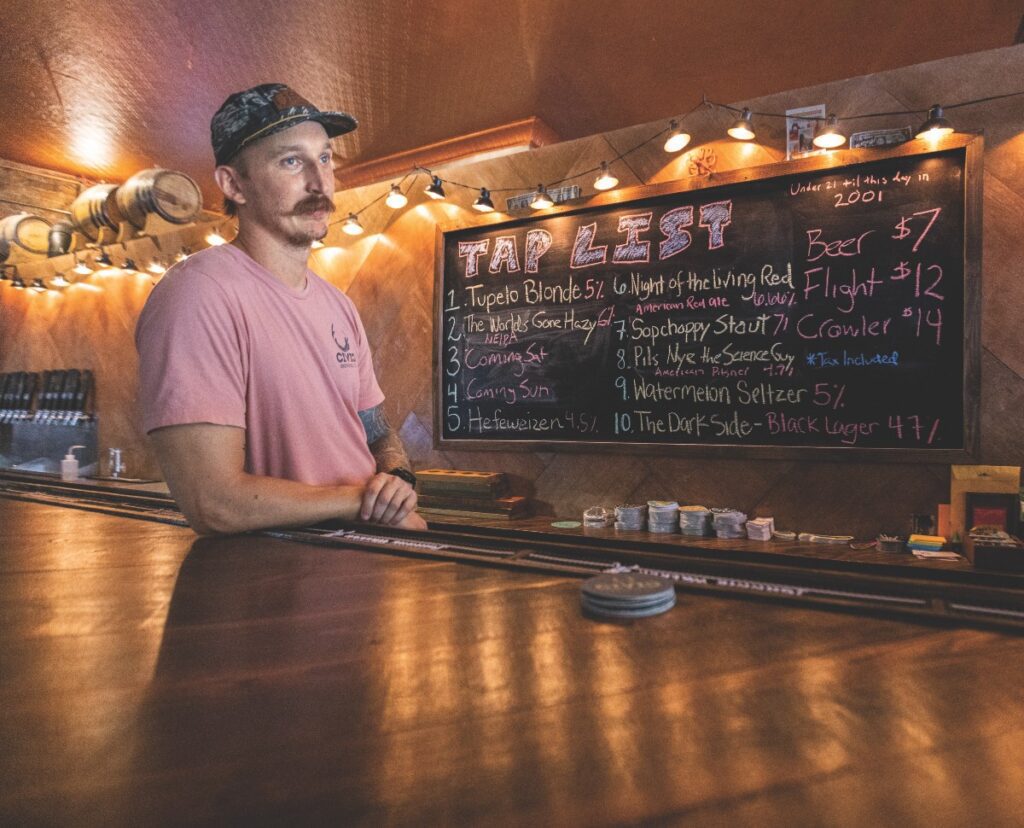 To introduce myself to Elliot Seidler, founder of Sopchoppy's first craft beer brewery, I drop a bit of family lore. This speck of a town, situated on U.S. Highway 319 between Medart and Alligator Harbor—a shout from the Ochlockonee River—was notorious as the place where my father ran afoul of some locals as a young man. I forget the circumstances. Maybe he was asking for directions or had paused too long at the wrong stop sign. Regardless, he didn't stick around. Some tough guys came at him with a tire iron, confirmation perhaps of a saying a customer shares with me that Sopchoppy is only 33 miles from Tallahassee, "but 109 years south."
Seidler smiles as he works the bar inside Civic Brewing Co. on a recent Saturday afternoon. "Yeah, it's changed a lot," he said. Born and raised in Sopchoppy, Seidler is clearly an agent for that change. The full house of convivial patrons he's hustling to serve confirms his instincts. The scrappy businessman had to push for six months to change a local ordinance in order to open his brewery in June 2021, joining established breweries in Eastpoint (Eastpoint Beer Company) and Apalachicola (Oyster City Brewing Co.) on the coastal craft beer front. He renovated and reopened the former site of the pizza joint where he held his first job as a teenager, slinging pies alongside Jesse and Tyler Rice, who would later launch their first restaurant there as Backwoods Bistro. Before the 2008 financial collapse, Sopchoppy had more happening, including three recording studios. The arrival of Civic signals the promise of something new.
"I used my home-brewing kit when I first opened up, and then obviously I kept running out of beer," said Seidler, who was trained in the Master Brewers Certificate Program at the University of California, Davis. His resources have expanded significantly since last summer. A chalkboard tap list offers 10 options, including a Sopchoppy Stout, an American Pilsner dubbed Pils Nye the Science Guy, and the top-selling Tupelo Blonde, an ale infused with the tupelo honey that is famously sourced nearby.
I used my home-brewing kit when I first opened up, and then obviously I kept running out of beer.
— Elliot Seidler
Seidler, whose perfectly cultivated mustache would serve him as well bartending in a Prohibition-era speakeasy or an Old West saloon, got the home-brewing bug from his sister Taylor, formerly creative director for Beer Advocate magazine, who took him to his first beer festival when he was 21. Seidler also traveled the world in the Navy. "I drank everywhere, probably too much," he said. He came across his favorite spot in Yokohama, during three years stationed in Japan. It was called, Thrash Zone. "All they did was play metal, and they had eight or nine beers on tap. It was awesome."
Sopchoppy, with its official population of 483 people and its springtime Worm Gruntin' Festival, may not be ready to thrash yet, but it's taken to Civic, Seidler's brews and the pub's vintage-rustic decor, just fine. Where there's hops, there's hope for more cool things to come. Seidler, who now lives in Tallahassee, is looking for a house back in his hometown.
"The thing is, [Sopchoppy's] going to grow," he said. "It's about being able to make it so it's good growth."
Beyond Fried Shrimp Baskets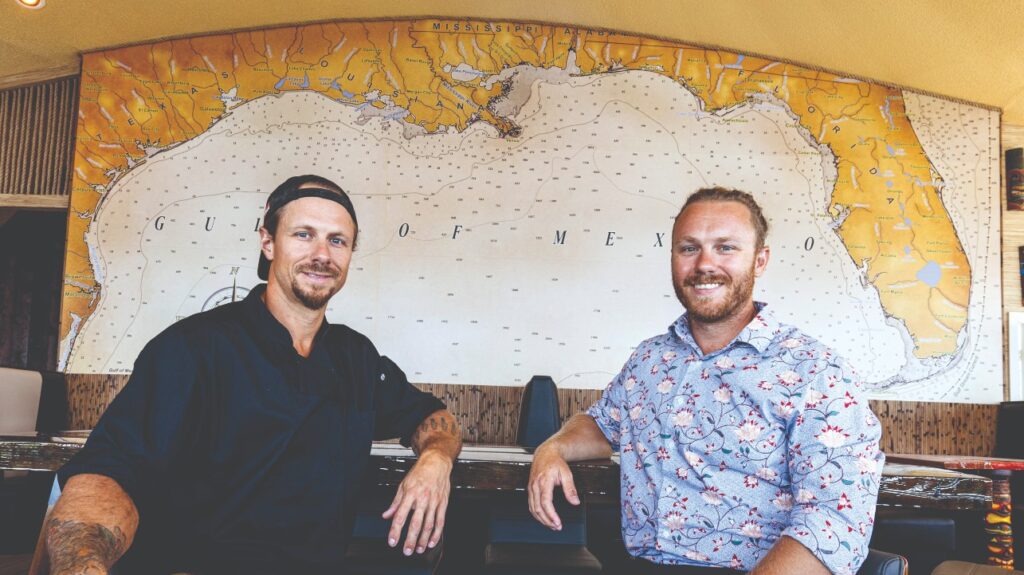 Jesse and Tyler Rice, Seidler's high school buddies from the pizza joint, are circling back, too. Elder (by 18 months) sibling Jesse staked his claim on the restaurant business in 2006, at age 20, when he opened Backwoods Bistro in Sopchoppy. Five years later he opened Backwoods Bistro in Tallahassee, and then Tyler partnered with him to create Backwoods Crossing, a farm-and-table restaurant with its own four-acre farm at the far eastern edge of Tallahassee. Now the brothers are soon to open Trident, their new spin on the classic coastal Florida seafood house, in a 9,000-square-foot site overlooking Dickerson Bay in Panacea.
It's all very familiar to the Rices. As kids, their parents paid frequent visits to what was then the Harbor House. The boys would race out to the dock, "causing havoc," as Tyler recalled, while the grown-ups waited for a table. The business closed in 2006, and the building fell into disrepair, more or less untouched save for a brief, botched effort to convert it into a sportsman's retreat several years ago. The opportunity fell into the brothers' laps. Jesse told his brother, "Let's go home. Let's go be on the water and be back where we were raised."
The way they were raised is elemental to the way the Rices think about food. "Mom and dad always had a small farm," Jesse said. "They were hippies, too, constantly trying to use everything." After-school chores for the boys sometimes included soaking a hundred logs for shiitake mushrooms to grow on, a practice expanded at Backwoods Crossing where the staff harvests 20 pounds of mushrooms each week. Their food had an explicitly Southern influence, which the Connecticut transplants to rural Panhandle Florida experienced as a cultural awakening. Tyler recalled eating at friends' houses, then coming home to ask, "Mom, can you make cheese grits for us?" Her reply? "What is a grit?" The boys grew up on a hybrid diet of Northern and Southern styles of cooking. "Jesse just took that," Tyler said, "and put an entirely different spin on it."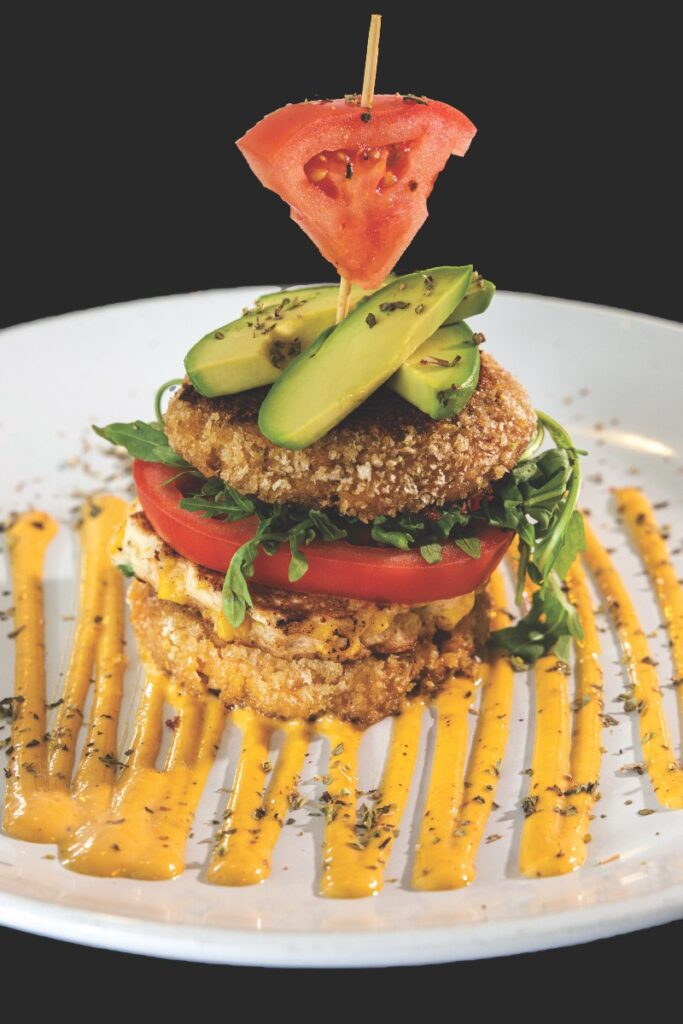 On a recent afternoon, the brothers took a break from the floor-to-ceiling, and monthslong, overhaul of the Trident building to talk about their food philosophy. Above, models of an array of local fish species dangled from a ceiling painted in aquatic blue, while the restaurant's signature feature—its huge picture windows—offered a sweeping view of the bay. The Rices have been spending a lot of time on and under the water, harvesting their menu. "We catch our own seafood, grow our own food … the most beautiful thing about the culinary industry is a lot of ingredients don't need people to church 'em up," Jesse said. "You can just present great ingredients."
One of those is lionfish. Near-psychedelic in appearance, the invasive species is decimating the native fish populations. The brothers have been on a campaign to annihilate them, one fish at a time. "We don't do it because they're easy to clean or easy to catch," Jesse said. "You can catch a 50-pound grouper, you clean it, and you get 35 pounds of meat. We catch a lionfish and cut 18 venomous barbs off the thing and get 16 ounces of meat. Obviously, it's an ordeal, but, for us, it's worth it. We're doing something that's great for the environment, and we're taking it to the next level."
"They spread like crazy, because nothing eats them," Tyler added.
"We've spent the past four to five months stockpiling. We've got 150 pounds of lionfish back there [in the freezer]," Jesse said. "You should promote sustainability, but also present things that are really beautiful. And it's delicious. Light, flaky, beautiful meat."
It's also a signal that the brothers are eager to explore far beyond the hallowed fried shrimp basket and grits that have been a staple of seafood restaurants in this area since forever. They won't even have the standard shucked oysters on the menu. Instead, Jesse mentions "cool little spins" on duck breast, pork belly, alligator—which he has served at Backwoods Crossing cooked sous vide and presented in a sushi roll. For the brothers, it's a case of deja vu all over again, but different.
"The last time I ate here was senior prom," Tyler said. "It's wild to come back, and now it's ours. We're going to do it better and change everything about the area."
Jesse smiled. "Put the heartbeat," he said, "back in Panacea."