by

Bucky McMahon

|

March 11, 2020
Meet this Floridian Crowned the World's Best Longboarder
Jacksonville Beach native Justin Quintal talks conquering waves, shaping boards and scoring world titles.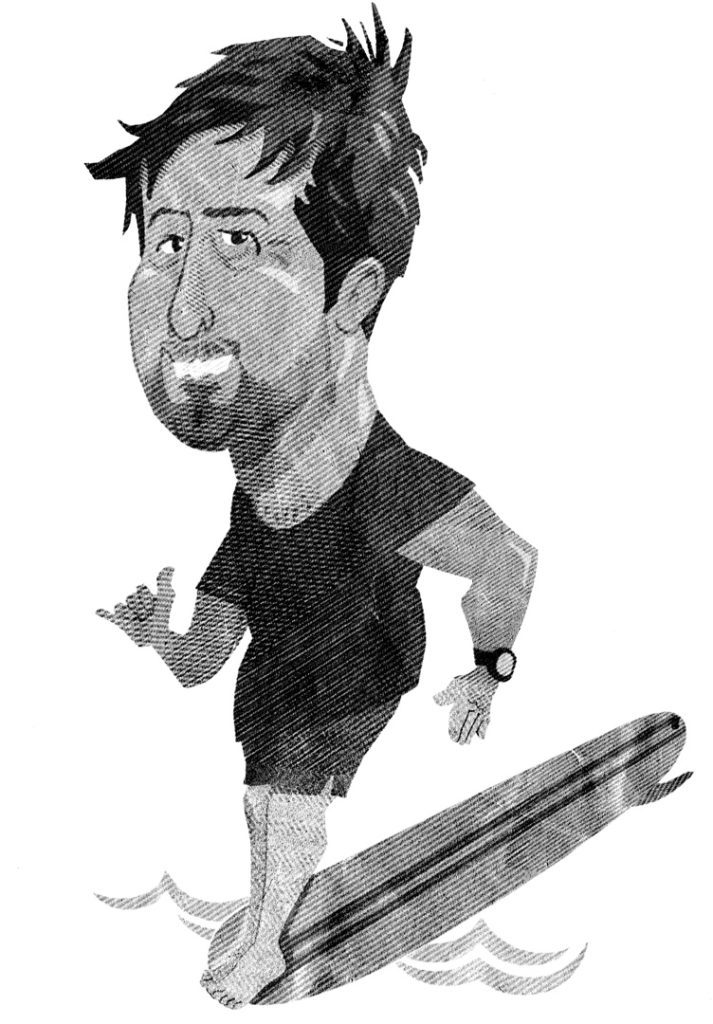 During a typical sunrise surf session at Mayport Poles, the premier surf break at Katherine Abbey Hanna Park in Jacksonville, you'll see two tribes of surfers sharing the knee- to waist-high swell. The shortboarders, who make up most of the pack, attack the waves with sudden bursts of speed and slashing turns, bashing the lips of the breaking waves. Their style is aggressive, distinctive of the contemporary moment, seeking to blast free from the face of the wave for the elusive big air—X-Games style. Except for the littlest groms (the youngest surfers), they all wish the surf was bigger. The other tribe, the longboarders (the loggers), harks back to old Hawaii—or at least to California in the 1960s—when surfing was all about gracefulness. The loggers' turns are smoother and their rides longer, cruising from the outer bar all the way to the shore break, gliding over the slough where shortboards bog down. Longboarders don't seek to conquer the wave, but rather to dance with it. For the loggers, the surf could be even smaller and they would still be stoked, which is why their tribe is growing among all ages and genders.
Whether from common sense or from increasing historical awareness, the surfing world is awakening to a new golden age of traditional longboarding style, and a leader of the movement is 30-year-old Jacksonville Beach local Justin Quintal. On a typical day at the Poles, you might see J-Quinny choreographing an astonishing array of maneuvers: hanging ten, noseriding, trimming and getting tubed, perfectly attuned with the wave.
"The burly Floridian with the dancing feet," as a Facebook friend dubs him (he's a big dude with thick shoulders, barrel chest and impeccable balance), has been a feared competitor since his early teens. A decade ago, the rising star caught the eye of internationally renowned surfing impresario Joel Tudor, Generation X's most innovative longboarder, who offered him the last wild card slot in the prestigious Vans Duct Tape Invitational. Quintal won the event—a stunning upset by a first-time competitor—and has gone on to win an unprecedented nine more Duct Tape titles. Quintal has since founded his own invitational event, the Justin Quintal Loggerhead Classic, which held its second annual iteration this past September at the Jacksonville Beach Pier. A graduate of the University of North Florida, Quintal has garnered an array of sponsors, including Vans, Sunrise Surf Shop and Mellow Mushroom; launched his own surfboard label, Black Rose MFG; and continues competing in contests around the world. Long considered one of the world's best longboarders, J-Quinny made it official in December 2019 in Taiwan, winning the World Surf League's Longboard World Title.
Flamingo called in on the world champ as he caught his breath and pondered his next move.
Congrats, Champ. You've been on a competitive tear. When did you first realize you might bring home the World Championship?
JQ: Well, I won at Noosa [Australia] and in Spain. I was the points leader going into the final event [in Taiwan] so I knew I had a pretty good chance. But the way the tour is set up, the last event is 10,000 points, almost like a clean slate, so everybody had a chance. The conditions were really heavy in Taiwan and I did terribly, but I had enough points to hold on.
Have you been a longboarder since you were a grom, or did you make the transition later?
JQ: My dad was a shortboarder, and he started pushing me into waves at Satellite Beach when I was 3 years old. It was a shortboard, but a pretty big board for me. At age 11 I started competing in ESA [Eastern Surfing Association] contests riding shortboards. There were a lot of events offered—shortboard, bodyboard, longboard—so you could either hang out on the beach all day waiting for your heat, or enter a lot of the events and spend more time in the water. That's how I got started competing on longboards, and I discovered I had a knack for it.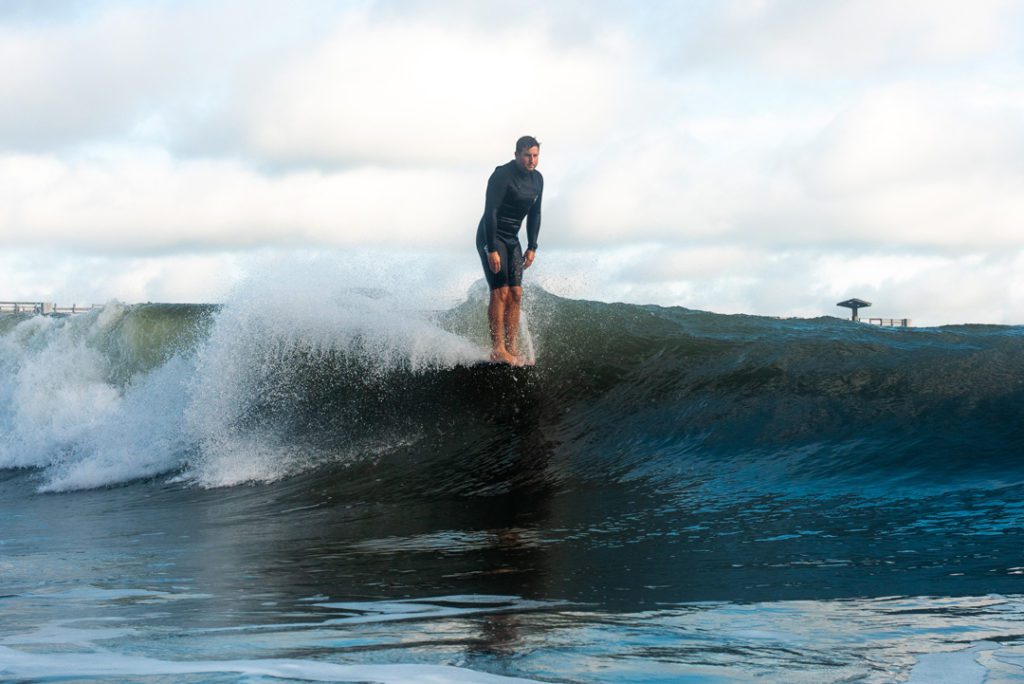 You have a big collection of surfboards from all eras, and you're a student of surfing history. Who are some of your heroes who have inspired your surfing?
JQ: Locally, I'd say Larry Miniard, Dickie Roseborough (known as Rozo), Joe Roland, Bruce Clelland. Also, Jeff Crawford, Claude Codgen, David Nuuhiwa, Gary Propper and Joel Tudor. All these surfers have inspired me to get back to the roots of longboarding. I've learned a lot from their styles and from the surfboards they rode. Ricky Carroll has been shaping my boards since I was 15. He's a great shaper and also a great surfer. We've spent countless hours together in the shaping bay, bouncing ideas off each other.
The essence of-old school longboarding comes down to three things: heavy logs, single fins, no leashes. These can all seem counterintuitive. Why go back? What's fueling the interest in retro longboarding?
JQ: In the '90s and early 2000s there were a lot of lightweight, high-performance tri-fin longboards. They were really just elongated versions of shortboards. You could noseride on them, but not in the traditional ways. What resulted was just a worse version of shortboarding. The surfers of the 1960s really had a lot figured out. Now we're taking what they knew about surfboard design and pushing the limits of performance. It's subtle, like jazz. From a spectator's point of view, shortboarding is so fast, so radical, it's hard to digest unless you really know the sport. Longboarding is slower, more fluid, more fun to watch.
You won the classic retro event, the Vans Duct Tape Invitational, the first time you competed. How big an influence has Joel Tudor had on your career?
JQ: The Duct Tape is really all about creativity. It displays how authentic and beautiful longboarding can be. Winning there really kick-started my professional career. I was 19 when I started competing at Joel's events. I'm 30 now. It's really cool to keep going back as an older surfer now, mentoring some of the younger surfers. Joel has also been a big influence for the World Surf League, a model for their competitions.
You were a real road warrior, hopping in your van and driving cross-country to surf in California, living out of the van for months. Are you still doing that?
JQ: Ha. I haven't driven cross-country now for a few years. I fly there now, but I still keep a van for when I'm there. I still log a ton of miles chasing storms up and down the east coast: the Outer Banks, Virginia, New Jersey, New Hampshire.
You did a travel piece with Surfer magazine about the Faroe Islands in the Norwegian Sea. Cold enough for you?
JQ: We didn't really get great waves in the Faroes, but it was real on-the-edge surf travel. Nobody to advise you where to go, how to access the breaks. We were pioneering the place. We got better waves in Iceland, which was a lot fun. I've got a group of friends there who call themselves the Arctic Surf Club. It's seriously cold. Even with the best equipment you lose heat fast, especially in the winter, when it's snowing. You can get in a lot of trouble real fast.
You've said the two things you like best in surfing are noseriding and getting barreled. So which would you choose: Kelly Slater's Surf Ranch [state of the art artificial wave pool] or Pipeline?
JQ: Oh, definitely Pipeline. The wave pool is another fun thing to do, and I feel privileged to have been invited to surf there. It's a perfect wave. But the real thing, all that natural energy traveling hundreds of miles, striking the reef just right, on the right tide, with the right wind, there's something cosmic about that.
Has being the World longboard Champion changed your life?
JQ: So far it's still pretty fresh. I got sick after the final contest in Taiwan. I hadn't been sick for years so it was almost inevitable. Then it was the holidays, and my birthday, and then the Surf Expo in Orlando. It's just been go go go! But today I went surfing at Huguenot Park, just me and my girlfriend. It was a beautiful day. I paddled out and there were some groms in the water and they were congratulating me. I think that's when it finally started to sink in: World Champion. Yeah. It's pretty cool.