by

Ben Patch

|

October 14, 2019
A New Hotel Has Floridians Speeding Into Turn 1
The Daytona offers up a vacation for high-style racing enthusiasts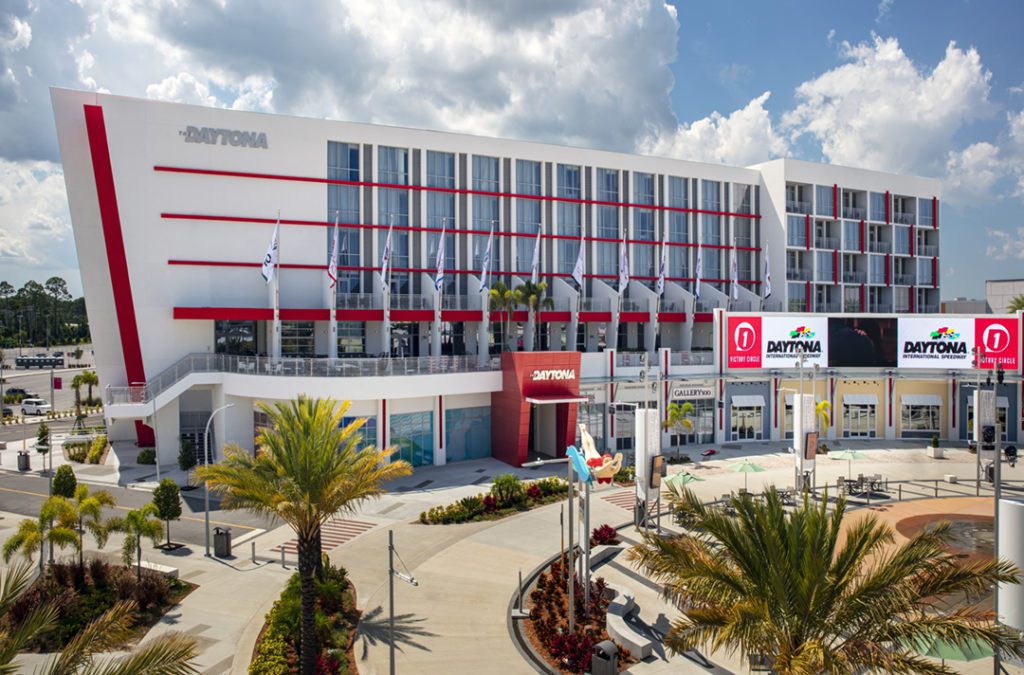 The spotter radio crackles in my ear, and I nervously wiggle the four-speed shift lever in my hand. The high bank of Turn 1 looms in front of me like an impenetrable obstacle. Breathe. Smooth. Can I do this?
The roll cage, five-point harness, window netting and garishly painted sheet metal all rattle to the tune of the 351 Cleveland under the hood. I floor it. Like life, these cars get more stable the faster you go.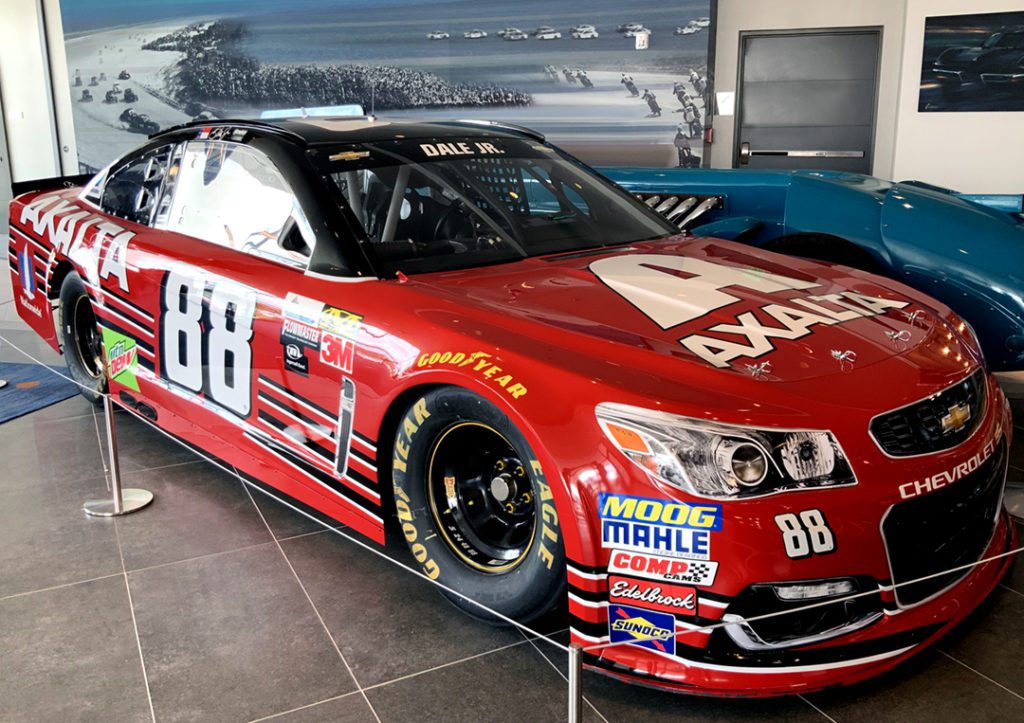 If your idea of a vacation is speeding into Turn 1, then a new hotel wants to offer you a bucket-list ride. The Daytona, a Marriott Autograph Collection hotel, is the perfect place to refuel the race fanatic's body, mind and soul—and is an experience in its own right. Couple a stay there with the NASCAR Racing Experience at Daytona International Speedway and seize a real escape from the ordinary.
When you walk into the lobby of The Daytona, you take in a living, breathing monument to car culture. The history of American auto racing fills the space, from moonshine cocktails, to the historic cars of drivers like Dale Earnhardt Jr., to the smooth lines and movement of the architecture, and even an antique trophy room. Race commentary, rather than music, plays in the bathrooms, and the knowledgable staff provides curious guests with an endless reel of Daytona lore and history.
Within reach of The Daytona, there's the in-house Sir Malcolm restaurant and the One Daytona shopping, dining and entertainment destination. Check out the live music in the nearby pavilion, Victory Circle, and provide your own rock 'n' roll by test-driving a Stratocaster or Gibson Les Paul across the way at the Guitar Center.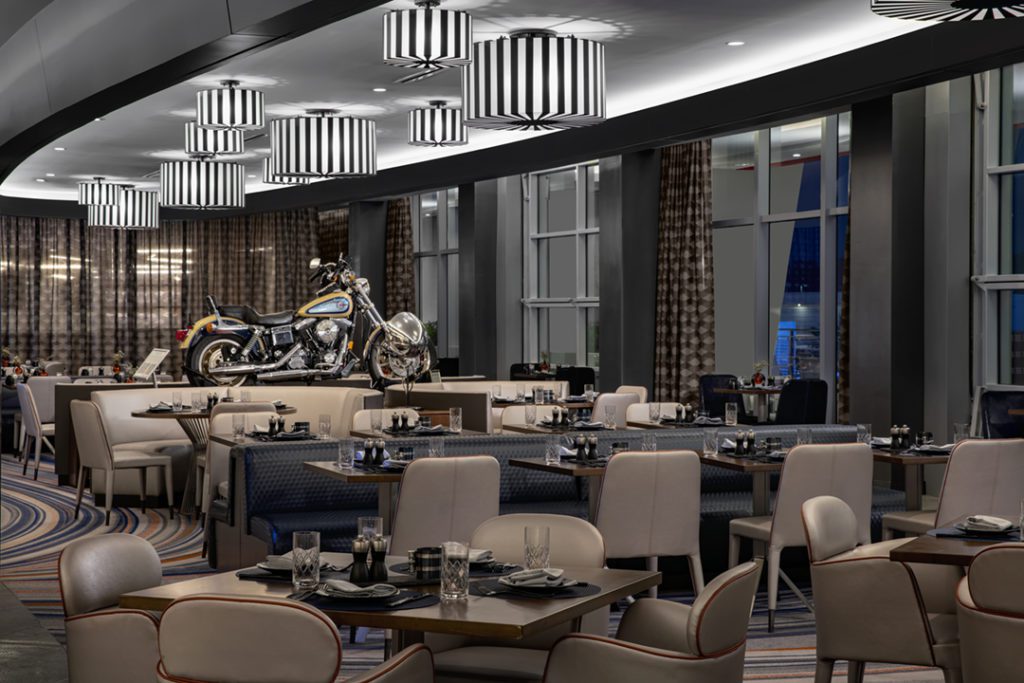 Across the street is the track: The "World Center of Racing" is home to NASCAR's Daytona 500 and Coke Zero Sugar 400 and IMSA's Rolex 24, as well as events like Supercross, Speedweeks and Bike Week.
The track is available for the committed driver and amateur racer, with ChampCar, the Sports Car Club of America and Chin Track Days holding events. There's also the NASCAR Racing Experience, where you can drive a NASCAR race car.
Go fast, turn left, don't hit anything, and you'll be fine.
---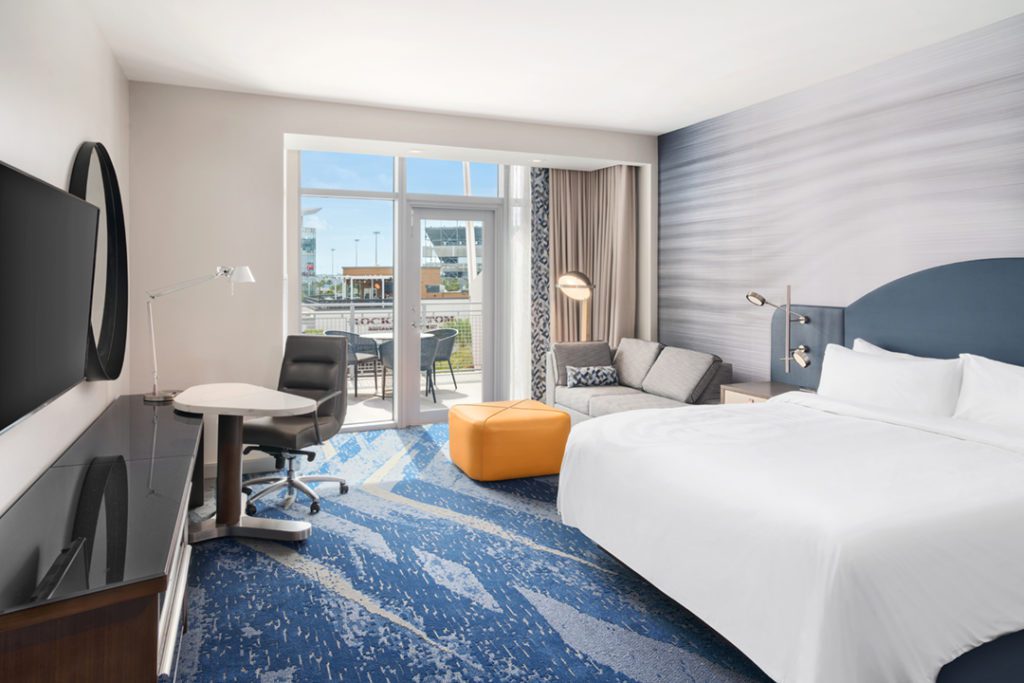 STAYING THERE
NASCAR Ride Along – from $269*
Not a driver? Go for the NASCAR Ride Along on Daytona International Speedway. Sit shotgun in a real NASCAR race car for 3 laps at top speed as the passenger of a professional racing instructor.
Rookie Experience – from $619*
In this on-track NASCAR experience, handle an actual NASCAR race car solo for an 8-minute timed racing session on the Daytona International Speedway.
Experience of a Lifetime – from $1,789*
Real racing enthusiasts can drive a NASCAR race car for two, back-to-back 8-minute timed sessions with a short break in between. Drive alone on track for a total of 32 minutes, aiming to increase speeds each session.
Packages include:
Welcome Amenity
Breakfast for 2 at Sir Malcolm's
$50.00 Food and Beverage Credit
*A One Night Stay (regular, seasonal room rates apply for additional nights)
---