by

Sarah L. Stewart

|

November 24, 2016
Beauty and the Feast
Florida's most creative chefs and farmers combine their passions for the local bounty, fueling a culinary tour de force through exclusive sensory-satiating dinners in pretty pastures and other peculiar places
[caption id="attachment_3161" align="aligncenter" width="960"]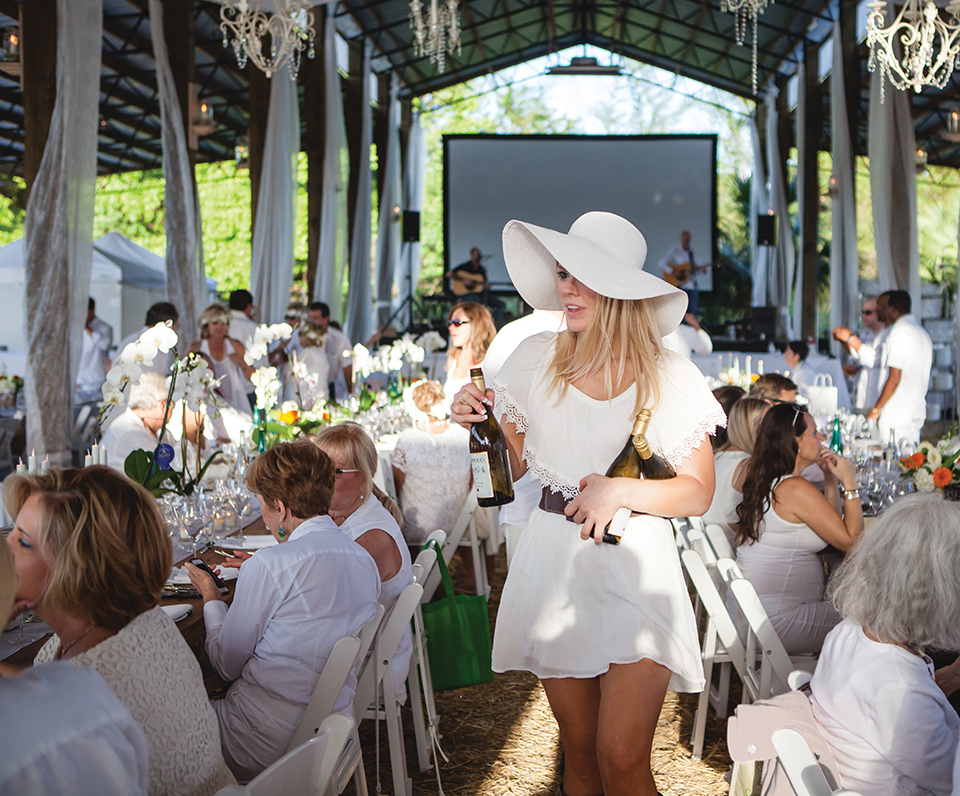 Swank Table's annual spring fling for 200 plus guests-Diner en Blanc in Loxahatchee; Photography by Gyorgy Papp Photography[/caption] From the moment Caroline Moran took her place at a long, rustic dinner table in Loxahatchee four years ago, she knew she had found culinary nirvana. "The bucolic atmosphere of being on the farm makes it special and different," says Moran, a Wellington resident who has since become a regular patron of Swank Specialty Produce's seasonal dinner series, Swank Table. "It's just fun to be outside with a lot of really interesting people that you would not get to meet otherwise." Swank Table is one of a handful of dinners put on in the state's hinterlands by top local farmers and chefs to show off home-grown produce, meats, cheeses and more.
---
[caption id="attachment_3163" align="aligncenter" width="745"]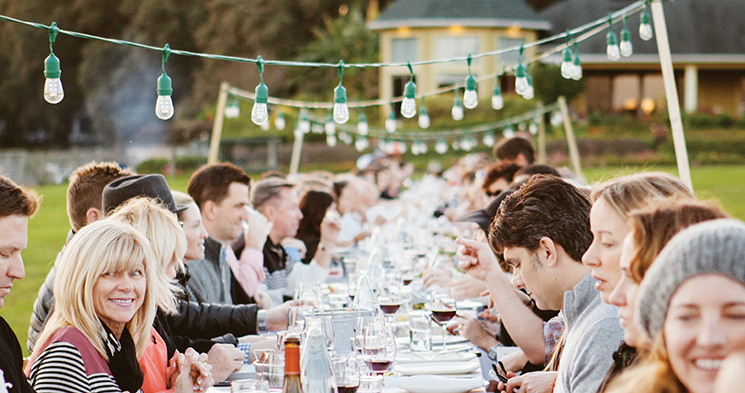 Guests gather at Lake Meadow Naturals Farm; Photography by Hannah Glogower[/caption]
FOR SERIOUS FOODIES OUTSTANDING IN THE FIELD
 Various farms statewide
The mountain of collard greens arrived on a January day in the back of a Jeep Liberty, stuffed floor to ceiling for the hour-long ride from Beasley Farm in Brooksville to Rooster and the Till, a 70-seat restaurant in Tampa's Seminole Heights neighborhood. Once unloaded, the leafy summit took over the central bar. "You couldn't see over the greens," recalls executive chef Ferrell Alvarez of his preparations last winter for a one-night dinner hosted at the 18-acre family farm. "It took me three days just to clean and chop and wash them." [caption id="attachment_3233" align="alignright" width="745"]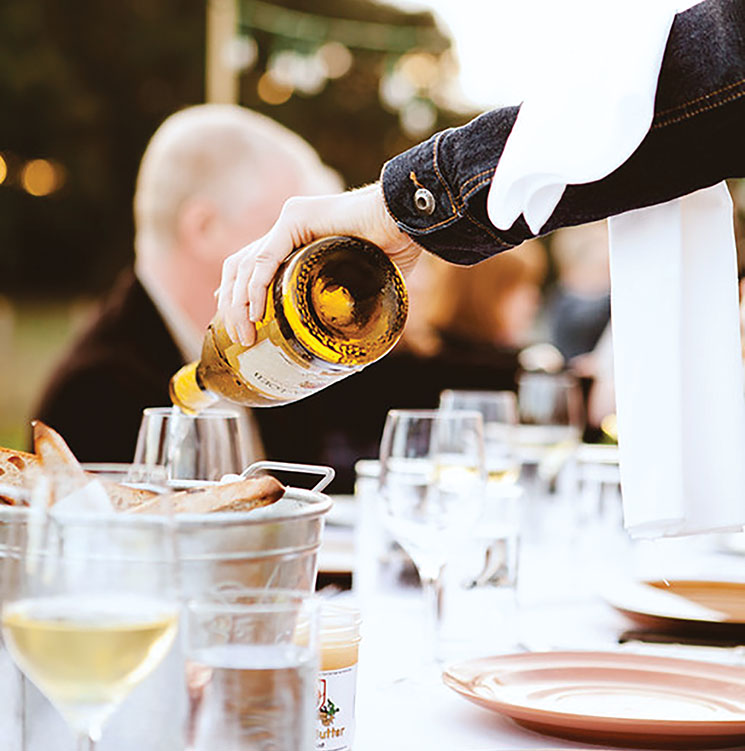 Servers in denim add to the relaxed ambiance of an Oustanding in the Field event. Photography by Hannah Glogower[/caption] As Alvarez knows, feeding 175 foodies paying nearly $200 per ticket—some of whom have flown in from Illinois or Connecticut just for supper—would challenge even the most seasoned chef. But diners at Outstanding in the Field, a roving international farm dinner series that will host six Florida dates this winter, see only the end result: a long, artfully arranged table set in a pastoral paradise, its white tablecloth and tidy place settings juxtaposed against verdant vegetable fields and a jewel-blue sky. On the table, four painstakingly crafted courses beckon, created from locally sourced ingredients by some of the state's best chefs. Roasted beets atop a bed of mini red romaine. Fall-apart-tender pork shoulder humanely raised on a nearby estate. Grilled squid tossed with gigante beans and eggplant. What can't be prepared ahead of time is cooked on-site, using just a charcoal grill and a couple of burners. "Just because we don't have [the means] to cook an elaborate meal doesn't mean that the guests should suffer," Alvarez says.
---
Like what you read? Click here to subscribe.
---
[caption id="attachment_3164" align="alignright" width="745"]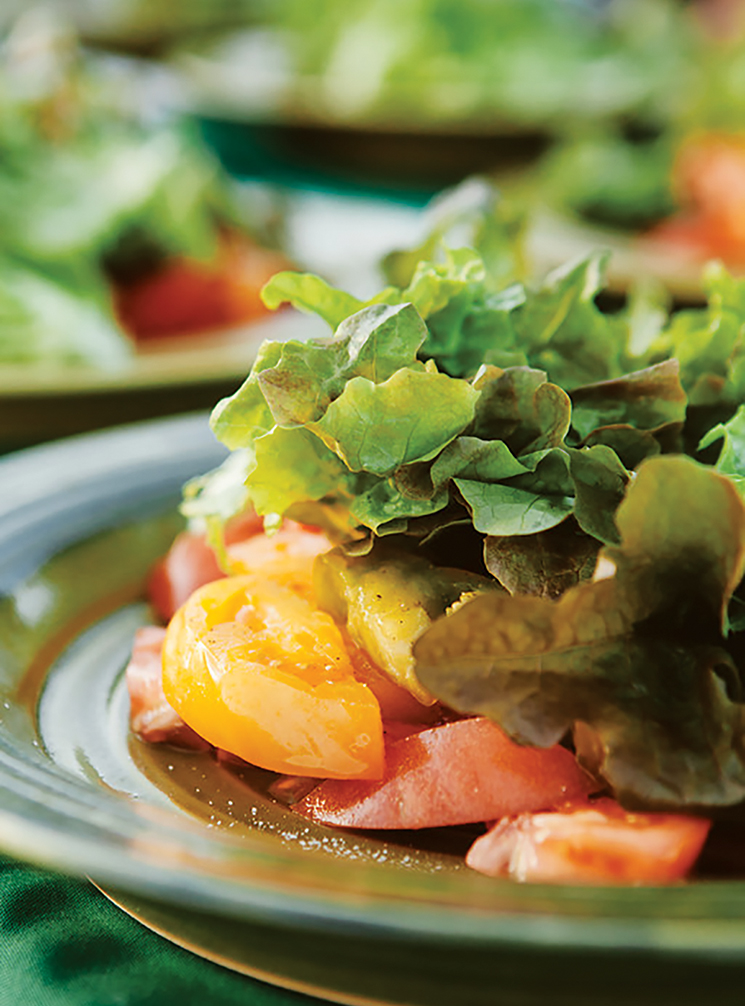 Red and yellow tomatoes, covered with leafy lettuce; Photography by Hannah Glogower[/caption] Host farms for this season's lineup include a fourth-generation seafood purveyor in Apalachicola, an egg, poultry and meat producer in Ocoee and a certified organic vegetable farm in Alachua County's tiny Island Grove. Each venue features a different Florida chef, from award-winning Greg Richie of Soco in Orlando to Kenny Gilbert, whose cooking C.V. includes the James Beard House in New York and his own Gilbert's Underground Kitchen in Fernandina Beach. Alvarez will again take the helm alongside the antique tractors and lush fields of Beasley Farm—bringing with him one key lesson learned last season at the foot of his vegetable Everest. This year, he says, "I'm not doing greens."
price:  $190 to $220 per person schedule:  Six dinners from Jan. 21 to Jan. 30 duration:  5 hours rain or shine: yes live music: no Dietary Allowances: Limited, with advance notice Alcohol: Welcome drink, local beer and wine pairings included
outstandinginthefield.com
---
[caption id="attachment_3168" align="aligncenter" width="745"]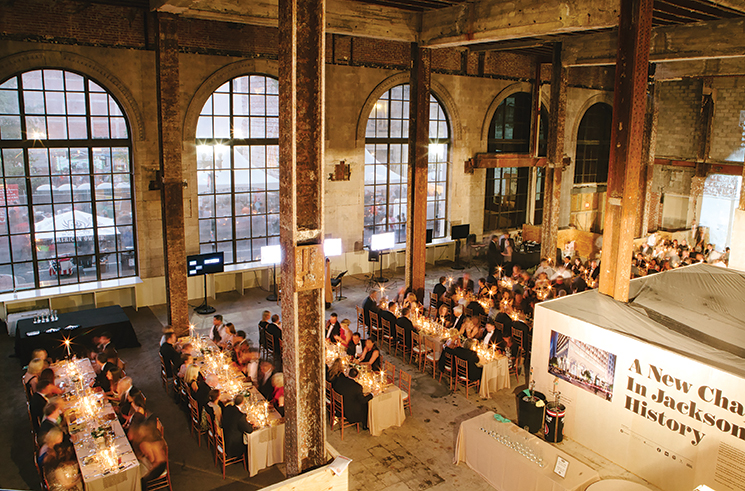 Diners are delighted by the mystery location-The old Barnett Building in Jacksonville; Photography by Jamie Borland[/caption]
FOR ECLECTIC GOURMETS THE LEGEND SERIES
Jacksonville
Beneath mossy oaks and a full moon, the diners huddled amid the tombstones in the soft glow of chandeliers, their conversation and clinking dishes punctuating the autumn gloom. Among the 160 warm bodies gathered for dinner that October night in Jacksonville's Evergreen Cemetery, many more souls lay at rest, including generations of local residents, the city's founding father and even two 19
th
-century Florida governors. [caption id="attachment_3169" align="alignright" width="745"]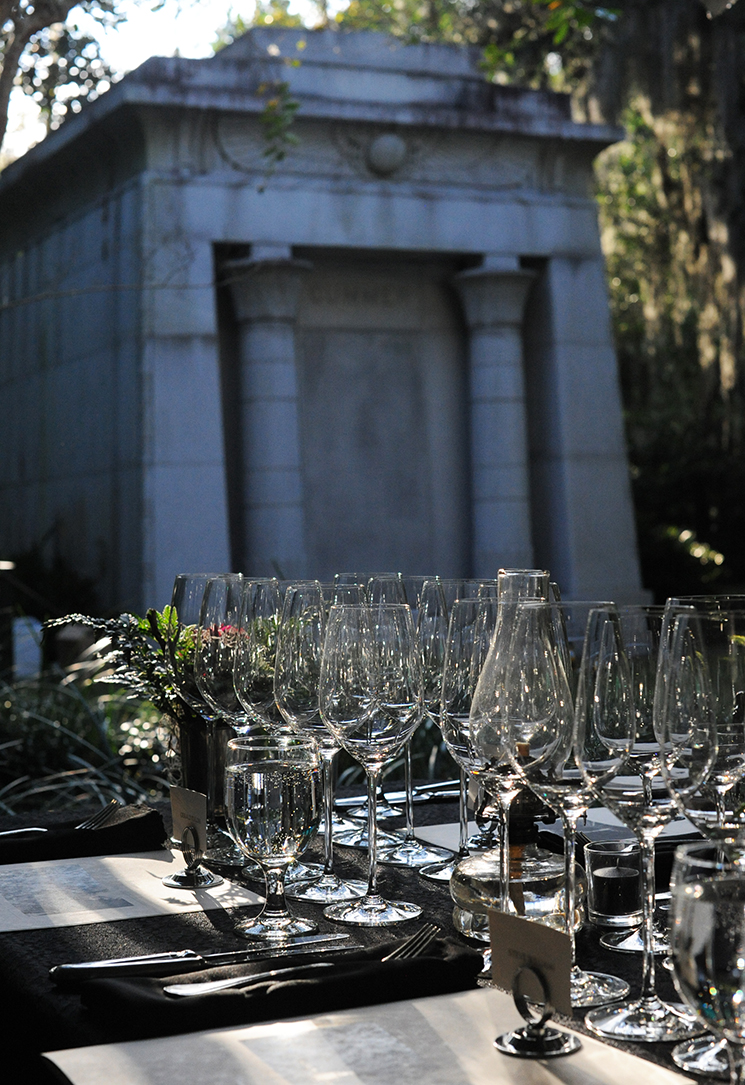 The Legend Series at the Evergreen Cemetary; Photography by Mark Brian[/caption] By the light of day, the guests were gone—all traces of the graveyard gathering vanished like the footprints of a ghost. "We're essentially creating a high-end experience absolutely from scratch in one day, and then breaking it down," says Cari Sanchez-Potter, owner of The Legend Series, a program of pop-up dinners at unusual venues around Jacksonville. "[Each] event is literally never going to happen again." That ethereal quality has made The Legend Series one of the hottest tickets in town. Its semi-annual gatherings sell out online in mere seconds—at around $300 per person. Diners purchase tickets without any knowledge of the event details other than the date, chefs involved, approximate location and suggested attire. The menu, theme, venue and entertainment are all kept secret until the morning of the dinner, when guests receive an email with location details. "Whether they admit it or not, I think people like the surprise," says Scotty Schwartz, co-founder of the series and chef-owner of 29 South in Fernandina Beach. "You don't know what to expect until you show up." [caption id="attachment_3235" align="aligncenter" width="960"]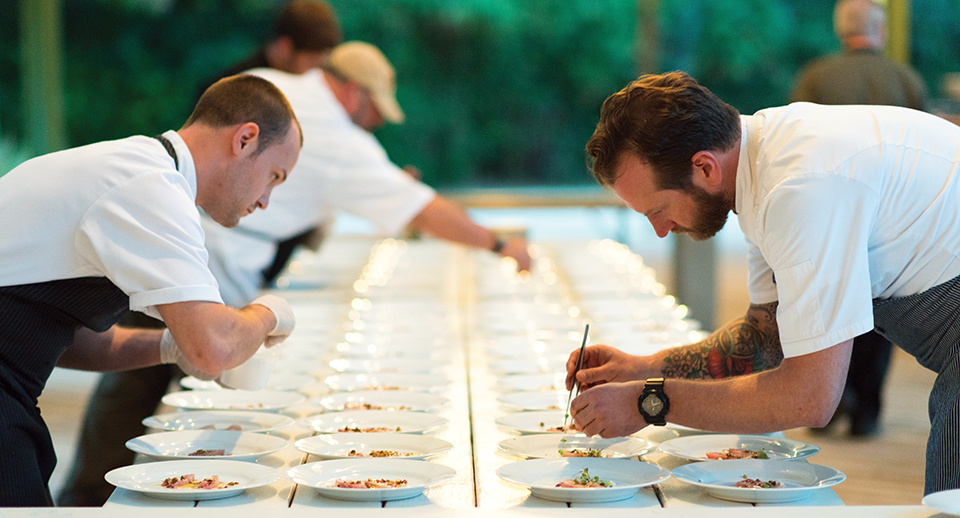 Chefs Brian Whittington and Craig Richards work in tandem perfecting plates for White Oak. Photography by Anges Lopez[/caption] The events' minimum five-course menus are as varied as their venues, with past dinners ranging from an urban feast of octopus sashimi, tomato juice spaghetti and potato-crusted sable in a downtown parking garage to a black-tie banquet of butter-poached lobster tail and stuffed duck in an abandoned 1920s-era skyscraper. Carefully curated décor and entertainment complete each evening's theme: Burlesque performers, break dancers, and even graveside historical reenactors have all taken a turn on the Legend Series stage. But the real performance is in the makeshift kitchen, where rotating guest chefs join the core group of five regulars—including Schwartz, Tom Gray of Jacksonville's Moxie Kitchen + Cocktails, and Waylon Rivers of Black Sheep Restaurant in Jax's Five Points neighborhood.
price:  $250 to $400 per person schedule:  One dinner in January (date announced and tickets sold in December) duration:  4 to 5 hours rain or shine:  Yes live music:  Yes Dietary Allowances:  None Alcohol:  Cocktails, beer and wine pairings
thelegendseriesjax.com
---
[caption id="attachment_3171" align="aligncenter" width="960"]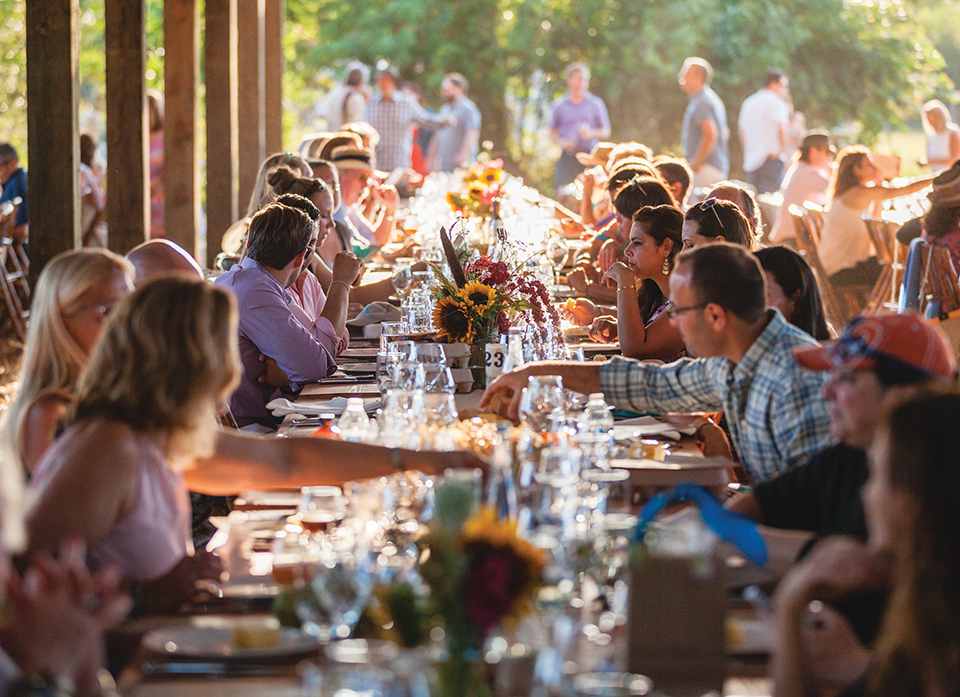 In April, 250 guests mingled amongst the wildflowers at the 3 Little Pigs fete; Photography by Gyorgy Papp[/caption]
FOR CULINARY REVELERS SWANK TABLE
Loxahatchee
Yards of sheer white fabric drape the rafters, giving the open-air barn the soaring majesty of a cathedral. On the hay below, a congregation gathers: 240 guests dressed all in white, seated at long tables illuminated by the flicker of candlelight. At one point in the evening, the masses all stand and twirl their napkins overhead, hundreds of white pinwheels lifted to the heavens. [caption id="attachment_3241" align="alignright" width="960"]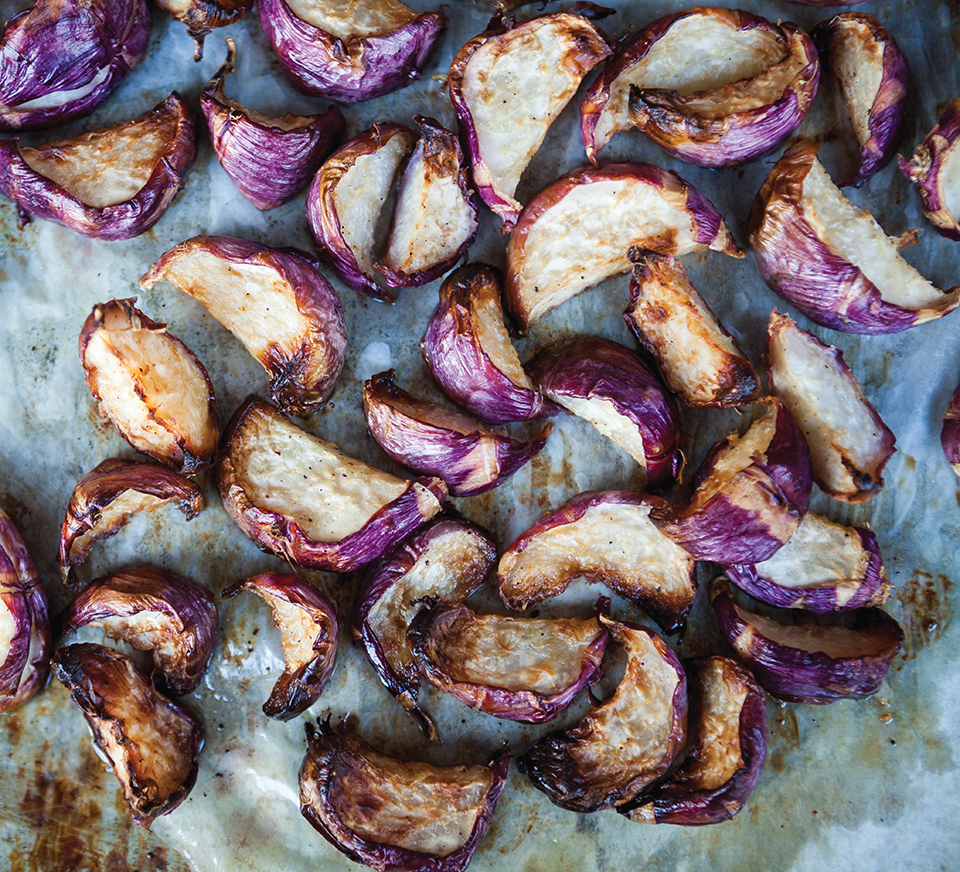 Roasted purple potatoes at Three Little Pigs; Photography by Gyorgy Papp[/caption] Each spring, the annual Diner en Blanc at Swank Specialty Produce in Loxahatchee brings the flavor of France to rural Palm Beach County. Borrowed from a pop-up dinner concept begun in Paris in the late 1980s, it's the most popular of the nine themed dinners that the 20-acre farm hosts each season in its Swank Table series. "It's just gorgeous," says farm owner Jodi Swank. "That's probably the event that sells out the quickest." Sellouts are commonplace at Swank Table, which pairs a festive atmosphere with a four-course meal prepared by an ever-changing array of some of South Florida's best-known chefs. The dozens of chefs slated for this season—many of whom also purchase the farm's produce for their restaurants—include Adrienne Grenier, who cut her teeth at a Michelin-starred restaurant in Los Angeles before taking the helm of 3030 Ocean in Fort Lauderdale; executive chef Jeremy Ford of Matador Room, a Latin-infused concept by renowned chef Jean-Georges Vongerichten at The Miami Beach Edition; and internationally trained Clayton Carnes of Cholo Soy Cocina in West Palm Beach. [caption id="attachment_3172" align="alignright" width="960"]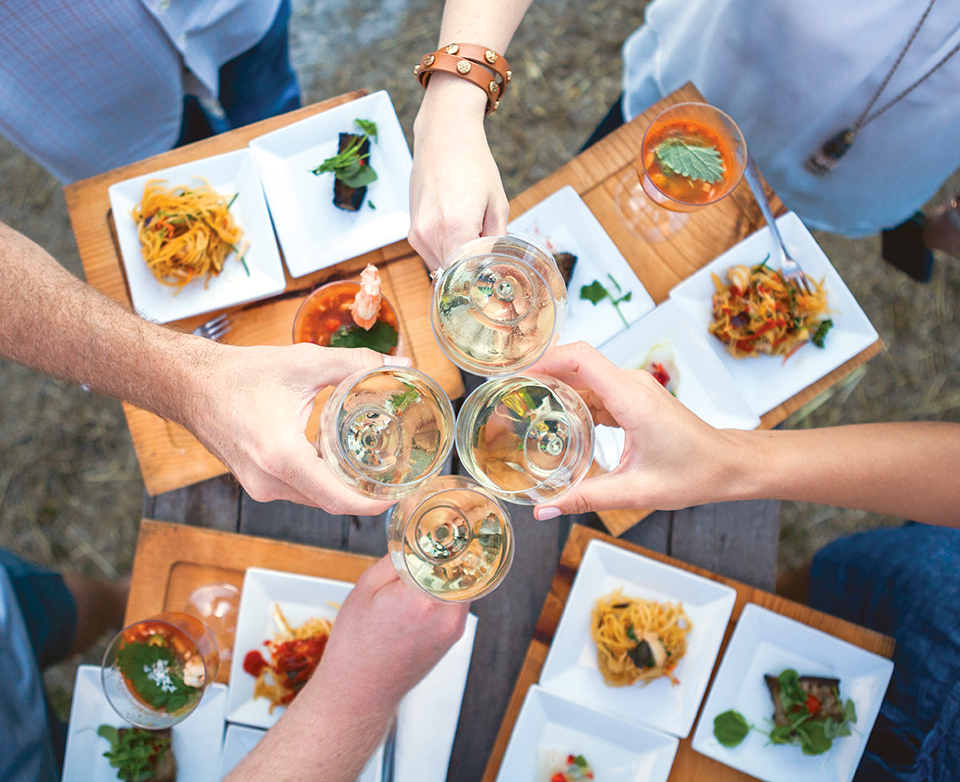 A toast at Diner en Blanc in Loxahatchee: Photography by Gyorgy Papp[/caption] In addition to Diner en Blanc, this year's supper themes include a '70s disco night, where guests wear bellbottoms and dancing shoes; a Year of the Rooster Chinese New Year celebration complete with dancers in traditional lion costumes; and the return of Gauchos Asados—a South-American-inspired barbeque that previously featured whole lamb roasted over a fire. "If they were all the same, they could get boring," Swank says. "It is a really beautiful experience."
price:  $160 per person schedule:  Nine dinners from Dec. 18 through April 23 duration:  4 hours rain or shine: Yes live music:  Yes Dietary Allowances:  None; one vegetarian dinner per season (March 26) Alcohol:  Welcome vodka cocktail, local beer tasting and wine pairings
swankspecialtyproduce.com
---
[caption id="attachment_3243" align="aligncenter" width="745"]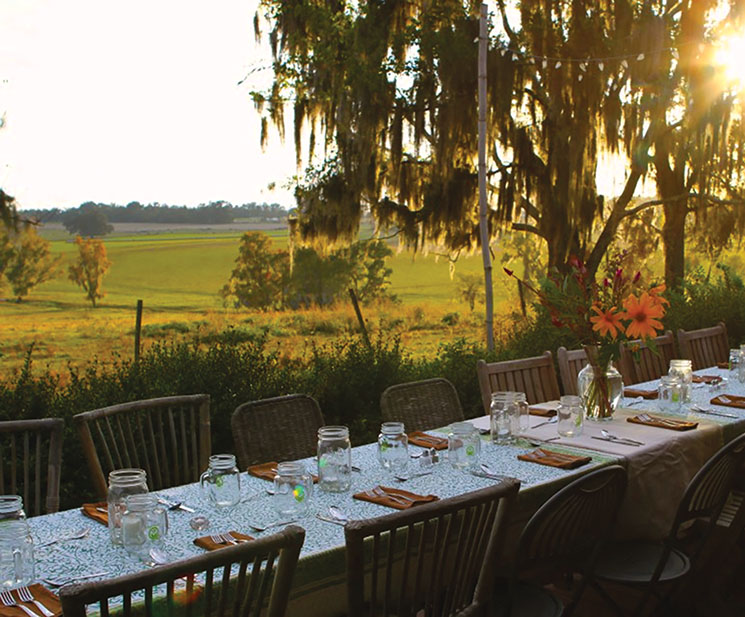 A dreamy backdrop for a meal at Swallowtail Farm; Photography by Onna Meyer[/caption]
FOR TRUE LOCAVORES SWALLOWTAIL FARM
Alachua
While most farm kitchens strive to source local ingredients, few go to the same lengths as Swallowtail Farm, a 30-acre expanse of oak-studded hills in north central Florida. At Swallowtail's seasonal Farm to Table Dinner Series, all of the produce, meats, dairy and herbs—even the flowers for table centerpieces—come exclusively from the homestead and its neighbors. The lettuce, squash, eggplant and garlic grow in the nearby fields; the heritage-breed pork spends its life foraging in the farm's fertile soil; the cheese originates from the creamery behind the barn. Must-have items not produced in the immediate area, such as salt, sugar and flour, often come from a local-owned supermarket, keeping more dollars in the community. [caption id="attachment_3245" align="alignright" width="960"]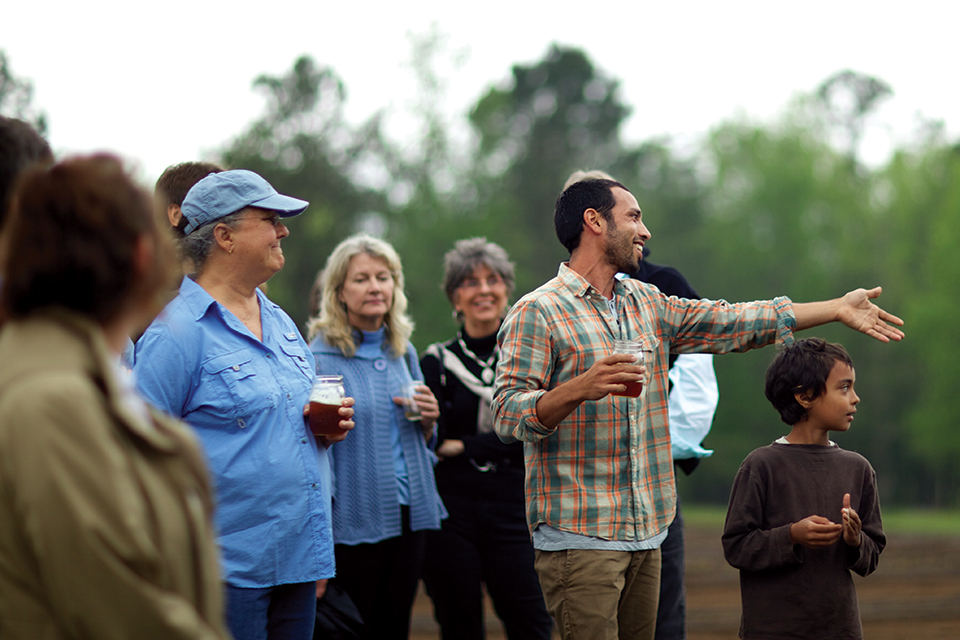 Learning about Swallowtail Farm; Photography by Noah Shitama[/caption] "We're very, very strict about not serving something we don't grow or somebody doesn't grow nearby," says Joelle Jaskiel, who coordinates the dinners. "I really push the chefs to be explorative and maybe substitute things that they might not normally go for so we can have a true farm-to-table event." The hyperlocal focus can present some challenges for guest chefs, who must adjust their menus according to what's available. The rotating chefs—which this season include well-regarded locals like Jeff Allen of Gainesville's Dragonfly Sushi and both Amanda Bisson and Cassie Lycan of Fables Catering & Such—meet with Jaskiel a week or two in advance of the dinner for an update on the veggies, fruits and meat that will comprise the four-course meal. Sometimes the sweet potato crop isn't producing as much as expected, or the pig harvest yields just 30 pounds of pork to feed the 100 diners, or the beets are coming in larger than anticipated. For Lycan, the forced spontaneity—coupled with the challenge of the farm kitchen's limited refrigeration space and cooking equipment—isn't a bad thing. [caption id="attachment_3239" align="alignright" width="745"]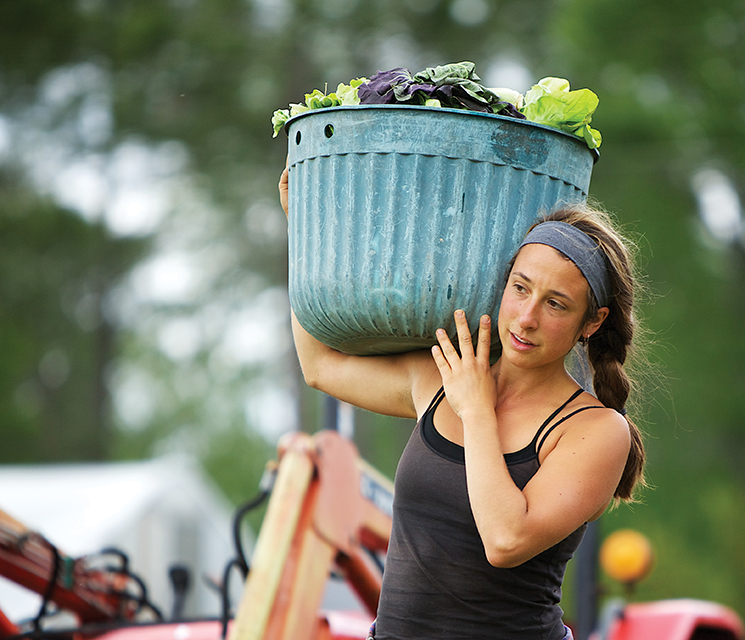 Shouldering leafy greens; Photography by Onna Meyer[/caption] "It's so special to be out there and have everybody that's eating the dinner excited to have local food that was picked fresh," she says. "If I had the ultimate place I would want to cook, that would be my setting." And who can blame her: Once diners assemble around the harvest table—the sprays of blossoms picked from the adjacent fields settled into Mason jars, the food grown from the ground underfoot arranged on platters for sharing, the surrounding hills gradually turning from green to golden in the sunset—it is impossible to miss the sheer unadultured beauty of the local bounty. "I like to show people what [foods] they can get in their area," Jaskiel says, "and what is possible, really."
price:  $95 per person schedule:  Six dinners from Dec. 10 through June 3 duration:  5 ½ hours rain or shine:  Yes live music:  Yes Dietary Allowances:  Limited, with advance notice Alcohol:  Cocktail, local beer and organic wine
swallowtailcsa.com