by

Chef Brad Kilgore

|

November 15, 2016
Alter's Shaved Cobia with Olive Snow Recipe
[caption id="attachment_2917" align="alignright" width="600"]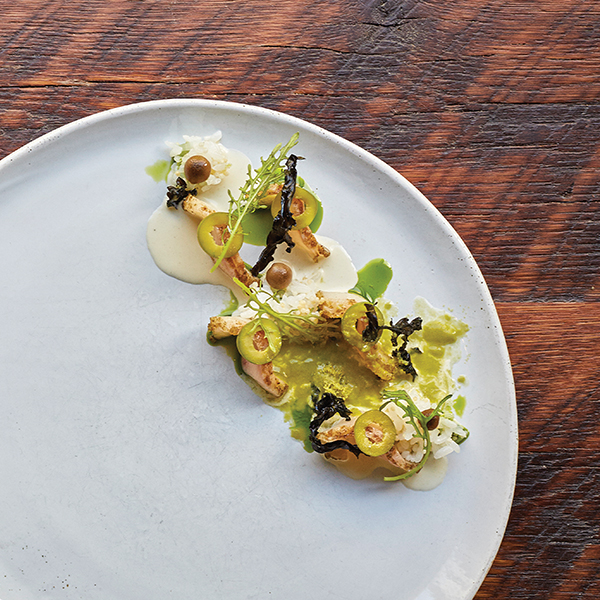 Shaved Cobia with Olive Snow, Shiitake, Sushi Rice, Toasted Dashi & Garlic Oil shared by Chef Brad Kilgore; Photography by Kelly Sterling[/caption]
SHAVED COBIA WITH OLIVE SNOW, SHIITAKE, SUSHI RICE, TOASTED DASHI & GARLIC OIL
Serves 8
Shaved Cobia
3 oz. (per person) of thinly sliced Cobia or local fish suitable for raw preparations
PREPARATION:
Refrigerate until accompaniments are ready
Olive Snow
1 cup shallots, thinly sliced
6 tablespoons peeled, thinly sliced fresh ginger
1 small serrano chile, cut in half, seeds removed
1/4 cup champagne vinegar
3 cups pitted green olives
2 tablespoons olive brine
1 teaspoon sea salt
PREPARATION: 
Combine all ingredients in a blender and blend until smooth. Pour into a medium casserole dish and let set in the freezer. Once frozen and ready to serve, scrape with a fork to make snow.
Toasted Garlic Oil
3 cups vegetable oil
1/2 cup sliced garlic
PREPARATION: 
Start in a cold pot with cold oil and the garlic. Whisk constantly while bringing up the heat until garlic slices are nearly all golden brown. Some will be unevenly golden, so for the last minute keep stirring with the heat off. Pour into a bowl over an ice bath and cool.
Dashi
2 cups chicken stock
1 cup sliced shiitake mushrooms
2 tablespoons soy sauce
PREPARATION: 
Bring chicken stock to a boil. Pour stock over the rest of the ingredients in a heat-safe 1-quart container, stir for 30 seconds, then place a lid on top and let cool. Once the dashi is cool, strain it, pressing down slightly on the solids before discarding them.
Dashi-Mayo Emulsion
2 farm-fresh eggs*
1/4 cup Kewpie mayonnaise (or store-bought brand)
1 recipe Toasted Garlic Oil (see above)
1 recipe Dashi (see above)
1/4 cup fresh lemon juice
1/2 cup green olive brine
(*Raw egg is not recommended for infants, the elderly, pregnant women, and people with weakened immune systems. To avoid the risk of salmonella infection, you can use pasteurized egg yolk instead.)
PREPARATION: 
Using a whisk, blend the eggs with the mayo in a mixing bowl. Slowly add one-third of the garlic oil (including the toasted garlic), whisking until emulsified. Pour in one-third of the dashi and whisk to combine. Go back and forth with the remainder of the garlic oil and the dashi until all are emulsified. Finish by whisking in the olive brine and lemon juice. Strain through a fine-mesh strainer and chill in refrigerator until serving time.
Pickled Shiitakes
2 1/2 cups rice wine vinegar
1/2 cup water
4 1/2 tablespoons sugar
3 tablespoons soy sauce
1 teaspoon sea salt
1/4 cup peeled, sliced fresh ginger
1 cup sliced shiitake mushrooms
PREPARATION:
Combine all ingredients except mushrooms in a saucepot and heat them up enough to dissolve the sugar and salt. Pour the brine over the mushrooms.
Sushi Rice
2 cups sushi rice, rinsed
2 1/2 cups filtered water
1 lemon, juiced and zested
PREPARATION:
Pour the water over the rice in a pot with a lid, place on the lowest heat on your burner and cook for 25 minutes until the rice has absorbed all of the liquid. Season with the lemon juice and zest.
Plating:
First place the fish, the sushi rice, pickled mushrooms, then drizzle on the dashi emulsion. Finish the plate with olive snow and sliced olives and a spicy green, such as baby arugula.