by

Sarah L. Stewart

|

May 27, 2016
Sky's the Limit in a Small-Craft Airplane
Crisscrossing the peninsula from country airfields to oceanfront landingstrips for the love of flying
For Chris Richter and his dad, Richard, Saturdays were for flying. While other little boys growing up in Lakeland in the 1980s watched cartoons or played T-ball, Chris sat alongside his dad in the cockpit of a rented airplane, buzzing high above them all. [caption id="attachment_1431" align="alignright" width="960"]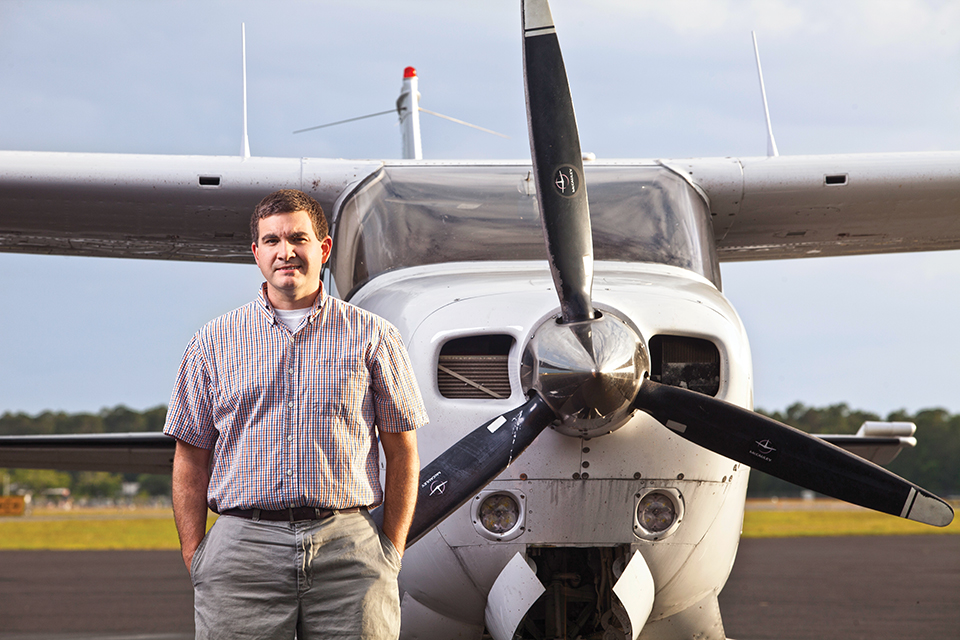 Chris Richter at the University Air Center in Gainesville; Photograph by Jeremiah Stanley[/caption] Departing from Winter Haven Municipal Airport, the father-son duo skipped a half-hour south to Sebring for bacon and eggs at the airport diner. Or they pointed their propeller northwest, for a lunch overlooking the Gulf of Mexico at The Captain's Table in Cedar Key. A few times, when Chris was about 8, Richard turned over the controls as they taxied back to the base after landing. Chris grabbed the yoke, steering the aircraft left and right like he was driving a car. One day, as he concentrated on guiding the plane safely across the tarmac, Chris noticed his father laughing—and working the rudder pedals. "I looked down and I realized he was steering with his feet," remembers Chris, now 35 and a pharmacist in Gainesville. "He got me a few times." Some families make memories around the campfire. Others, the ball field. The Richters made their memories in the air. "Flying was a huge part of my childhood," says Chris, who was just 6 days old when he took his first flight, cradled in his mother's arms. "It was just the thing to do on Saturday."
Flight History
Throughout Florida, thousands share the Richters' love of leisure flying, in a land blessed with favorable weather, forgiving topography and a rich aviation history. More than 13,000 active private pilots call Florida home, ranking third in the nation behind California and Texas, according to the Federal Aviation Administration. Our 129 public-use airports—more than nearly any other state its size—provide anyone with the will to take wing ready access to virtually every inch of Florida's 54,136 square miles of land. "This is the best place in the world to be involved in aviation," says Jamie Beckett, state ambassador for the national Aircraft Owners and Pilots Association. "Everything you need is right here." [caption id="attachment_1432" align="aligncenter" width="960"]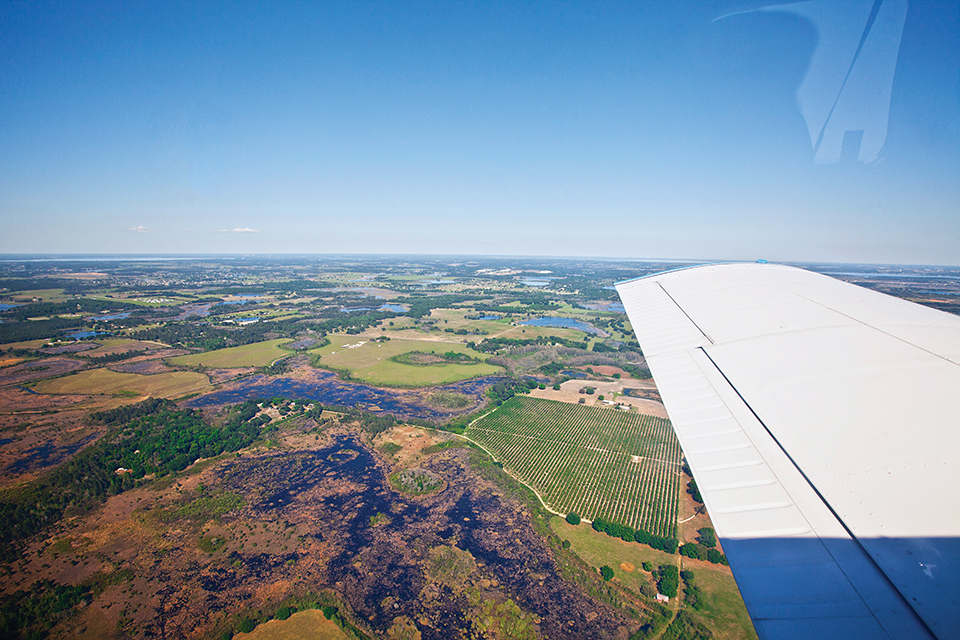 A bird's eye view of Groveland, in central Florida; Photograph by Jeremiah Stanley[/caption] Florida gained entry into the annals of aviation just a decade after the Wright brothers put Kitty Hawk, North Carolina, on the map in 1903. On Jan. 1, 1914, the world's first commercial flight departed from St. Petersburg to Tampa, carrying former St. Pete mayor Abram C. Pheil and pilot Tony Jannus. The 23-minute flight aboard a wooden bi-wing airboat cost Pheil $400—nearly $10,000 today—but staked his state's place in aeronautical history. By the early 1940s, Florida had become a hub for World War II aviation training. Forty military training airfields throughout the state churned out thousands of new pilots from around the nation and the world—many of whom returned to the land of sunshine and sea breezes after the war ended. Today those same airstrips continue to serve the state's aviators, from the wide-open, pine-fringed runways of Keystone Heights Airport in Starke (formerly Keystone Army Airfield) to Arcadia Municipal Airport near Punta Gorda, known in its past life as Carlstrom Field, a training site for World War I and II pilots. Florida's postcard-flat profile has a lot to do with both its availability of airstrips and its popularity among pilots. The same traits that render the terrain less than ideal for, say, downhill skiing, create conditions conducive to safer flying. With a peak elevation of 345 feet, Florida has no pesky mountains to navigate around, and it's relatively easy to find a half-mile of level ground on which to set down a plane. From the air, the state's landmass forms a map that even most third-graders could read. "If you're training, you can't get lost," Beckett says. "Turn east or west until you see the beach, then turn north or south and you will find an airport. Being on a peninsula is a wonderful thing." Weather also favors Florida's flying culture. Icy conditions that plague pilots further north are virtually nonexistent here, and placid mornings and evenings often bookend afternoon thunderstorms that residents can set their watches by. "It's a very predictable weather pattern here most of the time," says Beckett, who takes off two or three days per week from his home base in Winter Haven. "We have well over 300 flying days per year." Data from the FAA proves his point: In 2012, Florida's general aviation aircraft (the umbrella term for all civilian aircraft except scheduled passenger planes) logged nearly 2 million flight hours—on average more than 5,000 hours per day, every day of the year.
From Passenger to Pilot
As Chris Richter got older, life got busier. He played in the school band, became an Eagle Scout, got accepted to the University of Florida. But Chris still went flying with his dad as many Saturdays as he could, and by his early 30s, he decided he wanted to become a pilot, too. [caption id="attachment_1433" align="aligncenter" width="960"]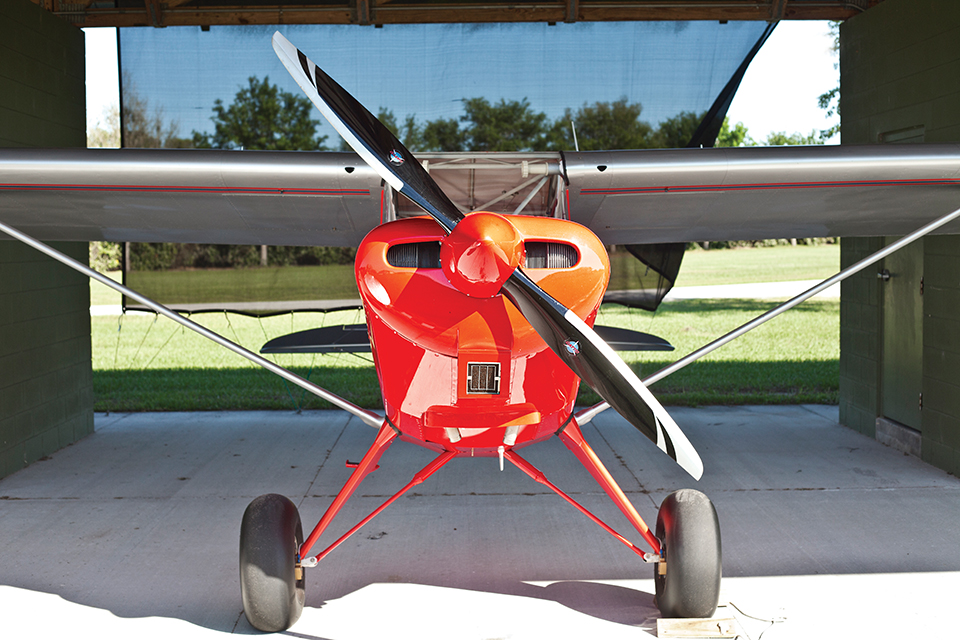 A kit-built airplane parked under a shade-hangar at Grass Roots Airpark in Groveland; Photograph by Jeremiah Stanley[/caption] In 2012, Chris started taking lessons at University Air Center in Gainesville, accruing the minimum 40 hours of flight time necessary to earn his single-engine private pilot's license. On May 4 of that year, he flew solo for the first time, on a 20-minute circuit of three takeoffs and landings at Williston Municipal Airport, another WW II–era relic. "When you first fly by yourself in a plane, it's like when you were 16 years old, the first time you took your mom's car out," Chris says. "Times a hundred." When he got home that day, Chris called his father. "Guess what I did today?" he said. "I soloed." "What?" Richard responded, disappointed he'd missed his son's first unaccompanied flight. "I wanted to be there." Chris completed his pilot's license in January 2013—11 months after he started training, seven months after his first solo, and just two months after his father died at age 63 in an unrelated accident. "I always wanted to be like my dad and fly like my dad," Chris says.
Puddle Jumping
Freedom: It's a word oft repeated when talking to leisure fliers about their aerial pursuits. In the air, the constraints of time and traffic that rule the state's roadways evaporate like a puddle in the Florida sun. Central Florida to Key West takes about an hour; remote swaths of the Everglades are a short hop from South Florida's high-rises. "You feel like a bird," says Christina Clifford, 38, who has been riding alongside her husband, Jamie, 40, since they met in 2001. "It just gives you such a different perspective of the state that we live in and the topography." [caption id="attachment_1434" align="aligncenter" width="960"]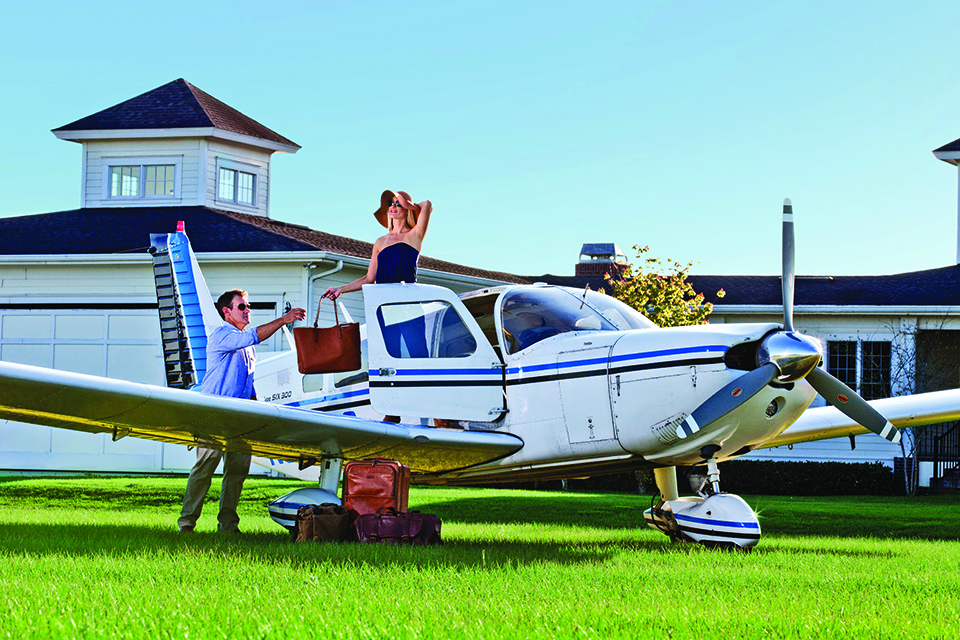 Christina and Jamie Clifford disembark a 1974 PA32 Piper Cherokee Six, at Grass Roots Airpark in Groveland. Photograph by Jeremiah Stanley[/caption] On the Lighthouse Point couple's first date—a blind date, no less—Jamie flew Christina to Orlando in his four-seat Piper Arrow for a New Year's Eve celebration with their mutual friends. At dinner, Christina confided that she didn't think the date was going very well. "I don't think he likes me very much," she told her friends. "He didn't really talk to me on the flight." Later, she realized that Jamie, who has logged about 1,000 flight hours since taking up the pastime as a student at Florida State University, was merely concentrating on the task at hand. Since that first flight, the Cliffords have ventured throughout the region by plane, from Tallahassee for football games to the Bahamas for Christina's birthday dinner. A favorite destination for them is tiny Everglades City, where a rustic, mangrove-lined airstrip on the edge of Chokoloskee Bay provides a gateway to Big Cypress National Preserve and the labyrinthine Ten Thousand Islands. After landing, the couple rents bikes from the airport (about $6 each) and rides into town for straight-from-the-source stone crabs. "It's like that little town is lost in time," Jamie says. The journey there rivals the destination: Sharks patrol the waters offshore, daisy chains of tarpon circle in the shallows, and the massive expanse of the Everglades reveals itself in surreal detail. "Flying there is amazing," Jamie says. "When you're flying over the Everglades, it looks like you're on the African Serengeti." Few of Florida's airports boast a more scenic setting than Everglades City, but many are destinations unto themselves nonetheless. General aviation airports have a strong tradition of sustaining mom-and-pop restaurants, which serve both locals and fly-ins from around the state. C.J. Cannon's, a standby at Vero Beach Regional Airport for the past 33 years, is known equally for its prime rib as its famous clientele: John F. Kennedy Jr. was a regular at the restaurant while learning to fly there in the '90s, usually ordering oatmeal, pancakes and a glass of Indian River orange juice for breakfast. At Flagler County Airport in Palm Coast, South Pacific–themed Highjackers Restaurant earns high praise for its ahi tuna sandwich. While sampling the state's culinary delights is undoubtedly one of the perks of leisure flying, for Beckett—like many of his fellow pilots—the love of aviation runs much deeper. "I have almost an evangelical zeal about this," he says. "You have this tremendous potential to go wherever you want to go and really experience life on a different level." [caption id="attachment_1503" align="aligncenter" width="960"]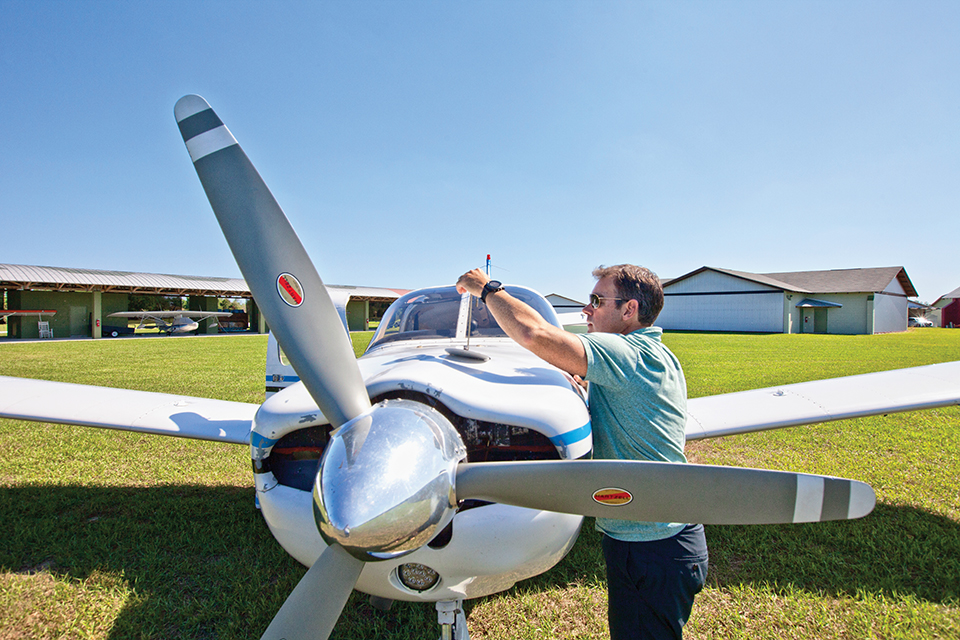 Jamie Clifford checks the oil level in his plane before take off. Photograph by Jeremiah Stanley[/caption]
Not Quite the Jet Set
Yacht sailing, art buying, horse racing: Some hobbies belong only to the very rich. Leisure flying, however, isn't one of them. "It's not about being wealthy, because, frankly, most of us aren't," Beckett says. "You can buy a good, safe, enjoyable airplane for less than the cost of a used car." New planes can cost $1 million or more, but basic used models—which are generally well maintained, per FAA regulations—often require a relatively modest investment. Of Beckett's three planes, the most expensive, a four-seat Cessna 172, cost $26,000; the cheapest, a 1963-era Cessna 150, set him back just $11,000. Some choose to offset the price of purchasing and maintaining an aircraft by joining or forming a flying club—a group of pilots who share responsibility for one or more airplanes, almost like a time-share. The Aircraft Owners and Pilots Association (AOPA) lists nearly 100 flying clubs throughout the state, including Jamie Clifford's Pompano Beach Flying Club, a 54-member group that shares two four-seat Piper Archers and a six-seat Piper Cherokee. Buy-in to the club cost him $1,700 (refundable if he leaves), plus $140 per month in dues; usage fees for the planes range from $120 to $165 per hour, including all fuel and upkeep. "It gives you the benefits of flying without you having to worry about maintenance," Jamie says. "It's not a cheap hobby, but it's not outrageous." Prices vary from club to club, but the concept is the same: Making aviation more accessible. Beckett's Central Florida Flying Club includes among its members a mechanic, a newspaperman, two IT professionals and a retiree. "They do this instead of restoring a car or playing golf or having a second home," Beckett says. "Golf is fun. I play golf. But when you finish, you don't end up in Key West."
Airplane Dreams Actualized
As soon as Chris Richter earned his pilot's license, he did something his father never got the chance to do. "I knew it was my dad's dream to have a plane at some point," Chris says. "He had a dream of buying a plane with me." The white Cessna 210, circa 1961, has a cheerful green stripe from nose to tail. Chris and his flight instructor purchased the four-seater from a seller outside Seattle just a few months after Richard's passing, then took turns piloting it back to Florida. The trip lasted 18 flight hours, but forever in Chris' memory. "It was very liberating," he recalls. Chris returned to checking out Florida via his new plane, feeling elated, but also wishing his flying-buddy father was there to share the joy. Months passed, and Chris adjusted to life without his dad. And then one day, a conversation with a work acquaintance, a pretty brunette named Julie, turned into a first date. A week later, that first date turned into the couple's first flight together, on a sunny Labor Day jaunt to St. Augustine. Two years—and many flights—later, Chris and Julie became cockpit companions for life. With his wife by his side, Chris says flying is no longer about trying to recapture a sense of closeness to his father: "Now it's just a love of being in the air."