by

Jessica Giles

|

June 15, 2023
The 12 Best Places to Unwind in Winter Garden
This small-but-sweet Orlando suburb has an appeal all its own.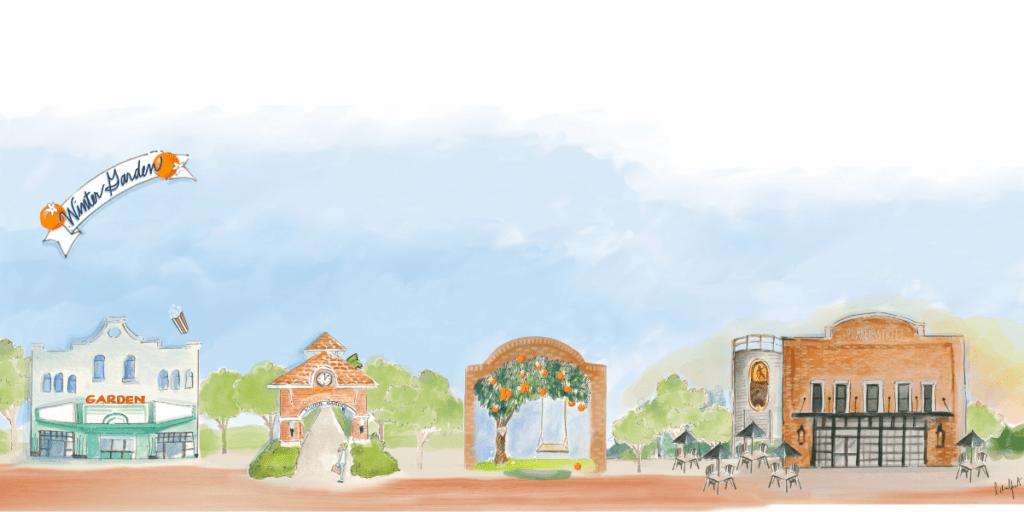 1. The Hangry Bison Customization is king at this build-your-own burger joint specializing in unbelievably tender bison meat. Create your perfect plate from the beer cheese down to the brioche bun. 250 W. Plant St.
2. Writer's Block Bookstore Lit lovers can linger for hours in this small-but-mighty indie bookstore on the main drag. Inside you'll find every genre, from recent releases to timeless classics. 32 W. Plant St.
3. LiveTrends Boutique Pick out your next plant pal from this trendy home decor and foliage shop teeming with trees and terrariums. 279 Tremaine St.
4. Three Birds Cafe Locals flock to this quaint corner cafe for fresh breakfast plates like the Florida French toast and decadent specialty coffee. Go ahead and order the Cinnamon Toast Crunch latte, you know you want it. 2 W. Plant St.
5. Plant Street Market An oasis for the indecisive, this community market is filled with 20 vendors, ranging from eight-seat sushi counters and intimate oyster bars to juice joints and deli stands. 426 W. Plant St.
6. Crooked Can Brewing Located inside the Plant Street Market, this beloved microbrewery pours pints designed for the Sunshine State, like the Citrus Kicker IPA and the crisp Florida Sunshine lager. 426 W. Plant St.
7. Piccolo Coffee Co. Blink and you might miss this bite-size coffee bar downtown, but you'll be sad you did. The FL honey latte is a fan favorite and the perfect fuel for a day on the town. 18 N. Boyd St.
8. Urban on Plant Kitchen + Bar There isn't a single miss on this massive menu, which is impressive considering it includes everything from Korean bulgogi tacos to wild mushroom macaroni and cheese. 132 W. Plant St.
9. Sobo Art Gallery Whether you wander the rotating exhibitions from local artists or you choose to pick up a paintbrush yourself during one of the gallery's many master classes, something is bound to spark inspiration. 127 S. Boyd St.
10. Rosallie Le French Cafe This French bistro is always bustling because of its beloved fresh-baked pastries. If you have a hard time choosing between the flaky croissants, cheese danishes and chocolate mousse, just get them all. It's worth it. 141 W. Plant St.
11. The Garden Theatre Originally built as a single-screen cinema, this historic theatre is home to musicals, movie screenings, concerts and more. If you want in on the action, register for one of the theatre's courses such as improv, voice acting or musical theater boot camp. 160 W. Plant St.
12. Driftwood Market Specializing in goods made by small businesses and local artisans, this home decor and gift shop carries products you won't find at big-box stores. In addition to Sunshine State-inspired knickknacks, you can also cultivate your own creativity in workshops hosted by local makers for everything from resin jewelry to pressed floral art. 46 W. Plant St.