Ty Pennington Works His Makeover Magic in Palm Coast
The "Extreme Home Makeover" host reimagines an old waterfront fishing bungalow for a new kind of client: himself.
America's home makeover guru may be famous for his dramatic transformations of everyday residences in need of rescue, but it wasn't until he discovered a unique site in north coastal Florida, way off the beaten path, that Ty Pennington was inspired to create his own dream house.
His path to the Palm Coast community known as The Hammock, so named because of the canopy offered by its oak groves, was a shaggy-dog route with a story to match.
The HGTV star's narrative tends to take on a circular nature, which means his stories are never simple, but always entertaining. His discovery of his own personal paradise began with a series of childhood dust-ups from a neighborhood bully when he was growing up in Atlanta. Years later, he became friends with a guy who turned out to be his antagonist's sibling. "A good buddy of mine ... his brother used to beat the hell out of me and my brother," Pennington recalls. "I was like, 'That's your brother?'" Taking breaks from Extreme Makeover: Home Edition, Pennington liked to visit his friend in St. Augustine and go exploring.
They ended up south of Marineland, enjoying a few beers and soaking up the vibe. "It's the closest thing to the Keys you're going to get in North Florida," says Pennington, who went wandering down an old road and came upon a weathered brick fishing cabin that he likens to "this incredible Mayan ruin."
It was love at first sight. The property sat atop an impressive berm, 25-feet high, made of soil dredged up during the construction of the Florida Intracoastal Waterway. This incidental fact of history also happened to provide the property with some incredible views of the waterfront and morning sunrises.
At first, Pennington was going to redo the site as a prefabricated home, but saw potential for a much more ambitious project inspired by the location and working with Fred Lewers and Palm West Home Builders. "I was like, 'Let's just do it right.' I expanded the design and turned it into something like my Taliesin."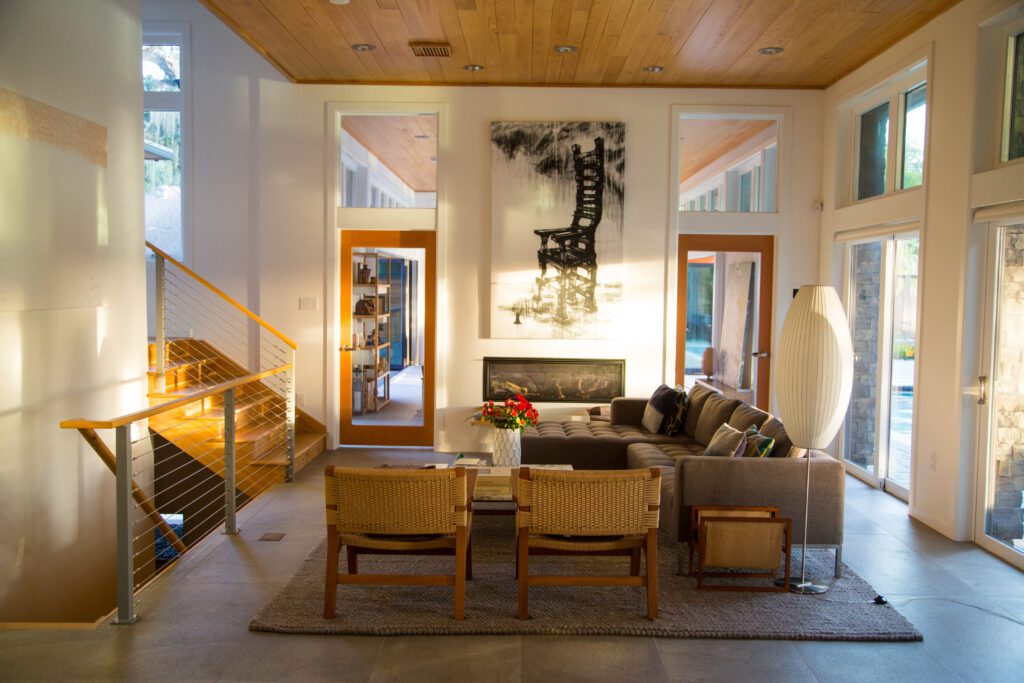 He alludes, of course, to fabled architect Frank Lloyd Wright's 800-acre Wisconsin estate and studio, a landmark in mid-century design. The 6-bedroom, 5.5-bath home Pennington cohabitates with his mother sits on a mere acre and covers something north of 5,000 square feet by rough estimate. Like Wright, however, Pennington is keen on organic flow, and his choices aim for a seamless integration with the landscape.
Besides the huge floor-to-ceiling windows that wrap around the house, Pennington went all-in on sustainable materials sourced from the immediate surroundings. Namely: cypress. The softwood, so common to Florida's swamplands, was used for the tongue-and-groove on the interior ceilings, the home's stairs and the home's exterior. "It just looks amazing," Pennington says. "I have to start over every three years and reseal it, but it's such a beautiful wood that I couldn't help but [use] it."
It's the closest thing to the Keys you're going to get in North Florida.
— Ty Pennington
Another feature that delights Pennington is the atrium, accessible via accordion windows that open to the soft Atlantic breeze. "It lets light into areas of the house that if you made one gigantic space you wouldn't be able to get that." A grapefruit tree that Pennington planted grows up through the middle of the walkway. Other special touches include an old surfing photo of Pennington blown up for use as wall art which doubles as a screen for a TV projector hidden in the ceiling.
And yes, the host of HGTV's Battle on the Beach (among other shows) still feels called to the ocean, surfing whenever he gets the chance.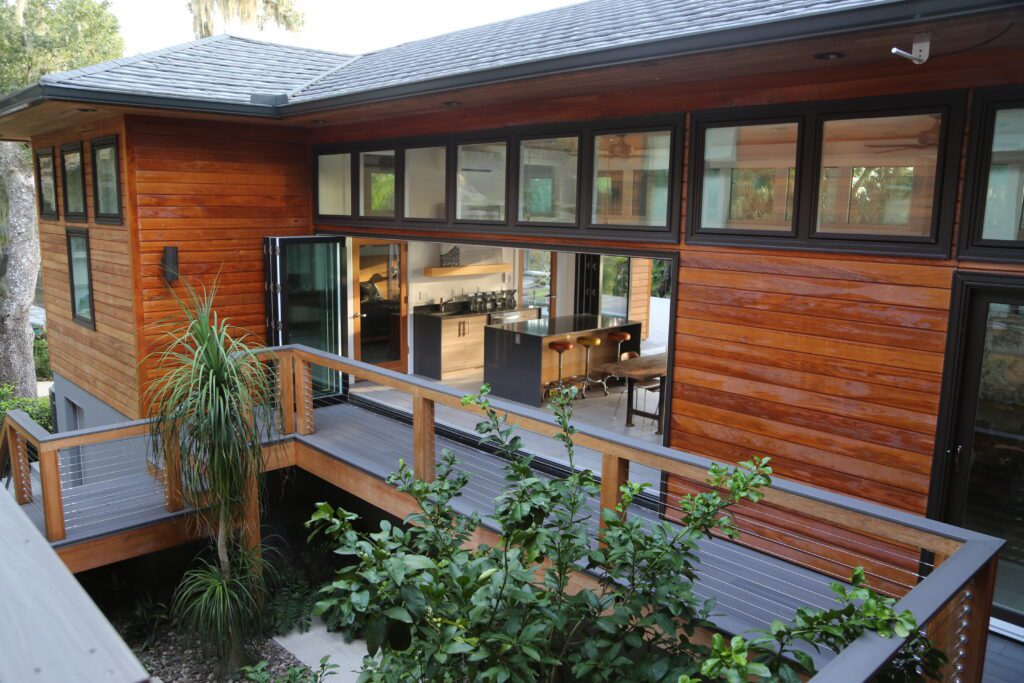 "I love going out," says Pennington, who grew up landlocked in Atlanta. "You've probably heard Matanzas Inlet is a great spot. When it breaks, it breaks really well there. There's also paddleboarding, literally in my backyard. I like to do a little bit of both ... I definitely love getting wet. And let's face it, all the way [down] to [US Highway 92], there's really good surfing everywhere."
Of course, you can also catch Pennington on the new seasons of Rock the Block (now on HGTV and discovery+), and Battle on the Beach, the beachfront property renovation competition show (season 3 airs on HGTV in June). But while you're watching him turn shabby into chic, he'll likely be down a windy Florida back road at his own sandy oasis catching waves off his favorite shore.