by

Emilee Perdue

|

May 18, 2023
This Turtle-Friendly Town is the Perfect Eco-Vacation
Channel your inner scientists in a daytime dig, watch a leatherback lay eggs by the light of the moon and fall in love with Florida's sweetest species with a sustainable stay in Indian River County.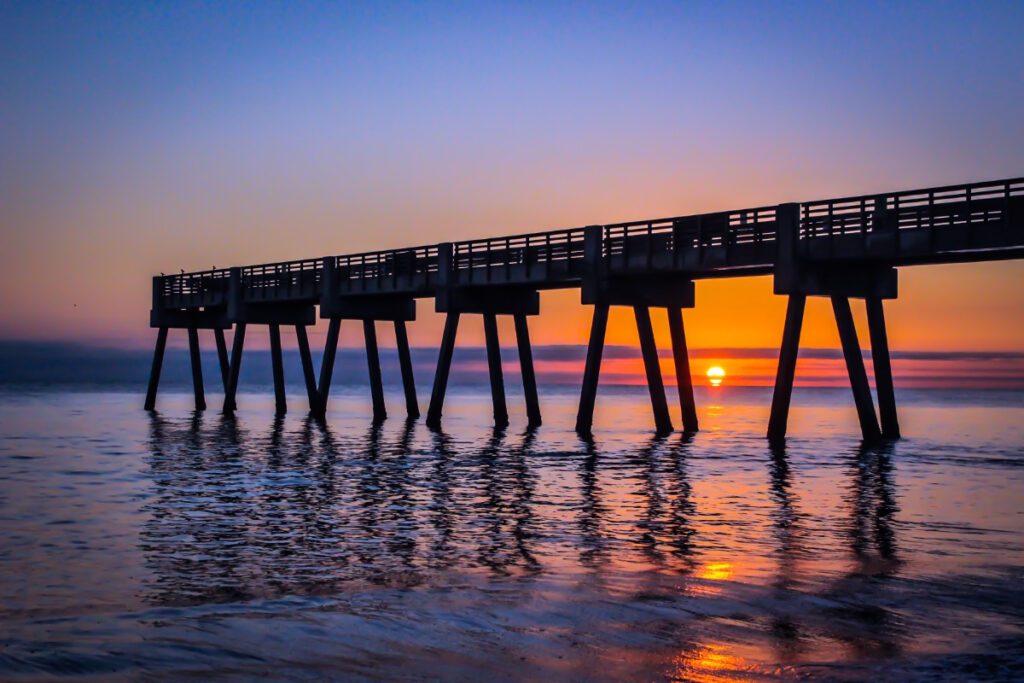 Soft white sand cushions your steps as you leave tracks across Vero Beach, the sound of Atlantic waves rolling in and out creates a peaceful rhythm. Then, something rustles in the dunes up ahead. Moonlight catches on a large dark shell digging a shallow hole.
"She's just up here!" an excited voice rings out in the darkness. "Everyone come take a look!"
The Coastal Connections guide flicks on their warm red flashlight, illuminating a nesting loggerhead sea turtle a couple of yards away. This isn't your typical moonlit stroll—it's a nighttime turtle walk in Indian River County. This uncrowded stretch of shoreline between Port St. Lucie and Melbourne is a pristine paradise for sea turtles in search of a safe space to lay their eggs, which means visitors to the region get a front-row seat to the adorable action—and can even offer hands-on help.
Vero Beach-based Coastal Connections is a nonprofit founded in 2017 by executive director Kendra Cope to protect sea turtles and their fragile habitat. Cope and her Coastal Connections crew are passionate about educating people and connecting them to the environment, with the aim of inspiring them to get involved and make an ecological difference. She founded the organization in Indian River County because of the destination's commitment to protecting Florida's natural state and the seemingly endless miles of clean beaches, essential for turtle nesting. "It's been a blast inviting people to Indian River County," Cope said, "because it's one of the very few places left on Florida's coastline that isn't extremely developed."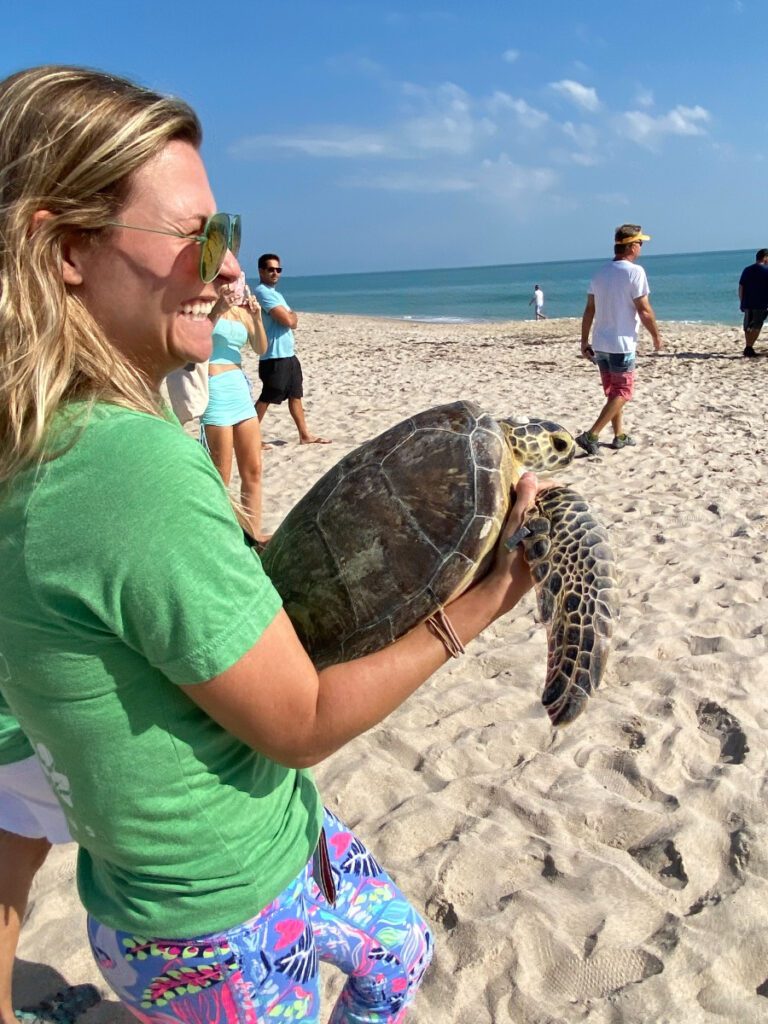 Coastal Connections offers sustainable, hands-on opportunities for those eager to help the turtle population recover, and it's the only organization licensed to host nighttime turtle walks in the county. Under the soft glow of the moon, a member of Coastal Connections' Turtle Team guides groups of about a dozen guests onto the beach to see a loggerhead sea turtle scoot up the shore and lay her nest among the sand dunes. The Coastal Connections guides also lead sessions that allow participants to "see" from a turtle's point of view by giving out colored light tests share vital facts about dune ecosystems and snap photos of the experience . If you're not a night owl, but you still want to make a sea turtle memory, join a daytime turtle dig, where scientists and volunteers work side by side to evaluate a nest after it hatches, occasionally even helping wayward hatchlings make the journey to the ocean. The average sea turtle lays around 100 to 120 eggs, but sadly, not all of them hatch. The well-tuned circle of life uses the decomposed eggs to fertilize dune plants like sea oats, sea grapes, dune sunflowers and more, which are essential for storm protection. 
Both the nighttime turtle walks and the daytime turtle digs are free to join, and in fact, the Vero Beach nonprofit also welcomes volunteers to get involved. Recently, the organization teamed up with Indian River County to create Vero Goes Zero, a sunrise beach clean-up program. On the first Wednesday of each month, Vero citizens meet at Sexton Plaza at sunrise to pick up trash from storm drains and sandy shores. These "trashy" volunteers—lovingly nicknamed by Coastal Connections—collect approximately 100 pounds of debris during each cleanup. Because of its core value of environmental stewardship, the county also has blue beach baskets stationed up and down the coast designated for picking up trash and debris, encouraging others to leave the beach better than they found it.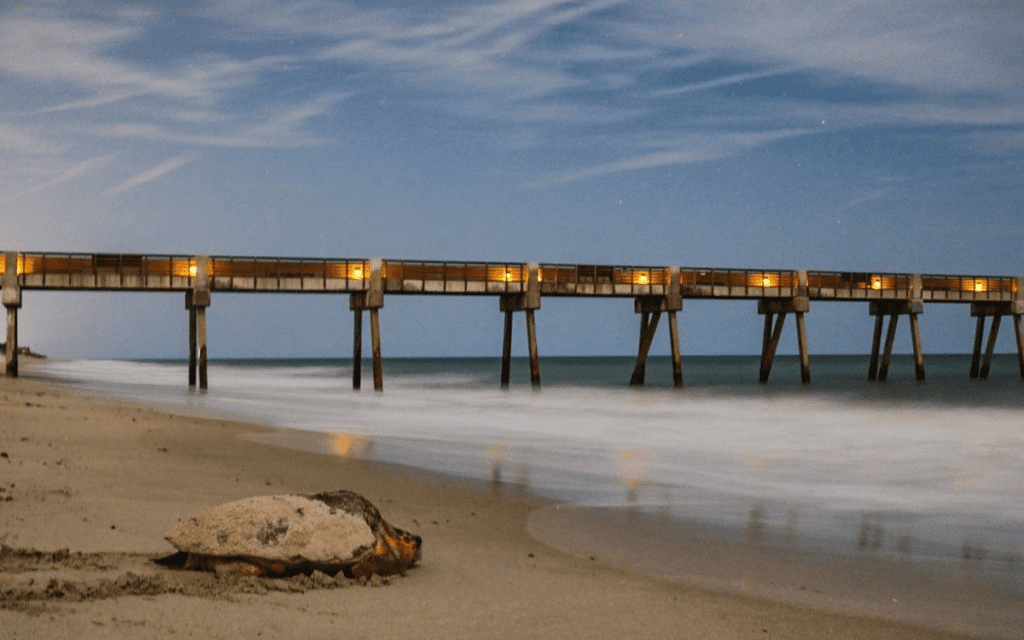 Indian River County's focus on maintaining a clean, uncrowded coastline makes it one of the Southeast's most turtle-friendly stretches. Take a worry-free weeklong vacation to one of mother nature's coastal havens, where you can not only enjoy her beauty but give back to the environment at the same time. "We're going to make sure we're always instilling passion and a love for wildlife and the environment," Cope said.