by

Emilee Perdue

|

May 3, 2023
Rethinking Gender Roles in a New Exhibit at the Rollins Museum of Art
Visit artist Elsa María Meléndez's first solo museum exhibition in the U.S. this summer at the Rollins Museum of Art in Winter Park.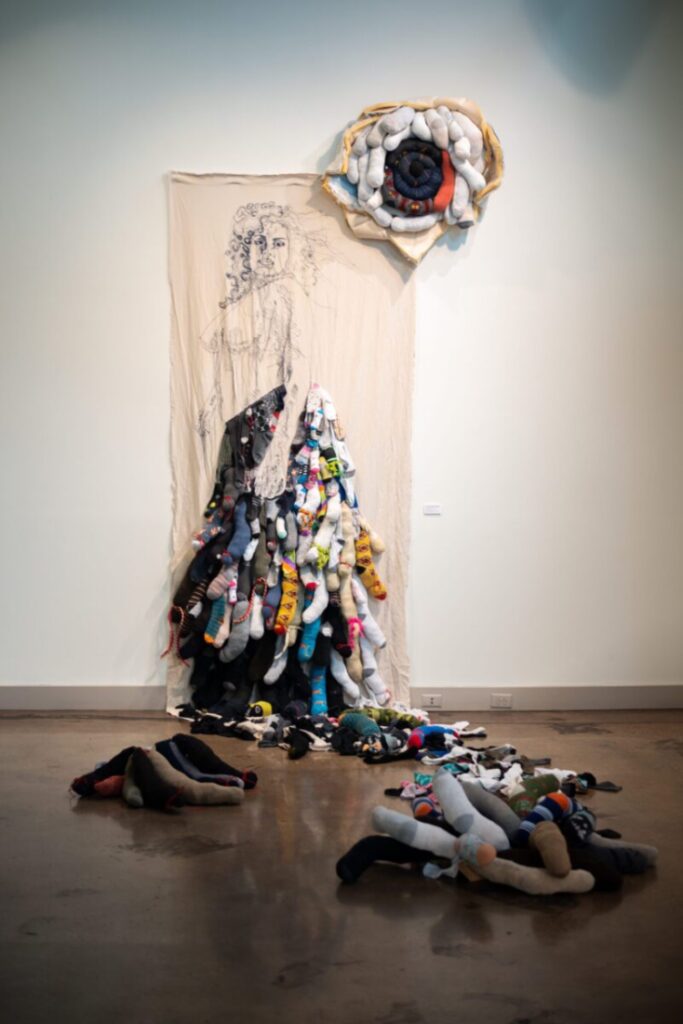 Using thread, fabric and repurposed clothes, artist Elsa María Meléndez plays with the constructs of reality to create entirely new perspectives on social policies and gender roles. Born in Caguas, Puerto Rico, in 1974, Meléndez uses her upbringing on the island to serve as inspiration for her evocative installations, which express her thoughts on intersectionality, gender inequality and the metamorphosis of women, in Elsa María Meléndez: Vengo de una isla de confusión / I Come from an Island of Confusion at the Rollins Museum of Art.
Rollins Museum's curator and fellow Puerto Rican, Gisela Carbonell, Ph.D., believes Meléndez's art has a special place in Central Florida. "She is one of those artists I have had on my radar for a long time," Carbonell said. "I am thrilled to have an entire art gallery at the museum devoted to her exhibition this summer." The Greater Orlando area is home to the largest Puerto Rican population outside of the island, especially following the aftermath of Hurricane María in 2017. These Florida transplants bring a vivid new way of life to the growing metropolis and they, like all citizens, deeply long to see themselves reflected in the community.
"She is one of those artists I have had on my radar for a long time."
— Gisela Carbonell
As an artist, Meléndez uses materials traditionally associated with women's labor, such as articles of clothing and other fabric swatches. By embellishing her works with screen printing and embroidery, she pulls apart the layers of society—gender, race, ethnicity and class—and rearranges them to create a new outlook on everyday life. In Aún así, Meléndez uses red thread to accentuate the smaller details of a woman's body, disregarding her torso, and surrounding her with dozens of cushioned and shaded lips as a criticism of the fixed and unattainable beauty standards society imposes on women. In La isla de las nostalgias, a woman made of fibers and cloth stands tall and stares directly at the viewer. Her skirt, built out of used socks, slowly slips off her figure and on to the ground, scattering the repurposed pieces across the floor of the installation. The strong, full-breasted maternal figure represents Puerto Rico, and each individual sock symbolizes a native islander moving further away from their homeland because of harmful economic policies.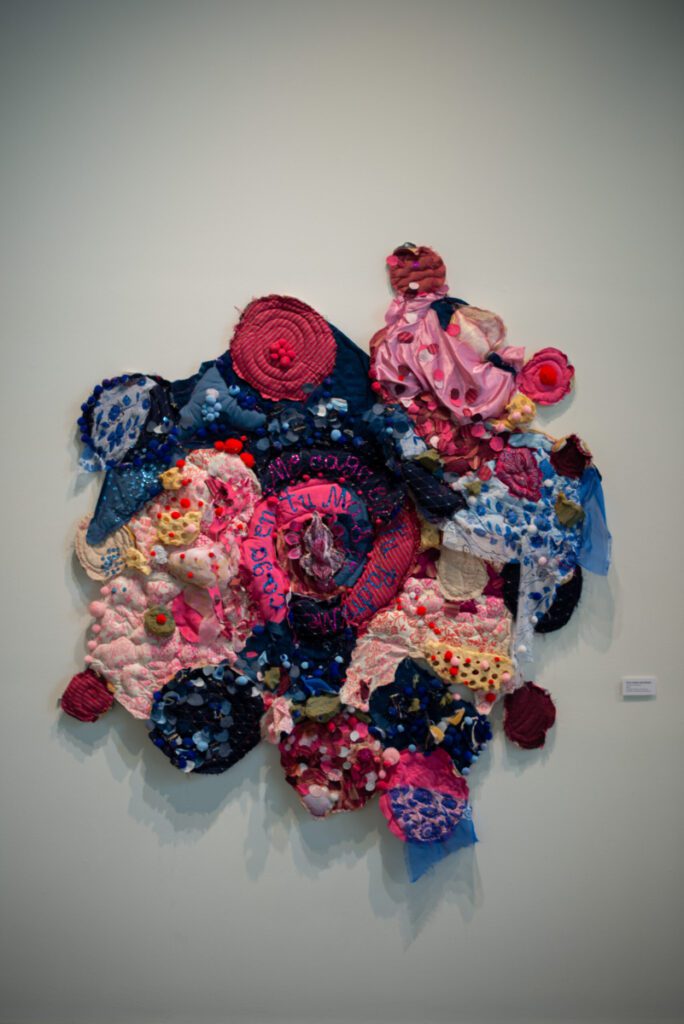 Though Meléndez's work is heavily influenced by her life spent in Puerto Rico, the social issues she addresses are, unfortunately, a universal struggle. "Especially in Florida," said Carbonell, "we are seeing the state government moving more and more in a dangerous direction, taking away the right of citizens to read certain books, learn more about some historical figures or present certain types of performances." Meléndez invites viewers to think about how political policies affect their personal lives. Each work in Elsa María Meléndez: Vengo de una isla de confusión / I Come from an Island of Confusion is presented alongside an extended label, explaining each piece's themes and providing further context, including direct quotes from the artist herself. On June 27th, Meléndez will conduct an in-person conversation in Spanish about her exhibition, which is free and open to all. On July 7th, Carbonell will give a tour of the exhibition in English at 11 a.m.
Visit Elsa María Meléndez: Vengo de una isla de confusión / I Come from an Island of Confusion from June 1 to Aug. 27 at the Rollins Museum of Art in Winter Park. rollins.edu/rma