by

Craig Pittman

|

May 1, 2023
Award-Winning Miami Filmmaking Trio Tells the Sunshine State's Taboo Tales
Miami documentary filmmakers Billy Corben, Alfred Spellman and David Cypkin have shaped the national conversation around some of Florida's most salacious events in their wildly popular films.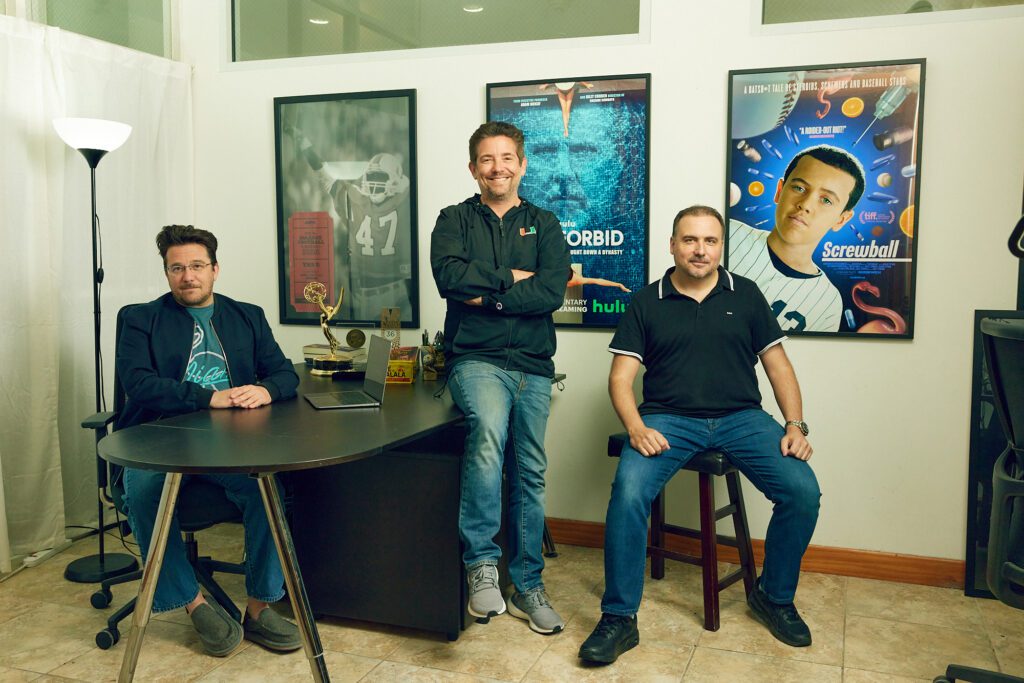 Fade in…Lively salsa music plays. The audience sees an exterior shot of a sign for Highland Oaks Middle School in Miami. The camera zooms past the sign, through the school's front door, down a hallway, turns a corner, then another, and finally zips into a classroom to stop at the teacher's desk.
The teacher is Sheila Spicer, a perceptive Black woman, and this is her TV production class. We see a TV monitor and cameras. Standing in front of her are two of her white ninth-grade students. One is a motormouthed child actor named Billy Corben, the other a hard-working and creative baseball junkie named Alfred Spellman. Spicer smiles at the two 14-year-olds.
SPICER: "Billy and Alfie. My little eager beavers, my little go-getters. I am putting you in charge of producing our daily news broadcasts for the school." (She reaches into her desk, pulls out a set of keys and hands them to Spellman.)
SPICER: "These are the keys to the studio. You can come in early and stay late if you need to. This assignment, by the way, will mark the start of your decades of partnership. You will begin producing irreverent and insightful films, mostly about Florida, that will be honored by the Sundance Film Festival and shown on various cable channels. Eventually, one of your movies will be hailed as the most popular documentary on a streaming service named Hulu."
SPELLMAN (nodding as he grabs the keys): "Awesome!"
CORBEN (looking right at the camera): "What the f---." A sudden blare of trumpets cover the last word.
School Ties
That's the origin story of the film studio Rakontur, as told by both Corben and Spellman. They are two of the three partners who run the Miami Beach enterprise responsible for such rowdy and revealing films as Cocaine Cowboys, Broke, Screwball and, most recently, God Forbid: The Sex Scandal That Brought Down a Dynasty.
Spicer "identified something in both of us and knew that we would work well together," said Spellman of the teacher who paired them up.
"She was just that teacher," Corben said. Comparing her to a character from the TV show Saved by the Bell, he said, "She was our Mr. Belding."
Although Spicer didn't really predict their future collaborations, she did give them the first push that got them started toward becoming Florida's premier documentarians.
Their latest film has been a huge hit on Hulu, despite tackling the taboo topics of sex, religion and politics. God Forbid explores the scandal involving a Miami pool boy whose revelations of a menage a trois brought down Liberty University president Jerry Falwell Jr., son of the Moral Majority founder. The movie also touches on the role Falwell played in the evangelical endorsements that aided the 2016 election of Donald Trump.
Our mothers used to bathe us together, that's how far back we go. We met in preschool.
— Billy Corben
God Forbid is "wildly entertaining," according to Chicago Sun-Times reviewer Richard Roeper. He praised the "neon potpourri of slick visuals, quick cuts, clever re-creation techniques, archival footage and sit-down interviews." That sums up the style of most Rakontur films.
For the third Rakontur partner, David Cypkin, the studio's origin story started much earlier than middle school.
"I have a picture of Billy at my third birthday. He's pouting," Cypkin said. "We grew up in the same neighborhood."
"Our mothers used to bathe us together, that's how far back we go," Corben said. "We met in preschool."
Both were part of a cadre of Jewish kids who were obsessed with movies, Cypkin said, "so for our bar mitzvahs, everybody got camcorders."
Cypkin and Spellman are natives of Miami. Corben is the only one who is not, although his family moved there when he was 3. His father was building houses across the state in Lehigh Acres when he made his debut at a hospital in Fort Myers. Because his family was so prominent there, news of his birth made the local paper.
"I was making front-page news even then," Corben joked.
His parents, despite misgivings, let both Corben and his brother audition for TV ads, shows and movies. They'd fly to Los Angeles, then fly back home. Corben appeared in so many episodes of TV shows that aired on NBC that his mother joked that the acronym stood for "the Network of Billy Corben."
Corben's life changed when he appeared in a small role in the 1989 movie Parenthood, with Steve Martin, Mary Steenburgen and Rick Moranis. He was amazed to see the director, Ron Howard, was an actor he'd watched in the movie American Graffiti and the TV show Happy Days. Corben was fascinated to see Howard telling everyone else what to do.
"He was in charge of everything," Corben said, still sounding amazed years later. The kid from Florida decided on the spot that's what he wanted to do, too.
And, Action!
Fade in … Sprightly salsa music plays in the background. In an interior shot, we see Spicer in her classroom. The calendar shows it's 1993. She's sitting at her desk marking papers as Billy Corben and Alfred Spellman approach, rubbing their hands.
CORBEN: "Ms. Spicer, we've got an idea that can't miss."
SPELLMAN (nodding): "We want to make a movie. We've got it all planned out. We just need to use all of the equipment in the studio."
SPICER (coolly): "Tell me about it."
CORBEN: "I wrote a 36-page script, so you know that it's good. It's called Waiting. It's about this high school girl, see, and she's waiting to get the results of her HIV test."
SPELLMAN: "He came up with the script, but I came up with the idea of turning it into an educational film. We'll prepare a study guide to go with the video and offer it to the school system. We just need your help with this one thing—letting us use the school's equipment."
CORBEN: "We'll shoot it over spring break when nobody's here, then premiere it on World AIDS Day."
SPICER (gives them a calculating look): OK boys, I'll make you a deal, but only because I know how hard you worked on the school TV show. Alfie, I know you've been coming in before school to edit tapes of ESPN's SportsCenter into a sports report for the school news. And Billy, I know you're so busy between classes and student government, you carry three briefcases with you every day."
CORBEN: "I actually need four briefcases, but three's all I can carry."
SPICER: "Here's the offer, boys. My church in Liberty City is installing three new deacons. I'd like you two to use the school TV equipment to shoot footage of the ceremony. Then you can borrow it through spring break to shoot your movie. Deal?
CORBEN and SPELLMAN: "Deal!"
CORBEN (looking at the camera): "Wait, did you say we're going to Liberty City? Oh, f---." There's a sudden blare of trumpets drowning him out.
Big Break
That's how these two Jewish kids from North Miami Beach wound up shooting footage in historically Black Liberty City, then known as one of Miami's most violent zip codes.
"We spent two or three days in Liberty City filming in the church—I loved it," Spellman said. "As a Jewish kid from Miami Beach, I remember being excited to experience a Black church service. To this day it was one of the most positive religious experiences I've had."
Then they set to work making Waiting. They'd raised $15,000 from family, friends and the local video store to finance the production, Spellman said, and recruited a cast and crew of friends. Cypkin, for instance, was the script supervisor.
They faxed out a press release about what they were doing to all the South Florida TV stations. The stations all sent a crew to film the filming, thus giving the boys some advance publicity as "the young filmmakers with a message."
As a Jewish kid from Miami Beach, I remember being excited to experience a Black church service. To this day it was one of the most positive religious experiences I've had.
– Alfred Spellman
When they finished the short, they convinced Miami-Dade school officials that Waiting should be shown to high school classes throughout the district. They wound up producing 100 videos, pasting on the labels by hand.
They approached other South Florida school officials, getting to each district office by riding the bus or persuading Corben's grandmother to play chauffeur.
"We'd show up in our shorts and T-shirts, and the receptionists wouldn't know what to do with us," Corben said.
In November 1994, Hurricane Gordon dumped a ton of rain on South Florida. While that downpour was going on, 16-year-old Spellman got behind the wheel of his parents' car to drive himself and his partners to Orlando for a statewide education convention. They made deals to sell Waiting to several more Florida school districts.
"I still occasionally hear from people who saw us on the back of the VHS cover of that film," Corben said. "It's nuts."
High school split them up—Spellman and Cypkin attended North Miami Beach High while Corben went to the New World School of the Arts and became senior class president. Nevertheless, they made two more educational films that they were able to sell to school systems.
But as they neared graduation, the trio seemed headed for different destinations: Corben to Tufts University, Spellman to the University of Florida and Cypkin to Florida State University.
"We wanted to continue to work together," Corben said. "So we said, 'What if we all went to the University of Miami?'" In the end, only Corben wound up there, while Cypkin attended FSU and Spellman landed at Florida International University.
A tip from a friend at the University of Florida brought them together again in Gainesville.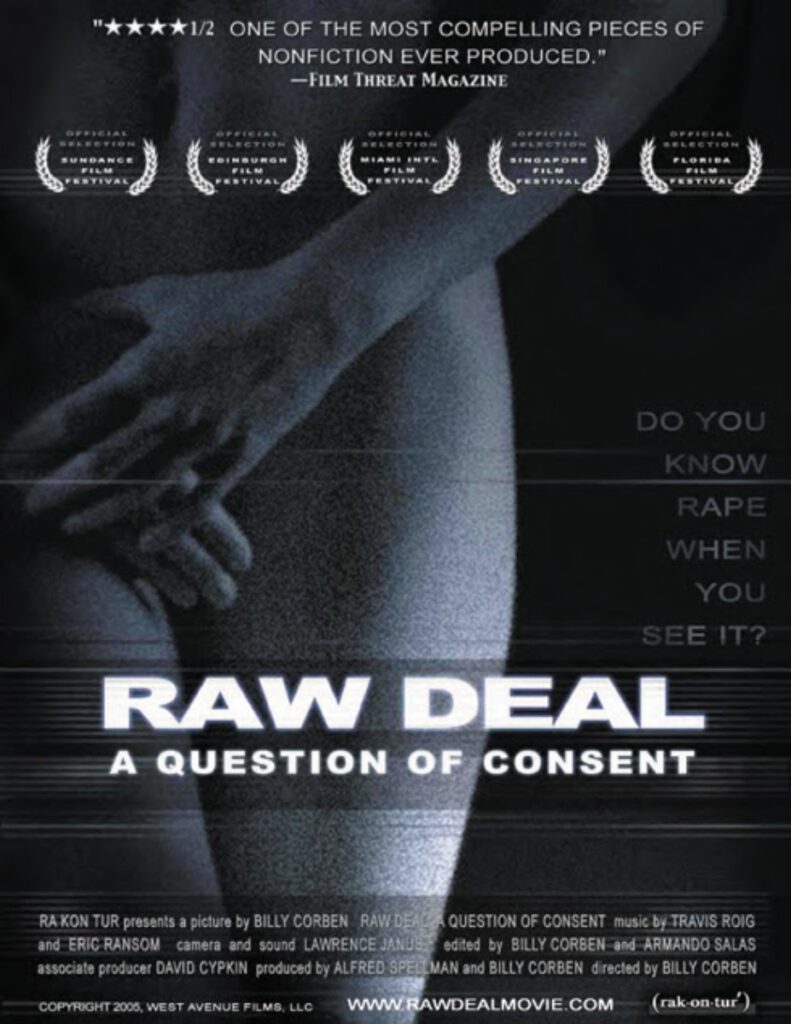 Scandalized
Fade in … We see an exterior shot of a grubby Gainesville apartment building. Slow and measured salsa music plays in the background. The camera rushes across the patchy lawn, through the door, into an elevator and, ding! The camera arrives at an upper floor and swoops into the interior of a threadbare apartment. Four people are sitting on chairs and couches. We see Corben, now 21, leaning forward and peering intently at a movie screen while sipping a root beer. On the screen is a dimly lit, flickering image that's hard to make out.
Spellman is sitting nearby, as is a young Miami Herald reporter named Hannah Sampson, who has a notepad and pen as well as a vanilla Coke. Sitting in the corner is Cypkin, who is making a sign.
Corben, Spellman and Sampson are watching a Super 8 film that a Delta Chi frat brother from the University of Florida shot of a stripper relaxing in a hot tub with another frat brother.
GLEEFUL VOICE OF FRAT BROTHER ON FILM: "Soon to be released on DVD…"
CORBEN: "How prophetic that turned out to be."
SAMPSON: "So you guys all dropped out of college to do this movie that you're calling Raw Deal: A Question of Consent?"
CORBEN: "No, no, we just took some time off. I've got three majors—political science, screenwriting and theater—so it's kind of a relief to be away from campus. But I'll go back to graduate, or my parents will kill me."
CYPKIN (over his shoulder): "I was just about to graduate when we heard about this." (Goes back to working on his sign)
SAMPSON: "How'd you get onto this story?" (sips her Coke, pages through a binder full of stories on the case that Corben has handed her)
SPELLMAN: "It's been big news at UF. The stripper said she was raped by a frat boy, but the state attorney's office didn't charge anyone. The National Organization for Women got involved and accused the prosecutors of failing to protect women. Then a judge OK'd the release of this video that one of the frat boys shot, and there's nothing on it to show a rape occurred, so public opinion shifted."
SAMPSON: "That's wild!" (jots down notes)
SPELLMAN: "The stripper was charged with filing a false report, but that charge was dropped when she pleaded guilty to operating an escort service without a license. Meanwhile, the university kicked the frat off campus. Nobody can agree on what happened."
CYPKIN: "Hence my sign, which I'm going to hang in my editing corner." (The sign says, "Welcome to the argument")
CORBEN (sounding very intense): "I've never been so excited about a project before in my life. It's just so cool. I have an interest in knowing what happened. It's apparent here that someone was wronged. Now if only we could get someone to talk to us! No one from NOW will appear on camera and neither will the prosecutors."
SAMPSON: "You came here without having any interviews set up? That's crazy."
CYPKIN (putting down the sign): "It was a leap of faith."
(The phone rings. Spellman answers briefly, then hangs up.)
SPELLMAN (excited): "The frat guys say they'll talk to us." (Phone rings again, Spellman answers, talks for a minute or two and then hangs up.) "The stripper said she'll talk to us, too!"
SAMPSON: "Wow, this sounds great! I bet you could be the first guys from Miami to take a movie to the Sundance Film Festival! The youngest, too!"
CORBEN (looks at the camera): "What the—you know what? I'm not gonna say it this time." Blare of trumpets!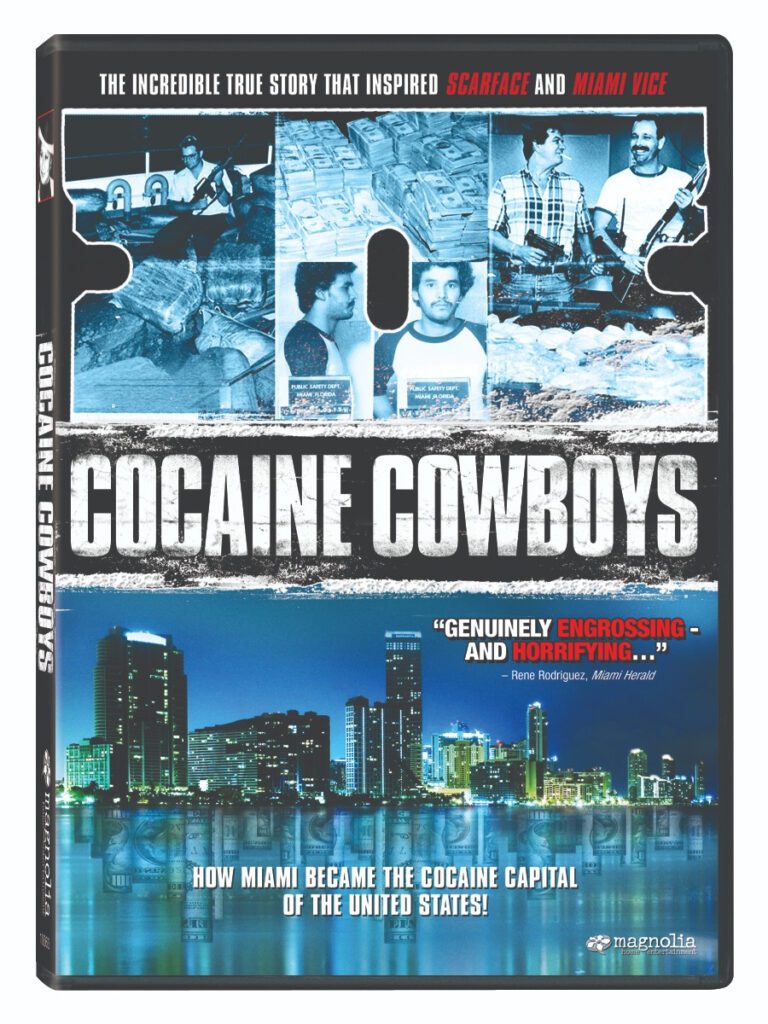 Snow Days
When Raw Deal came out in 2001, Variety posted a review that called the movie "uncomfortable" but "compulsively watchable … in the manner of a train derailment." As Cypkin predicted, the trio struggled with the narrative, having what Spellman called "knock-down, drag-out arguments" over what to say, how to say it, how much to show and why.
"There wasn't a second of that film that didn't involve everyone shouting at each other," Cypkin said. In the end, they left it to the viewer to decide who was telling the truth.
Corben was so intent on getting the story right that he was still editing right up to the last minute before they were to leave for the Sundance Film Festival. Finally, Spellman told him, "You don't have to finish, but you have to stop."
At Sundance, the New York Post reported that the film "provoked a firestorm of controversy as audiences debate whether the extremely explicit sex footage is exploitative or … provides a valuable lesson for college students."
Corben, for whom this Utah trip marked the first time he'd seen snow, was in his element. He talked up the film at every turn, giving 10 interviews a day. The controversy sparked a frantic bidding war over rights to distribute the movie.
"Our cell phones have been ringing off the hook," Spellman told the Post at the time.
The real reward for doing a documentary, Spellman said more recently, is that you get to make more of them. The success of Raw Deal opened the door for the trio to make the ultimate Miami movie, Cocaine Cowboys.
We went from telling gangster stories and drug stories to telling stories with more gravitas.
— Alfred Spellman
Originally, this story about how cocaine smugglers turned the once-sleepy metropolis into a glittering international landmark had a very different title: City Made of Snow. But when they met with potential distributors, Corben said, "nobody was interested in City Made of Snow."
They finally decided to change it "because we wanted to eat," Corben said. "Cocaine Cowboys was a noisier title."
They followed a similar template: no narrator, interview subjects talking straight to the camera, lots of archival footage, rapid cuts from scene to scene. But other touches were different. For instance, instead of fading to black, they'd fade to white.
The roles of Rakontur were now settled, with Corben as the director, Spellman as the producer and Cypkin as the editor.
"Billy and I go out and hunt and gather, and we bring it back to Dave," Spellman said.
"Billy is an assertive director, and he knows what he wants," Cypkin said. "Alfred has a creative way of making it happen."
The first cut, full of jaw-dropping interviews with ex-smugglers, cops, prosecutors, reporters and even a hit man, wound up being nearly four hours long. Spellman joked that they were making two movies. In the end, that's exactly what they did.
The final cut of the first Cocaine Cowboys, which premiered at the Tribeca Film Festival in 2006, was close to two hours. A New York Times review huffed that it was "overlong, overexcited and over the top," but when it popped up on Showtime, viewers loved it. It did even better on VHS.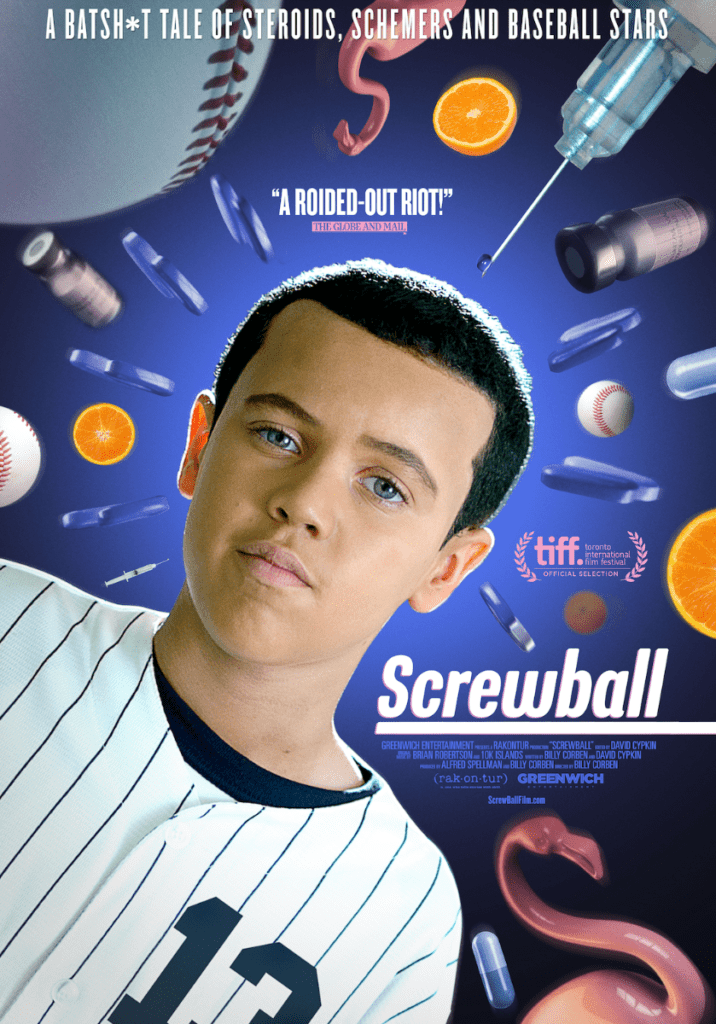 One clever marketing move was to persuade video rental chains not to tuck it away with other documentaries back in a section of the store visited only by cinephiles. Instead, it was shelved with gangster films such as Scarface and The Godfather.
"Documentary is not a genre," Corben explained. "It's a style of filmmaking."
As a result of that film's popularity, Rakontur made a 2008 sequel, Cocaine Cowboys 2. The second one focused on "the Godmother" of the cartels. Then came an expansion on the original (Cocaine Cowboys: Reloaded), and in 2021, a six-episode Netflix series called Cocaine Cowboys: The Kings of Miami.
They have one more installment in the works: The Last of the Cocaine Cowboys, a four-part series
focusing on Medellín cartel co-founder Carlos Lehder. They also made one in 2011 that wasn't a sequel but had a similar vibe. Square Grouper: The Godfathers of Ganja was about
marijuana smugglers.
Not every story was a Florida story. Rakontur found a way to tell riveting tales about hip-hop (The Tanning of America on VH1), money-squandering athletes (Broke, an ESPN "30 for 30" film) and sleazy New York nightclub culture (Limelight, another Tribeca entry).
But their most fertile source has always been the Sunshine State. For instance, their 2009 film on the University of Miami's championship football team, The U, became the most watched ESPN documentary ever, with 2.368 million viewers tuning in.
Each new success has raised their profile. Now, Spellman says, whenever someone gets out of prison in South Florida, "your first call is to your mama, and your second one is to us."
As one example, New York Yankees third baseman Alex Rodriguez pitched them the idea of a documentary about his suspension for using performance-enhancing drugs ("It was a weird lunch," noted Corben). Then they got similar pitches from the other two principals in his scandal, the phony doctor who gave out steroid shots and the Miami clinic employee who blew the whistle on everything.
"If ever the universe was trying to tell us something, that was it," Corben said.
The result was Screwball, the 2018 film in which the filmmakers used kids to reenact some of the craziest scenes of the Biogenesis scandal. Variety loved it and said the film was "what might result if the Monty Python troupe were given carte blanche to produce an investigative report for 60 Minutes."
Their two most recent films, 537 Votes and God Forbid, have delved more into politics and how American elections wound up the way they did. While God Forbid focused on evangelicals' role in the 2016 election, 537 Votes ties the 2000 presidential recount debacle to the Elián González custody fight. The run-up to the 2020 election is what prompted them to do a film on what happened 20 years before. "We said, 'This is going to be the most consequential presidential election of our lifetime. We need to do something," Spellman said.
They filmmakers won't talk about what's next but hint it will highlight another Florida-based scandal with political connections.
"We went from telling gangster stories and drug stories to telling stories with more gravitas," Spellman said.
This trio of smart-alecky kids from North Miami Beach are maturing. Some of them have married and started families. Corben has a podcast and over 100,000 followers on Twitter. They still spend more hours of the day talking with each other than anyone else. And they have no plans to slow down their movie production anytime soon.
Fast Forward
Fade in … Light salsa music plays. The setting is a futuristic Miami, with flying cars and jetpacks. In a shot, we see a trio of kids on a playground who look like Corben, Spellman and Cypkin. Spellman Jr. is using his phone to shoot a video of two other kids who are pretending to be a corrupt politician taking a payoff from a drug dealer—using Monopoly money—while Cypkin Jr. is shooting the same scene from a different angle.
CORBEN JR. to the two others: "OK that's good, but you gotta take the money quicker. And look around like you're trying to spot any cops watching you. Let's try it again."
A gray-haired Corben Sr. walks up to the trio, looks at the scene in awe, then looks at the camera and says, "What the f---." A sudden blare of trumpets cover the last word.