by

Avery Lotz

|

April 21, 2023
7 Wonders of Martin County: A Nature-Lover's Guide to the East Coast Oasis
Saltwater adventures and starry skies await those who choose to escape to Martin County's hidden gems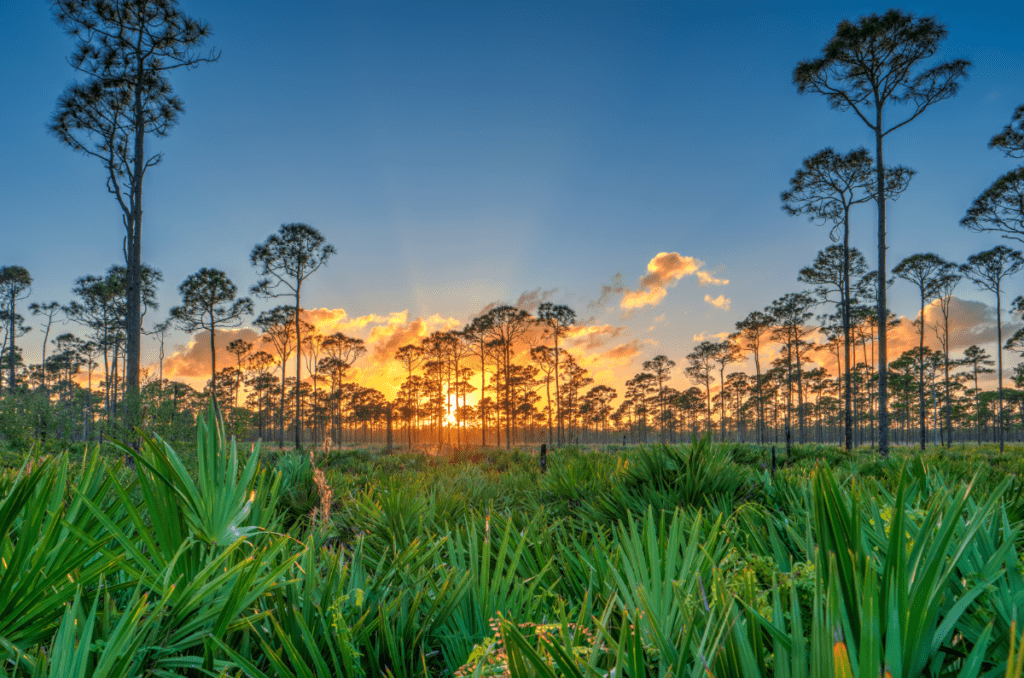 It's no secret Florida's beaches are a magnet for those seeking saltwater serenity. Yet beyond Martin County's 22 miles of rolling dunes, golden sands and cerulean shorelines lies a diverse wonderland of nature preserves, parks, wetlands and hiking trails hiding in plain sight. Kayak, snorkel or stroll among some of Florida's rarest flora and fauna. Leave nothing behind but footprints, while gaining much more than memories as you discover this uncrowded east coast escape.
The Martin County Office of Tourism & Marketing recently partnered with Leave No Trace to launch a new ecotourism program, making them the first tourism office in Florida to team up with the organization. The nonprofit group leads educational and research programs for parks, preserves and people aimed at protecting native habitat. The partnership marries conservation and exploration and encourages stewardship of its 100,000 acres of parks and conservation lands.
Ian Centrone, the Martin County tourism program manager, hopes the initiative will promote responsible recreation while educating locals and visitors alike on the natural wonders found throughout Martin County.
"When you form an authentic connection with a place through education and unique experiences, you're more motivated to protect it," Centrone says. "We're thrilled to be the first tourism office in Florida to partner with Leave No Trace and we hope our new ecotourism program will empower people to become even better stewards of the environment for generations to come."
To jump-start the exploration, we've outlined seven of Martin County's most wonderous locales that stir both the imagination and the conscious.
Jonathan Dickinson State Park
This sprawling park is ideal for the modern-day explorer. Take a day trip and soak up the Florida sun or stay overnight beneath the twinkling stars in a rentable cabin or pitch a tent on one of three campgrounds. The largest state park in southeast Florida, Jonathan Dickinson offers a variety of avenues for adventure. Guests can hike short or long distances, cruise in kayaks down the Loxahatchee River, cycle along a multitude of trails and more. The park even offers an all-terrain trackchair for visitors with mobility needs.
While you're there, don't miss the chance to climb Hobe Mountain Tower for sweeping panoramic views. The observation tower sits atop an ancient sand dune that stands 86 feet above sea level—the highest natural point south of Lake Okeechobee. With 16 natural habitats to roam, there's something new to experience with every visit to Jonathan Dickinson State Park.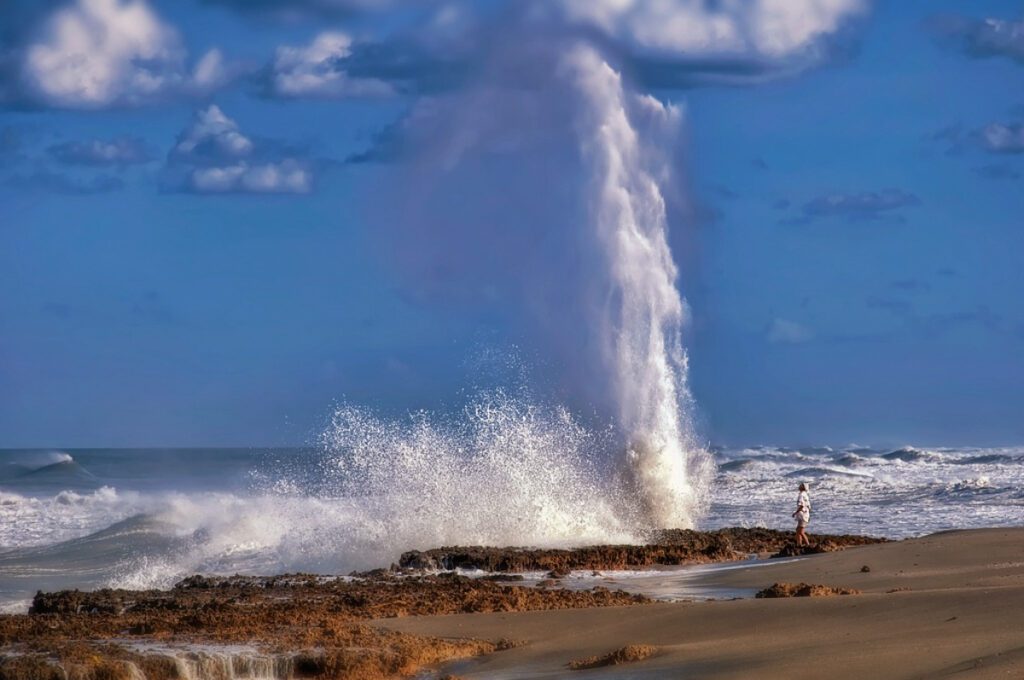 Blowing Rocks Preserve
During high tide at Blowing Rocks Preserve, saltwater splashes nearly 50 feet high toward sunny skies and rains down on the textured rocks below. Here, visitors can traverse the largest Anastasia limestone shoreline on the Atlantic coast. Located on Jupiter Island in Hobe Sound, this 73-acre barrier island allows beachgoers to walk along pristinely preserved natural history while surrounded by some of the state's most picturesque coastal views.

Not only is Blowing Rocks one of the most iconic points of interest for aquaholics, anglers and photographers, but it's also a vital habitat for endangered species. Void of development and protected by the Nature Conservancy for more than 50 years, this stretch of coast feels like a dive into the past.
St. Lucie Inlet Preserve State Park
This state park epitomizes the "hidden gem." Accessible only by boat, the barrier island is perfect for those seeking to wander a quiet shoreline or a maze of native plants. While on the island, kayak through nature's mangrove highway or stroll down the winding wooden boardwalk to an untouched beach. This offshore oasis offers sanctuary to a variety of wildlife like the white ibis, the purple plover and the great blue heron. Along with the beaches of Hutchinson Island, St. Lucie Inlet Preserve State Park also provides vital nesting grounds for loggerhead, green and leatherback sea turtles.
"St. Lucie Inlet Preserve State Park is one of my favorite under-the-radar spots in Martin County," Centrone says. "You feel like you've stepped back in time when exploring the island. The entry fee is just three dollars per boat, so don't forget to bring your cash to leave in the honor box."
Florida Coral Reef
Unaffected by snorkelers and divers, a diverse array of fish glide amid the rocky coral reef. An underwater city bustles, with each organism playing an imperative role in the survival of the ecosystem. You don't have to travel to the Great Barrier Reef for these dreamscapes. Rather, you can relish in the reef's beauty just off the coast of St. Lucie Inlet.
Here you'll find the northernmost tip of Florida's coral reef, stretching nearly 350 miles to Dry Tortugas National Park. This sunken treasure, with 21 stony coral species and more than 450 fish species, is particularly special, being the only ​​barrier reef system in the continental United States.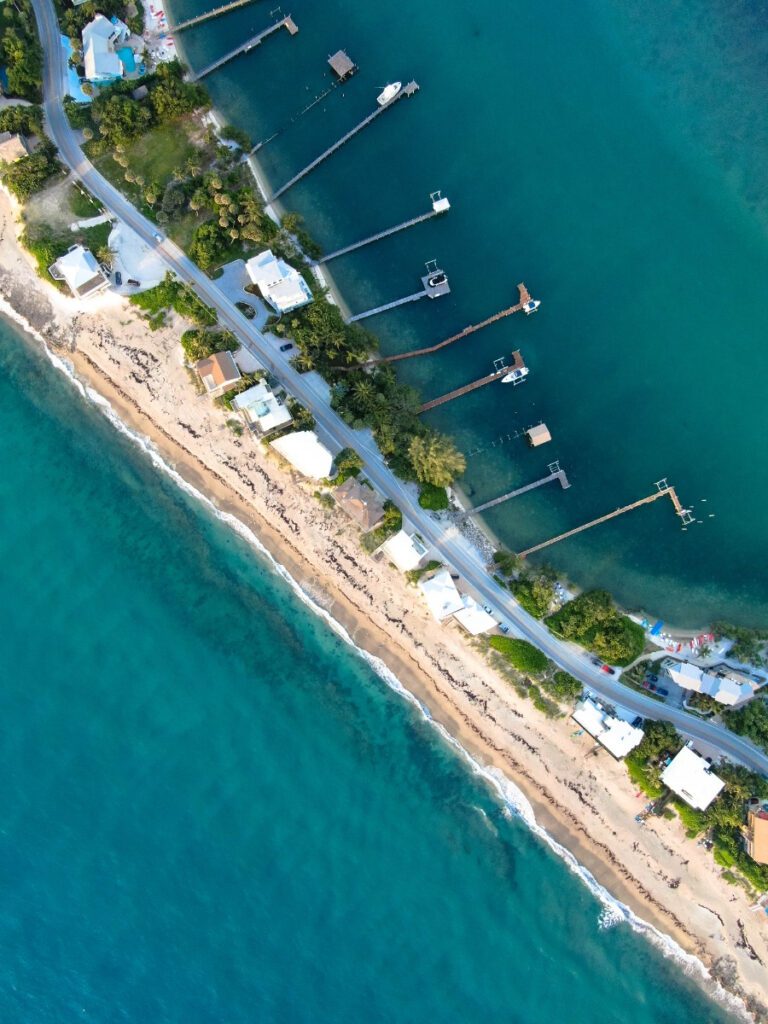 Indian River Lagoon
If you don't consider yourself a mangrove maniac, you should. Not only do the long-rooted coastal trees provide a habitat and protection for countless organisms above and below the water, but they also filter runoff in Florida waterways and protect our shorelines from erosion.
The Indian River Lagoon, lined with sturdy mangroves, is actually a 156-mile-long estuary nestled between the barrier islands and the inhabited shore. In Martin County, guests can visit the heart of the Indian River Lagoon by boat, kayak, paddle board or aboard a local sailing charter.
Venture through one of the most biodiverse estuaries in North America, where you can spot up to 685 fish and 370 bird species. Did you notice a flash of pink above you? No, it's not a flamingo—it's the roseate spoonbill, a popular passerby above Indian River waterways.
Allapattah Flats
When we look to the night sky for solace, light pollution often swallows the stars. But you don't need to imagine the constellations in Martin County, especially not on the trails in Allapattah Flats. Tucked away in Palm City, the skies here are considered the darkest in the county, a never-ending pool scattered with crystals.
By day or night, Allapattah Flats offers a nature trail for hiking or biking with places to camp along the way. From the skies to the slash pine flatwoods, Allapattah Flats hosts and protects flocks of feathered friends, like sandhill cranes, wood storks and crested caracaras.
Hobe Sound Scrub Preserve
Over 100,000 years ago, Florida was submerged in prehistoric saltwater. As the ocean receded, it formed the dune upon which Hobe Sound Scrub Preserve now sits. Relax in the pavilion or venture down the shell rock trail, and keep an eye out for some of the park's permanent residents, sunbathing tortoises. The 28-acre park, shaded by oaks and dotted by evergreen shrubs, is home to an ecological treasure: the sand pine scrub habitat.
While the scrub welcomes guests to its picturesque walking paths, it also envelops a community of creatures, including a threatened vibrant blue songbird, the scrub-jay.
Taking the trail less traveled and seeking out Martin County's secret spots is sustainable tourism in itself; it helps prevent overtourism, giving ecosystems the vital space they need to flourish. So on your next adventure, let Martin County engulf you in nature's embrace—and remember to hug Mother Nature back.