Calling All Readers (and Writers): 13 Favorite Florida Indie Bookstores
Whether you're looking for a new reading nook or a rare find, here are all the local shops we're booking it to.
It's hard to say no to a steaming mug of coffee, a bright, cushy armchair, a book you just can't wait to crack open and a friendly niehborhood shop owner to boot. We've put together a list of independent bookstores that have crafted the perfect hygge hideaway for bookworms. Why visit another Barnes & Noble when you can meet a bookshop pup, have a novel-themed snack and support local businesses? Skip the copy-pasted chains, and visit our favorite local literary hangs.
---
North
Chamblin Bookmine & Chamblin's Uptown
Jacksonville
The moment you step inside Chamblin Bookmine off of Roosevelt Boulevard, you'll understand the origin of the name. Cookbooks, memoirs, classic literature and more spill out of every nook and cranny of this 23,000-square-foot maze of used books. Scour the shelves, and the floor for that matter, and you can find just about anything you're looking for. Opened in 1976 by Ron Chamblin, the store bounced around Jacksonville for years until it settled into two homes: Chamblin's Uptown in the heart of downtown, which also boasts a cozy coffeeshop, and the delightfully chaotic Bookmine in Lakeshore. Chamblinbookmine.com
---
Story & Song Bookstore Bistro
Fernandina Beach
Mark and Donna Paz Kaufman have 25 years of experience helping others open successful independent bookstores, so in 2018, they decided to do it themselves. Story & Song is a quaint shop tucked away in the heart of Amelia Island. If you need a break from browsing the shelves for your next paperback pal, stop into the bistro for literature-inspired fare like the "Curious George PBJ Sammie" or the "Eat, Pray, Love Hummus and Flatbread." Storyandsongbookstore.com
---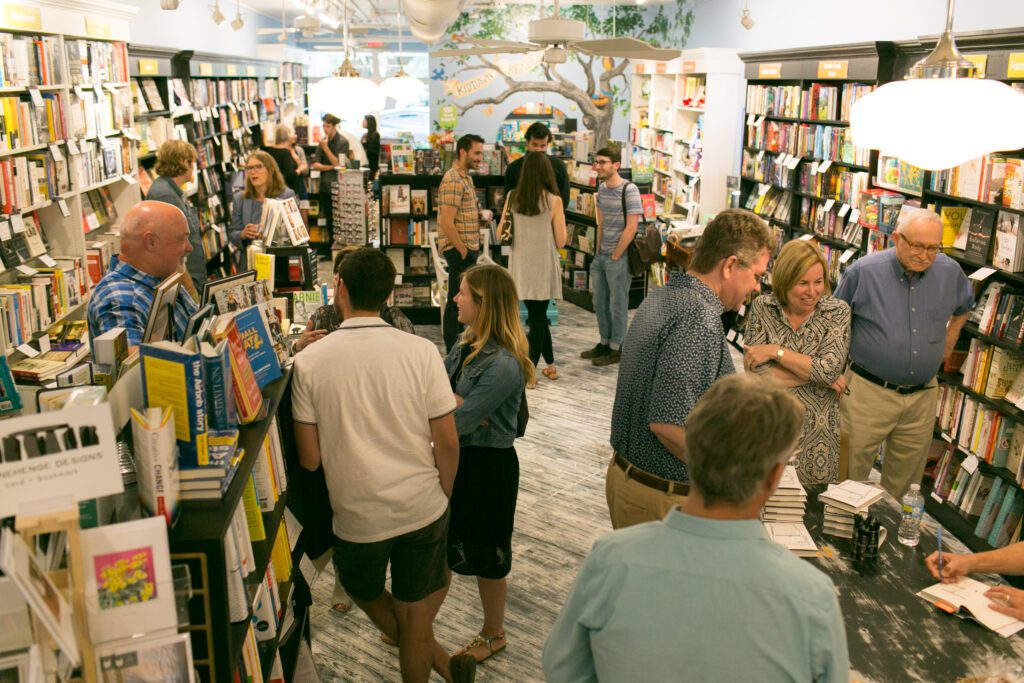 Midtown Reader
Tallahassee
Nestled away in Florida's capital city, Midtown Reader is known as a gathering place for readers and writers alike. Be sure to wander through every aisle of this reader's refuge because notable Florida writers like Lauren Groff and Jeff Vandermeer have been known to make themselves at home here. Featuring a robust local authors section, an impressive lineup of literary events, multiple book clubs to join and plenty of comfy seating, Midtown Reader practically begs you to get lost in the stacks. Midtownreader.com
---
The Book Loft
Fernandina Beach
Arrrr-e you looking for books that tell of Florida's swashbuckling history? At The Book Loft, readers will find a whole section of paperbacks devoted to Amelia Island's pirate past. Bill and Sue Nelson sought to create a nostalgic, inviting local bookstore that highlights the history of the region, and thus The Book Loft was born. Browse the first floor full of local authors and new releases or venture upstairs where a treasure trove of historical fiction hides—and the shop's resident ghost, Katherine, who may keep you company while you scour the shelves. Thebookloftamelia.com
---
Sundog Books
Seaside
True to its name, most visitors to Sundog Books in scenic 30A are greeted by a wet nose and wagging tail. Whether it's the shop's "sundog," Glover, or another visiting furry friend, you'll often find a canine companion to go with your latest fiction find. The family-owned Seaside shop has everything from murder mysteries and buzzworthy new releases to Florida-themed puzzles and their own merch. Sundogbooks.com

Central
Book + Bottle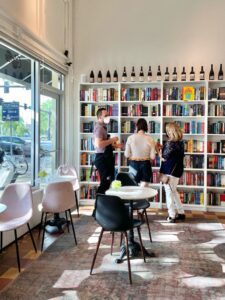 St. Petersburg
This trendy new addition to St. Pete abides by the two B's: booze and books. The hybrid wine bar/bookstore/coffee shop holds every cure for a bad day inside it's soothingly minimalist four walls. Terra Dunham was a regular at a similar spot while working in Denver and decided to bring the quirky combo back to her Gulf Coast hometown. Pair a mystery novel with a sultry pinot noir, or sip on a simple lavender latte while reading your favorite romance. Day or night, there's a drink to match. Bookandbottlestpete.com
---
Sunshine Book Co.
Clermont
Residing in a historic downtown Clermont home, Sunshine Book Co. is the youngest shop on the proverbial indie bookstore block. Owner Beth Merrick decided to look at the glass as half full when she was furloughed from her job at Disney during the pandemic and began to pursue her dream of opening a local bookshop. The intimate book nook opened in early 2021 and offers an array of titles from Oprah's Book Club picks to little-known local authors. Merrick even used her new shop to highlight goods made by other furloughed Disney cast members, whom she connected with through a Facebook group. Merrick's passion project turned successful small business is the manifestation of what her former boss Walt Disney was all about: If you can dream it, you can do it. Sunshinebookco.com
---
Hello Again Books
Cocoa
Heralded as a dreamy dwelling for previously loved literature, Hello Again Books offers a wide selection of gently used books for thrifty readers. About 80 percent of this shop's inventory is used, but the quality is so good visitors may not even notice until they make their way to the register and are pleasantly surprised by the sticker price. The remaining 20 percent of stock is dedicated to new releases that address themes important to the Hello Again Books team, ranging from LGBTQ storylines to strong female protagonists. After you've secured your latest read, snap a pic under the archway of books to commemorate your visit or sink into one of the plush chairs to start chapter one. Helloagainbooks.com
---
Writer's Block Bookstore
Winter Park & Winter Garden
Searching for a creative spark? Wander inside this beloved local bookstore for an endless supply of artistic genius. Sometimes compared to Mary Poppins magic bag, Writer's Block may not look like it contains a vast library of literature from the outside but inside the threshold visitors find bestsellers, indie picks, stationery and trinkets from wall to wall. With two locations that bookend either side of downtown Orlando, Central Floridians never have to drive far for their fiction fix. Writersblockbookstore.com
---
Tombolo Books
St. Pete
It can be difficult to spot the forest green facade of Tombolo Books tucked behind all of the lush greenery that frames the storefront, but look for the chalkboard with the cheeky sayings and you know you're close. Alsace Walentine took her time finding the right spot to establish a brick-and-mortar version of the popular pop-up, and the shop fits right in with the charm of the Grand Central District area. Join their fantasy book club and adventure to an unknown world, or anxiously await the next horror club meeting for the latest fright. Plus, this St. Pete staple is always hosting talks by Florida authors like Jack E. Davis, Sarah Penner and Alexandria Bellefleur. Tombolobooks.com
South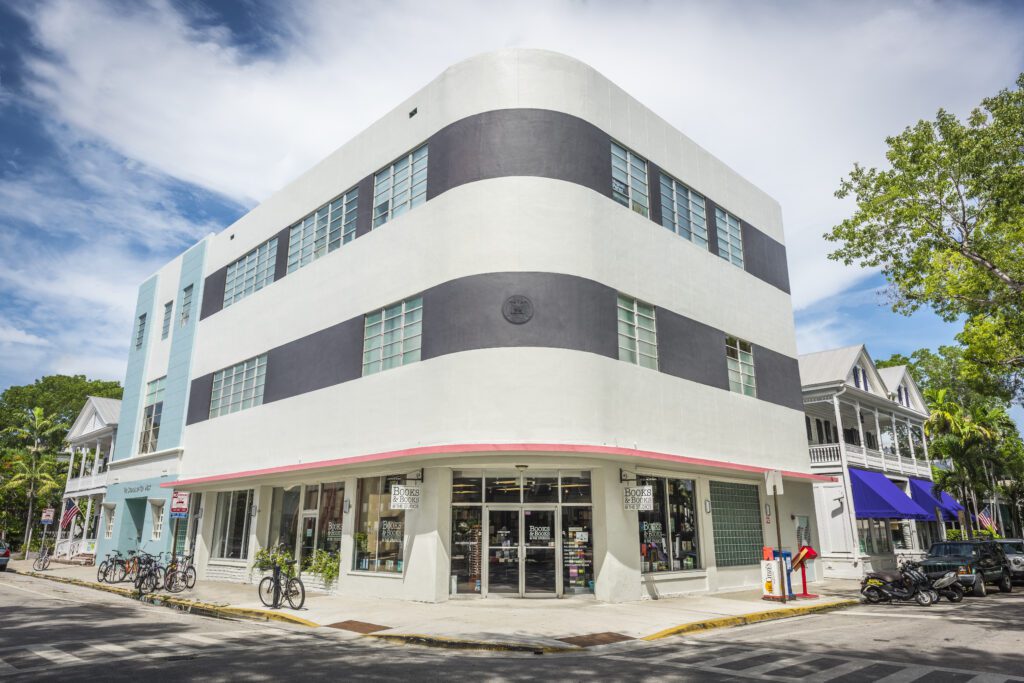 Books and Books
Throughout South Florida
Books & Books has independent bookselling down to a science. Mitchell Kaplan established the first shop in 1982 in Miami and has since expanded to eight outposts, including one special spot co-founded by Judy Blume in Key West. Each location reflects the flavors and unique reading interests of the neighborhood and regularly partners with local vendors and authors to showcase their work, giving each Books & Books a distinct feeling. You know what that means: you'll just have to visit them all. Booksandbooks.com
---
Old Florida Book Shop
Fort Lauderdale
Entering the Old Florida Book Shop is like stepping back in time. Wooden floor-to-ceiling bookshelves sport rolling ladders that beckon bookworms to the higher shelves, and antique lamps help guests navigate the hodgepodge of historical fiction, antiquarian hardbacks and vintage magazines. Owner William Chrisant's shop is an over-the-top ode to all things antique and ephemera. Each trip is bound to result in the discovery of something you didn't even know you were looking for. Oldfloridabookshop.com
---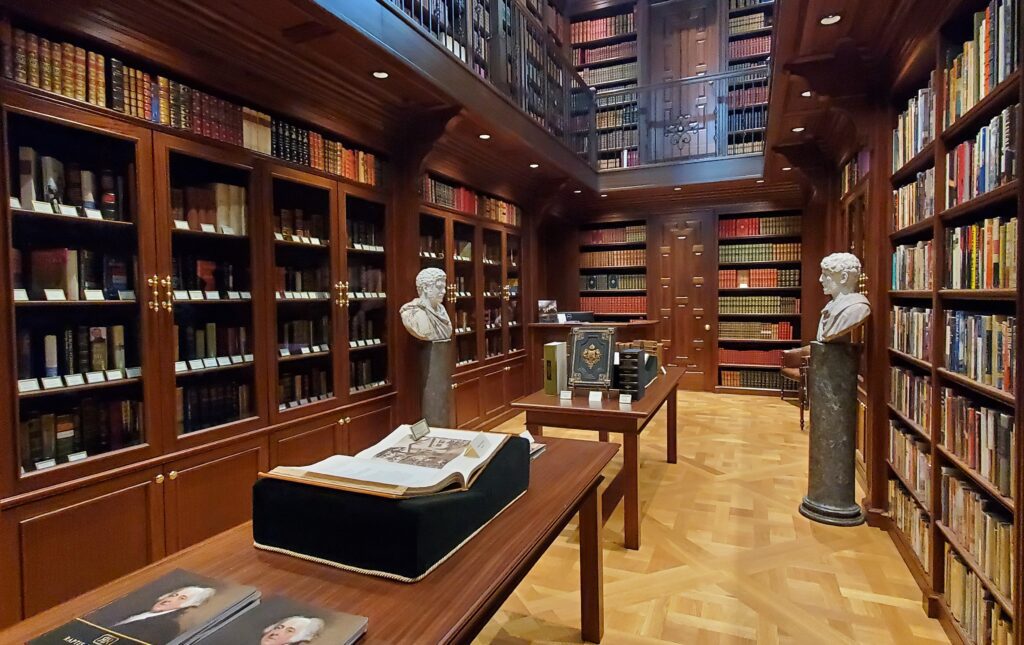 Raptis Rare Books
Palm Beach
This isn't your run-of-the-mill readers' respite. Raptis Rare Books has the collectors in mind. Its sophisticated interior feels more like a museum than a bookstore, and it's fitting for the extraordinary texts it holds. Whether you're searching for an obscure first edition of J.K. Rowling's "Harry Potter and the Philosopher's Stone" or a selection of Christmas cards signed by Queen Elizabeth II, this specialty bookstore is likely to have what you're looking for. Raptisrarebooks.com