by

Carlton Ward Jr.

|

November 12, 2022
See This Sentimental Snapshot from Carlton Ward Jr
The wildlife photographer captures a special moment between his children and the land that's shaping them.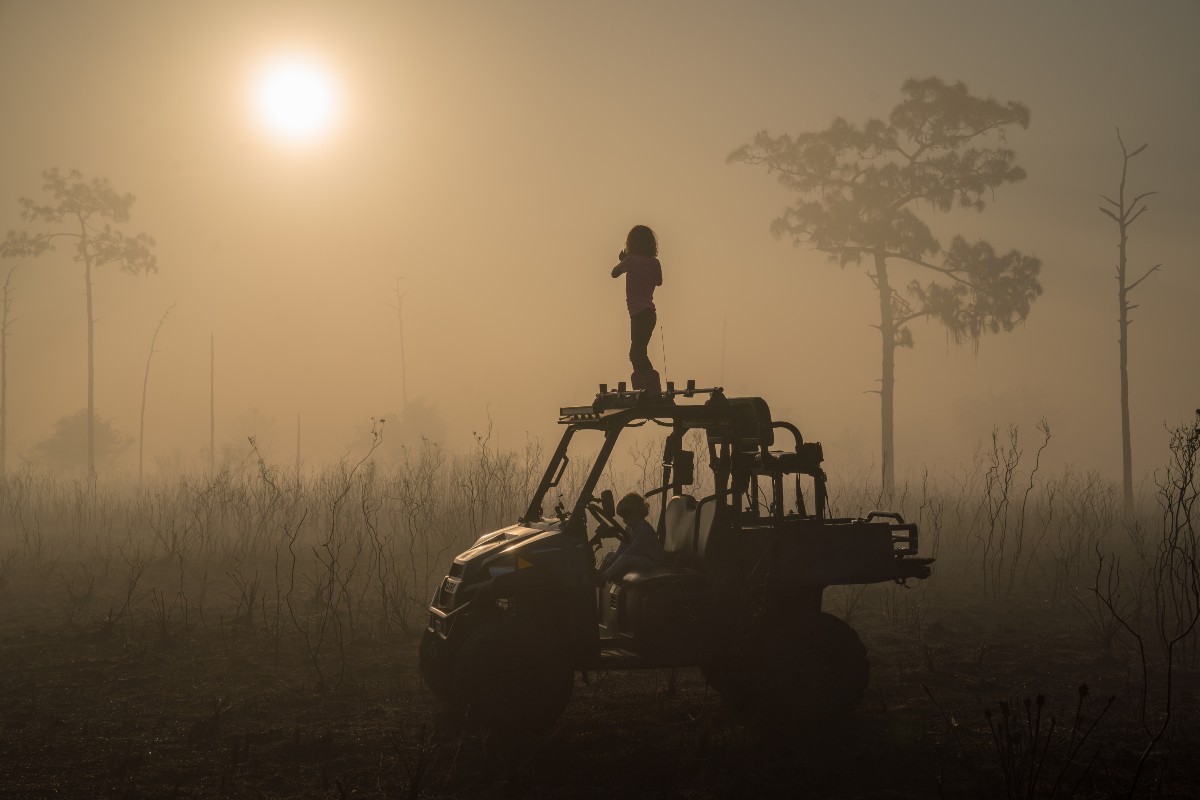 As a kid, I always loved seeing the cowboys burn the pastures and prairies. As an adult with an ecology degree, I love it even more, because I understand the importance of fire for maintaining and restoring the biodiversity of Florida's native pine woods. As a photographer, I have spent time with prescribed fire experts at Tall Timbers, The Nature Conservancy's preserves and Archbold Biological Station, and I've photographed controlled burns on ranches throughout the state. When it was time for a spring burn on my own family's ranch, I wasn't going to miss it.
Our property is called Limestone Creek Ranch. It's two miles west of the Peace River in Hardee County, where it has been passed down for several generations by the Carlton family who homesteaded in nearby Wauchula in the 1850s. My journey telling the story of Florida ranches began nearby on my cousin Doyle Carlton's Horse Creek Ranch more than 20 years ago. Since then, I have been championing the conservation of Florida ranchlands as the landscape that can, in many ways, save our state. That journey led me to launch the Florida Wildlife Corridor project in 2010 and spend six years chasing the story of the Florida panther to help inspire the Corridor's protection. Through that time, I've produced 18 annual ranch calendars for the Florida Cattlemen's Association, spending a lot more time on other people's ranches than my own.
Having kids is helping change that, and what better reason to spend a day in the field together than a
prescribed fire. Working with my dad and brother, our families decided to restore longleaf pine to a palmetto prairie logged long before our time. A prerequisite for planting was a good burn. On the day of the burn, we all watched from a safe distance while I flew my drone above to capture photos and video of the head fire sweeping across the flatwoods, leaving charred palmetto and gallberry stems in its wake.
The next morning, when I set out seeking pictures of the fresh burn, my oldest daughter, Eldridge, and young son Carlton III wanted to come along. So we loaded into our electric Polaris Ranger and rolled quietly into the morning fog. I was looking for a vantage to repeat a sequence of photos during the coming months to show the vegetation shooting back up out of the ashes. I walked away from the utility terrain vehicle and pointed my camera west to capture the first frame of the eventual time lapse. When I looked back, Eldridge had picked up my phone and climbed onto the roof to capture photos of her own. Right then, focusing on my kids, seeing ninth-generation Floridians building connections with a place that helped shape me, there was a moment worth remembering. The pines we since planted there are for them and their cousins, to grow tall and spread their canopies to fill in the space between the remnant sentinels standing in silhouette that morning after the burn.