Tedeschi Trucks Band Takes Over an Allman Brothers Band Tradition at the Beacon Theatre
Derek Trucks and Susan Tedeschi give a kaleidoscopic close to their U.S. tour at this historic venue—plus, an unexpected Harry Styles cover.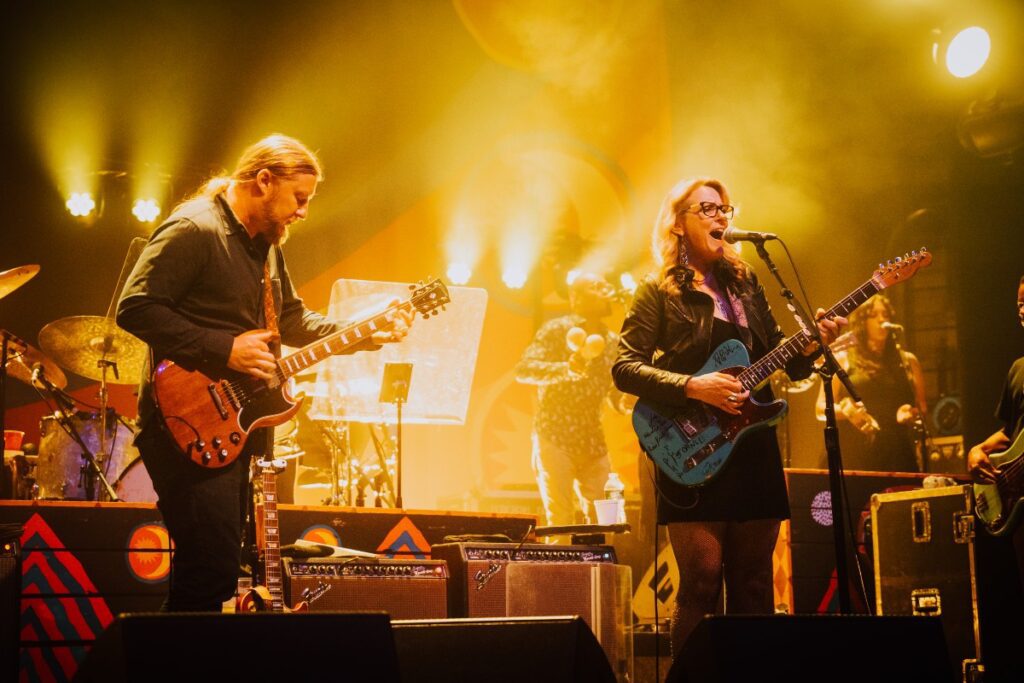 Over the years, the phrase "peakin' at the Beacon" was a rallying cry for fans of the Allman Brothers Band. They'd flock like the devoted to their mecca, the Beacon Theatre on New York City's Upper West Side, where one of the greatest live acts in rock 'n' roll history would close out its annual tour in a multinight string of concerts, studded with surprises and special guests. That tradition ended eight years ago when the group disbanded (followed by the 2017 deaths of founding members Butch Trucks and Gregg Allman). The music never stopped though. The Tedeschi Trucks Band kicked off its own tradition, and marked its 50th show at the hallowed venue on Oct. 8, the finale of its tour of the United States and the climax of a seven-night run—with much of the performance built around richly thematic new songs from its four-album release I Am the Moon.
If you've never seen the band play live before, and I must confess their recent Beacon run was my inaugural experience in that regard, it's an almost shockingly expansive immersion in kaleidoscopic technicolor compared to the studio versions of their songs. This dozen-strong ensemble, fronted by guitarist (and former Allman Brothers Band member) Derek Trucks and guitarist-vocalist Susan Tedeschi, was born for the stage, with a crackling, heat-lightning energy that fuses a rich assortment of sources ('60s rock, all kinds of blues and soul styles, Indian and African sounds, swamp country, needle-drop balladry and pensive singer-songwriter revelations) into something at once celebration, seance and emotional catharsis. At the Beacon, the 2-½ hour performance roiled and rippled across two sets and a two-song encore.
The band split the setlist between songs from I am the Moon's song cycle (inspired by the same Persian epic as the Derek and the Dominos' classic "Layla") and a sympathetic assortment of covers, which ranged from familiar classics (the Allman Brothers' original "Stand Back") to total surprises (a first-time performance of Harry Styles' "Sign of the Times," with Tedeschi's show-stopping vocals, which includes the fitting line "welcome to the final show").
Three things that came most into focus at the Beacon, or perhaps even more into focus:
Trucks is an absolute monster on guitar. His facility with a dizzying range of blues idioms is one thing, but I'm constantly drawn (and left slack-jawed) by his agility at slipping between sublime, keening lyricism—those sky-high blue notes—and hard-charging guitar eruptions that break up melodic flurries with left-hand slides up and down the neck, punctuating elegance with bracing bursts of noise. Trucks took centerstage on the evening's centerpiece, a 22-minute jam on "Pasaquan" (from Crescent, the first album of the I am the Moon project), which serves as TTB's answer to the "Drums/Space" segment of every Grateful Dead concert, showcasing dual drummers Tyler Greenwell and Isaac Eady, and keyboardist Gabe Dixon, also on vocals.
Tedeschi, while formidable on guitar, can tear the roof down with her voice. Fans rightly compare her with Bonnie Raitt and Bonnie Bramlett, but the sheer grit and sass she brings to a chitlin' circuit standard like Bobby Bland's "I Pity the Fool" is a wonder, a testimony to escalating fervor that reaches gospel ecstasy right at the last downbeat.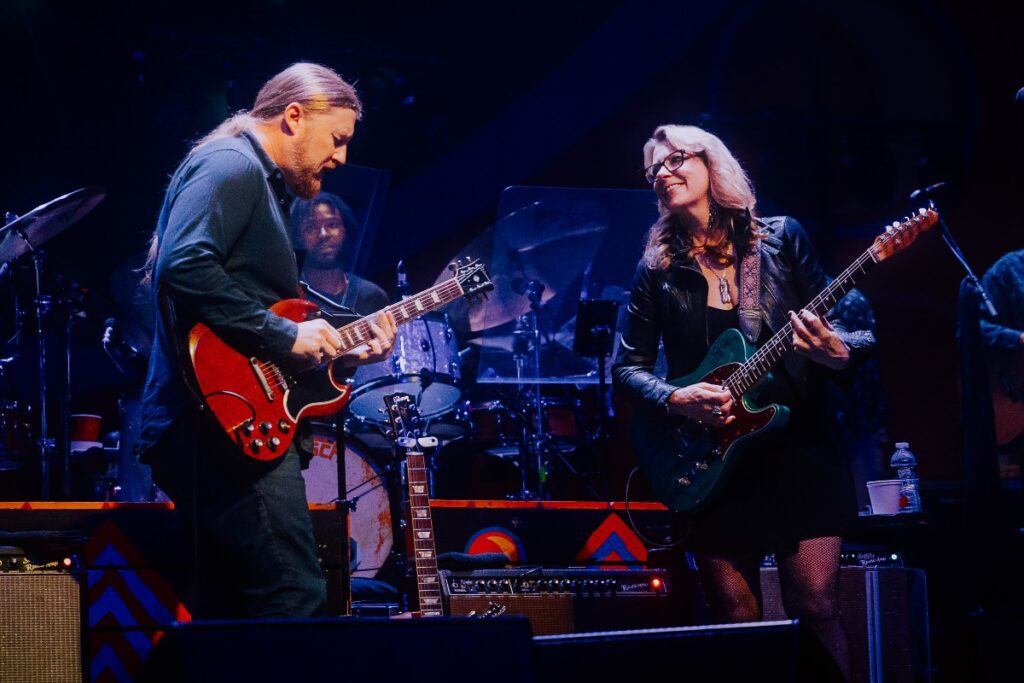 The band's communal vibe is a charismatic thing unto itself, mindfully showcased over and over throughout both sets, as Dixon or backup vocalist/songwriter Mike Mattison took the microphone. A perfect example was the band's wallbanger take on Dr. John's "I Walk on Gilded Splinters." It opened with a free-improv blowout between saxophonist Kebbi Williams and a guest, jazz drummer Jeff "Tain" Watts, before easing into the incantatory voodoo anthem three minutes on. The full force of horns, percussion and guitars bolstered Mattison's earthy tenor, churning up a cauldron of intoxicating funk stew.
Not to push the comparison of opulent concert hall to house of worship too far, but Tedeschi speaks lovingly of her formative experiences singing in Black churches as a young woman, so it's an organic aspect of any show. If the band's outpouring of spirit is far from theirs alone, a bow to ancestors flown, it's also alight with a singular intensity that's been sorely missed in recent times.