by

Maddy Zollo Rusbosin

|

October 20, 2022
Marloru: The Boho Beach Bags of Our Dreams
Stay stylish, salty and dry with this water-resistant boho accessory line.
When Christina and Adam King created Marloru, a boho accessories line born out of their love of board sports and great design, the inspiration to launch came from their own groms (AKA: kids who surf and skate).
"You can't just tell them things, you need to show them," explains Christina. "Saying 'follow your dreams' doesn't mean much unless they see me actively chasing after mine. It's been such a blessing to share this process with the whole family, and as a result, our kids are very much involved and part of the team."
Now, two years into their Fernandina Beach-based business, it's truly a family affair. Christina leads the charge with product design. Adam captures the brand visually through his stunning water and action-sports photography showcased on their website and social media, and their son and daughter pitch in with everything from events to promoting sales to lending their own creative input and ideas.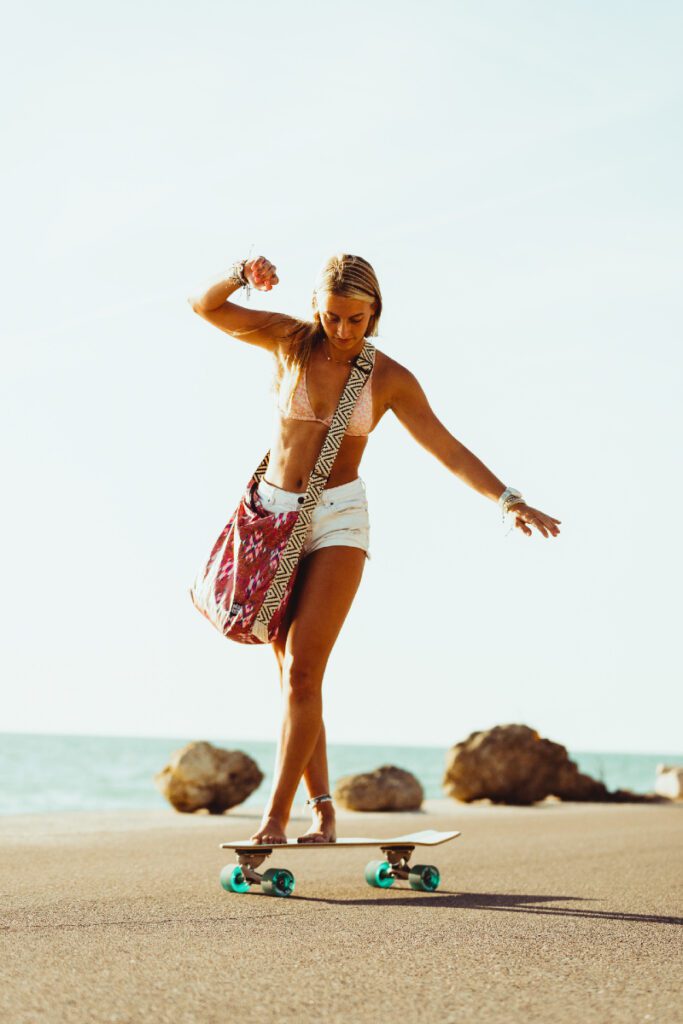 Christina's first sketches of bags appeared on her computer in the early days of 2020 as a way to pass the time during quarantine. At the time, she had no idea those doodles would lead to an actual company.
"I just pretended I was making an accessories line and asked myself questions like, 'What would my logo be? What would my first bag look like?'" Before long, she had created a mood board for her dream brand and drawn up four different bags. Her goal was to create a product that was equal parts fashion-forward and functional. The result? Splash-proof styles ideal for an action-sport lifestyle lived on the water and on the go.
Drawing on years of design experience at Disney and a Florida-based board shorts brand, Christina had created a side project begging to hit the beach. That's when she launched a Kickstarter campaign with a video produced by Adam. Sure enough, it worked. Soon after, Marloru's first two designs, the Mexi-flo Sunday Bag (a large crossbody tote) and the Twofer (a pouch with belt loops on the back so it transforms into a hip pack, small crossbody or a clutch) were born.
"It started as a way to escape and be creative, but once it got out into the world, we were surprised how quickly a community of support grew around it," says Christina, who grew up wakeboarding on lakes in Wisconsin. "Suddenly it belonged to everyone, which we love."
Over the past two years, Marloru has evolved into a local accessories brand— with bags, pouches and hats—beloved by Floridians, especially those with a penchant for boating, skiing, wakeboarding, surfing or skateboarding.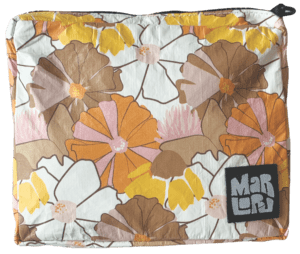 Each bag is double-lined with a durable, water-resistant material on the inside, a water-wicking fabric on the outside and a protective zipper that keeps things dry when the tide rolls in.
"If your bag gets wet, your stuff stays dry," says Christina. Marloru is also known—and beloved—for its bright, colorful patterns and signature woven straps, infusing a funky bohemian style.
"My inspiration comes from anything relating to the beach, whether it's a sign that looks like it's been in the sun for years or something that someone is wearing," she says. "All the designs are meant to take you from the sand to the street.
Another major source of inspiration comes from the brand's Marloru Crew, a group of women and girls who embody an active coastal lifestyle. What started off as a handful of their daughter's friends has organically grown to encompass everyone from surfers to artists to adventurers across Florida—and the nation.
"It started as a way to escape and be creative, but once it got out into the world, we were surprised how quickly a community of support grew around it."
– Christina King
Marloru's social feeds, curated by Adam's eye behind the lens, feature these ladies landing ollies, catching air, hanging ten or just hanging out. It's clear the brand's goal is to embody the sunnier side of life.
"Our social presence is a great way to build women up and support one another," Christina says. "Whenever we first ask someone if they want to be part of the Marloru Crew, we make sure that they know the main thing we're looking for is positivity. Our goal is to shine the spotlight on their accomplishments. While we love to see people working hard and hitting their goals, the most impressive thing is support for one another. We love seeing kids just being kids. We call it, 'sleepover vibes,' so the goofier the better. After all, if we can't have fun, what's the point?"
Not only does the crew serve as brand ambassadors, but they also take part in the myriad of charities Marloru is a part of. With a focus on empowering female athletes, the brand is active in a number of Florida events, from national multisport contests like the Super Girl Pro Series to local surf contests like Jacksonville Beach's Sisters of the Sea, which raises money and awareness for breast cancer. Marloru can also be found traveling around the country, whether it's to the all-lady longboard competition Queen of the Point in Malibu, California, or the Folly Beach Wahine Classic in South Carolina.
It's only fitting that one of Marloru's missions is to raise women up: The brand itself was named after important women in Christina's life. Girl power, indeed.