by

The Editors

|

September 15, 2022
This Jacksonville Surf Contest is Inviting More Women Into the Waves
The 24th-annual Sisters of the Sea Surf Classic and Beaches Go Green Pro-Am Presented by Eidon elevates racial diversity along with female empowerment.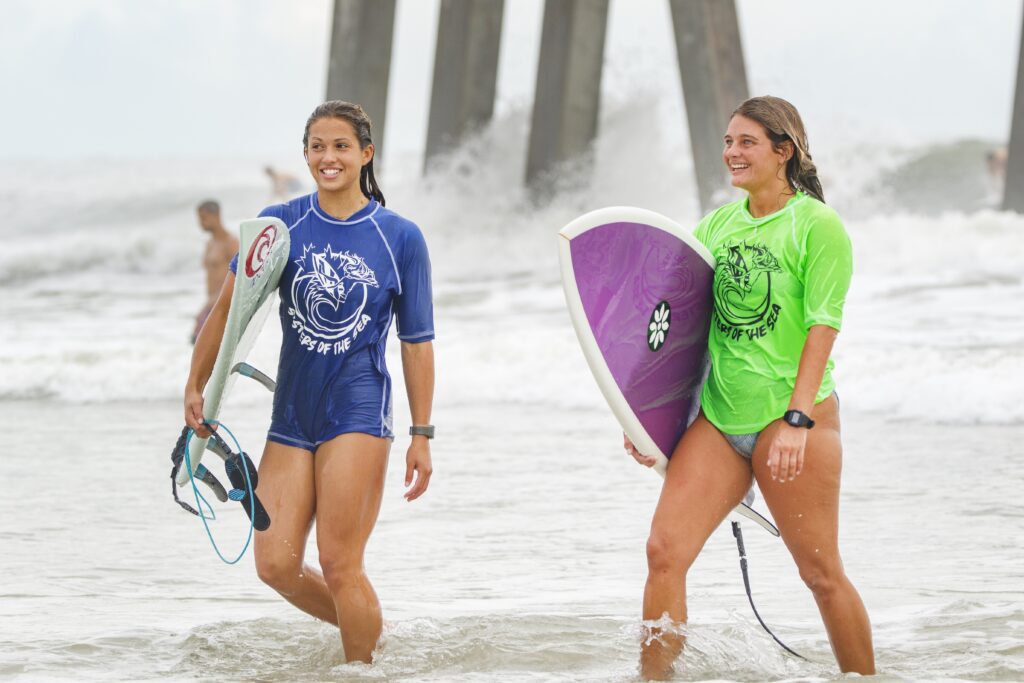 For generations, the waves off the coast of Jacksonville Beach have sculpted the area into an East Coast surfer's dream. The reliable breaks to the north and south of the city's iconic pier offer plenty of peaks for both experienced and novice surfers. And when a fall swell rolls through, crowds of surfers (mostly men and boys with a few exceptions) take to the water to experience some of the best action the Sunshine State has to offer. But on one fall day every year for the past 24 years, a growing group of women and girls has looked to take over the lineup and create a thriving sisterhood through surfing.
One could say that it started in 1997, when a handful of ladies came together to paddle out a few miles north of the Jacksonville Beach pier, at Hanna Park's Dolphin Plaza. North Florida, with its unassuming surf history and impact on the sport, became an under-the-radar spot for both men and women who enjoyed the authenticity of its surfing rather than the over-the-top marketing seen in other regions. Back then, when the sport still had a pervasive amount of male athletes, this collective of women was a sight to behold. Up to eight females in their early 20s would take to the waves in the early morning hours. For surfer Samantha "Sam" Ryan, the reason was simple: "We just yearn to surf with our girlfriends."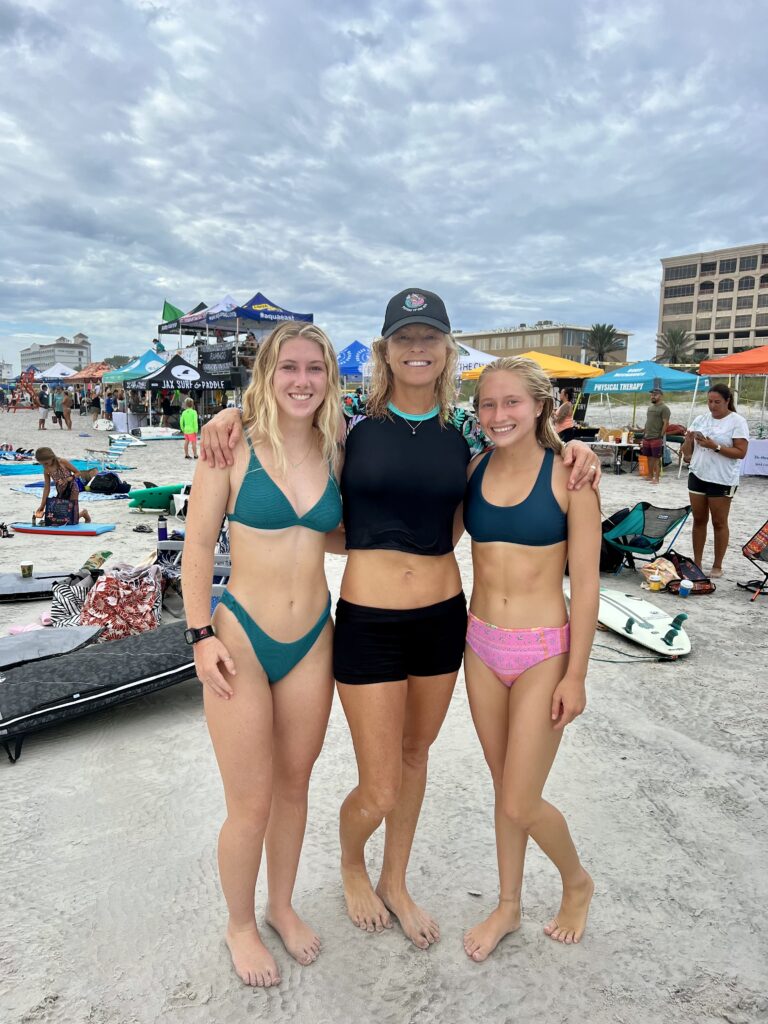 Today the group, known as Sisters of the Sea, has evolved into a 350-member nonprofit organization based in neighboring Ponte Vedra Beach dedicated to expanding the reach that female surfers have both in and out of the water. Its annual contest, the Sisters of the Sea Surf Classic & The Beaches Go Green Women's PRO presented by Eidon, is considered the longest-running all-female professional and amateur surf competition in the nation. On September 10, women and girls of all ages and skill levels competed in their respective divisions to show just how fierce they were in the water.
A Contest with a Conscience
The one-day contest sells out nearly every year, with the organization capping entries at 205 competitors this time. Surfers from as far as New York and Hawaii showed up to compete. The pros battled it out for a $3,000 purse, with local Ponte Vedra surfer Elle Rich taking home the win and a $1,500 cash prize. Other finalists in the pro division included Ava Earle in second placed, Sophie Falzone in third place and Ivy Bradley in fourth place. Everyone went home a winner, however, with all competitors receiving the coveted swag bags filled with the latest surf merch, clothing, surf wax, stickers and more.
Throughout the day, Beaches Go Green kept competitors hydrated with constant water refills, and the top 64 finishers went home with a reusable water bottle courtesy of the Jacksonville Beach nonprofit. Locally shaped surfboards, beachwear and other products were raffled off and donations were raised in support of Bosom Budddies, a nonprofit helping cancer patients and survivors, and the SurfearNEGRA's 100 girl program, which places inner-city girls and girls of color into quality surf camps, teaches water safety and creates accessibility to the ocean for those who otherwise would not have access.
This event is different. Because it's run by women, it's founded by women, the intention behind it was to facilitate connections with women. So this is a different animal. The beautiful thing is that every year it's growing.
— Gigi Lucas
2022 marks Ryan's fourth year as the organization's president, and as a founding member of the group, the Jacksonville Beach native says the Sisters of the Sea Surf Classic symbolizes a bond and a community she couldn't have imagined growing up. Often the only girl out in the water, Ryan began surfing at age 12 on a single-fin Strickland board that she rode until it sank. From there, she began competing on the national level, including in the East Coast Championships in North Carolina's Outer Banks, before moving to Maui. Now back in North Florida, Ryan says she couldn't be more thrilled at the sight of Jacksonville becoming a safe surfing haven for girls and women and the home of the iconic all-female contest.
"No matter what, no matter if you're a beginner or a professional, you show up and you have fun and just do your best, Ryan said. "It's about connecting with other women and it's really about having fun." Ryan says that as riders compete in their heats, they can hear cheers from the shoreline and see massive posters decorated with supportive messages from their family and friends, as well as fellow competitors. If a competitor has a bad heat, almost immediately she receives high-fives and hugs from her competitors once she comes to the shore.
Diversifying the Lineup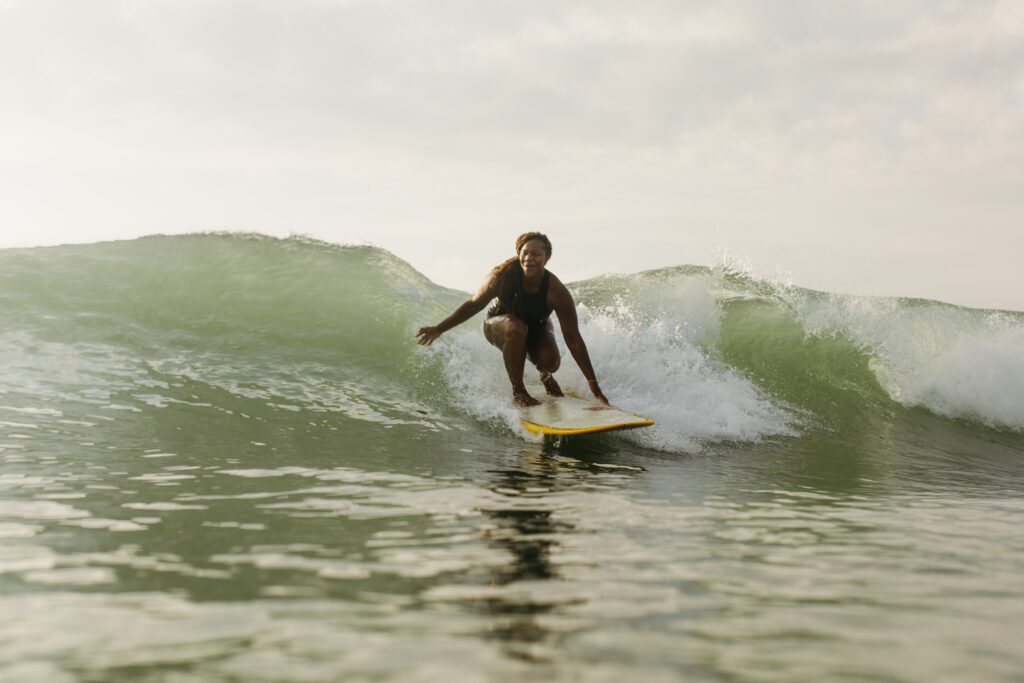 Last year's competition aimed to be a more inclusive event. When social movements like Black Lives Matter swept the nation in 2020, Ryan was rocked by how deep the roots of systemic racism stretched. Inspired to act, Ryan called up a fellow surf sister to make a game plan. Thanks to Sisters of the Sea member GiGi Lucas, who is a Black woman and president of her own surf organization, SurfearNEGRA, the Classic has become even more inclusive, with nearly a dozen girls of color from various parts of the country taking part in this year's pro-am. Founded by Lucas, the nonprofit SurfearNEGRA has looked to diversify the lineup and introduce surfing to more Black and brown girls and women. It's a topic that both Ryan and Lucas felt that the Sisters of the Sea Classic could make a societal and systemic difference.
"It's one thing to teach them in an isolated environment, but to infuse them into the community has been super important," said Lucas. For the 24th iteration, the surf classic had the largest contingency of girls and women of color competing in the pro-am's history.
Along with SurfearNEGRA, Ryan and the rest of Sisters of the Sea spread the word about the Classic to the BIPOC surfing community. In a sport that's inherently challenging and physical, Lucas calls these BIPOC young surfers some of the bravest she's ever seen. Most are novices, and they're sure to stand out for their ebony-colored skin. Though they could easily be intimidated, stepping foot in the ocean will be one of the most powerful statements they'll make in their lifetimes.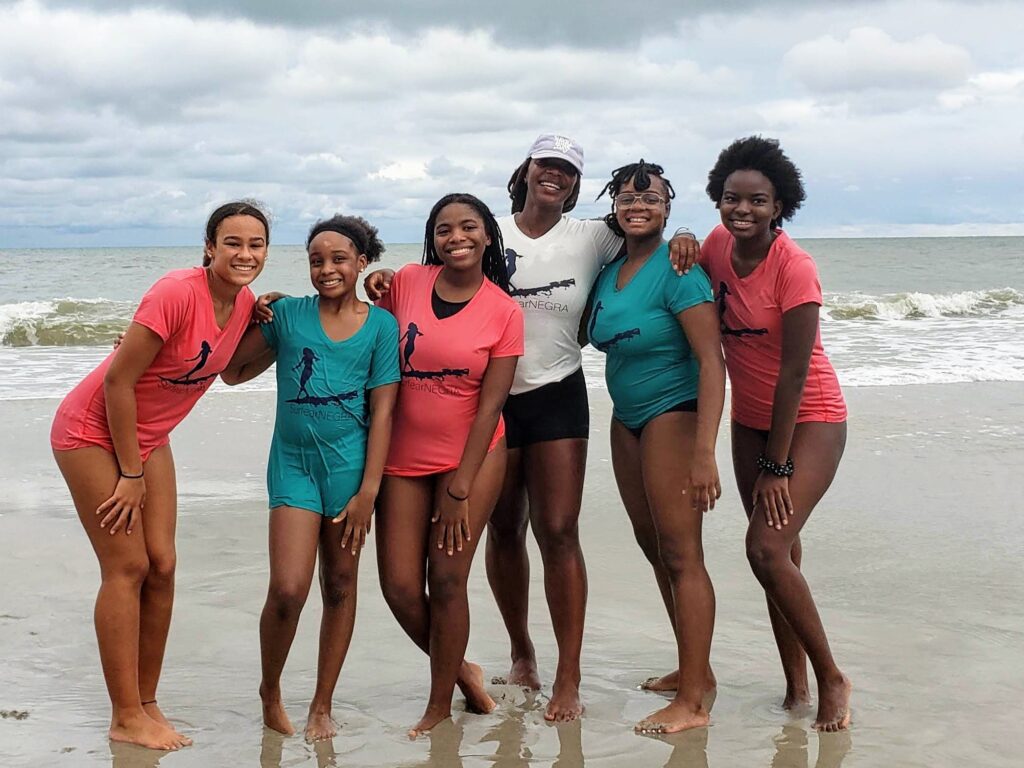 "This event is different. Because it's run by women, it's founded by women, the intention behind it was to facilitate connections with women. So this—this is a different animal. The beautiful thing is that every year it's growing. Eventually, this is what it's going to look like in general," said Lucas.
Ryan hopes that everyone, both new and seasoned surfers, not only share excitement and encouragement—otherwise known as "share the stoke"— but use it to strengthen the community.
"Enjoy life, have fun and while you do it, help your community and make a difference," said Ryan. "That's how I feel. I live it everyday."
---
This post is sponsored by Sisters of the Sea. Photography by Ivey Rose Scott and Cassie Wegen. Banner image features surfer Elle Rich, winner of the Beaches Go Green pro division.