by

CD Davidson-Hiers

|

May 2, 2022
Where Have All the Grasses Gone?
The Fish & Wildlife Foundation of Florida helps save our state's beloved manatees through vital eelgrass habitat restoration projects, rescue missions and animal rehabilitation.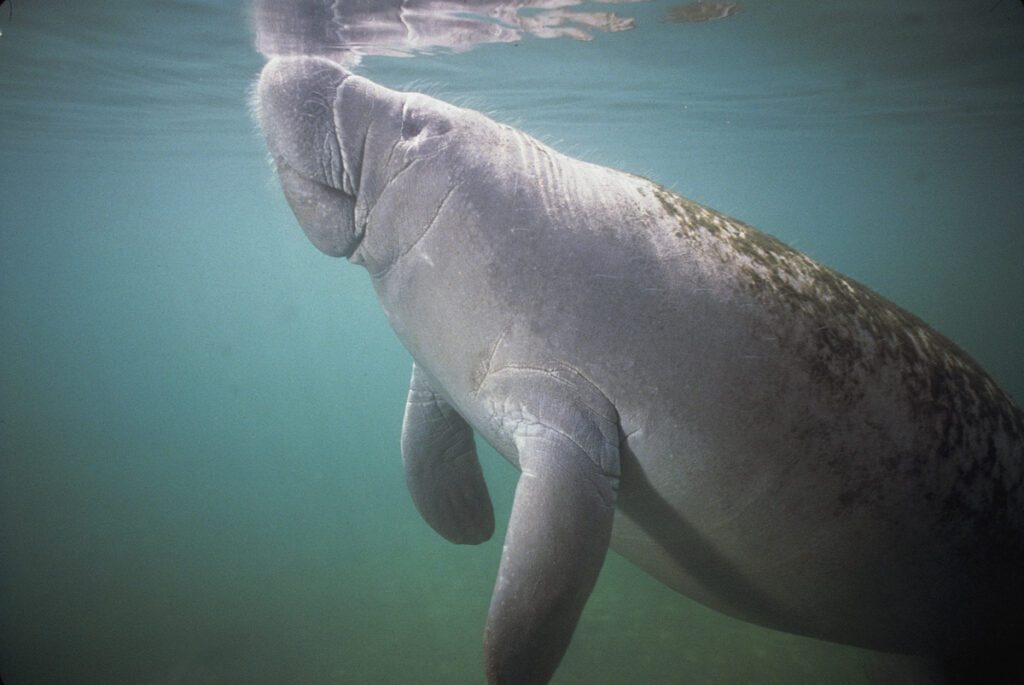 Flapjack looked a little more like a peanut when he first arrived at ZooTampa.
The roughly two-year-old manatee came to ZooTampa's rehabilitation facility in October at a shockingly low 225 pounds and mostly unresponsive.
The staff worked tirelessly to feed him four times a day via a feeding tube, with added medications and supplements to help him hydrate. He should have been gaining about a pound a day at his young age. But because he was so skinny, having what staff called a "peanut head," any food he ingested helped only to sustain him, said Jaime Vaccaro, an animal care supervisor at ZooTampa.
These days, Flapjack clocks in at an impressive 515 pounds, and the team hopes to reevaluate him for release back to his natural habitat once he breaks the 600-pound mark.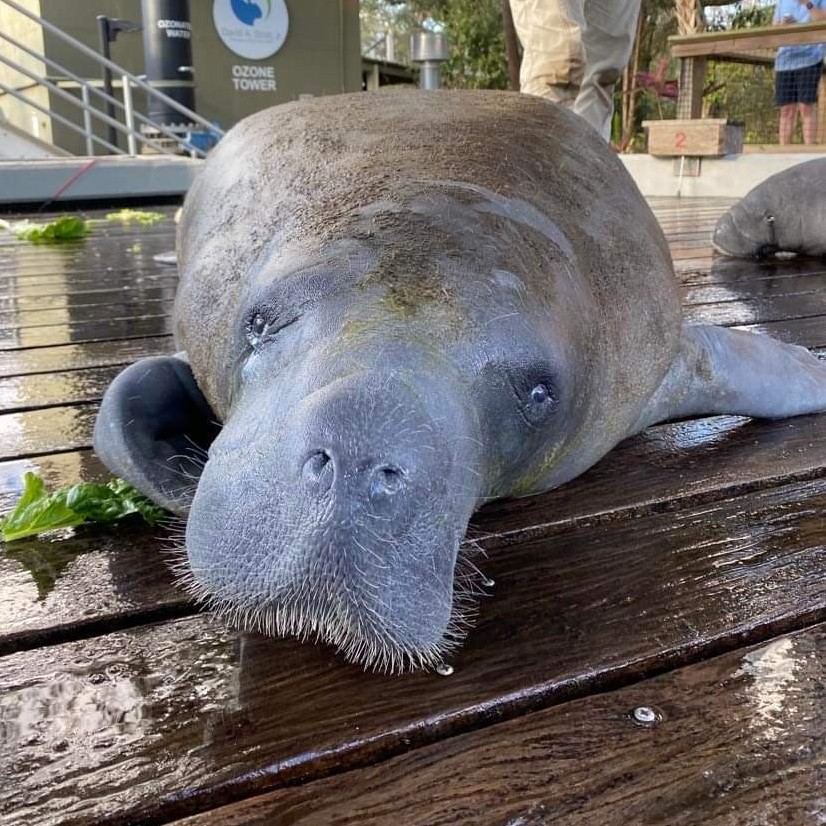 "It just took him a while to get going," she said.
Flapjack's recovery also led to a revival of his playful personality. Now the sweet-natured sea cow socializes with other manatees in the facility and putters around the pool with his flippers outstretched like an airplane—much to the delight of staff.
"I always call him a 'good guy.' He's very mellow and quiet," Vaccaro said. "Overall, he's just a good manatee."
Flapjack is a success story. But his crisis has become all too familiar.
Hope for a Habitat
One hundred and fifty miles east of Tampa, in the tranquil waters of the Indian River Lagoon, a habitat restoration project is taking root to regenerate the precious grasses critical for Flapjack and his friends' survival. Efforts funded by the Fish & Wildlife Foundation of Florida, in collaboration with the Florida Fish and Wildlife Conservation Commission (FWC) and Florida Department of Environmental Protection, focus on reestablishing eelgrass beds at seven underwater sites in tributaries along the lagoon where water quality has been deemed clean enough to plant new grass.
Native Florida eelgrass, a favorite on a manatee's menu, no longer proliferates as it once did in vast meadows throughout the Indian River Lagoon. In addition to nourishing manatees, eelgrass cleans the water, reduces erosion and forms the bottom support of a healthy marine system.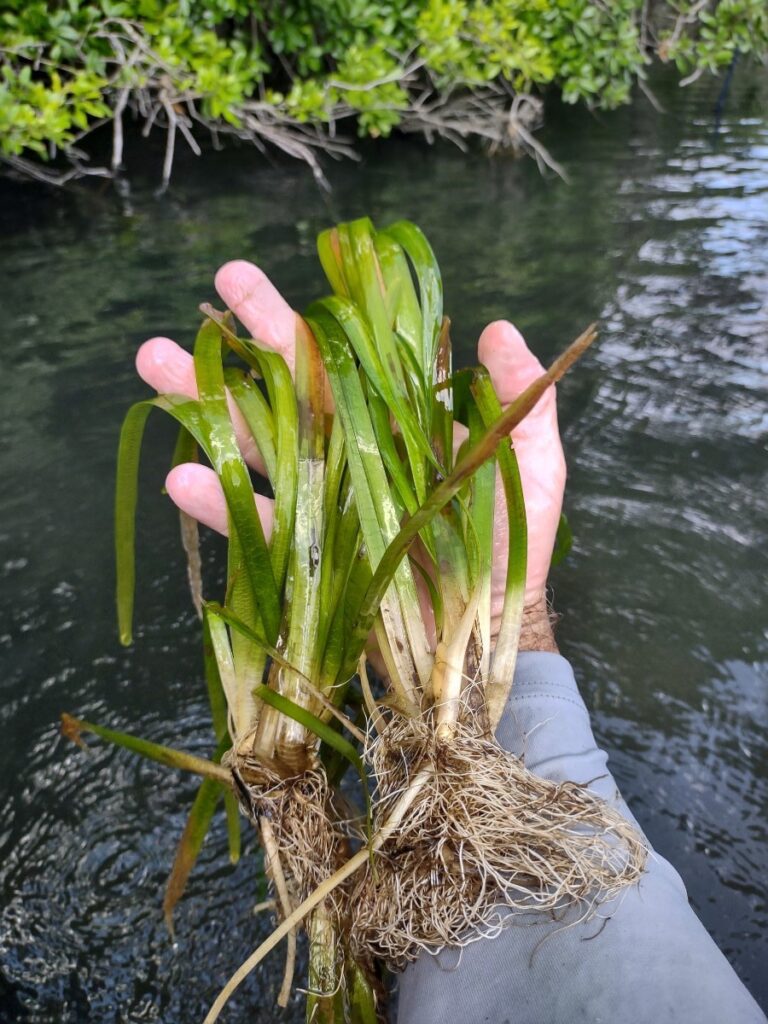 Vegetation was abundant in the lagoon until a severe algae bloom in 2011. Runoff pollution from septic tanks, fertilizers, agriculture and other toxins adds nitrogen to the water. The nitrogen fuels toxic algae blooms that block sunlight from reaching marine plants, which kills seagrass. This rehabilitation project, however, brings hope to the habitat, as just two-and-a-half acres of eelgrass can support roughly 100,000 fish and 100 million invertebrates.
"Eelgrasses are the lungs of the lagoon," said Carlos Alfonso, chair of the foundation board. One square meter of an eelgrass bed can generate 10 liters of oxygen, he added.
In early 2021, when malnourished manatees first made national headlines, the Fish & Wildlife Foundation of Florida raised $162,000 from donors around the world to buy 101 tons of lettuce for FWC's emergency feeding at Florida Power & Light's Cape Canaveral plant, a popular manatee migration destination because of its warm water discharge. While the feeding worked to save the sea cows from starvation in the short term, the foundation is focused on creating a more permanent food source.
"Habitat degradation and loss is the main threat to the majority of our state's plants and animals," said Andrew Walker, president and CEO of the foundation. "These efforts address long-term issues and are going to take continued efforts for years to restore the lagoon."
Eelgrasses are the lungs of the lagoon.
— Carlos Alfonso
Florida's manatees are considered a keystone species for the Sunshine State, meaning that significant changes in their behaviors and mass die-offs should sound the alarm for environmentalists, researchers and everyday Floridians.
"People see such a charismatic animal suffering, and they want the solution to end that suffering to be tomorrow," said Michelle Ashton, director of communications for the foundation.
For their part, the foundation wants to help plant enough eelgrass to feed manatees for generations to come. To date, the foundation has raised nearly $2 million toward eelgrass restoration. Contributions have come from the Coastal Conservation Association, Bass Pro Shops and Cabela's Outdoor Fund, the Coypu Foundation, the Arthur L. and Elaine V. Foundation, Mr. Daniel Maltz and others.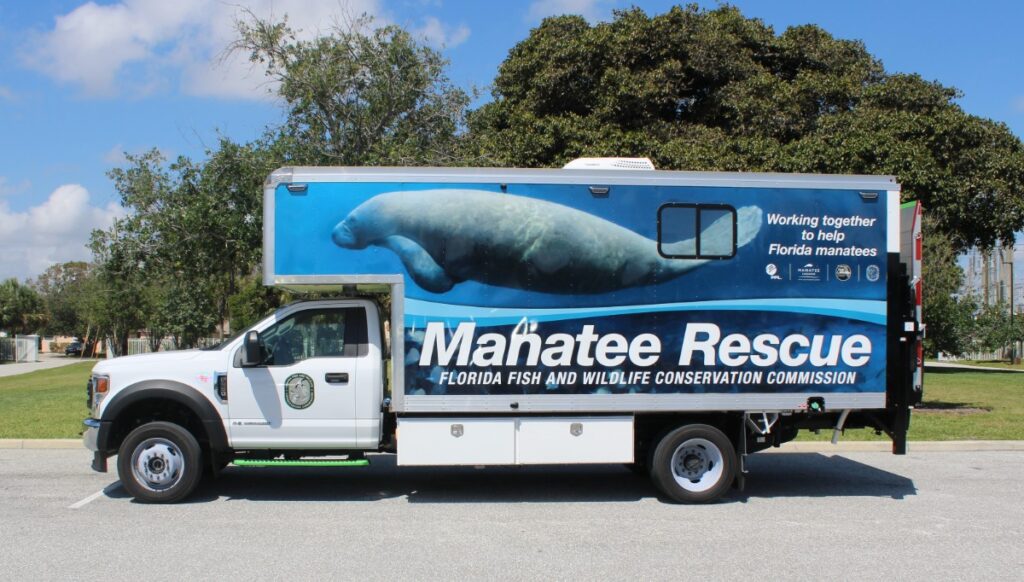 The Fish & Wildlife Foundation of Florida has also distributed more than $288,000 to FWC and other conservation groups from the sale of its Conserve Wildlife and Protect Florida Springs specialty license plates for manatee-related projects. And while longer-term efforts unfold, it continues to fund rescue missions and rehabilitation of distressed manatees. Most recently, Florida Power & Light donated $125,000 for a rescue truck used by the FWC to transport sick or injured manatees to rehab facilities like the one at ZooTampa.
And as for Flapjack?
He's gained nearly 300 pounds in six months of rehabilitation, a far cry from when he was found with the outlines of his ribs showing. Finally, Flapjack no longer looks like a peanut. He's filling out and feeling stout, just the way a healthy manatee should.
To learn more about how to help protect Florida's manatees or to support the Indian River Lagoon habitat restoration, visit wildlifeflorida.org.
---
Sponsored by the Fish & Wildlife Foundation of Florida