by

Jamie Rich

|

December 15, 2021
How Surfing Prodigy Caroline Marks Stays True to Her Florida Roots
The young phenom on coming home, equal pay and the future of women's surfing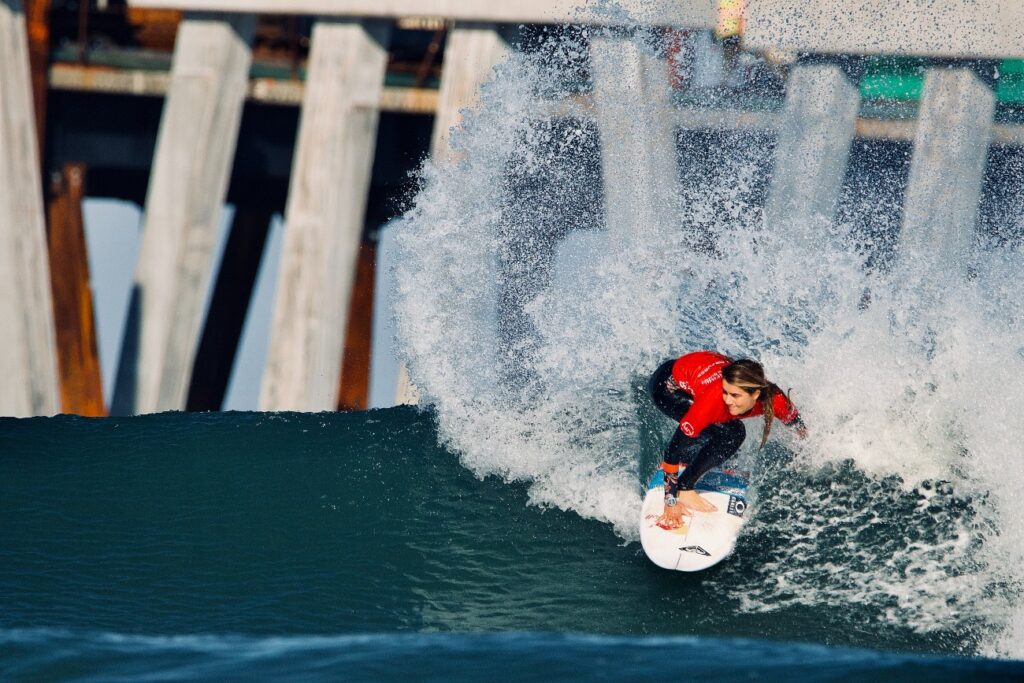 They came bearing Sharpies. On a recent fall day in Jacksonville Beach, throngs of autograph-seeking, selfie-requesting little girls swarmed a 5-foot-5-inch Caroline Marks as she emerged from the ocean, surfboard in hand, grinning ear-to-ear. Marks had just flown through the air emptying her bag of tricks at the Super Girl Surf Pro series, landing an aerial maneuver once associated only with men's surfing and one that has helped the 19-year-old clench some of the sport's top titles, propelling her to rock star status for surfers of all ages around the world.
The Melbourne, Florida native, who now lives in California, first shook up professional surfing at the tender age of 15, when she became the youngest athlete (male or female) to qualify for the sport's elite Championship Tour. Then this summer, Marks secured her status as a household name when she added Olympic athlete to her already long list of accomplishments. Marks, a champion of women's equality in surfing, also became the first female to receive an equal payout ($100,000) to her male counterpart in a World Surf League event in 2019. When she's not shattering age and gender barriers, competing for a world title or vying for an Olympic medal, Marks still finds solace just being in the water.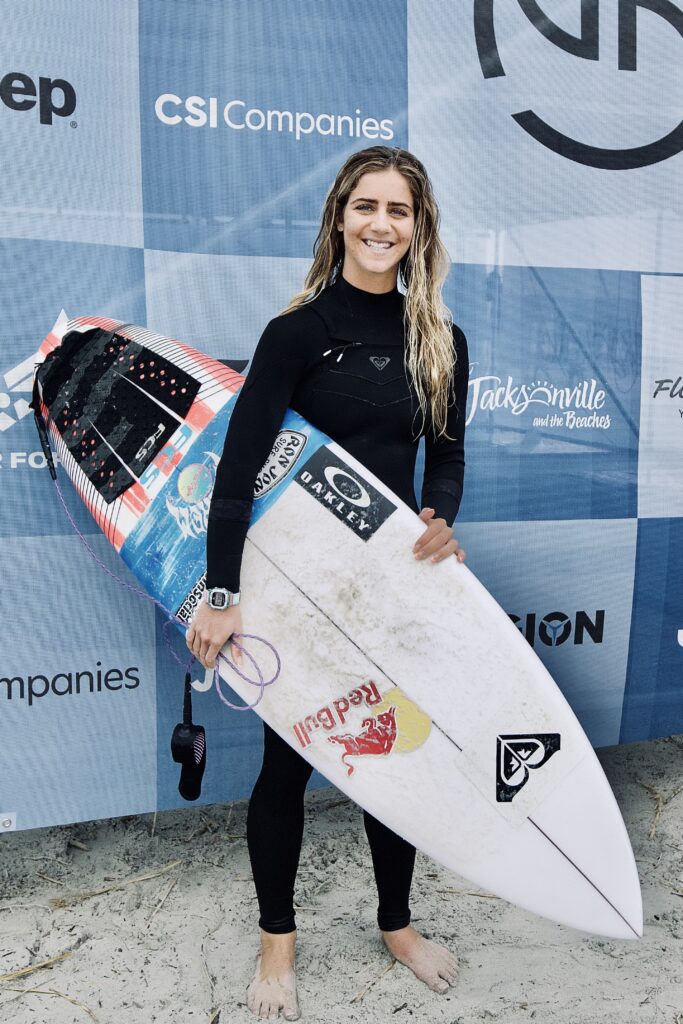 "My mom is always like, 'If you're having a bad day, just get in the water. You're instantly happy,'" Marks told Flamingo Editor in Chief Jamie Rich during her recent visit to Jacksonville, where she finished second in the East Coast iteration of the Super Girl Surf Pro, billed as the only large-scale, all-women's action sports, esports and lifestyle series in the world. Think: world-class surfing, skateboarding, soccer, volleyball, gaming, fashion, music and food all wrapped up in a festival atmosphere, and Jacksonville has the honor of hosting it for the next three years.
In their beachside conversation, Marks shared how she handles a loss (it happens so rarely), where she sees the future of women's surfing going (up, up and away) and what she loves most about Florida (hint: it's where shopping is a pleasure). Here are some highlights from their chat.
Will you always be an East Coast girl or are we going to lose you to California?
CM: Oh, always an East Coast girl, for sure. It's funny because some people that come visit, they're like, 'Why do you like [Florida] so much?' And I'm like, 'hey, you don't ever have to come. I love it.' I love the people here. There's something so comfortable when I come back to Florida: the warm weather, the humidity, going on the boat, going fishing, surfing, no wetsuit. Publix, too, is a big part of what I love about Florida. Honestly it just feels like home. I have so many amazing memories here growing up. I have friends here too that I still keep in contact with that I've had since I was in elementary school. So, that's just really special. Florida is the best.
So why the move to California?
CM: We were always going there as a family when I was little. My older brother competed in amateur and pro juniors and [qualifying series] events. But we officially moved out there I'd say six years ago. I'm definitely there more than Florida now, but any chance I get to come back to Florida, I just love it. It's so fun to have an event here because it gives me an excuse to go home, and we have a condo, so it's rad.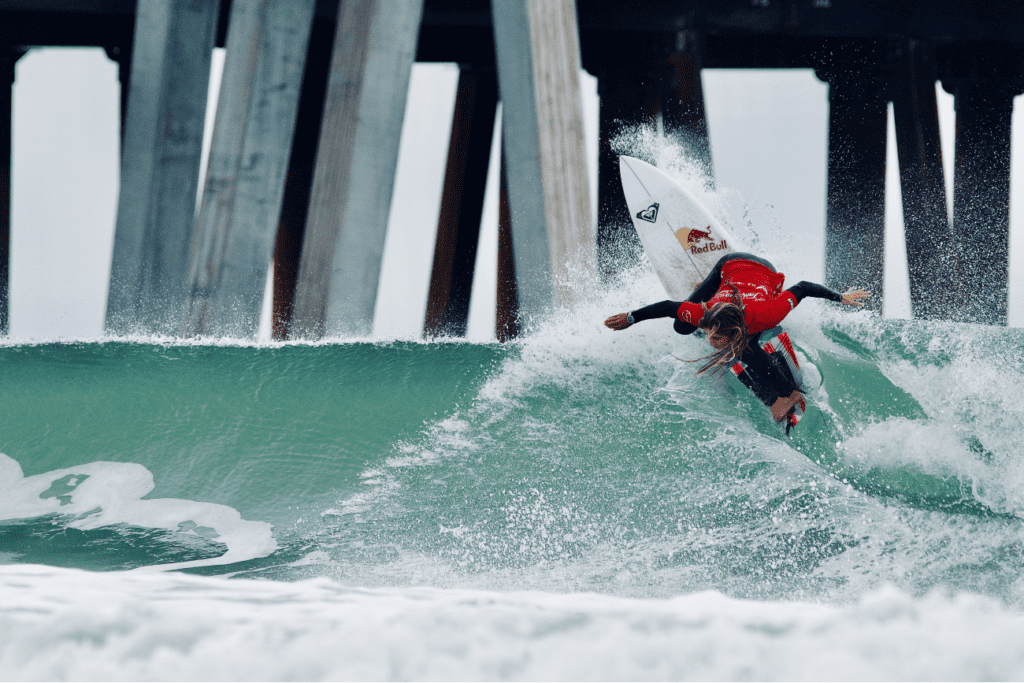 How are the waves in this contest for you? Are these are the kind of small waves you grew up surfing?
CM: Yeah, for sure. I think the best thing about growing up here is we didn't surf the best waves growing up, so no matter what it's like, I'm just excited to get out there. No matter how bad the waves or how good the waves are, I'm just stoked no matter what.
You won the Super Girl Surf Pro in California earlier this year. What does the Super Girl Surf Pro mean for you?
CM: Super Girl was one of the first events when I was like 12 or 13. I got a wildcard and went against all my heroes. This event is huge, and it's an all-women's event, which is so cool. I've gotten second and third here a lot, so it was really nice to clench that cape a few months ago in Oceanside.
What happens when you have a bad day? How do you deal with that mentally?
CM: Yeah, obviously no one wants to lose, right? But that's what makes the good moments so special, and that's what makes you hungrier and come back stronger. I look at it like, if I'm not winning, I'm learning. Because usually when you win, you just go, 'Oh, I did everything, right.' You don't really go back and see what you did wrong. But when you lose, you really dive deep into what you did wrong. I think you learn a lot when you lose, so I try to take the positive out of that. As much as it sucks, I try to learn from it and move on and be better for the next time.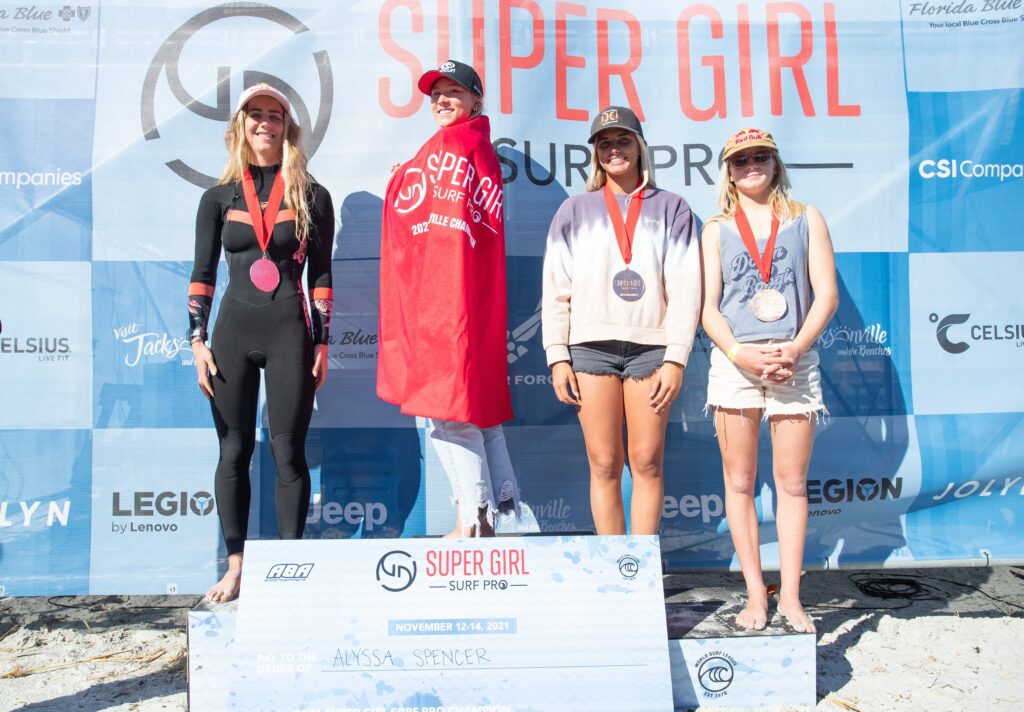 I love that. Is there one thing that you would say you can attribute to your success?
CM: My family, for sure. I started surfing because of my brothers and them pushing me in it. But they also give me such amazing support. And I'm just so grateful for that. I'd say my family's been huge. They've been my rock. The other thing, too, is I just love surfing so much. That's why I'm here is because I just purely love it. And the fact that I get to do it as my job even though it doesn't feel like a job, it just makes it so special and so awesome.
What was it like to be the first female to receive equal pay in a World Surf League event back in 2019?
CM: That was a huge, monumental move for female sports in general. And it was really cool that WSL was the first major organization that took that big move. I just want to thank all the females before me that led us to get there, like Carissa Moore and Stephanie Gilmore and Lisa Anderson, Frieda Zamba. I could just go on and on. And the fact that I was able to take that out, it's something no one can ever take away from me.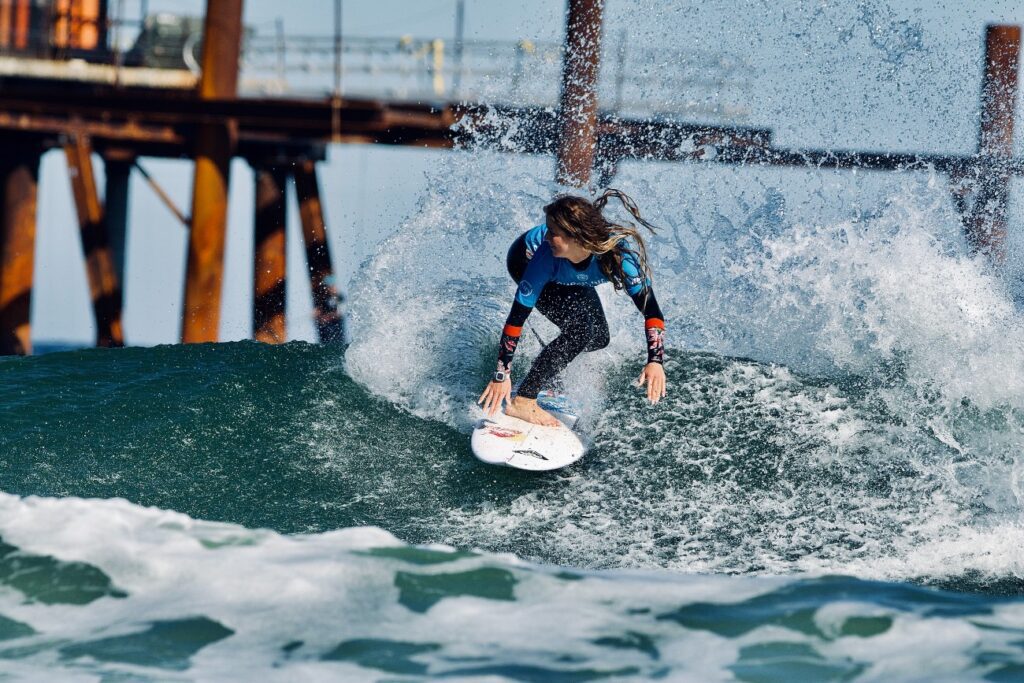 Have you ever surfed a pro event where you received half-pay compared to the male competitors?
CM: Oh, of course. I mean, that's what it was like before they made that move. Yeah, everything was like that. Everything was half or way less. So it's just so cool that everything is equal now. And the men have been really supportive of it, too. I know when it happened, they were all posting on social media, and they were really stoked. That's been really rad to see, and the girls are surfing so good now.
Can you talk about how women's surfing has changed in recent years.
CM: Yes, they've always surfed really good, but it's just grown so much. There's way more girls surfing, and the girls are gnarly. They're surfing similar to the guys—doing airs. It's crazy.
You're right at the forefront of that movement. What are your plans for the future? World championships? A gold medal?
CM: Oh yeah, those are obviously my huge goals: world titles and gold medals. But I try to do my best to live in the moment and take every day as it comes. It's easy to look too far ahead. I have my big goals but right now I'm just trying to focus on bettering my surfing, working on all my weaknesses. And I know if I do that, then I'll be able to achieve my goals, and that's really exciting.
How much time do you spend training or in the water surfing each week?
CM: That kind of ebbs and flows, depending on how good the waves are or how bad the waves are, but I'm always in the water to be honest. Sometimes it's firing at Lowers, and I'm out there for six hours, and sometimes it's only a couple. But I definitely try to get in the water every single day. It's therapeutic to me. So, I'm just grateful for that.