by

Nila Do Simon

|

December 13, 2021
Hedge Fun: How Fernando Wong Designs Dreamy Outdoor Spaces
With a sharp eye for detail (and a pair of clippers), Fernando Wong speaks the love language of lavish outdoor landscaping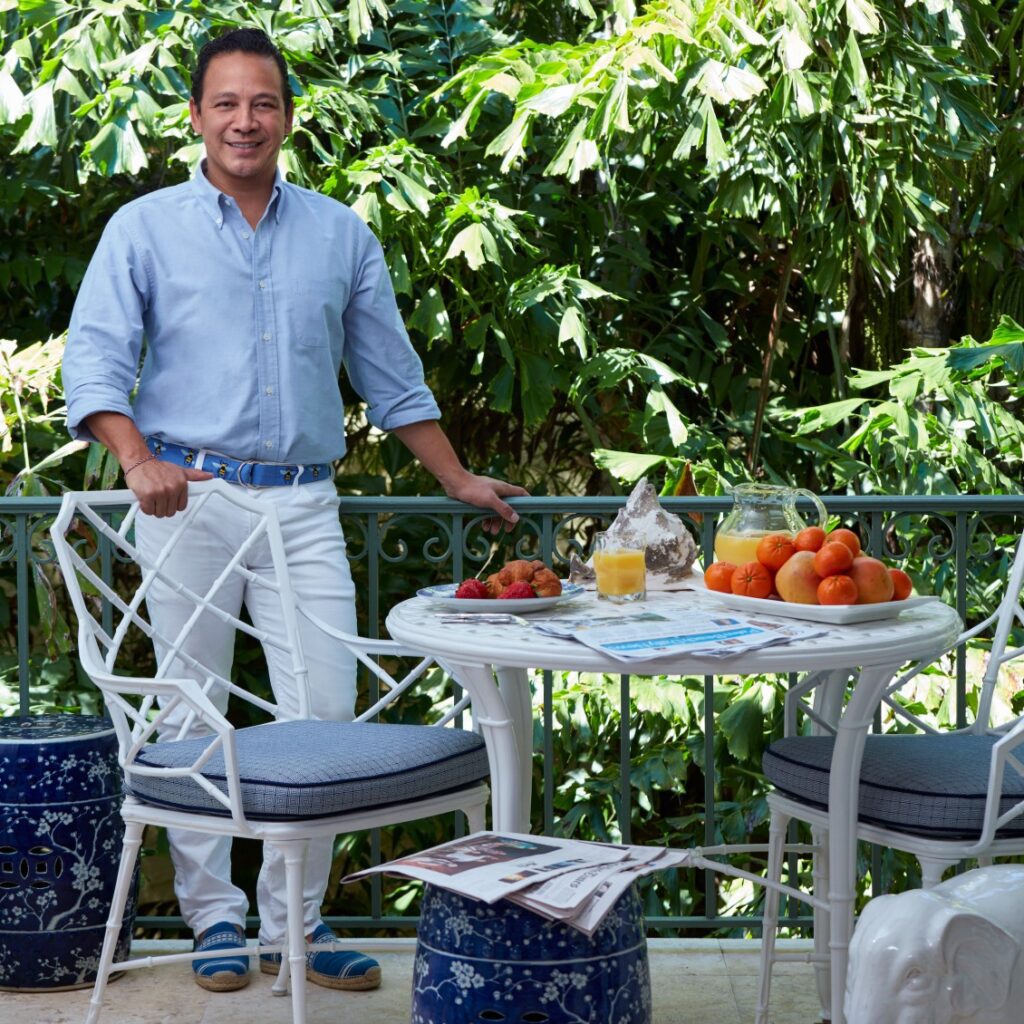 Somewhere in Florida, a sabal palm is swaying. With a crown of radiating fronds that swing against a breeze, the tree moves with fluidity and purpose, just like the man who designed its placement in hundreds of outdoor abodes: Fernando Wong. It comes as no surprise that the sabal palm is one of Wong's favored native species.
"There are so many things I can do with sabal palms," Wong says. "You can have orchids hanging from them, staghorns can hang from them. I just love the tree."
To hear Wong discuss a topic as ubiquitous as a tree is to be in the presence of a design savant. Since founding his Florida-based boutique firm, Fernando Wong Outdoor Living Design, he's become a sought-after designer known for his ability to connect with the exterior environment and give his creations a deep sense of place. The accolades have come from far and wide, with his firm winning a prestigious 2021 Palladio Award in the exterior spaces category for its reconfiguration of a historic 1930s Palm Beach estate's outdoor area, as well as a 2020 Addison Mizner Award for landscape architecture from the Institute of Classical Architecture & Art. At the 2021 Kips Bay Decorator Show House in Palm Beach, where 20 designers were asked to contribute their ideas for a showcase benefiting charity at a 4,400-square-foot Mediterranean villa, Wong's manicured front motor court was the first display to greet guests, who were eventually led to his art deco–inspired design of the pool terrace, dripping in old-school Hollywood glamour.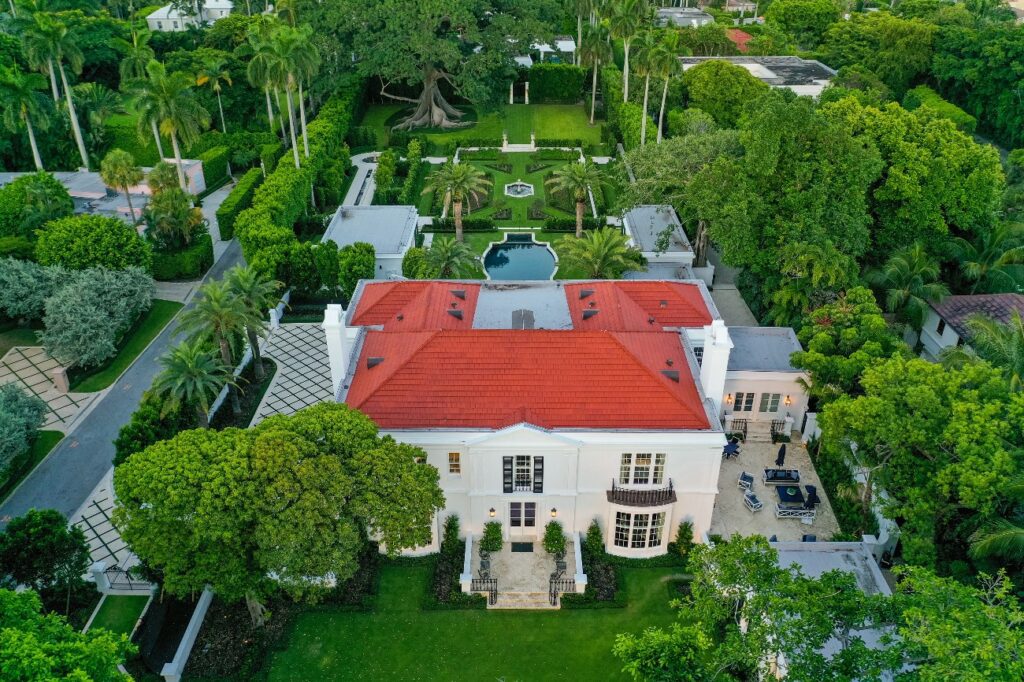 Primarily a residential designer early in his career, Wong has recently been awarded some of the state's biggest commercial landscape design projects, including the Four Seasons Hotel at The Surf Club and the upcoming Four Seasons Hotel and Residences Fort Lauderdale. He also designed a 15,000-square-foot sculpture garden at the Institute of Contemporary Art, Miami. While some clients have asked him to figuratively move mountains, what Wong has literally done is move massive trees, including a 40-foot-tall, 130-year-old kapok tree he brought from the Bahamas to a Palm Beach estate.
The past year saw landscape design and topiary art vaulted to the mainstream, with Discovery+ airing the first-of-its kind reality show competition Clipped in May, which challenged seven contestants to weekly horticulture challenges. Wong was one of three judges, alongside the great Martha Stewart and the multifaceted Chris Lambton. Wong, who says he didn't even know Stewart was going to be on the show until he stepped on set, believes that after years of reality shows featuring controversy and quarrels, Clipped was a refreshing reset for viewers. "It was that kind of 'aha!' moment that led the network to pursue something that was happy and sunny," he says.
Before Hollywood came calling, Wong says his beginnings were humble and far from the shininess of the silver screen. The grandson of a Chinese immigrant, Wong was born and raised in Panama, "in a tropical jungle, close to the Panama Canal," as he describes it. A budding athlete in his youth, Wong would often spend the weekends with his father, helping friends and family with their gardens and outdoor spaces. "It was hard work," Wong remembers. "My father taught me that all this work would make callouses grow on my hand. And they definitely did."
After studying architecture and interior design at the University of Panama, Wong moved to Miami on a chance invitation from a friend in 2001. Speaking little English at the time, Wong says he started working on a landscape crew at the "bare bottom, like driving a truck, mixing cement, going to the nurseries, lifting the plants and palms from the nursery."
One of his employers had a huge library of garden books, so Wong would often draft designs based on the classic French and Italian styles that he saw in the books. Eventually, his talents took him off the landscaping crew and onto the design team.
Along with business and life partner Tim Johnson, Wong founded his firm in 2005 and now has offices in Palm Beach, Miami and Southhampton. Despite the range of projects he's worked on over nearly two decades, Wong says when he's asked to design outdoor spaces, he approaches them all in the same way.
My father taught me that all this work would make callouses grow on my hand. And they definitely did.
— Fernando Wong
"I ask the clients a simple question: What is your inspiration?" he begins. "Hopefully it comes from a beautiful ocean horizon or the clouds or something else that's dreamy. If that's the case, I want to embrace that. Then comes the architecture: It's the first thing that I see. I arrive at these job sites and see how the neighborhood feels. I could arrive at a Georgian-style home or a bungalow or something super modern, but what matters is the progression of how I'm led to the house. That allows me to create more of a sense of place that feels native to the area."
That approach helped him create a master plan for the Four Seasons Hotel and Residences Fort Lauderdale, a 22-story oceanfront property set to open on Fort Lauderdale Beach later this year. Wong wanted a seamless ocean view from the property, "but what stood between it and the ocean was the main road, a boardwalk and white sand," he says. "I thought, 'How can we make the blue ocean the primary thing you see when you're at the Four Seasons?'"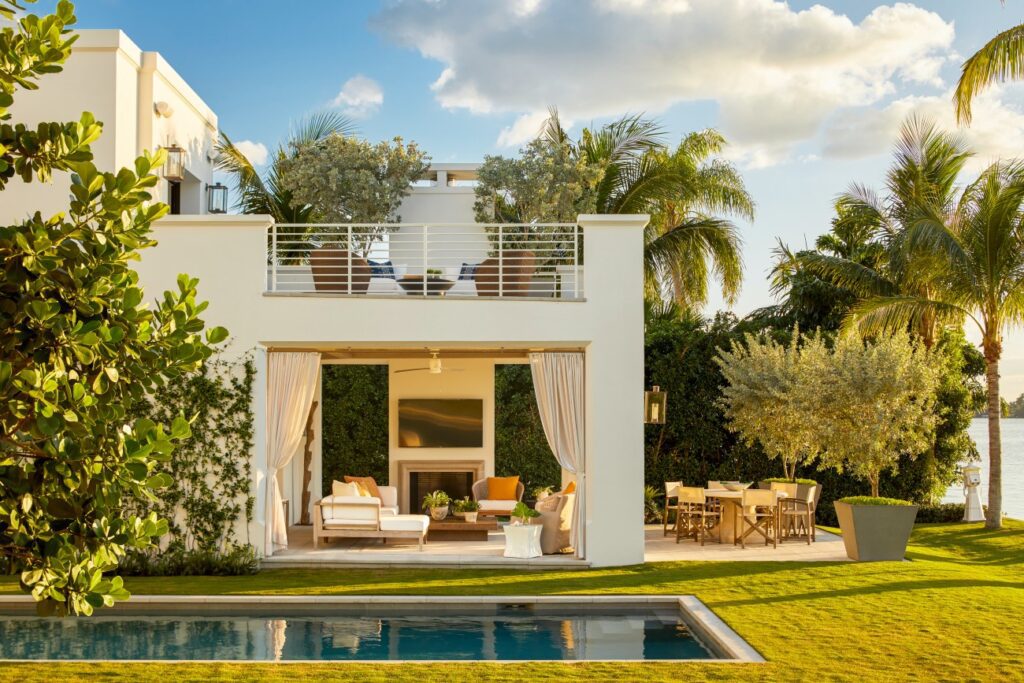 To create a direct sight line to the ocean, Wong's plans called for vast amounts of vegetation between the property and sidewalk on A1A, essentially creating a canopy of lush greenery by installing a grove of coconut palms on the ground floor of the property. From the third-floor pool area, guests and residents will have uninterrupted views of the beach, thanks to that tree canopy beneath them.
Despite his affinity with flora and fauna, as a landscape designer, Wong works with all things in the outdoors: plants, pools, ponds, fountains, walkways, buildings and anything else that the sun can touch. For the Four Seasons property in Fort Lauderdale, he also designed the third-floor pool deck that includes two horizon-edge pools and lush cabana spaces on either sides of the pools.
When asked if he sees a stopping point in the future, Wong's response is steadfast. "No," he says with a smile. "I will work until the day I die because it's true: You never really work when you love what you do. And I love what I do."