Try Not to Smile When You Listen to The 502s
Five friends from the Orlando burbs are in the business of folk music and Florida sunshine
It starts at the corners of your mouth. When the first bellows of Joe Capati's saxophone, punctuated by claps and exuberant strums of the banjo, pierce the silence, it spreads. By the time Matthew Tonner joins in on the keys and Ed Isola's gleeful voice soars over the jubilant commotion in the background, singing about how "it feels good to be me," you'll have a teeth-showing, eyes-squinting smile plastered on your face. And if not, you might be certifiable. The indie folk band The 502s is, at its core, five friends who like to sing and stomp around with each other, which is exactly why their music is so rapturous. With folk melodies reminiscent of The Lumineers and beats evoking the rhythmic groove of The Avett Brothers, The 502s have an infectiously joyful sound.
The bandmates—Ed Isola, Joe Capati, Matthew Tonner, Sean Froehlich and Nicholas Dallas—grew up in the Orlando suburb of Maitland but didn't start making music as a group until 2015. In fact, Isola says he and Capati weren't even friends in high school. "Ed was a troublemaker," Capati quips, wearing a button-up shirt covered in rocket popsicles. "No, no, I was straight and narrow," Isola says with a devious smirk. Their easy, brotherly banter persists to the point that their live performances feel more like a massive party. We sat down with Isola and Capati to talk about TikTok, the evolution of The 502s and their upcoming sophomore album.
How would you guys describe your sound?
JC: "Happy folk" was something that was coined, and I think there's truly no other way to define that. It's like folk, and it's a little bit different. You've got a saxophone in there, but you've still got sounds of the trumpets and a banjo playing the whole time. But it's just happy. Even our sad songs somehow end up happy.
Did you always set out to make happy music?
EI: We've never intentionally been like, "Oh, let's write happy songs." For me, it was just fun to strum on the banjo and sing and shout with friends. Then you get everybody involved, and it's like, alright, now we're just having a good time. And you're writing these feel-good songs that really are more reflective, probably, of how the five of us view life in general.
Has your mission to be Florida rays of sunshine taken on a new meaning during the pandemic?
EI: Something we did during quarantine was this 10-day interactive experience online called Camp Feels Good that was really centered around this idea that we can't go out, but here's our whole new album. We had 5,000 people be a part of it. It's like, OK, now is kind of a crappy time for a lot of people, and it felt like we were able to bring a little positivity through our music and just our interaction and personality with The 502s fam.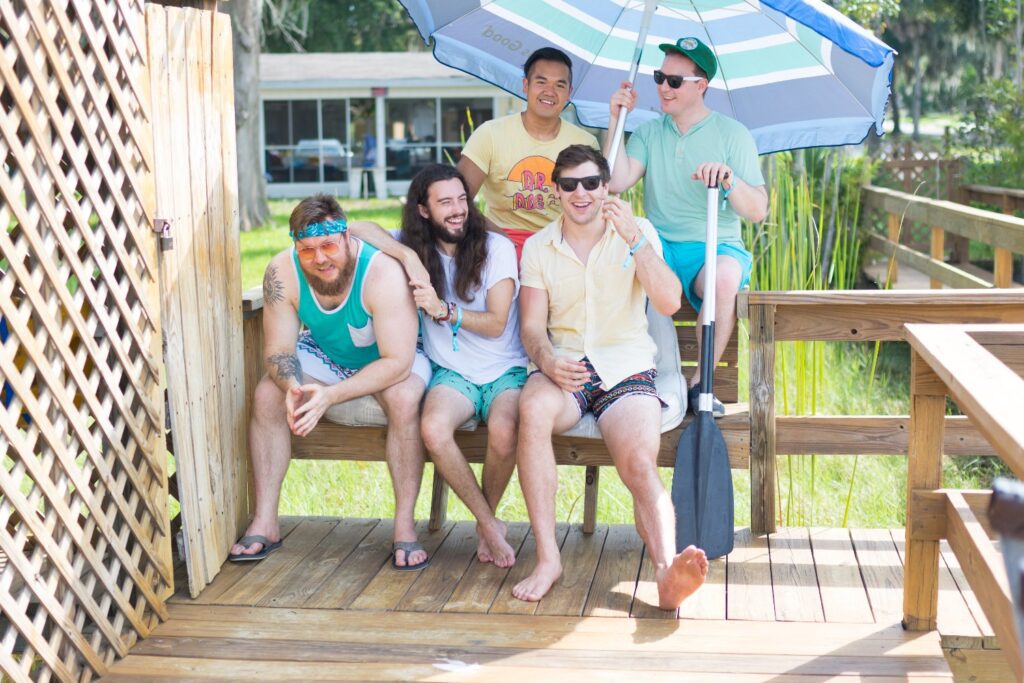 TikTok is partially responsible for your rise to fame. Tell us about that.
EI: We filmed this video for "Magdalene" at a local studio here. It's really just organic looking, and essentially, we just took a 15-second clip from this video, and I posted it. So I put it up, I forget about it. We hadn't posted on TikTok in six months. Then that night we had band practice, and I'm like, "Guys, the video is at 10,000 views. That's pretty crazy." You know, you're just sitting there refreshing it. It's like this dopamine hit every time. By the time I went to sleep that night around midnight, it was 300,000 or 400,000 views. And then the next morning, it was over a million.
What can fans expect from your upcoming sophomore album?
EI: We refer to it within the band as the older brother of Because We Had To, which was our first album. Namely because when we recorded the first album, we really were new to recording. So then you sit, and you listen, and you go play live shows over two years, and then we record Could It Get Better Than This, the second album, and it's like "Oh, what if there were four horns on this part? Or different vocals?"—all these dynamic things we were able to put into this new album. Matt has called it a folk orchestra. It's bigger sounding, but still has the same heart as the first album.