Meet the Winner of Tallahassee Film Festival's First-Ever Florida Filmmaker Award
Panama City Beach filmmaker Jake Brown takes home the inaugural award presented by Flamingo for his short film Chapter 9.
Filmmaker Jake Brown was working for an airbrush artist in Panama City Beach back in 2014 when one day, his boss shared with him a single chapter from H.G. Wells's 1896 book The Island of Dr. Moreau, in which a man's walk in the woods leads to an encounter with a strange creature.
"We used to talk movies, especially monster movies, silent films," Brown says. "I was enamored with how terrifying it was: this classic concept of being on the wrong person's—or entity's—radar. The chapter worked so well on its own, and as I read more, I realized how pivotal it was in the overall book. So, the idea of subtly superimposing the context of the bigger picture over this very personal, isolated journey was my initial motivation for writing the screenplay."
Brown, who now directs commercials for Panama City television station WJHG, adapted the segment for his debut short film Chapter 9, a half-hour reverie he shot on black-and-white Super 8 film in St. Andrews State Park, near Panama City Beach. The film won Brown the inaugural Florida Filmmaker Award, presented by Flamingo, at last month's Tallahassee Film Festival. The $1,000 cash prize comes with an elegant pink flamingo statuette.
Flamingo spoke with Brown as he enjoyed a celebratory libation after his big win.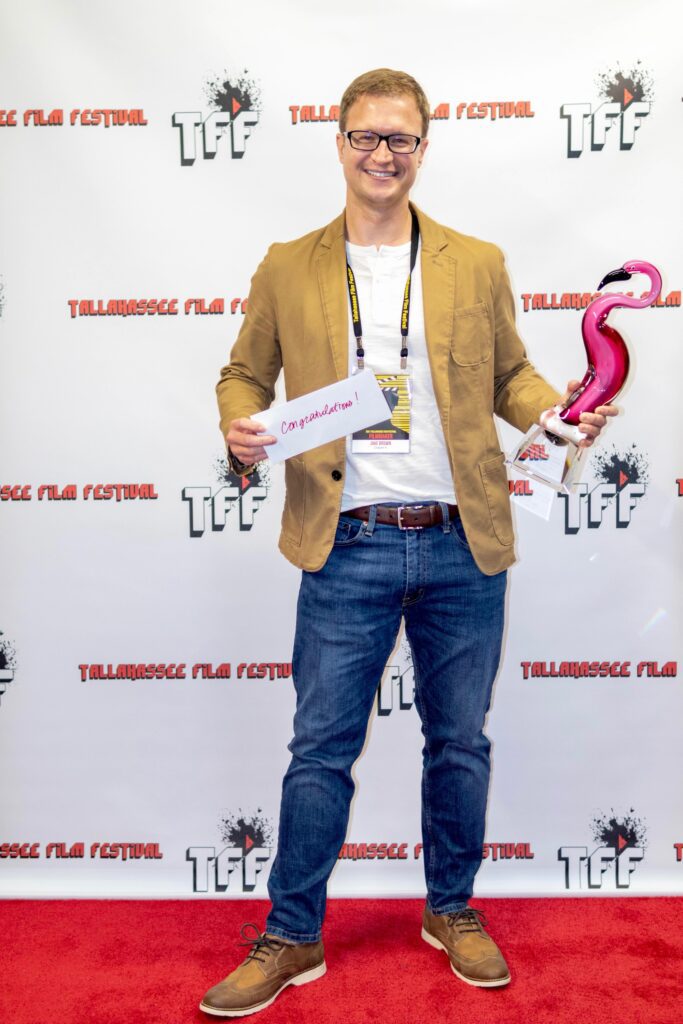 F: What made you decide to shoot in black-and-white—and in Super 8 no less—when everyone seems to be making movies on their iPhones?
JB: I tried some tests on digital cameras, and I just couldn't fake it. I really wanted this older look because the novel was written in 1896. It was written at the dawn of film. I really wanted to make a love letter to the dawn of film. I thought, "if I'm spending all this effort to try to fake a film look, why don't I just actually shoot on a film camera?" The very coarse look of Super 8 made me realize this was the perfect way to go.
F: The film also is a love letter to the Panhandle's natural splendor. Tell me about the locations.
JB: There couldn't be a more perfect place than Panama City Beach and the surrounding areas. It's really supposed to be the Pacific Ocean, but [I wanted] to fake that enough and add a more expressionist look, with places like St. Andrews State Park, with these curved, bent, disturbing looking trees … I knew immediately it fit perfectly. I've lived in the Florida Panhandle my entire life. I know the state parks well enough to recognize this perfect landscape to achieve—I don't want to say a horror film so much—the beauty of what we're trying to display on screen. The forest becomes its own character, and we needed something to truly come to life in that way.
F: It looks like you really knew how to stretch your resources. How much was your budget?
JB: Just under $14,000. $8,000–$9,000 on film alone.
F: You spoke after the screening about some of the influences on the film, like the work of visionary Russian director Andrei Tarkovsky—although a lot of folks also caught a "Blair Witch" vibe. But I gather you didn't go to film school.
JB: Yeah, I didn't go to any film school. It would have been nice. But you know, money. I never really had the opportunity, personally. So what I did, and what I've always done naturally was just watch tons of movies.
F: What have you got in the works now?
JB: I want to make something as abstract as possible. I want to push the envelope for what can be seen on screen and see where that can take the story. I think it's been a long time since we've had something truly surreal, truly out there.
---
---