Have You Been to These 10 New Florida Hangouts?
Drink in the lush tropical gardens of Cuba, enjoy a hearty Southern meal in this new addition to Jacksonville and travel back in time to the Prohibition Era at St. Pete's hottest new live music venue.
With the dog days of summer behind us, now is the time to savor the sunshine as the school year gets in full swing. We've rounded up a list of the state's latest breweries, food halls, social clubs and more to add to your seasonal itinerary. From five-star resorts in Sandestin to a botanical garden that doubles as a taproom in Wynwood, we'll be impressed if you can make it to all 10 before fall rolls around.
---
North Florida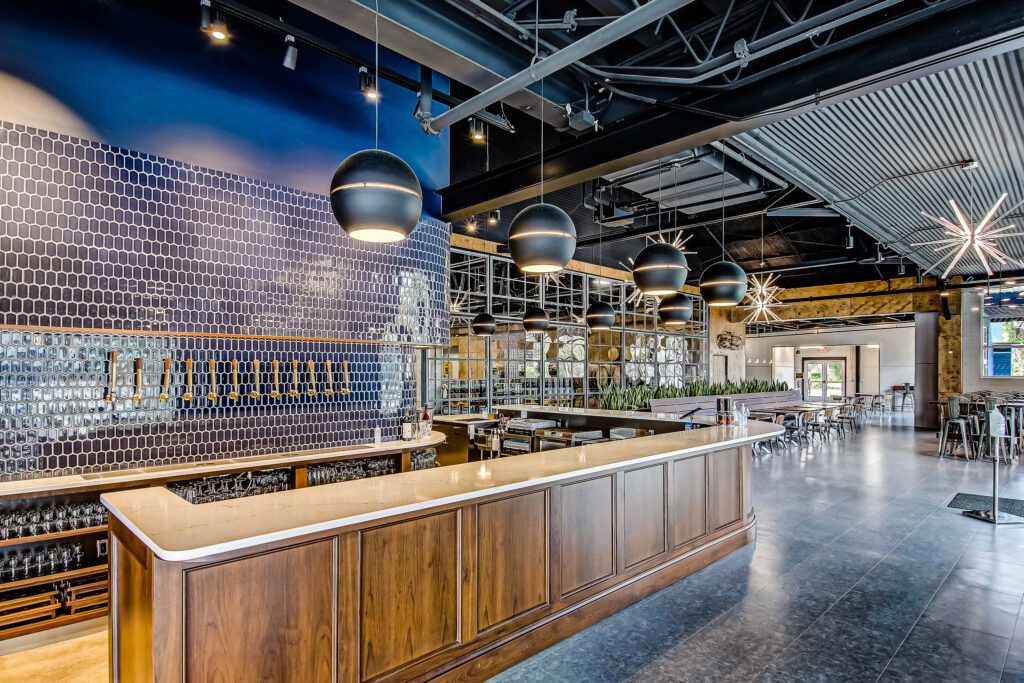 Mocama Beer Company
Fernandina Beach
Raise a glass to the ones who came before us at this fresh Fernandina brewery. Mocama Brewing Company, named after the unique dialect of the Timucua people who lived in northern Florida and southern Georgia, is an ode to Old Florida's ancestors in a welcoming taproom. Derek Imes, Hamp Tanner, Simon Muldoon and JT Murrett drew from their collective craft beer experience to create a space inspired by the land's indigenous history. "We sense the spirit of all who have inhabited this place from the earliest times to the present time, and we acknowledge that we have a moral responsibility to preserve its beauty for those who will come after us," Tanner said. Brewing their beers onsite, Mocama offers a diverse tap list: pouring imperial coffee stouts, Fruited Berliner Weisse, hoppy IPAs and everything in between. If you prefer to stick to the staples, try Mocama's Cosmico IPA and Rare Cargo DIPA as a safety blanket. Even wine snobs can find a pour for their palate from a selection marked by rare offerings. mocama.com/
---
Prospect Five Points
Jacksonville
The inviting patio and warm service at Prospect Five Points might radiate Southern hospitality, but the masterminds behind this cozy new wine bar in Jacksonville are actually yankees (we won't hold it against them). Jon Choomchaiyo and Sheree Kentwell met in New York, where hours spent in Brooklyn's Prospect Park would later inspire their passion project in a state more than 900 miles away. The couple was living and working in Colorado when a friend told them about the blossoming dining scene in Jacksonville. They fell in love with the 102-year-old building where Prospect is located, so they packed up and moved across the country in the middle of the pandemic to try their hand at being business owners. "It's been great, we have built an incredible locals place with so many regulars and new faces everyday," Kentwell said. Merging the upscale dining experience they knew in NYC with the warmth of the South, these newfound Floridians have created a space where memories are made over a memorable meal. Sit beneath the twinkling lights on the patio and leaf through the robust wine offerings. Wine flights allow the indecisive to dabble in everything, which means the only decision left to agonize over is whether to order the pistachio crusted goat cheese balls or the crispy brussels with applewood smoked bacon. Trust us, just get both. prospectfivepoint.com
---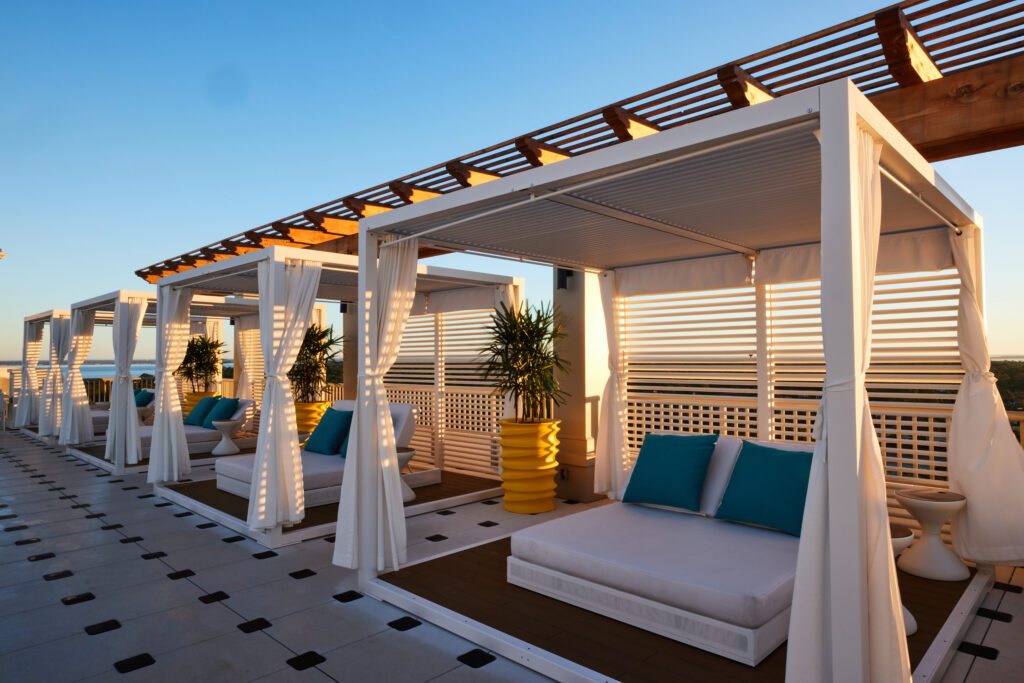 Hotel Effie
Miramar Beach
Does anyone know hospitality better than a Southern grandmother? Hotel Effie doesn't think so. This new addition to Sandestin, named after owner Tom Becnel's grandmother, crafts an experience that's both posh and personable. From the moment guests step inside, the golden glow of The Lobby Bar beckons visitors for a welcome libation. "Some of the most recognizable classic cocktails were created in hotel bars, which historically were havens for some of the most skilled bartenders and adventurous drinkers, and I wanted to pay tribute to that," said cocktail maven Kellie Thorn. Whether you opt for a traditional vesper or an original Two World Hero, Thorn's cocktail program complements the culinary creations of James Beard Award-winning chef Hugh Acheson. Hotel Effie's signature restaurant, Ovide, beguiles with a mixture of traditional dark wood and modern luxurious flair, Acheson said. His menu combines seasonal Gulf Coast ingredients with French technique for flavorful fare not found anywhere else. The property's 2,400 sprawling acres offer healing treatments at Spa Lilliana, sweeping views of the Gulf of Mexico and Choctawhatchee Bay and the Emerald Coast's only hotel rooftop pool. hoteleffie.com
---
Sunday Gathering Table
St. Augustine
No Sunday scaries allowed in this light and airy St. Augustine eatery. Founded by Misty Lake and her husband, Ed Baltzley, a graduate of the Culinary Institute, Sunday Gathering Table is a bright, Bohemian cafe just a few blocks north of the Castillo de San Marcos National Monument. The casual space specializes in breakfast and lunch dishes that feature their homemade sourdough. The couple brings some serious culinary chops to the table given their combined restaurant industry experience, and most guests find that it's Sunday's simplicity that makes it sing. Smoked salmon piled high on a warm slice of sourdough or buttermilk pancakes just the right shade of golden. "Ed and I's dream from the beginning was to really cater to the locals because St. Augustine is a tourist town," Lake said. The couple has lived in St. Augustine for more than a decade, but it wasn't until last summer that they decided to take this dream from a front porch powwow into a brick-and-mortar restaurant. As a testament to their local love, Sunday is also home to the studio of St. Augustine artist Jenna Alexander, who collaborates with the eatery on special events. From the lingering scent of fresh-baked bread to Alexander's art on the walls, dining at Sunday feels like you've popped over to a friend's house for brunch. sundaygatheringtable.com
---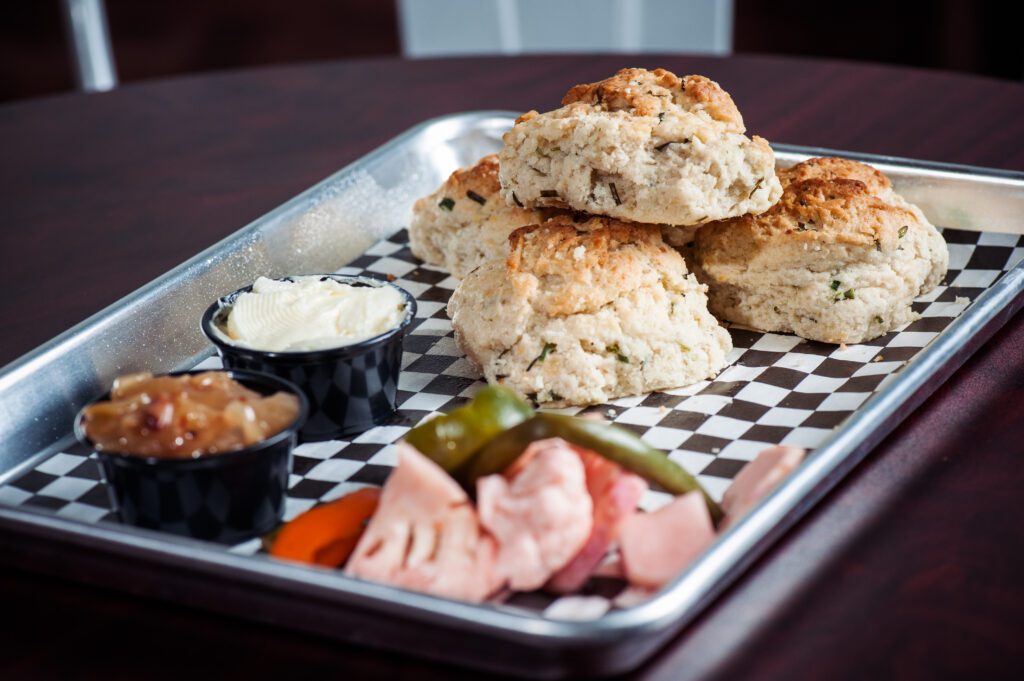 Silkie's Chicken & Champagne Bar
Jacksonville
Lauded Chef Kenny Gilbert's new venture in Springfield is guided by the two C's—and we don't mean chicken and champagne. In this warm, rustic eatery, comfort and community are the main course. When the pandemic shut down his plans for a restaurant in Raleigh, Gilbert turned his attention to his own neighborhood, cooking and selling meals out of his kitchen via Instagram. A common thread in the most popular dishes? Chicken. Now, everyone can dig into these hearty eats at his new fast-casual concept, Silkie's Chicken & Champagne Bar. While diners will find classic Southern fare like chicken and waffles, they can also indulge in some internationally inspired cuisine. "I wanted to have something that would help people kind of go back to 'Well, I can't travel, but man, I was able to get this Korean biscuit and chicken sandwich," Gilbert said. Pair the biscuits with some bubbly for an unforgettable boozy breakfast. Whether you opt for a simple glass of Billecart-Salmon Brut Rosé or add a splash of sapidity with one of their champagne cocktail mixers, the robust beverage program elevates this fast-casual concept to a special occasion destination. Meetatsilkies.com/
---
Central Florida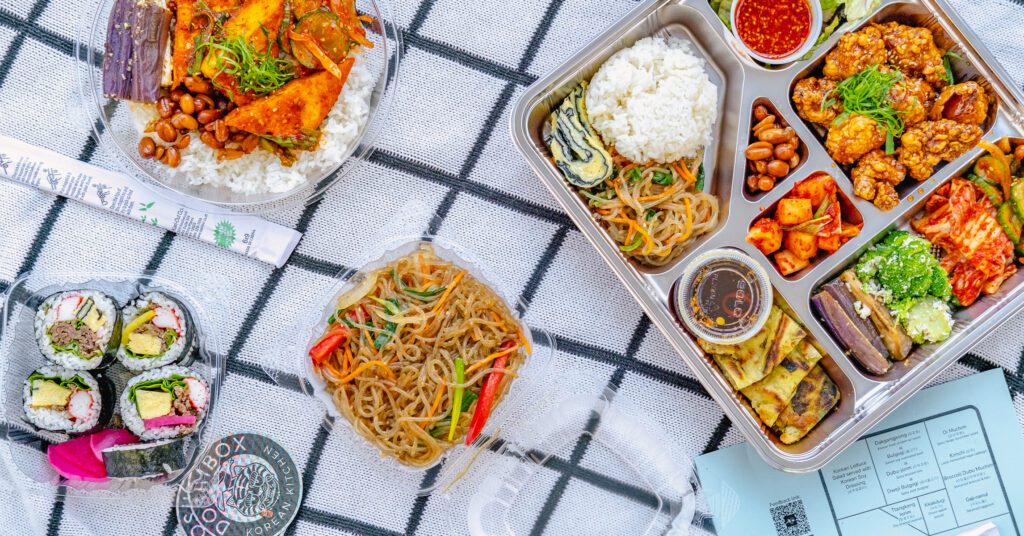 Doshibox
Orlando
This Korean ghost kitchen just outside the heart of downtown Orlando is reinventing the nature of grab-and-go meals, proving that diners don't need to sacrifice quality for convenience. Co-founders Mike and Ray Gillette started dishing up authentic Korean food in containers called doshirak boxes when coronavirus was at its height. And while these simple ready-made feasts were a major hit during quarantine, the Gillette duo discovered that the allure of quick, convenient food that tastes like a Michelin-star experience in a box has endured even as life returns to normal. For those who aren't well-versed in Korean cuisine, Doshibox offers an approachable way to sample something new. Each container comes with a choice of protein, like spicy pork bulgogi or spicy Korean fried chicken, and a variety of banchan, better known as side dishes. The banchan rotate on a weekly basis, giving adventurous eaters a chance to sample an array of traditional Korean foods like rolled egg omelettes, savory scallion pancakes and kimchi pork belly dumplings. Doshibox.square.site/
---
Floridian Social Club
St. Petersburg
Housed in St. Petersburg's old historic State Theatre, the newly opened Floridian Social Club is breathing new Gatsbyesque life into this storied space. Don your flapper dress with fringe and toast to the Roaring '20s inside this luxurious art deco music venue and cocktail lounge. Dark velvet furniture, geometric black-and-white tiling and gold decor accents embody the glitz and glamour of the Prohibition Era—without the prohibition. Visitors can sip spirits from an extensive cocktail menu—we recommend God's Waiting Room, a tongue-in-cheek nod to St. Pete's former nickname made with gin, Strega liqueur and lemon—or partake in a non-alcoholic "softtail" if they're on designated driver duty for the evening. Lounge with libations while live music and entertainment grace stages throughout the club. From jazz bands to contortionists, aerial acts and cabaret, the Floridian Social Club brings local and national performing artists to the stage. Pour a glass, pull up a seat and learn firsthand why the locals no longer call St. Pete God's waiting room. Floridiansocialclub.live/
---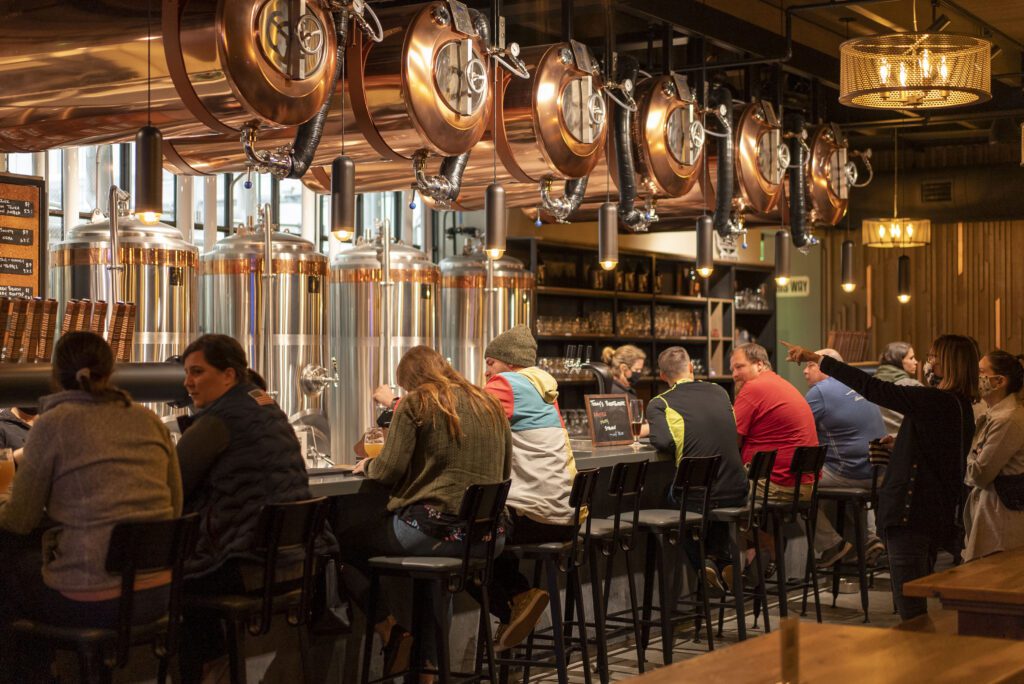 Grand Central Brewhouse
St. Petersburg
This trendy brewery is the new cool kid on the block in the Grand Central District of St. Pete. Opened in December, the 10,000 square foot taproom with an adjacent beer garden is a hophead's heaven, pouring a constantly rotating list of light lagers, fruit-forward sours, creative ales and every IBU in between from European-style serving tanks that keep the batches fresh longer. In addition to the libations they brew in-house, beer aficionados can also taste guest taps from other local haunts. With a full pint—or a pitcher, no judgment—explore the sprawling beer garden where rows of picnic tables, a projector, bocce ball and cornhole turn this space into a community hotspot—and the perfect place to catch one of Tampa's sports teams dominate on the big screen.
---
South Florida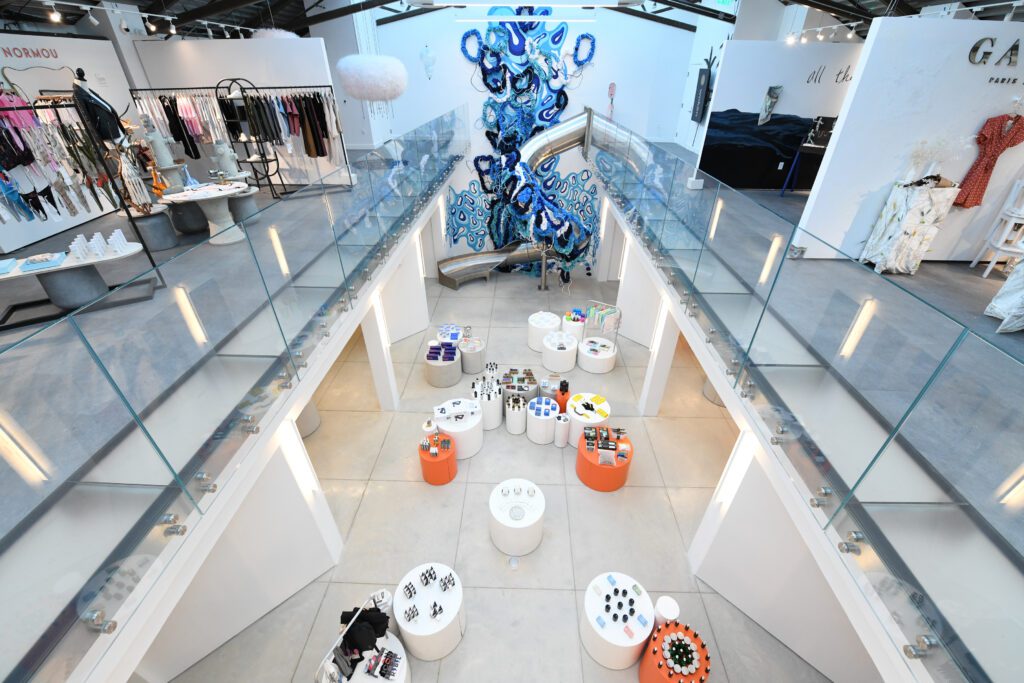 Showfields Miami
Miami Beach
In an age where so many opt to shop online, this new retail experience in South Beach is giving you a good reason to abandon your Amazon cart. The multifaceted space is a department store and immersive art gallery all in one, hoping to inspire customers to rethink the run-of-the-mill retail experience. Shoppers won't be confined to big brand names and mass-produced goods at Showfields, as the store specializes in curating indie designers and local brands to fill its shelves. Billed as "the most interesting store in the world," Showfields makes shopping an experience rather than a task with inviting installations that showcase emerging artists and products. The masterminds behind this vibrant, alluring space know shoppers will be tempted to touch, so they've enlisted the help of the "Magic Wand" app to allow visitors to engage with the playful galleries without spreading germs. Once you've completed your journey through all 14,300 square feet of whimsy, slip down the signature slide that coils through the center of the store to return to the entrance. Showfields.com
---
Delray Beach Market
Delray Beach
Delray Beach is jumping on the food hall trend, and in true South Florida fashion, they aren't doing it small. Delray Beach Market is the state's largest food hall and boasts way more than just culinary vendors. Make yourself at home in the heart of all the action at Central Bar, located in, you guessed it, the center of this 150,000-square-foot marketplace. Craft a custom, over-the-top bloody mary and take in the buzz of Delray Beach at this prime people-watching perch. With more than 25 vendors ranging from old-school burger joints slinging made-to-order double stacks to family-owned surf shops specializing in customized surfboards, Delray Beach Market caters to all South Florida lifestyles—especially those marred by indecisiveness. Delraybeachmarket.com/
---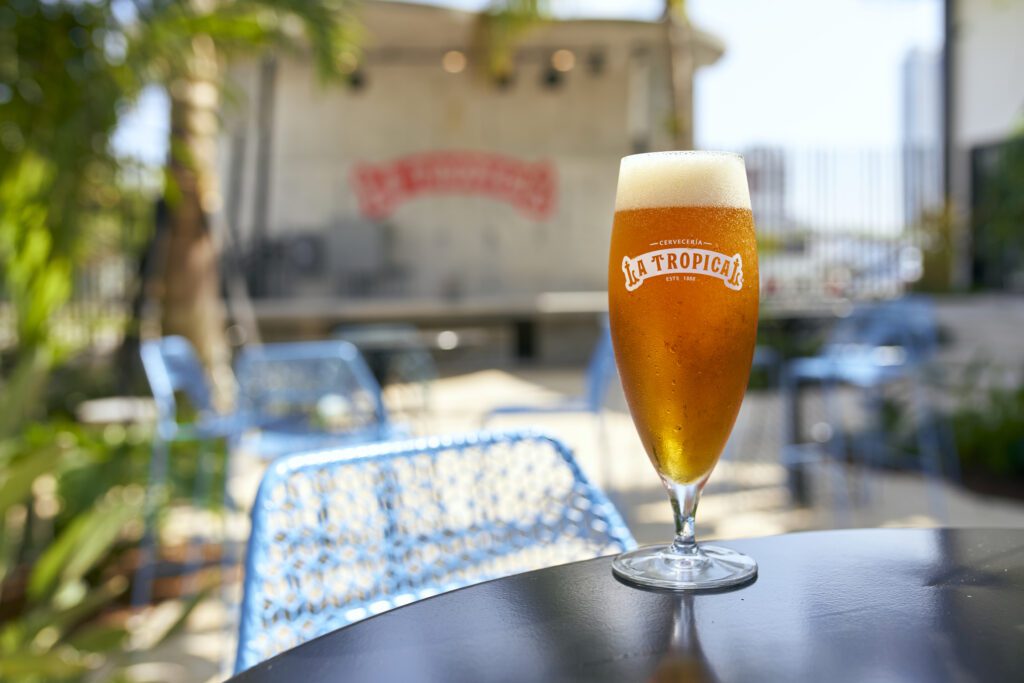 Cervecería La Tropical
Miami
Despite opening only six months ago, Cervecería La Tropical is already one of the most storied breweries in Miami. The taproom, brewery, botanical garden and restaurant in Wynwood is, at its heart, a revival story. First brewed in Cuba in 1888, La Tropical became a symbol of the Cuban beer industry and its beer garden a hub for drinking, dancing and revelry—until the Cuban Revolution. The brewery's founding families fled Cuba to Miami, and their landmark lager was lost to the political turbulence of their homeland. Now, more than a century later, the iconic beer finds a new home in the Magic City revived by Manny Portuondo, the great great-grandson of La Tropical's first owner. Reminiscent of the original tropical garden, Cervecería La Tropical's outside space is flush with exotic plants, orchids and towering trees that provide much-needed shade to cerveza sippers. Sample the brand's original Ámbar Lager in addition to a multitude of citrus IPAs, tangy wheat beers and Helles lagers on tap or indulge in authentic Cuban cuisine that pairs perfectly with your pour. From sea salt tostones to angus beef grilled churrasco, executive chef Cindy Hutson's fare complements the complexities of each brew. www.cervecerialatropical