by

Diane Roberts

|

August 9, 2021
Remembering Florida State Legend Bobby Bowden
"St. Bobby," as Bowden was affectionately known, was one of college football's all-time greatest coaches and a beloved Florida icon
Everybody called him Bobby. In these parts, you had to qualify any other Bobby with a last name: Bobby Kennedy, Bobby Jones. Not him. He was just Bobby—sometimes "St. Bobby"—the innovative, wise-cracking, devout coach who won two national championships and made Florida State University football famous. He presided over the careers of innumerable All-Americans and sent scores to the pros. We all feared that the diagnosis of pancreatic cancer, made public a few weeks ago, meant that he didn't have long. But we hoped he could make it to the beginning of football season at least, September 5, when the FSU Seminoles take to the field named for him to play the Fighting Irish of Notre Dame. Maybe he could go out on the high note of an upset win by the Seminoles. That would have allowed sportswriters to wax poetic and passionate fans to feel that Bobby could rest easy, knowing that the team he spent 34 years with was finally getting its groove back. But it wasn't to be. Bobby Bowden died early on Sunday, August 8 at his home in Tallahassee at the age of 91. Ann, his wife of 72 years, and his six children, were with him. His daughter Ginger said, "He passed peacefully."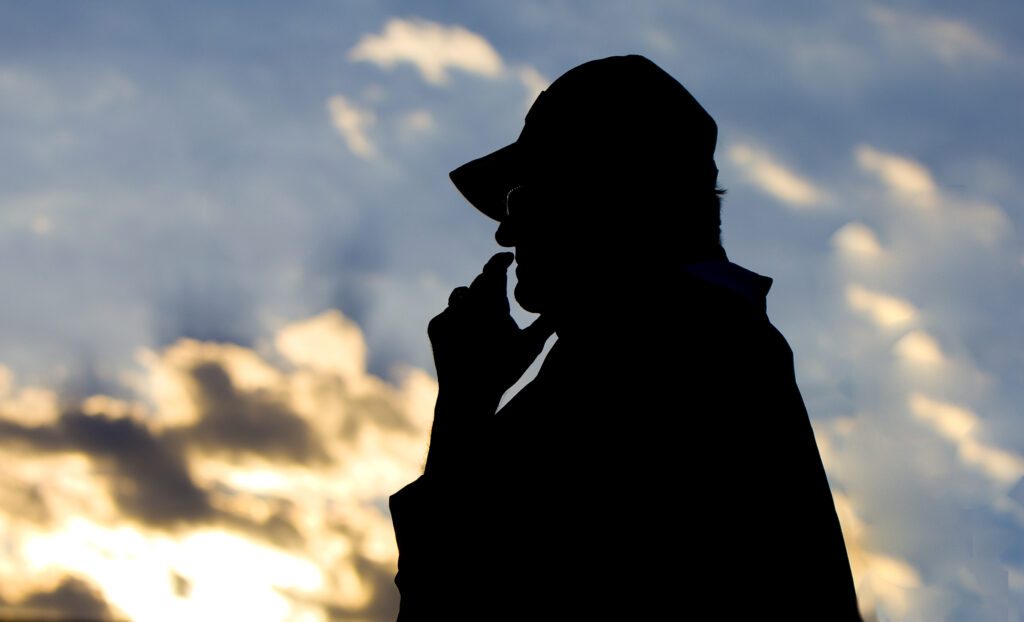 Robert Cleckler Bowden was born in Birmingham, Alabama in 1929. He'd been a sports-crazy, athletically talented kid, but at 13, he was diagnosed with rheumatic fever. He spent a year in bed, listening to radio reports on the war against the Nazis. He was obsessed with military strategy, which led to a lifelong interest in World War II history. He was also obsessed with University of Alabama football and dreamed of quarterbacking the Crimson Tide, even though his doctor said he'd never play sports again.
Bowden likened the head coaching job at FSU to being mayor of Atlanta after Sherman roared through in 1864.
Nevertheless, he slowly got better, got out of bed, and went on to become an All-State high school quarterback, a spectacular recovery he attributed to his strong faith and the power of prayer. He entered the University of Alabama in 1949 and made the freshman team. But while Tuscaloosa was only 57 miles away, he missed his high school girlfriend Julia Ann Estock and left the university after one semester. They eloped across the border in Georgia: she was 16, he was 19. Bowden enrolled at Birmingham's Howard College (later Samford University) where he played baseball and football, got his Bachelor of Arts, and then, as a graduate assistant, earned a Master of Arts in education. By then, the Bowdens had two kids.
A Legend in the Making
In 1963, he became the wide receivers coach at FSU under the smart, eccentric Bill Peterson. It's an article of Bowden hagiography that before he became head coach in 1976 Florida State had been a football wasteland, winless and hopeless. That's not quite right: the Seminoles had some excellent teams in the 1960s, including the 1964 team that beat Oklahoma in the Gator Bowl, and the 1967 team which fought No. 2 Alabama to a 37-37 tie and (finally) beat the Florida Gators in Gainesville. Nevertheless, when Bowden arrived in Tallahassee, after an occasionally rocky stint as West Virginia's head coach, FSU's football program was demoralized and desperate. There had been a scandal over an off-season "training" regime that included fighting underneath chicken wire, the epically bad 0-11 season of 1973, and the short-lived experiment with coach Darrell Mudra. 
We liked that Bowden sounded appropriately Southern. He said "yes, ma'am" and "no sir," talked about players' "mamas and daddies," and was funny as hell. He said that when he was at West Virginia, the bumper stickers said "Beat Pitt," but when he got to Tallahassee, they said "Beat Anybody." In Called to Coach, his 2011 memoir, Bowden likened the head coaching job at FSU to being mayor of Atlanta after Sherman roared through in 1864. In an August 1977 letter to his team, he instructed them to shave off beards, cut their hair, keep their afros "normal" (whatever that means), and arrive in "top physical condition." He told them they'd be wearing a coat and tie to away games, exhorted them to "be sure to get your head screwed on right," and as a final thought, said, "Leave all pets at home. I do not want them in our housing. Hail FSU!" 
After going 5-6 in 1976, Bowden's Seminoles began to win and win in an exciting, daredevilish fashion, using dazzling passing patterns and sneaky moves like the "puntrooskie," a fourth down play in which the center snaps the ball to the fullback instead of the punter, who then acts like the ball went way over his head while the fullback hands it off to a fast guy who waits a couple of seconds then lights out down the field to score. The national sports press called him "the Riverboat Gambler."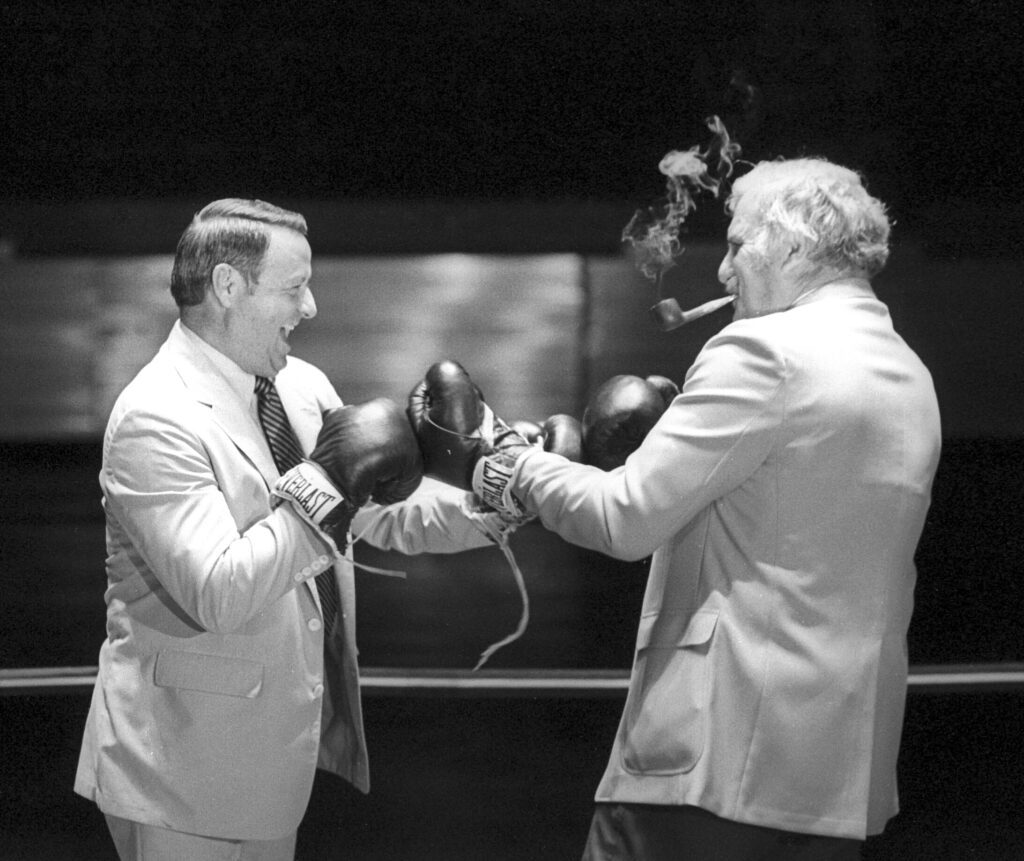 Bowden's brilliant recruiting—snagging the likes of Deion Sanders, Warrick Dunn, Charlie Ward, LeRoy Butler, Derrick Brooks, Marvin "Snoop" Minnis and Greg Allen—as well as his play-calling genius, spurred FSU to an astonishing run of winning seasons and bowl games. From 1987 to 2000, FSU won at least 10 games every season and ranked in the top five of the Associated Press College Football Poll. Bowden coached the Seminoles to 12 ACC championships and two national championships in 1993 and 1999. Even with all this success, everybody, including Bowden himself, expected him to end up with his dream job, head coach at the University of Alabama.  In 1986, UA came calling. Bowden was given to understand he was their top choice. But when he arrived in Tuscaloosa, he found himself just one of several candidates. Bowden had assumed that his resumé should have been enough, and left, insulted. He stayed at FSU, resisting later overtures from the Crimson Tide.  
Bowden was something of a culture warrior. He might have become a preacher if football hadn't consumed him. He always took his squad to church at least twice a season, once to a predominantly white congregation, once to a predominantly black congregation. He read the Bible to them constantly and joked that the ACLU would probably get after him. He said "I care where my players spend eternity." This made him popular with white and black parents alike in the evangelically inclined, football-rich, economically deprived areas of the South.
The End of an Era
By the early years of the 21st century, the sleek scoring machine that had produced so many victories started to sputter. In defiance of good sense and state nepotism laws, Bowden hired his son Jeffrey Bowden as Seminole offensive coordinator. In 2003, FSU lost to Miami 22-14. Jeff blamed the rain. When Wake Forest beat the Seminoles like a rented mule in 2006, the fans were enraged. Bobby Bowden was miffed, calling Jeff's critics "cowards" and warned Seminoles that they "had better be glad I'd like to keep this job." Nevertheless, Jeff Bowden resigned.
We knew by then that Bobby couldn't go on coaching forever. He still had flashes of his earlier dazzle, but he was pushing 80, and the team had lost its air of invincibility. In 2009, the NCAA ruled that FSU football must forfeit 12 wins during the 2006-2007 seasons in which several players had been caught up in an academic cheating scandal. Bobby Bowden had been the winningest coach in all of college football. Now he was second to Penn State's Joe Paterno. FSU's president made clear that Bowden's 2009 season would be his last. There were hard feelings. Ann Bowden said, "We don't need the university as much as they need us—as much as they need him and his connections and reputation and everything." But it was over. Bowden went out with a satisfying win over his old employer West Virginia in the Gator Bowl.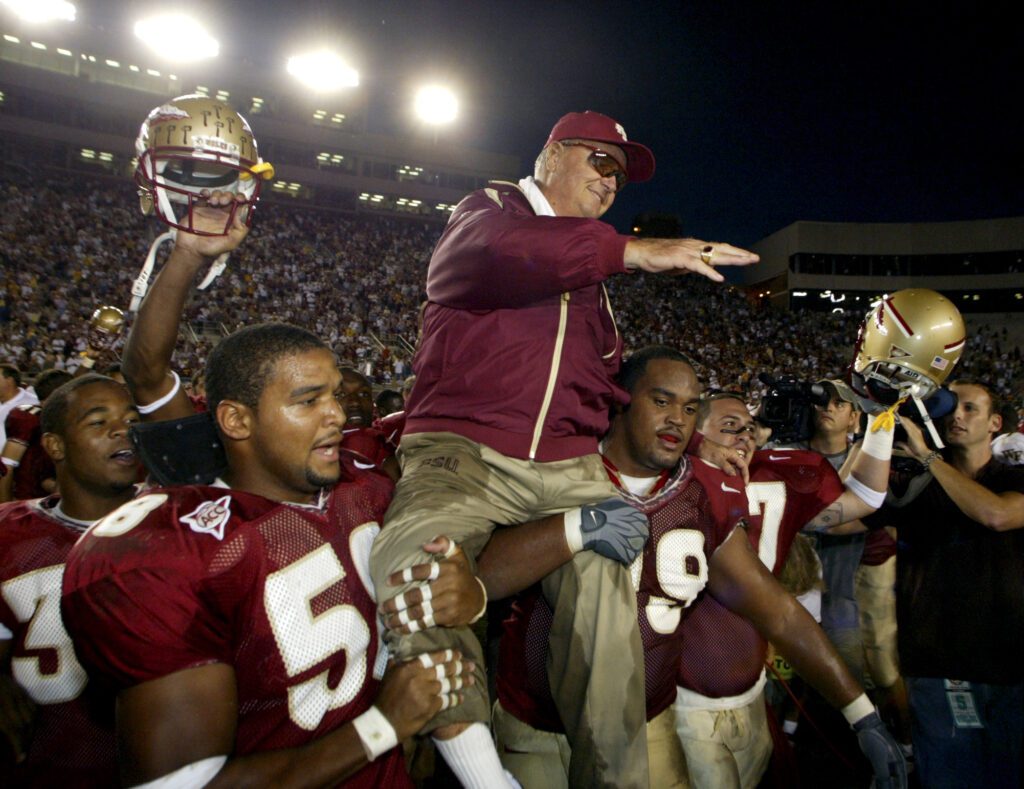 Bobby Bowden wasn't just a football coach, he was a kind of performance artist, often called "folksy" by the national press, who still seem to think that those of us who deploy the word "y'all" are bumpkins. He was the opposite of the preening, snarling Steve Spurrier, UF's talented but tantrum-prone coach. Along with Bear Bryant, Bowden was one of the great practitioners of what we'll call Southern BS (to keep it clean), that saccharine politeness that involves talking up the merits of some cupcake team you're about to whip by 40 points, thanking everybody for everything (especially the "mamas and daddies"), and issuing backwoodsy bon mots like, "When I die, they'll say, 'At least he played Miami,'" and "That boy don't know the meaning of the word fear. In fact, I just saw his grades, and that boy don't know the meaning of a lot of words." 
That's the Bowden we will choose to remember. Not that anyone within cheering distance of FSU will be in danger of forgetting him. The Seminoles play football on Bobby Bowden Field. In front of the Coyle E. Moore Athletics Center, there's a 9-foot bronze statue of Bobby Bowden. Inside there's a three-story high stained glass window depicting Bobby Bowden gazing out at his domain. Bobby Bowden will surely become FSU's presiding spirit, our own garnet and gold eminence.
---
---