by

Jessica Giles

|

January 19, 2021
Carole Baskin on How Tiger King Got it All Wrong and Her Hopes for 2021
The Big Cat Rescue founder reflects on how she became a household name overnight.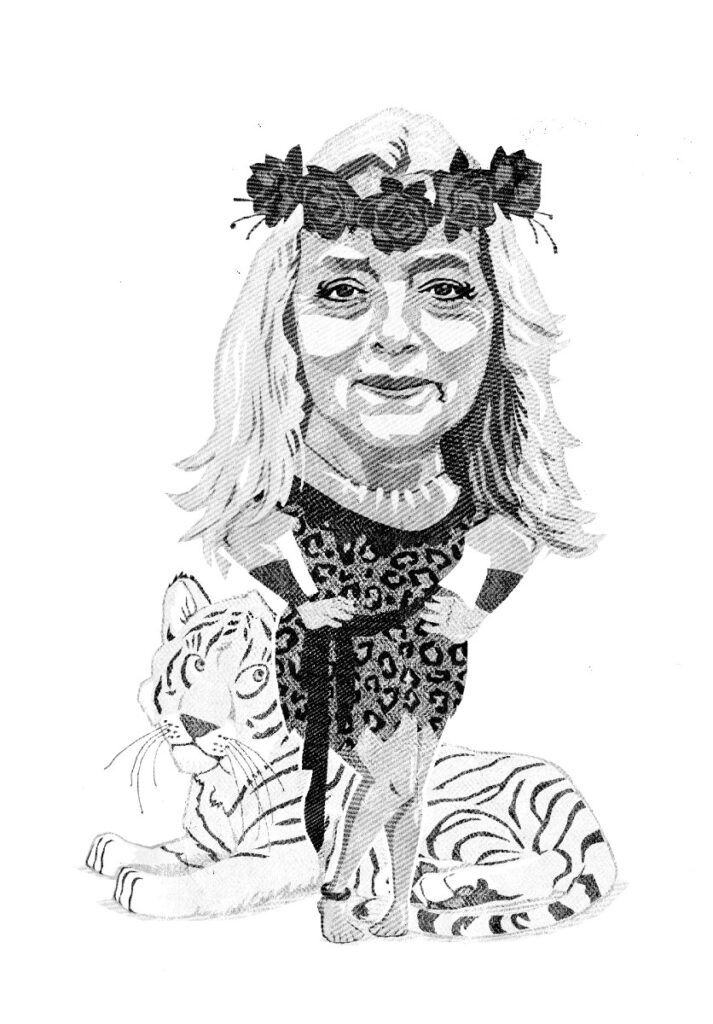 No one saw it coming. This time last year, few could have imagined the wild force about to be unleashed into our lives and the crazy binge effect that it would have on nearly everyone who came into contact with it. As soon as Tiger King hit the Netflix homepage, word of the off-the-wall docuseries spread fast, and along with it, Floridian Carole Baskin, founder of Tampa-based Big Cat Rescue, became an overnight celebrity.
The true-crime series plunges headfirst into the underbelly of the big cat breeding world where polygamy, drug lords and murder-for-hire plots converge in a twisted—yet strangely addicting—dance that got millions of people through the beginning of quarantine. The target of this murder-for-hire plot orchestrated by the "gay gun-toting cowboy with a mullet" Joe Exotic was none other than Baskin. The 59-year-old animal rights activist has devoted much of her life to ending the private possession, abuse and trade of big cats, which has earned her quite a few enemies.
"There have been so many threats over the years from so many people that are way scarier than Joe," she says. We sat down with Baskin to talk about what Tiger King didn't show, the reality of her feud with Joe Exotic—spoiler: "I've never spoken to him," she says—and what she really wants to focus on in 2021.
---
---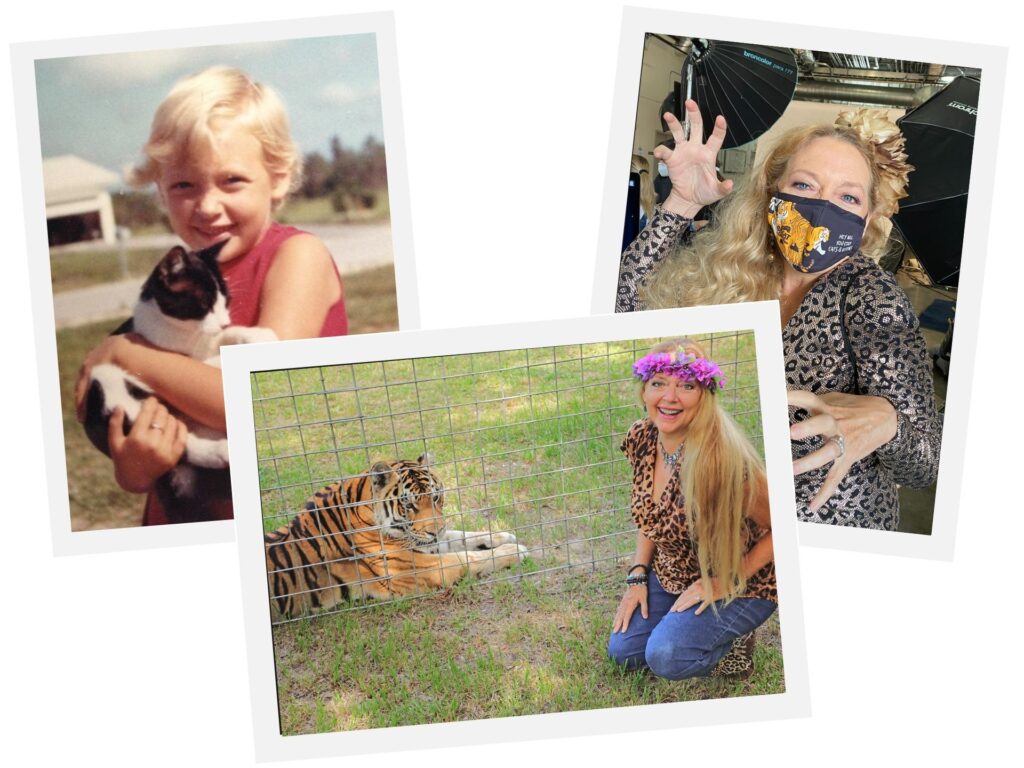 You spent many of your teenage years hitchhiking between Florida and Maine. What brought you back to Florida at 17?
CB: I think I probably say at least once a week, "it's just another day in paradise." I love Florida, absolutely love Florida. I love the warm weather. I love the sand and sea and the smells of the ocean and all of that. I love the laid-back, slower pace of Florida versus some of the Northeastern states and cities where it's really crazy. So no matter where I might have to go in my life, as far as speaking out against animal abuse and for protecting animals, I will probably always come back to Florida because I just love it here.
Is there a place in Florida that holds a special place in your heart?
CB: The Florida Keys have always been where I went to completely recharge. So back in the '90s, when we were first starting the sanctuary, we had done some huge fur farm rescues: 56 cats off of one, and then 28 off another, and 22 off another, and most of those were kittens that had to be fed like every three, four hours around the clock. For years I didn't sleep through a single night because I was taking care of cats. Every two years or so, I would just drive to the Keys, which was part of the de-stressing, and then I would lay in a hammock down there and just cry for three days straight. Then I'd be ready to take it all on again and come back.
You've been transparent about the fact that you bred big cats in the past. Why did you stop?
CB: When we had done all of those rescues from the fur farms, my idea was: we'll just bring all of these cats in, we'll put them all out there in pet homes instead of being killed for their fur and life will be wonderful. And I was so wrong. Because once those cats got to be about a year-and-a-half old, they started spraying urine all over everything to mark it as theirs. And people are not willing to put up with that. So they all started coming back to me, and I was like, "Okay, well, this didn't work." The way the sanctuary rescue actually started in 1992 was with the rescue of Windsong, who was a bobcat who ended up at an auction. I had done bobcat rehab and release since I was 17 years old, but the guy next to me starts bidding on her, and I said, "When that cat grows up, she's gonna tear your face off." And he said, "I'm a taxidermist. I'm just going to club her in the head in the parking lot and make a den decoration out of her." So we came home with her, and she did not turn into a den decoration. But she's what started the sanctuary. I can't be a part of anything where these cats could end up being killed by taxidermists at these auctions, and so that was the first inkling that there was something really wrong going on here.
When did you know that advocating and caring for big cats was your calling?
CB: Actually, it's not my calling. My calling is protecting domestic cats and kittens. As an 8-year-old, my grandmother had insisted that we take my cat and her eight kittens to the shelter. And I learned later what happens to cats in shelters, especially in that kind of a situation. So it became my life's mission to end the euthanasia of healthy cats and kittens in shelters.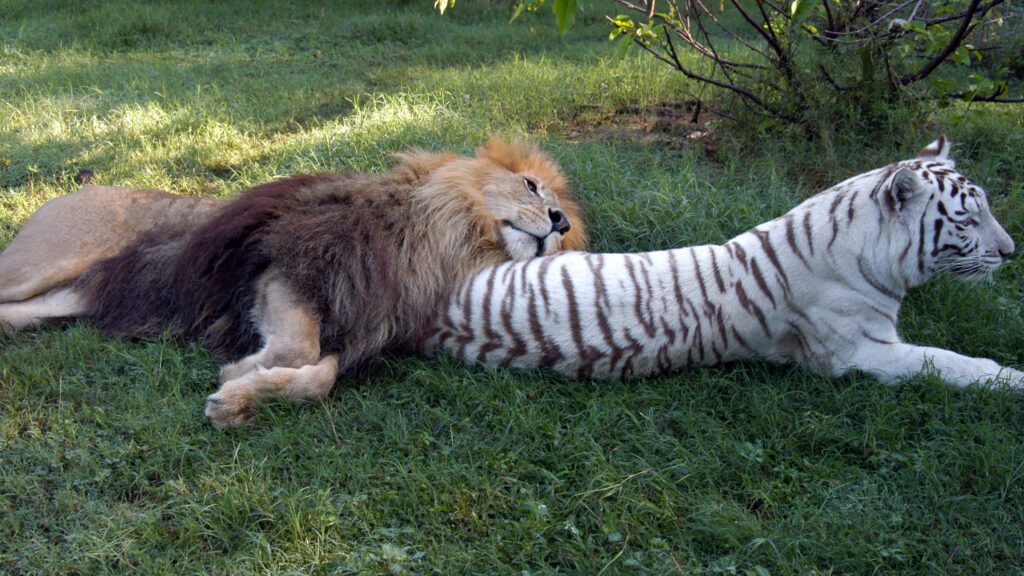 Tigers and bobcats are a little different than kittens! How did you get involved with rescuing big cats?
CB: When I saw Windsong at that auction, I thought, "Well, I can fix this." And the way that I would fix this was I'm just going to buy her out of that situation. Then I realize she's declawed, she can't be set free, she wasn't from this state—they have to be released back in the state that they came from—and without claws, she can't hunt. So now she's stuck in a cage. So that was what led us to trying to find something that she could play with that she wouldn't kill because she was terrorizing our German shepherd and terrorizing my husband and daughter. She would lay on top of the refrigerator and wait until he opened the door and then just leap down and start ripping his hair out. So she needed somebody of her own kind that she can play with, and that was how we ended up at the fur farm and came back with all of those cats when we saw that they were going to be killed for their fur. So even when I saw 56 cats that needed to be rescued, I naively thought, "How hard could that be? Right? We'll just rescue them, put them in pet homes," and then they all start coming back. So it's been a harder thing than I thought.
What's the craziest thing that's happened to you since Tiger King?
CB: This struck me as so odd, but I was riding my bike home. I was on the trail—which is the place in Tiger King where they sent the guy to come cut my head off with a knife or shoot me with a bow and arrow or whatever he was going to do—and as I'm riding home, it's starting to get dark because I usually come home right before dark, and this guy leaps out of the bushes in front of me. He's got something in this hand that I can't quite tell what it is and a knife that he's pointing in my face. I'm trying to swerve around him, and he yells at me that he just wants a selfie. I look back, and what he had been doing, apparently, was peeling an apple or an orange or something with a knife. But he just wasn't thinking, I guess, when he had it in his hand. And I was like, "Who does that? Who jumps out at somebody on their bike with a knife in their hand who isn't really trying to kill that person?" I really don't think he was trying to kill me. I mean, he clearly had fruit in his hand. You don't bring that to a murder.
What did you think of Tiger King?
CB: I think it was a huge missed opportunity. My husband and I binge-watched it like everybody else did because we were like, "What is this?" They could have done so much; they could have pushed that [Big Cat Public Safety Act] bill right over the edge. You know that scene where they're pulling the baby away from its mom? Over five years, they had to have hundreds of hours of that kind of stuff that they could have shown people about how horrible this is. They could have shown people all of the ringworm that people catch from handling these cubs that are kept in such filthy conditions. They didn't show any of that. Makes you wonder why. Why was their whole focus on this feud that didn't exist? I think it's because people would buy into that. They could buy into something simple-minded. People don't want to see the abuse. They don't want to think about how their actions, by paying to see a cub on display, is actually causing the extinction of the tiger.
Did you know that Joe Exotic was going to be the focus of the docuseries?
CB: One of the things that we were most upset with the producers about was when they would ask me questions about Joe during the five years that they were here filming, I would say, "Why are you talking about him?" And they'd be "Well he says all this stuff about you, and we just have to get to what the bottom of that is. He's not going to be anything more than any of these other people that you're going after." Because they knew I was going after all of them. If you are abusing a big cat, you are on my radar. I will find you, and I will bring you to justice. And he was just one of those.
He had no audience before "Tiger King." He had been making allegations that I had killed my husband and fed him to the tigers and put him under the septic tank. Well, which is it Joe? He says both are equally true—that I fed him to the tigers and that he's buried under the septic tank. Well, you can't be both. They're both lies. I feel like everything that comes out of his mouth is so easily disproved, and yet they didn't do that. Instead, what they did was, they invited all of these other animal abusers to back up his position and to make it look like they all had some credible reason for wanting to get rid of me, when the only reason all of them want to get rid of me is because I threaten their sense of who they are by being able to show off with these animals.
How did you feel you were portrayed in Tiger King?
CB: I think the way that they portrayed me was to try and create this "Karen" image of somebody who drove him to madness, and that's why he became this evil person. No, I know his family. They say he has always been wretched, and he's always been an animal abuser and killer.
Did you know that your personal life was going to be such a big part of the docuseries?
CB: No, absolutely not. When they would ask me questions, and I'd ask them, "Why is this important to talking about tigers in the wild?" They'd say, "Well the bad guys say this stuff about you, so we just need to address it." So I was open and honest with them. I gave them access to everything. I've kept a diary since I was a child, and, before Tiger King came out, I started posting a day of my diary every day at savethecats.org. So every day it has a new episode from my diary, and I felt like being as open as I could possibly be about what really transpired would then answer all of these questions that were created in Tiger King about what really happened with my husband, and what happened with his children, and what was the relationship with the secretary, and the people that he worked with and stuff like that. What I found is 64 million people watched and apparently believed Tiger King, whereas I've had 14,000 people on my YouTube channel, because people don't care about what's true. They care about what's fun to talk about, and they care about things that are just wild and crazy.
If you had known beforehand what the final product would be, would you still have participated in Tiger King?
CB: My husband and I have different feelings on that. He says no. I say yes. But my husband and I are a perfect pair because we really do cover both ends of the spectrum. He feels like this was so blatantly a betrayal, and it hurts him that people believe such awful lies about me as far as how I treated Don's children and all of that. I know the truth. I know they know the truth. And I know that it doesn't really matter because it's not about me, and it's really about the cats. So if people learned there is an issue with people paying to pet cubs and that that's causing the extinction of the tiger in the wild, then it was worth every minute of it.
Looking back on 2020, would you have done anything differently?
CB: I think I wish I had gotten out in front of this train a little faster than I did. When it first came out, we were just so shocked that people could believe what they were seeing there because we knew different. But it took us a while to wrap our heads around the fact that this is what people are seeing, and this is what people are making their judgments on. For a while, I didn't talk about it because I was just so in shock and didn't know what type of rebuttal we would need to put out there. I felt like all of these media outlets wanted a five minute sound bite that was going to settle it for everybody. I missed an awful lot of opportunities, by looking for the perfect opportunity, to address it all in one part.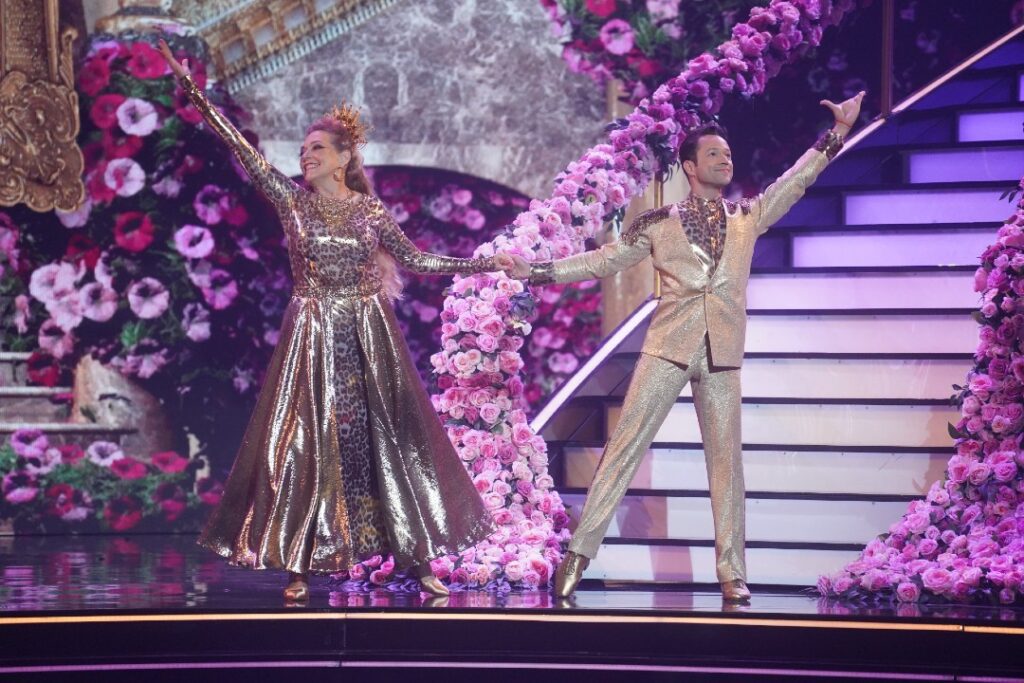 What was the highlight of your 2020?
CB: My highlight of 2020 actually started in January. In 2019, we had opened the world's first augmented reality zoos. Two malls, one at Citrus Park and another one down in Plantation, had offered us a space for free and said, "Do whatever you want to do in here." And so we said, "We want to show that you can have a zoo with no animals." So, we had these beautiful posters on the wall, and you just hold your phone up to any one of those images and the animals leap to life in a video that you can see.
What are your hopes for 2021?
CB: I'm really hoping that as COVID-19 hopefully is reined in, and as people get vaccinated and become more impervious to it, that things will open back up, that the malls will start seeing more traffic and the augmented reality zoos in Plantation and Citrus Park will become embraced more, because I don't think zoos are going to follow our lead until they see that it's been successful and that it is a financially successful venture.
What's the biggest change you've noticed in your life since Tiger King?
CB: Well, I can't imagine anything being worse than the way that I was portrayed in Tiger King, and yet, I still was able to use that to the benefit of the cats. So I feel like there's just nothing that could ever happen to me or be said about me that would be able to keep me from doing what I think is important, and that is protecting these big cats from abuse. So hit me with your best shot, and if that was it, it wasn't enough to take me out.
---