by

Steve Dollar

|

November 25, 2019
Wild at Heart: At Home with Joe Hutto and Rita Coolidge
More than 50 years ago, as students at Florida State University, naturalist Joe Hutto and singer Rita Coolidge sparked a kinship through music. The woodsman and the Delta lady separated for decades, forging successful careers and marrying other people. This is the story of their unlikely reunion.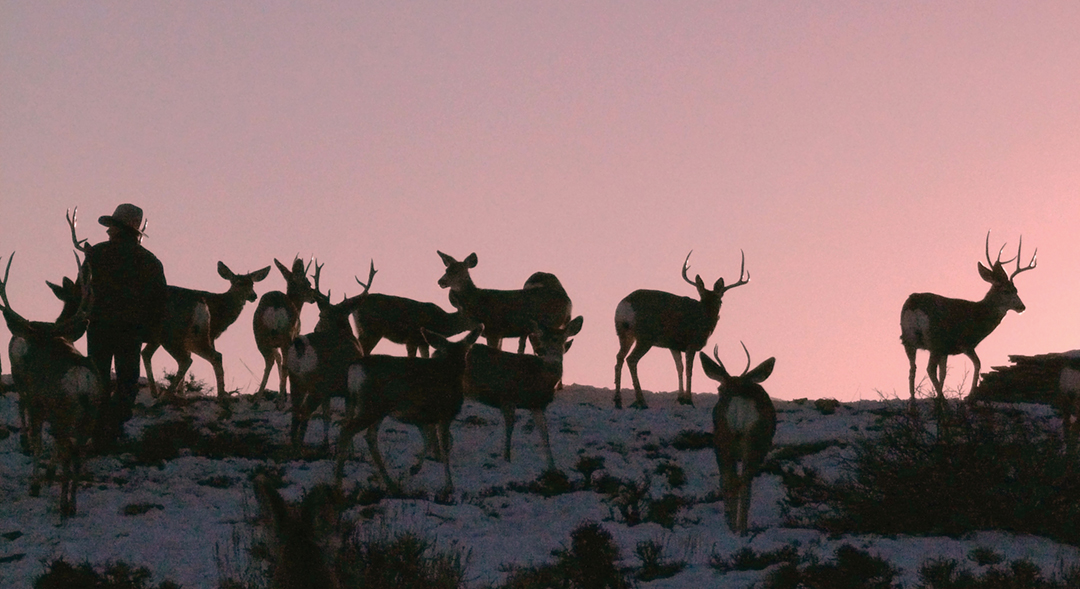 I have come to the edge of a swamp to talk to a man who is famous for talking to turkeys, for talking as a turkey. And not only for that, of course, although that is the thing that has brought him a big pinch of popular recognition, but for a lifetime of immersive endeavors in the wild. Joe Hutto may be a human being who walks on two legs, yet he has nurtured a nearly cellular understanding of the way animals perceive, connect and communicate. He has spent the better part of 40 years embedded in a range of habitats—from the brackish marshes of the Florida Panhandle to the wide-open prairies of the Great Plains—forging intimate bonds with, among other creatures, wild turkeys, bighorn sheep and mule deer.
Right now, though, he's pulling me down the proverbial rabbit hole.
Hutto, a lean and ease-making fellow whose biological clock seems to have paused a couple of decades shy of his current 74 years, uses the term to describe his free-flowing thought process. He loves to hop into rich and colorful discourse on the mysteries and revelations of the natural world, which he's surrounded by daily in his home outside Tallahassee, where he is writing a new book, an expansive summing-up of a lifetime of practice as a naturalist, archaeologist, wildlife biologist and artist.
What's the gist of it all?
"Every living thing is inhabited by a sense of its own identity," begins Hutto, the author of several books including his most widely known, Illumination in the Flatwoods: A Season With the Wild Turkey (Lyons Press). "I'm basically going through different plants and animals and giving examples of how not only are they aware … but they are brilliantly aware in their particular unique way," he says of his project.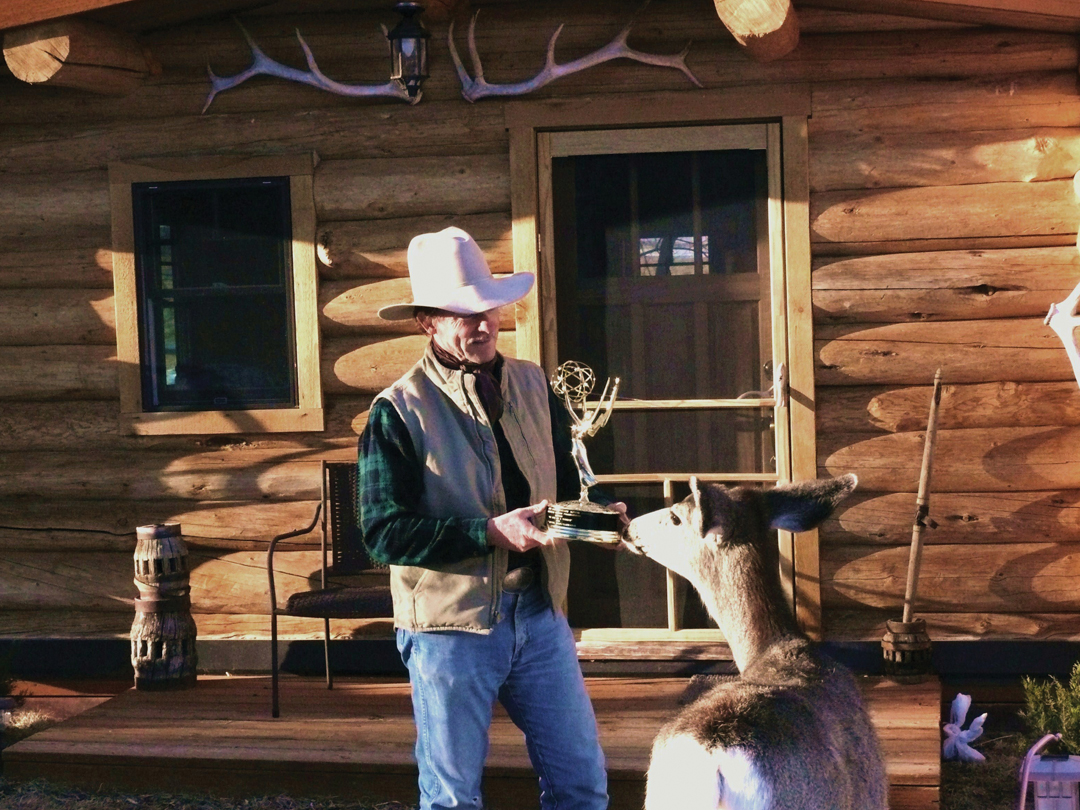 The book in progress, Hutto says, will be called The Light in the Eye of the Deer: The Conscious Imperative in Biology. Seated next to him on a sofa in their den is Rita Coolidge, two-time Grammy Award-winning singer and songwriter, who married Hutto, her college sweetheart, a year ago after decades apart.
"What's the other subtitle?" she prompts him, with a knowing glance. Hutto smiles. "An Indictment of Human Nature."
I came to talk wild turkey but what I found was much harder to tame-—love shared between two madly accomplished individuals whose paths led them both through the spotlight to where they are now and where they might never have expected to find themselves again: together.
A REUNION 50 YEARS IN THE MAKING
Hutto and Coolidge have lived on this 8-acre patch of land, part of a long stretch of old plantation property a few miles south of the Georgia state line, for the past two years. They landed here about a year after their fateful 2016 reunion at Word of South, the literary and music festival in downtown Tallahassee, where the performer had come to read from her memoir, Delta Lady (Harper). Hutto wasn't going to go, assuming Coolidge would be "inundated," as he says. Then his friends Helge and Carol Swanson intervened, dragging the shy woodsman to Cascades Park. The second Coolidge came off the stage, Carol Swanson ran through the crowd yelling "Rita! Joe's here!" Hutto blanched. "I literally died," he says. And then, boom.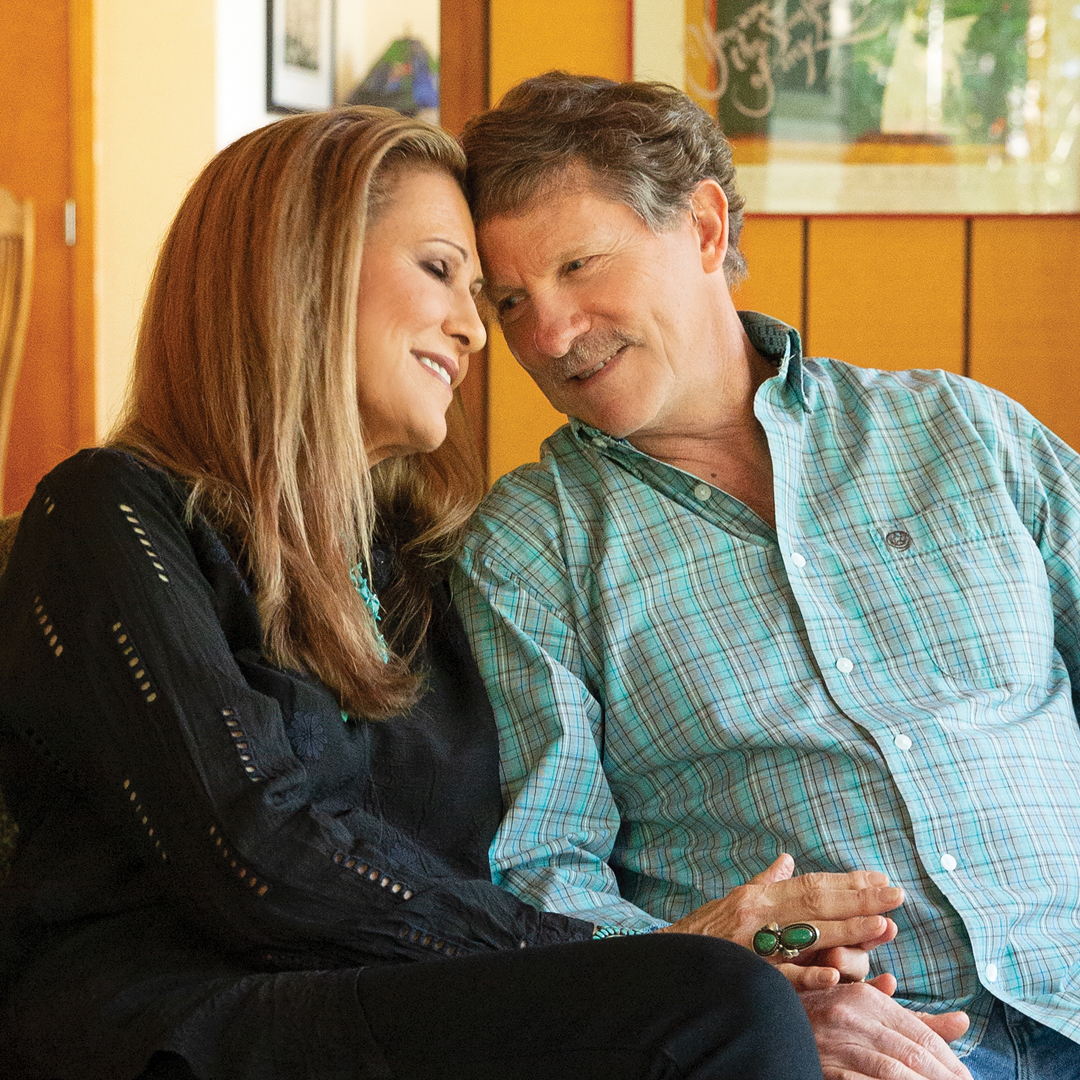 During their days at Florida State University, a relationship sparked from their mutual love for making music. When the romance rekindled after more than 50 years, the couple circled back to Tallahassee, where it all began—Coolidge moving from Southern California, where she lived on a sprawling avocado grove, and Hutto from Wyoming, where he had most recently spent nine years studying the behavior of mule deer.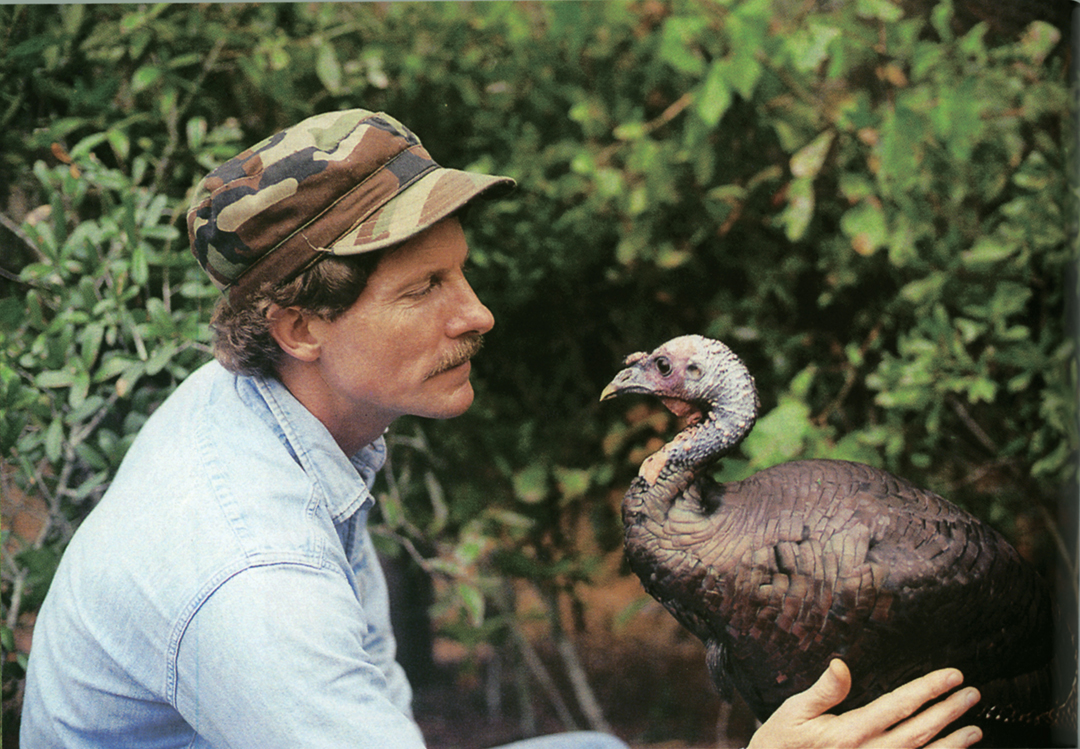 The couple sits holding hands on an autumn afternoon, each plaid-and-denim casual, sharing a view through one of the large glass windows that make the rustic, roomy home feel scarcely removed from the abundant wildlife outside. The backyard extends to a cypress marsh whose various microhabitats foster families of deer, cottonmouths, foxes, alligators, plus all kinds of birds—cardinals and crows appearing to be most populous on a couple of recent afternoons, and occasional wood ducks and pileated woodpeckers. The Edenic scene was the site of their marriage ceremony, with about 50 close friends in attendance, including musicians like Graham Nash and Coolidge's Nashville collaborator, the blues guitarist Keb' Mo', who performed after the vows. Pure Panhandle.
In regard to what makes this particular part of the planet so special, Hutto cites his friend Dr. D. Bruce Means, a field ecologist who is an expert on Florida carnivorous plant bogs.
Means estimates that the wet flat bogs of the Apalachicola National Forest are likely as species-rich, if not more so, than any he's sampled. In a notable North Carolina study, done 25 years ago, he found 50 species of plants per square meter, which was then the world's highest plant species richness measured on a meter-square basis. Florida's wilderness erupts with life in every form.
Not every critter drawn to Hutto's property fits into the idyllic picture, however.
"We were encouraging this nice little population of foxes," Hutto says, "and starting to develop a personal relationship with these foxes."
One day, Hutto heard a noise in Coolidge's car. Expecting to see a pack rat, he instead was assaulted by a rabid fox that "hit me like an NFL linebacker." The fox sank its teeth into Hutto's leg. Coolidge was exposed when she tended to the wound, so they both had to take a painful and extensive course of rabies shots, as did the two game wardens who arrived to put down the fox.
"Every one is worse than the one before," Coolidge says of the treatments. "They're shooting fire into your hand."
But what was more excruciating was the bill. $21,000 per person. "That," Hutto says, "was an $85,000 fox."
The upside? Coolidge smiles. "We can play with baby raccoons now."
TURKEY TALK WITH JOE HUTTO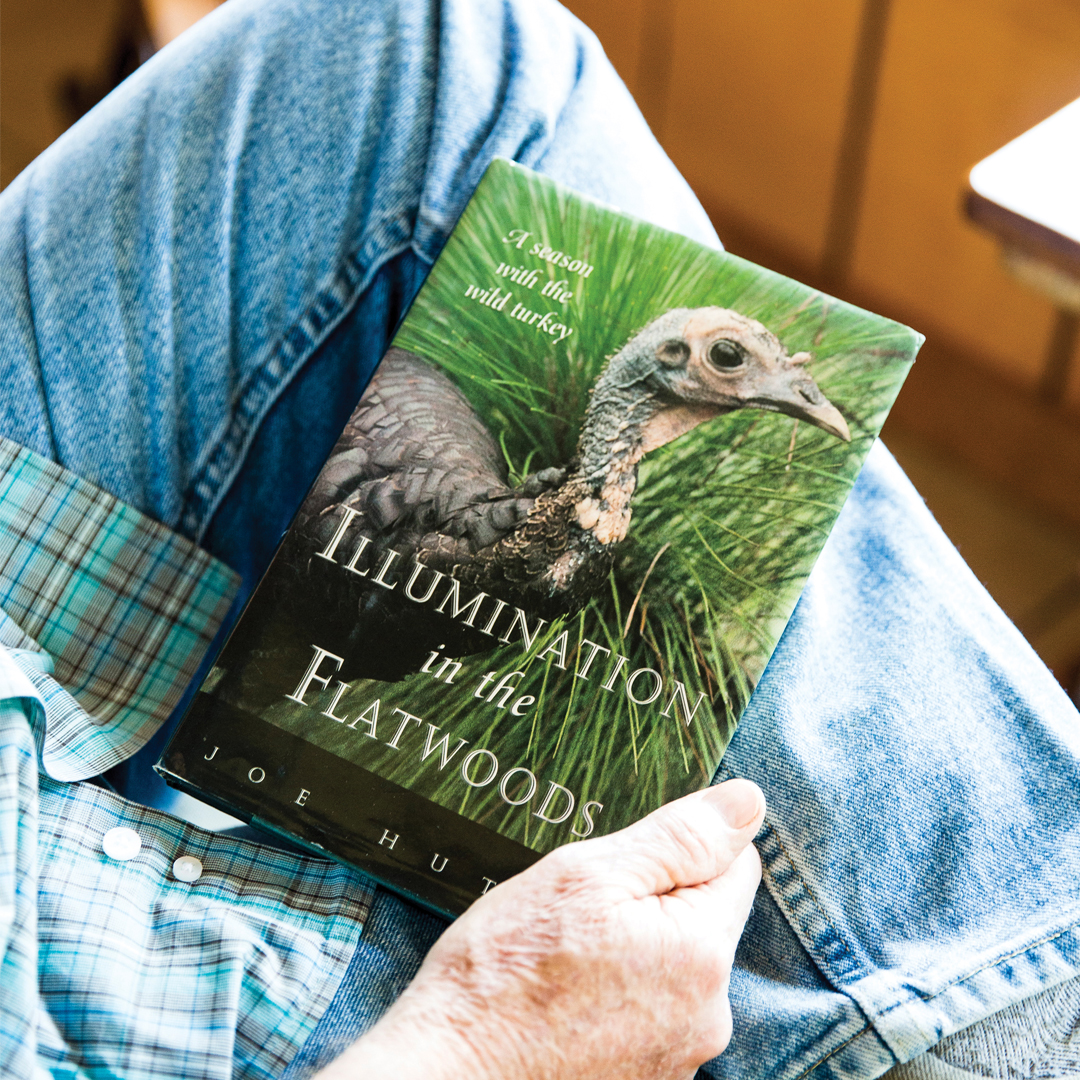 The way he recounts the story, Hutto's brush with fame was kind of a fluke. Illumination in the Flatwoods: A Season With the Wild Turkey was published in 1995. "It did relatively well for that kind of book," Hutto recalls. "It came and went like a record." Then one day, years later, he answered the telephone. It was Bill Buford of The New Yorker. He'd read the book and wanted to do a story about the man who talked to turkeys. Hutto took a pass. He told him, "'Mr. Buford, I've got a research project going in Wyoming'—I was living with bighorn sheep at 12,000 feet—'I don't think I can do that. I'll have to get back to you.'"
Hutto rang up his editor and shared the news. "There was this dead silence on the phone," he says. "She said, 'Get your ass to Tallahassee right now! Bill Buford IS The New Yorker magazine!'" Hutto scrambled back to his native Panhandle to meet Buford, and the rest was history. The article, called "Talking Turkey," was published in 2006 and gave Illumination a second life, with 10,000 copies sold. Then a producer in London, England, picked up The New Yorker issue while sitting in a doctor's office and decided that Hutto's experience was too weird not to make a documentary about. My Life as a Turkey, which first aired in 2011 on the BBC, recounts how the naturalist imprinted and raised a brood of wild turkeys and mastered their language. "It was huge," Hutto says. "I had no idea what I was getting into."
The media exposure made Hutto's reputation and marked him as a singular figure in his field. As Buford wrote in his profile: "Effectively, Hutto turned himself into a turkey. He walked like one. He went up into a tree like one. He learned to hunt for bugs like one. Without instruments or recordings, he learned also to talk like one, modulating his vocal cords to match the complex, almost musical notes that now surrounded him. 'A language of not just 13 basic sounds that some experts had identified but many subdivisions within those categories of sound, a vocabulary of at least 50 different kinds of verbal instruction. I spoke to them and they, in turn, talked to me, too.'"
TOTALLY IN TUNE WITH RITA COOLIDGE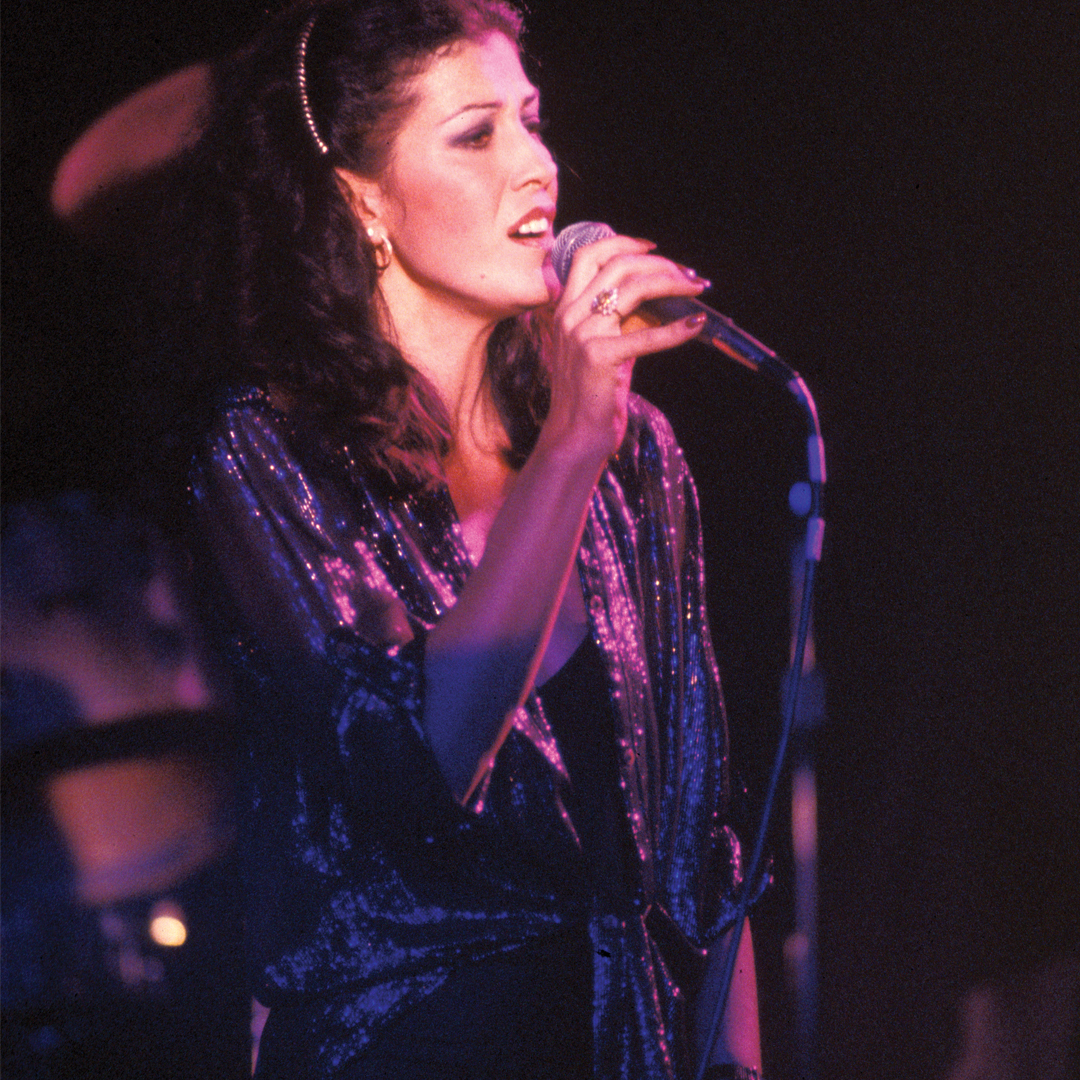 When Rita met Joe for the first time, they sang together for hours at a beach house. It was Hutto's first party as a college freshman, only a summer out of high school. He was too nerdy to bring a date, he says, so he had his guitar instead, a nice Martin that "cost twice as much as my pathetic automobile." He began strumming it, and he soon had company. "This lovely young woman came and sat down next to me. We knew all the same songs. I heard this voice and thought, 'These college girls are good, this is going to be fun.'" But when Hutto left, he did so without her name or phone number.
"You idiot," he says. "What were you thinking?" Turns out, Coolidge was performing a lot around town, and Hutto was tipped off to a show at the LeRoc Lounge in the old Hotel Duval in downtown Tallahassee. Coolidge had dropped out of her sorority and gotten in deep in the campus art department.
"We prided the paint on our jeans," she says. As was true elsewhere around the country in the early 1960s, the campus had a budding folk music scene, and Coolidge was an integral part of what there was of it, singing tunes by Joan Baez, Eric Andersen and others. "We spent every spare minute—if you're not doing something else, you're rehearsing, playing music, because it's the most fun thing to do," she says.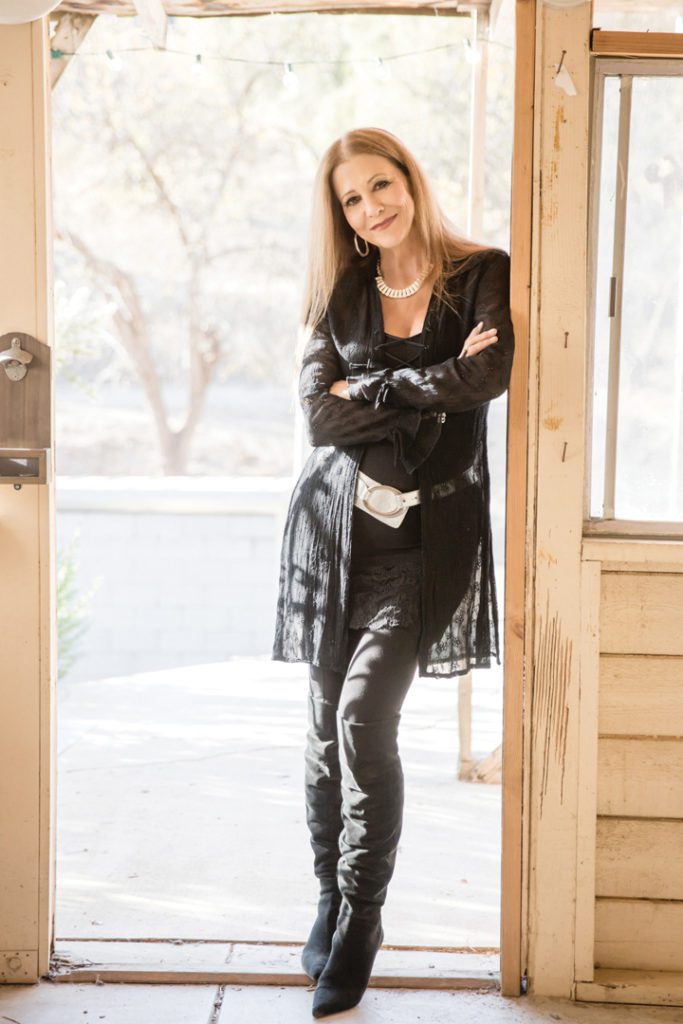 Coolidge graduated a year ahead of Hutto and moved back to her native Tennessee. She lived with her sister Priscilla and found work doing radio spots and studio sessions around Memphis, where the music scene was blowing up with soon-to-be-legendary labels like Stax Records. She became close with the musicians Delaney and Bonnie Bramlett and by 1968 was headed west to Los Angeles, the whirling epicenter of a musical revolution. "I hadn't even been in front of audiences except at the LeRoc Lounge until I started working with Delaney and Bonnie," says Coolidge, who had to borrow the outfits she wore for appearances on TV shows like Shindig. She had three pairs of jeans and four shirts, but she also already had a song that was a No. 1 hit on LA radio.
"I had never imagined anything like that," Coolidge says. "It was LA at the end of 1968. The Doors were in one studio. Mick Jagger would wander into our sessions. My eyes were like saucers. I couldn't believe it. We were just a bunch of kids. Everyone in the band was in their 20s." Although she's never stopped working, the singer is so happily detached from what Joni Mitchell called "the star-making machinery" and its trappings that it was Hutto who asked to take her gold and platinum records out of storage and hang them on a wall in their music room.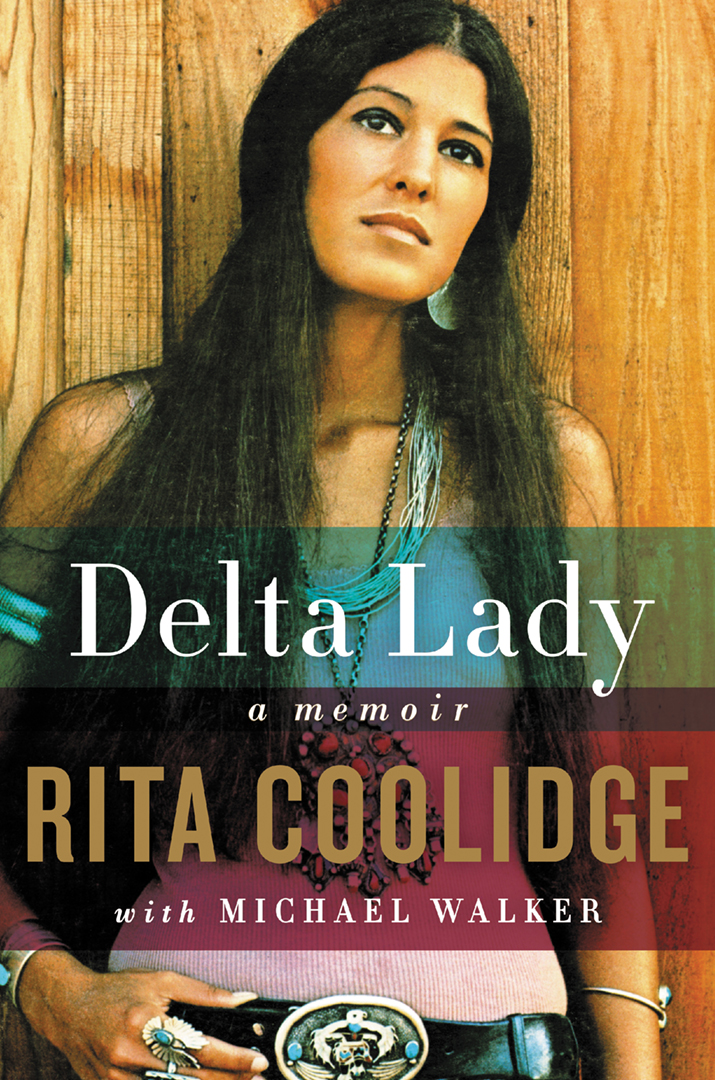 Coolidge goes into more detail about the era in her memoir, which charts her emergence into the spotlight, from singing on Joe Cocker's epochal 1970 Mad Dogs and Englishmen tour to her breakthrough as a major star with her 1977 cover of Jackie Wilson's "Higher and Higher," which hit No. 2 on the Billboard pop chart. She largely focuses on her complicated musical and romantic partnership with singer-songwriter and former husband Kris Kristofferson, with whom she had her daughter Casey.
"[LA at the time] it was just so beautiful. The musical community was so connected in such a positive way," she says. "You could drive up through Laurel Canyon at night and just hear music, just coming from everywhere. It was fun and it was authentic and it was friendly."
"I'm sorry I didn't go now!" Hutto interjects.
"I told you, I told you, I told you," she says.
TWO LIVES WEAVED TOGETHER
Hutto, who made a go of it as a professional musician with the Tallahassee Band in the 1970s and has recorded with country music great Tom T. Hall, among others, had to follow his own path: into the wild.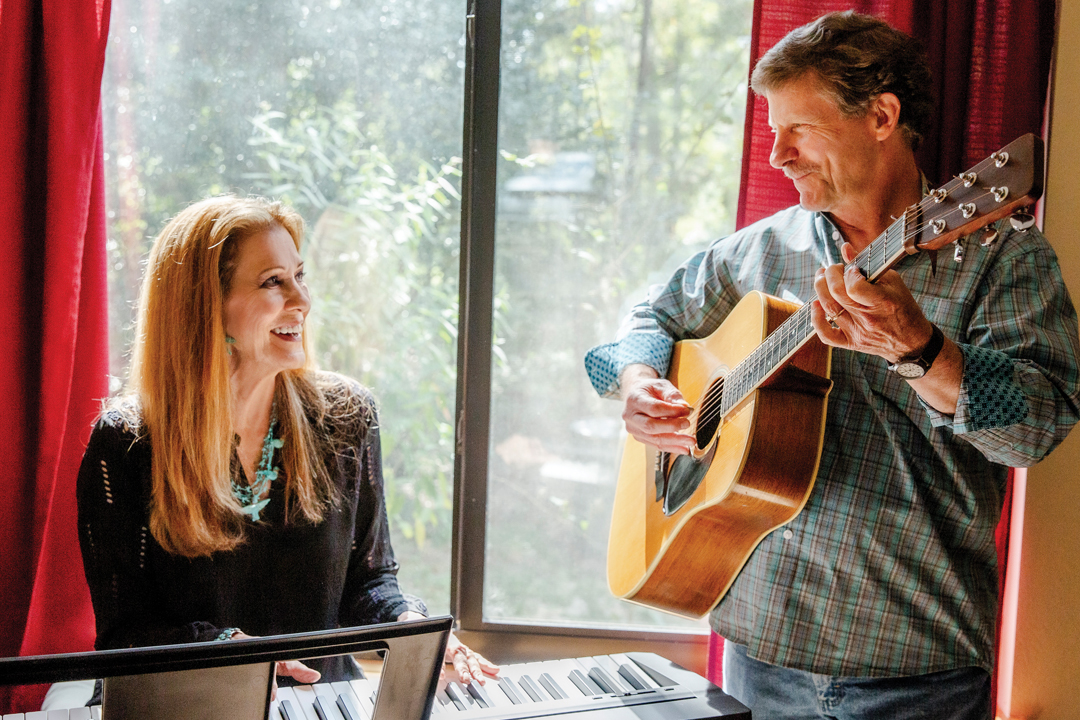 "I knew that was where I belonged," he says. "I'm not a savant by any means, but there was no doubt in my mind that she was on a trajectory, it was so apparent. I knew that wasn't going to happen for me."
They saw each other briefly when Coolidge and Kristofferson played the FSU Homecoming Pow Wow in 1977. "We were very close," Hutto says. "Married to other people but best friends." A lot of near misses followed. "We lost each other for decades," Coolidge adds. Hutto passed up chances to see her concerts when tours brought her his way, wary, he says, of being a distraction, hungry for her attention.
"You would have had it, too," Coolidge tells him, "had my full attention."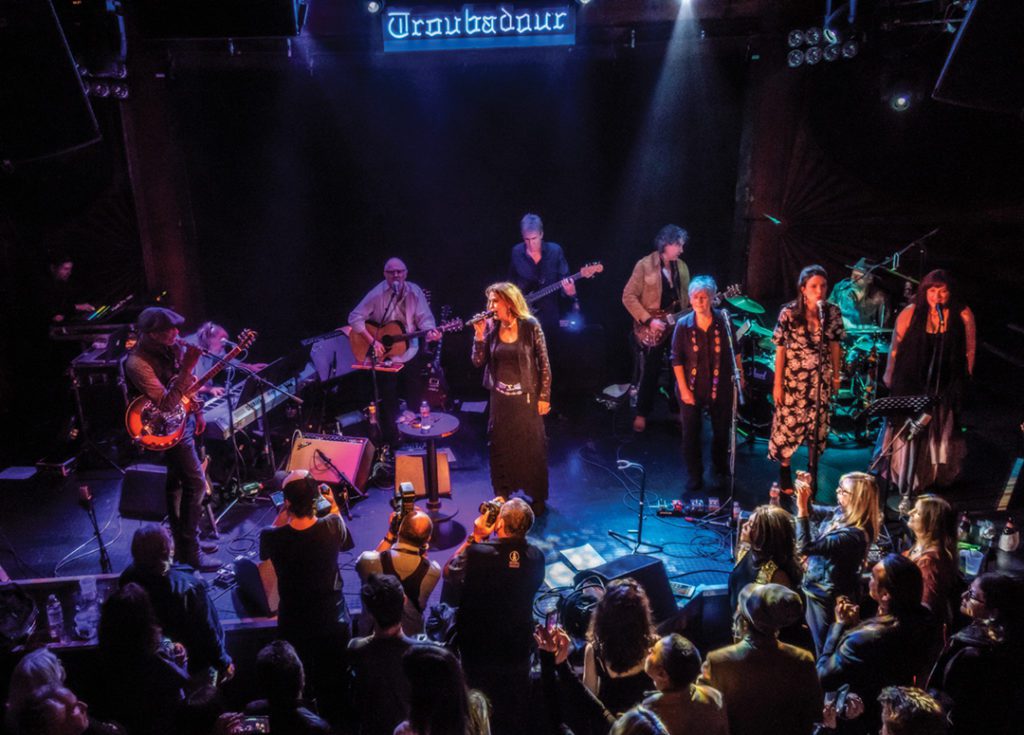 Hutto was back in the Panhandle in the winter of 2016, living in a cabin on a lake. His third wife, Leslye, died in 2014, and his nine years with the Wyoming mule deer, chronicled in Touching the Wild and its companion PBS documentary, had come to a close. He was at loose ends. Then Coolidge came to town.
"It was instantaneous," he says. "As soon as we saw each other it was like, 'OK, this is Joe and Rita time.'
"I was always aware of this vacuum inside where I felt Rita should have been," Hutto confesses. "I wasn't made miserable by it, but I was always aware of it. We never had a bad moment, not an unkind word, in all the years we knew each other. When I saw her after 40 years it was like no time had passed."
The couple radiates a vibe of laid-back contentment and creative equilibrium. Their fields of achievement contrast. Coolidge still performs for thousands of fans in sold-out arenas. "We have to do what we call the 'former hits,'" she says. "We're still rockin' it." Hutto mines his rich experience of communion with the wild. But they both have music to tie it all together.
"When you're 20 years old everything's about you," Coolidge says. "And as I get older, I realize it's not. It's about him." She glances at Hutto and laughs.
It's not for nothing that the last song on her 2018 album, Safe in the Arms of Time, is called "Please Grow Old With Me."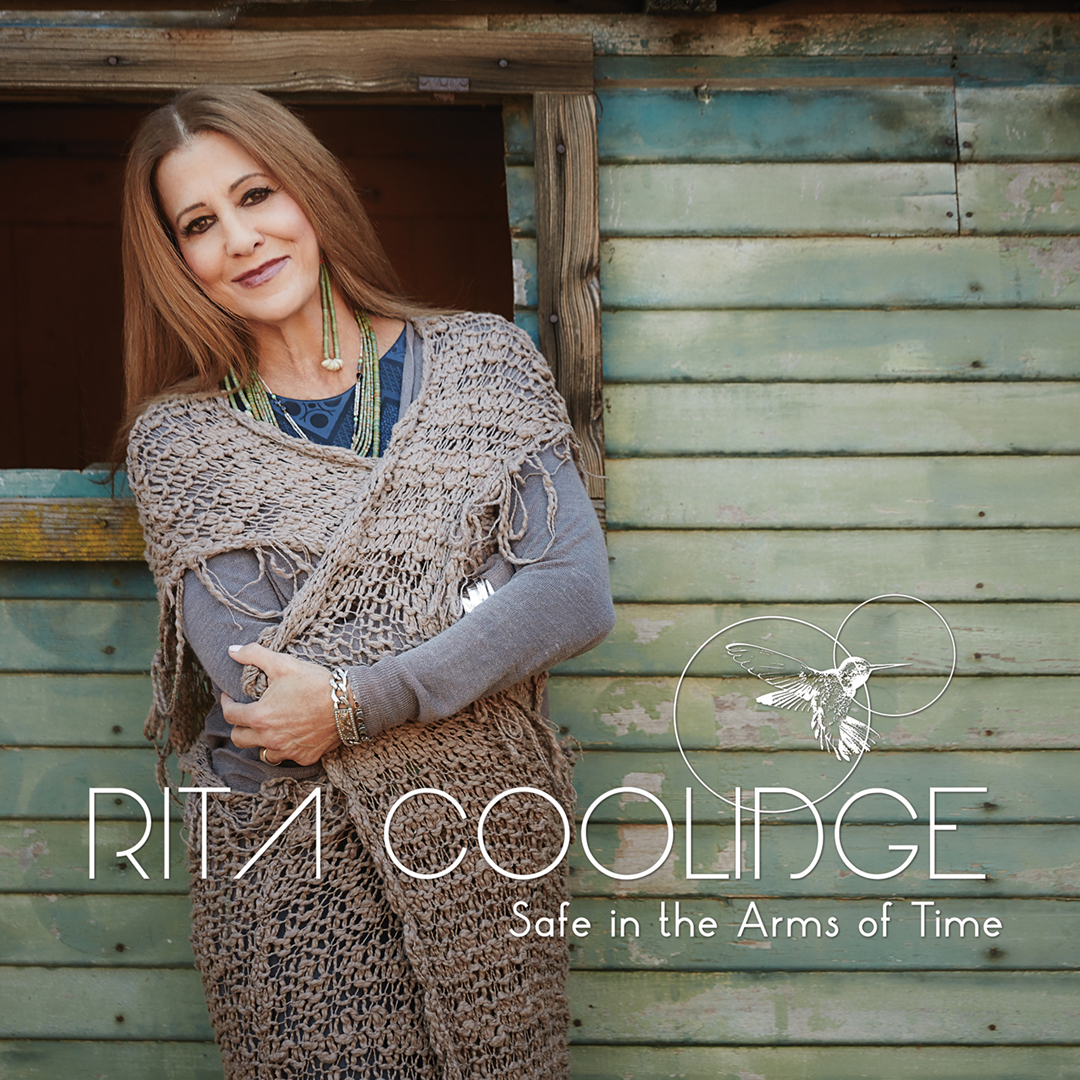 Ribbing aside, such a hard-won perspective is a valuable prize, something of which Coolidge is often reminded. Watching the Ken Burns series Country Music left her in tears every night, "laughing and crying," she says. "I knew personally probably 60 percent of the people. My sister and June Carter [Cash] had the same vocal coach, but we had run into her when I was a little kid. Brenda Lee and I were cheerleaders together in Nashville. A lot of those people are no longer with us."
Coolidge's memoir put a lot of personal details on the table, along with plenty of backstage anecdotes—like how she wrote the (still uncredited) piano coda in the Derek and the Dominos hit "Layla," one of the most indelible melodies in rock history.
"But when I do interviews and people tell me, 'I read your book! Please tell me the Eric Clapton story again,' I'm like 'Really?'" Yet the impact made by sharing her own struggles as a woman in a male-dominated industry was greater than she expected. An aspiring performer wrote to thank her. The letter "said I'm going through what you went through now and I've taken so much crap from guys and I'm not doing it anymore," Coolidge says. "If I just helped that one girl, because she's really talented … It's hard not to get knocked down in this business, even now."
TRYING TO ILLUMINATE
Hutto, by his own account, was not a good student. "I thought I was wasting my time," he says. "I needed to be out there. So the six-eight hours at school was agony until I got back home." Hutto took inspiration from writers like the conservationist Aldo Leopold, author of A Sand County Almanac, and transcendentalist Henry David Thoreau, author of Walden, and modeled his work on the examples of pioneering primatologists Dian Fossey and Jane Goodall, but largely struck out on his own trail. "My perspectives are unique, in that my approach has been unusual," he says. "A lot people do wildlife research and observe animals, but not the way I have or with the level of intensity."
Curious about exactly how intense? Let your eyes take in an unusual piece of art that hangs on the wall by Hutto's desk. It is an illustration, made by a colleague and old friend, Florida State University professor Helge Swanson, that visualizes the themes from the first draft of The Light in the Eye of the Deer. Terms like "evolution," "art," "bliss," "existential angst," "my chosen path" and "The Quest" cluster together in a fevered whirl of blue or red Magic Marker script in a sequence of interconnected bubbles ringed by red arrows that ultimately point to one big word in the heart of it all: "Consciousness."
This is a map to the rabbit hole.
"That's what my brain looks like and I didn't realize it," Hutto says. "He completely disassembled every concept in this book, and put it back together, and showed how each thing relates or doesn't relate to the other and it just disturbed me so much when I saw it. I thought, 'Oh my God. What am I doing?'"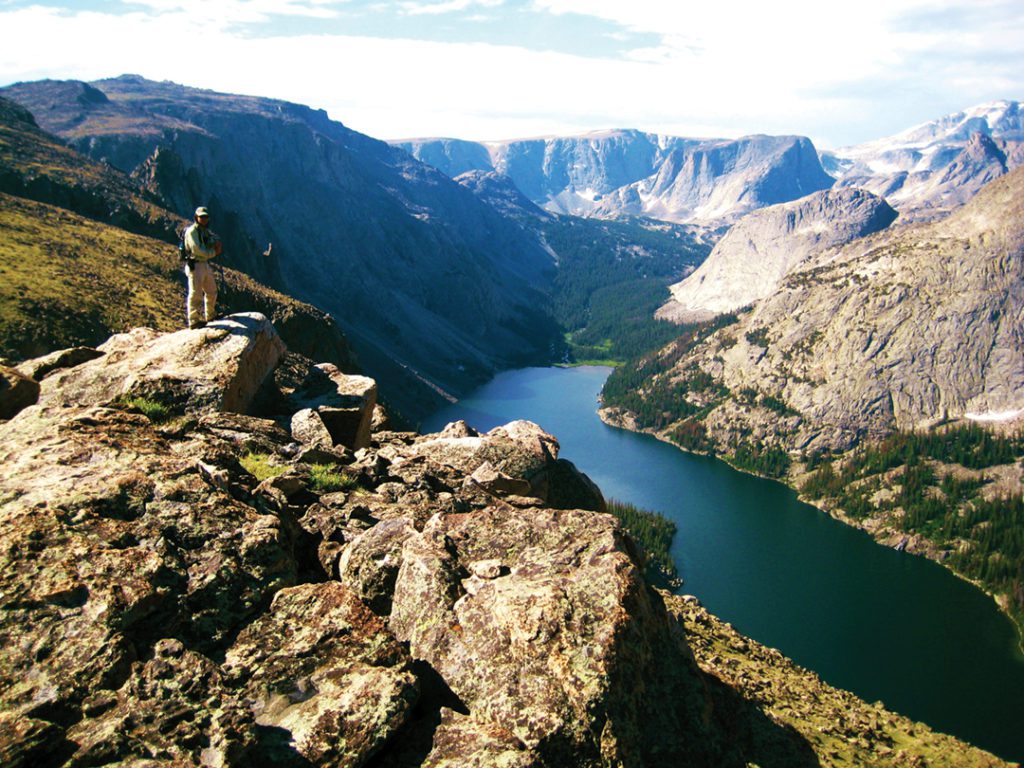 Whatever the answer is, Hutto has been doing it for the better part of three years, poring through his old field journals. Some of them are a real mess, with pages smeared with blood drawn by ravenous mosquitoes and yellow flies and muddied by turkeys walking over them with dirty feet.
Hutto is putting his thoughts and experiences together, because he wants to let the world know what the animals have told him.
"I've lived a huge part of my life embedded in the experience of wild things and have come to understand that their experience of the material world is extraordinary and they are truly awake in ways that human beings frankly aren't," he says.
"We are the least-conscious creature that I know. I have spent my life with animals that are actually awake on the planet and I've come to know the difference. I've always experienced this sort of embarrassment about my lack of awareness that is constantly pointed out to me by these creatures, who are actually awake, and I'm reminded how dull I am in comparison. That's what I'm trying to write about and make people understand: that we don't set the bar on consciousness by any means. That's human arrogance. We think we're so extraordinary. Of course, we are, but every creature is. It's not a competition. Nature doesn't understand superiority. That is a human perception, entirely. Every living thing is absolutely extraordinary in some way."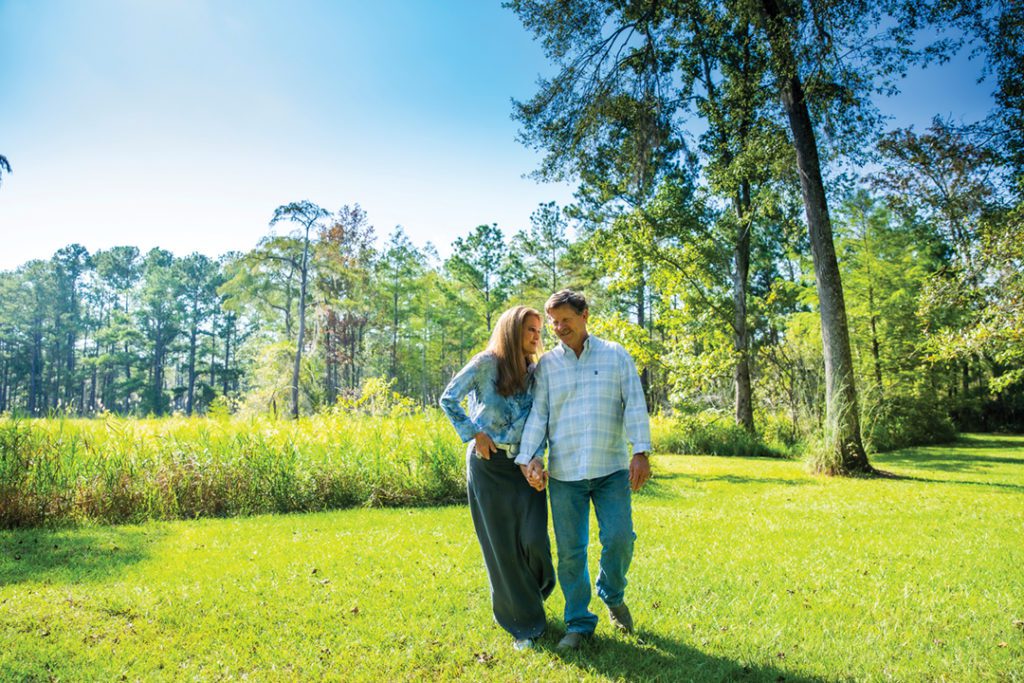 It's fun to wonder what, say, a closely observant raccoon would make of the couple. The critter would hear Coolidge singing throughout the day, and Hutto says he is bound to hum along, as he is a "harmonaholic." No matter what language a creature might choose to describe this habitat, it is surely as universal as music and love.