by

CD Davidson-Hiers

|

November 25, 2019
A Rainbow Connection in Palm Beach's Gay Polo League Tournament
Florida's Gay Polo League redefines inclusivity in the horse world and beyond.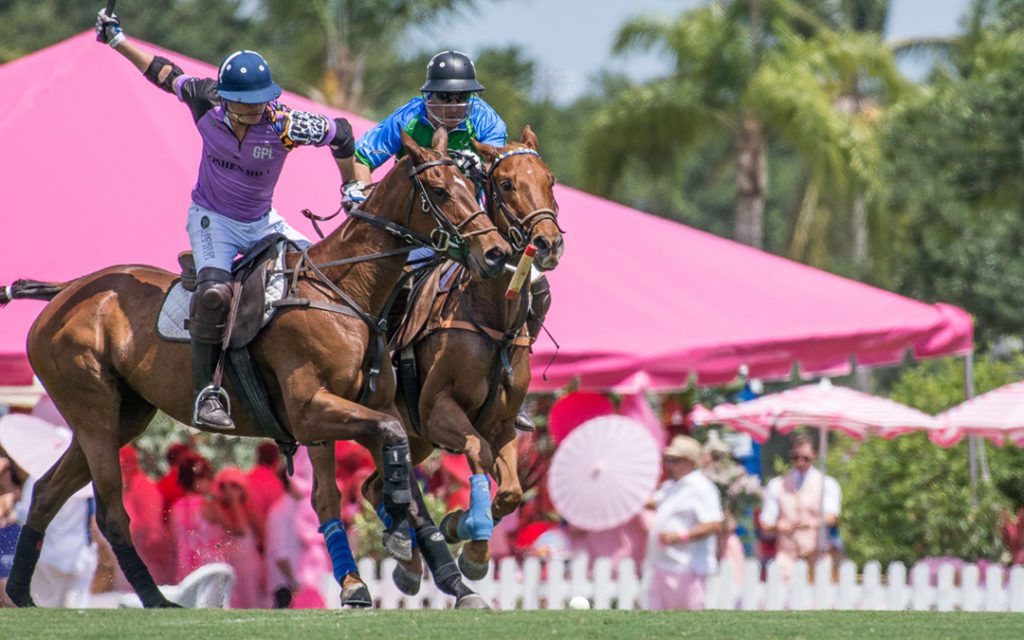 "Alex Green hits left, way to the left, like Bernie Sanders left," he bellowed.
The sky was a sharp blue and carried cotton ball clouds. It was a weekend at the International Polo Club Palm Beach in one of the horse capitals of the world.
But many of the tailgaters who came out to watch the Gay Polo League tournament were not equestrians and couldn't have said which of the six teams was winning during the matches. Even so, they cheered, danced and raised their drinks for each goal. A "Make American Gay Again" flag flapped in the breeze.
The atmosphere was far from the game I remember as a kid.
I grew up on a North Florida farm riding horses. I learned to respect that they are smart creatures who will bolt if a leaf flutters suspiciously. I know they love to have jobs to do. And I know the horses who take to polo—the ones that become polo "ponies"—learn the rules of the game better than the people playing it.
I would have been about 5 in Gulfport, Mississippi, when I saw my first polo match. My parents dressed up as warriors on horseback. The helmets they donned were wide-brimmed military-style domes with metal cages over their faces. They wore brown knee-high boots, white jodhpurs, brown leather knee pads. My folks wore team jerseys over their shirts, which made them look like they knew exactly what they were doing on the field. But I can assure you that most of the time, they did not.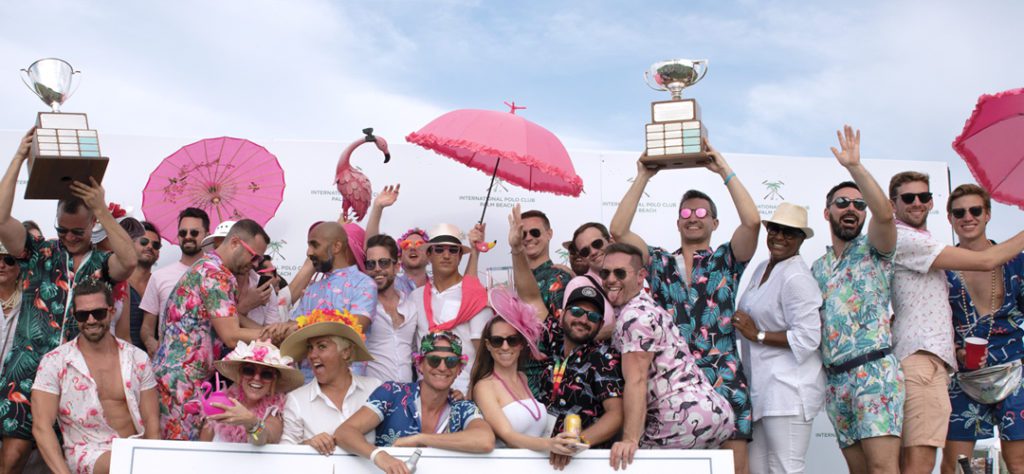 NOT YOUR TYPICAL POLO MATCH
Polo is lacrosse-meets-golf on horseback at 30 mph. The direction of the game changes with each goal made. There are six "chukkers" in each match, and players are ranked from a -2 to 10, depending on their skill and the horse's.
When I walked onto the immaculate grounds of the polo fields in Wellington, I wanted formality and fancy hats. I hoped to see an Argentine billionaire or two. I expected just a rainbow flag flying over the aristocratic sport I grew up watching. I thought it would be a chance for formerly closeted players to step out onto the field. But that weekend, when the Gay Polo League tournament began and the first bottles of champagne were popped, what I thought was: Well, heck, I don't know a thing.
The noise of the crowd was deafening from tents pitched at the sides of the 10-acre field. There were no Argentine billionaires that I could see. I witnessed no British aristocrats who deigned to spectate with their satin gloves and expensive pooches perched in their laps.
This was, instead, a polo where the goal posts were wrapped in rainbows. Drag queens posed for photos. Someone brought a baby lemur. People in all stages of undress were likely to become your best friend.
As I took in the scene, horses as lean as greyhounds galloped down the pitch, their tails taped into billy clubs, and eight riders in rainbow jerseys whooped and hollered. The communications director of the Gay Polo League led me to her tent, which bore the theme, "Champagne and Seamen." (I was told that the year before, the theme was "Drink your juice, Shelby," and offered an armadillo-shaped cake—a nod to Steel Magnolias.) I set up at a table inside, where ladies in cocktail dresses plucked shrimp tails from buckets of ice. Men in three-piece suits doffed their ship captains' hats.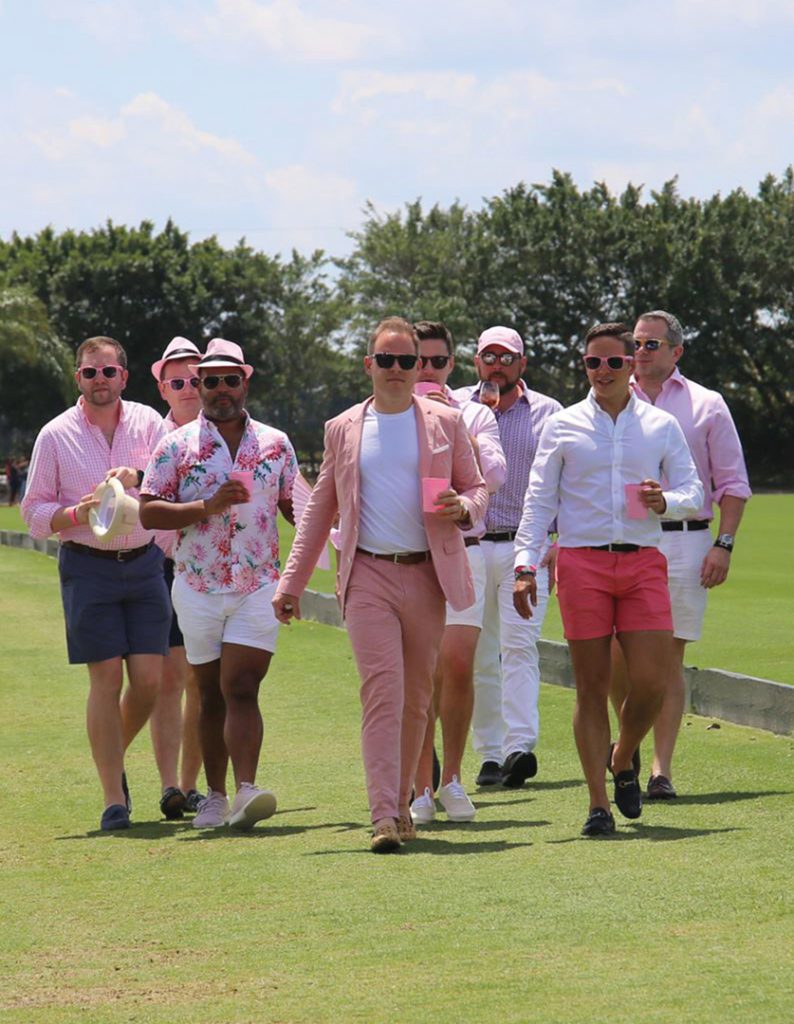 POLO'S BIGGEST PARTY
Outside, I watched a group of men in flamingo-print onesies, who couldn't make it far before being accosted for selfies. Two golden miniature ponies with their manes painted pink and blue dozed in the sun nearby. Their names were Princess, a boy, and Dumbo, a girl.
If you think you've seen all that a tailgating party can become at a college football game, then you're wrong.
Hundreds of spectators thronged the dozens of sponsors' tents for the shade or AC (one had a generator), the free-flowing booze or the food. Music thumped from speakers hidden around the field, creating unintended mashups. ABBA and Lady Gaga should never sing together again.
Meanwhile, two teams of four players battled on the field for a white ball the size of a grapefruit. They swung their bamboo mallets and made mad, headlong dashes from one end of the pitch to the other. It was hard to keep track of the score in the hubbub of the gay fete. Overall, six teams—24 players—participated in this rainbow rendition of the ancient sport of kings. They were dressed the same way as my parents were when I was little, except with vibrant colors splashed across their horses, jerseys and saddle pads.
On the other side of the field, women and men wearing leather outfits gyrated on scaffolding to Lady Gaga's "Born this Way." Some kind of creature in a silver bodysuit with an alien mushroom head caught the attention of passers-by. It kept time with the music while creeping toward kids and dangling long fingernails at the cameras.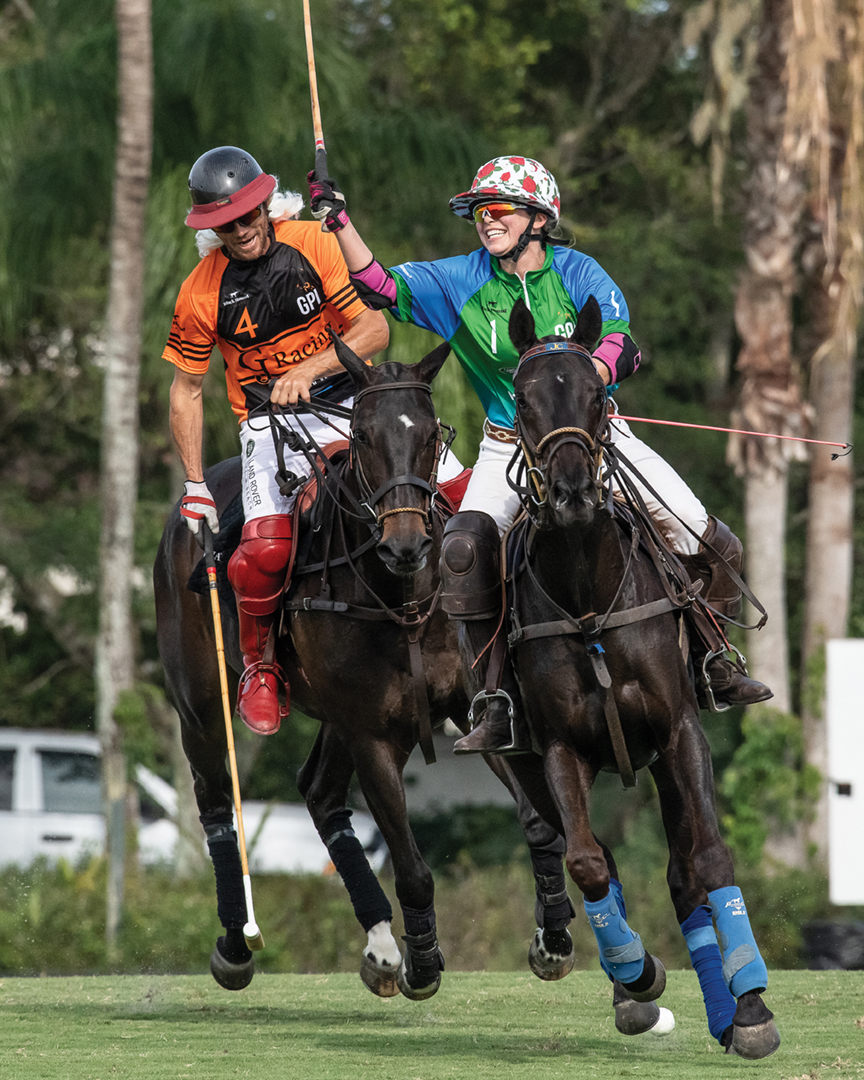 Then, when it seemed the party couldn't get any stranger, a woman appeared by my side with a baby lemur clinging to her shoulders. The lemur had pulled up around its hips what could have been the world's tiniest diaper.
The woman said she was there to represent animal rights, though it was unclear what organization she was with. One of the drag queens standing nearby asked the woman if the lemur was liable to bite.
"No, but she has sharp teeth," the woman said.
Animal Rights then wandered off as a throng of people congregated around Tula and Sarah, drag queens who had driven down from Washington, just for the tournament.
"I was looking for something gay and horsey," Sarah said. She wore a floor-length white evening gown with a blue flower print and chunky blue earrings and had a white alligator-skin clutch. She rides horses professionally back home, where she learned of the Gay Polo League.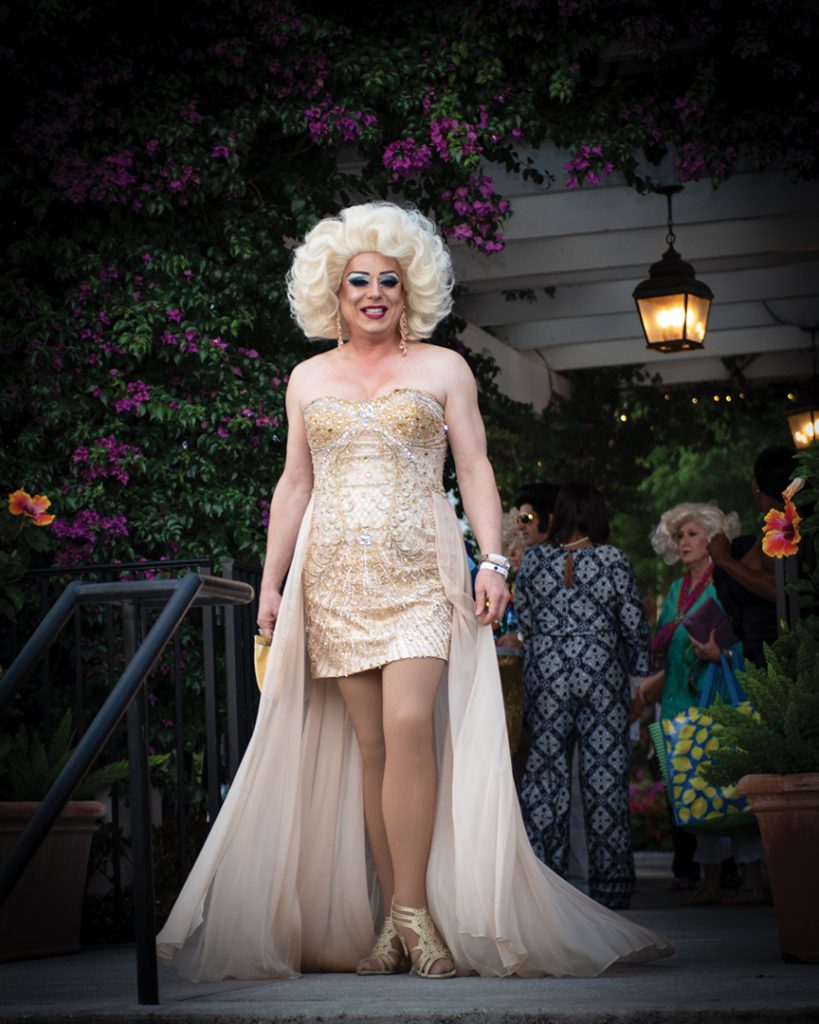 "At that point, I got Tula very, very drunk, and she consented to come down," she said. "Now, she plans her year around it."
"I don't even really care for horses very much," Tula said. She was a full head taller than Sarah and wore a strapless red rose-print dress, her blond hair done up high.
"But I love this event," she said.
'HEAVEN ON EARTH'
At halftime, I met with Gay Polo League founder and communications businessman Chip McKenney, 62. We sat in a golf cart away from the party to talk. McKenney is blond and carries an easy smile. He has a way of talking that belongs in a Jimmy Buffett song. We chatted about the league while ABBA's "Dancing Queen" blared in the background. When he paused to take a breath, the song—"you can dance, you can jive"—filled in for him.
He founded the league in 2006 when he got the idea that team sports needed to work harder at being inclusive.
McKenney pointed to his own experience as a gay teen feeling ostracized in high school sports for the inspiration. He landed on polo as the perfect torch to carry the message of worldwide inclusivity because "it's elegant and it's ancient and it's international," he said.
Since its founding, the Gay Polo League in Palm Beach, and its flagship event, has attracted global attention, with smaller events in 13 countries, including the UK and Argentina. This year, the league raised $5,000 for LGBTQ senior advocacy group SAGE at a Friday fund-raiser before the games began.
Throughout the years, McKenney has carved out his own niche in the tradition-bound world of polo, making room for anyone to join, whether they have horse experience or not.
"We also incorporate our spectators," he said. "We engage an audience that comes, and they add to the culture and the day as much as the polo does."
The weekend attracted not just people who identify as lesbian, gay, bisexual or transgender, but also "allies"—anyone who works to support equal rights.
As McKenney drove back to, presumably, the stables, I caught sight of 80-year-old Skip Schlafer walking across the field wearing a wide-brimmed pink ladies' hat. It was his first Gay Polo League tournament and he didn't exactly understand what was going on but was having a grand old time.
"I just think it's good that organizations are recognizing it," he said of the tournament and LGBTQ rights. "Whether it's polo or whatever sport it is—they have that togetherness."
I waylaid another person crossing the field during halftime. Her name was Kim Koslow, and she turned out to be a representative of Futures Recovery Healthcare, one of the event sponsors. It was her first time watching the Gay Polo League. She wore a flowing blue dress that seemed sensible in the heat, and she found the tournament to be "heaven on earth."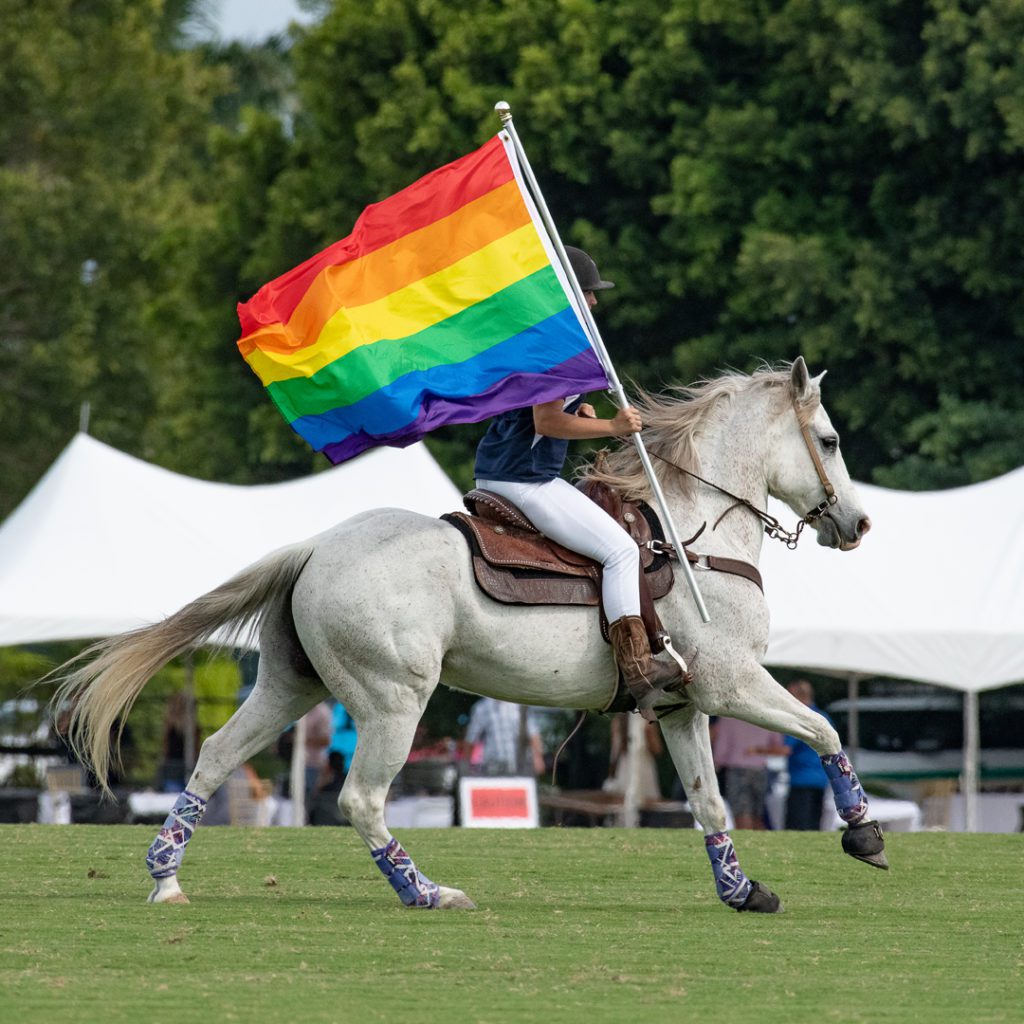 "I believe so much in what Chip (McKenney) is doing," she said, "and who he is and what he stands for."
Koslow, 59, is a gay woman who has spent her life in search of the inclusivity the league offers. It's why she works at an actively LGBTQ-friendly recovery center, she said.
"Anything goes," she said and laughed, looking around the field.
DIVOT STOMPING IN STILETTOS
Not long after our brief encounter, two pickup trucks drove out onto the pitch and parked in the middle of the field. Spectators soon followed as servers handed out flutes of champagne from the beds of the trucks. It was time for divot stomping. I hung back to watch.
When horses gallop down the field, their hooves tear out clumps of grass. At halftime at any polo match, it is the spectators' job to replace these patches of missing earth.
When I was little, I took divot stomping as a divine ordinance. I'd run out in shorts and a T-shirt (at backyard games) or in my dresses and bows (at stadiums) to pick up the lumps of grass faster than the people around me. I kept track of the number of divots I stomped in the competitive way of someone determined to win against unsuspecting strangers.
But the Gay Polo League divot stomp was the first time I'd ever seen stompers in Speedos and leather binding, slacks and stilettos, all working together to replant the missing clumps of dirt.
(I stomped a couple, for the child within.)
As the matches began again, the pace of the tournament picked up. I could hear Escapite call out the names of the teams, but it was difficult to keep track of it all and keep an eye on the revelers. It was easy to tell that McKenney lofted many of the balls through the goals, though. I know this from the announcer's chant: "It's Chip McKenney, McKenney, McKenney, McKenney, McKenney," sounding as if it could have ended on, "Hey! Macarena."
At the far side of the field, I found polo player Pete Grover, 44, still in jodhpurs and jersey, leaning against his parked car and watching the game.
Grover and his husband traveled from Philadelphia for the weekend, and he's marked the tournament on his calendar for the past three years. Grover is one of the league's members with a background in horses.
The Gay Polo League assigns the teams so that they're as evenly matched as possible based on player rankings. People who have their own polo ponies can ride them, and through the Palm City Polo Club, the league provides ponies to riders who don't.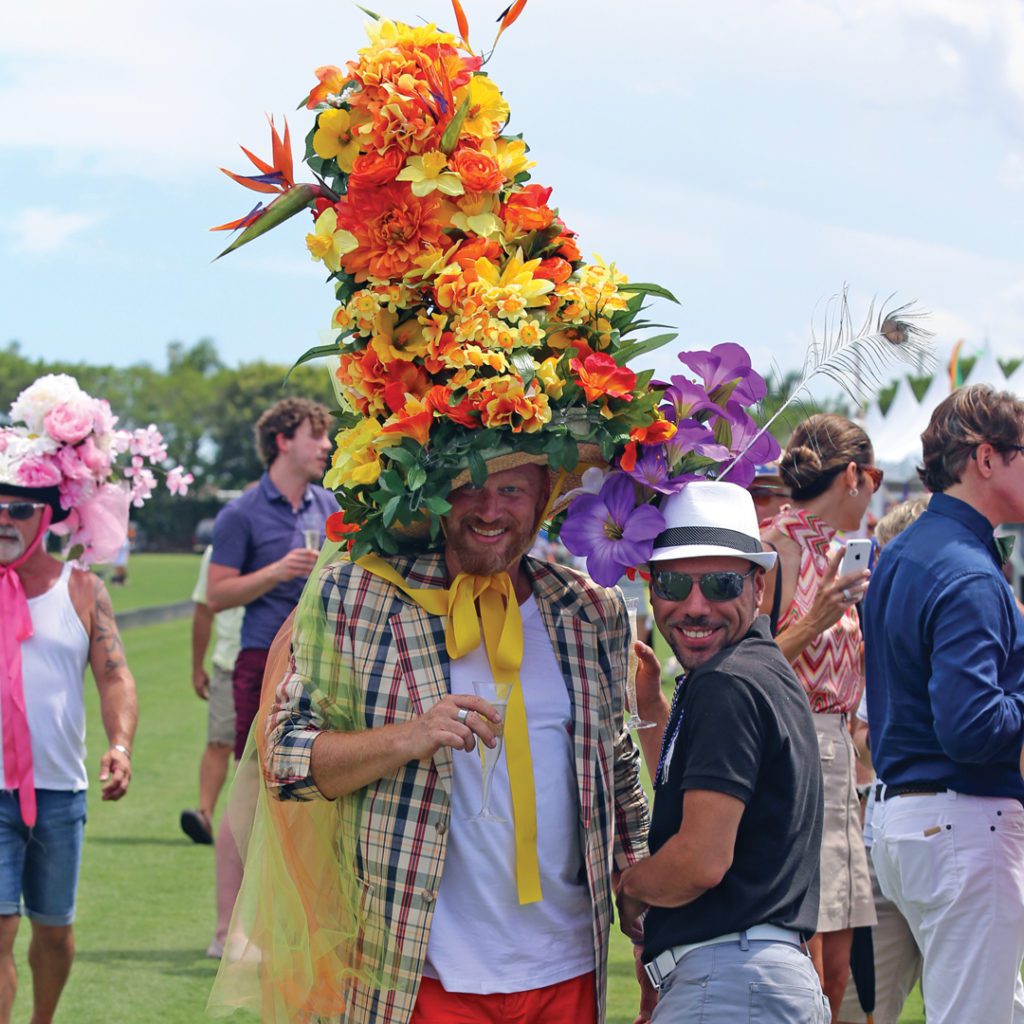 "What keeps me coming back is the people," he said. "It's just a lifestyle. You get into it. It just takes your soul and you love it."
The tournament's atmosphere is a change from his job as a human resources director, he said. And the league brought him back to horses.
"If it wasn't for this event, I would never have played polo, probably," he said. "I wouldn't know it would be accessible."
Nearby, 30-year-old polo player Peter Secor was chatting with other players. Secor also has a background in riding horses, but never played polo before the Gay Polo League. He and his husband traveled from New Jersey, where Secor works as a purveyor of rare jewels. It was his first time at the tournament, and it was "magical."
"It's this weird, arcane, king-of-sports kind of sport, but at the same time, with us and the GPL, it really melds," he said. "You meet people from all over the world and next door."
EVERYONE'S A WINNER
After talking with the two players, I made my way over to the shade at the corner of the field and sat to watch the game for a bit. It was close to the end of the tournament, and I watched as the players rode off the field and organizers drove a truck and flatbed trailer out to present awards.
In the crowd of people who thronged about the mobile stage, I caught up with player Katy McKegney—publisher of the Washington City Paper—who considers herself an ally for LGBTQ rights.
"I completely fell in love," McKegney, 35, said of the tournament. "It's an addicting sport."
She added she's already planning for next year's tournament, April 2 to 5, 2020.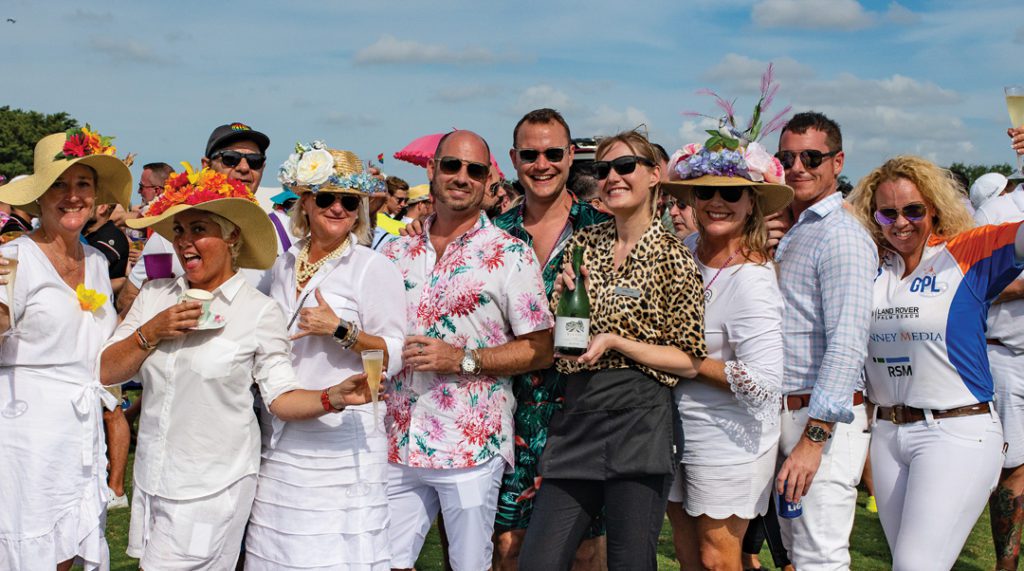 "There is nothing better than this festive, fun environment that is accepting," she said, watching as partygoers and players popped even more champagne bottles and cheered for the teams on stage. We were on the edge of a crowd and I could see up near the truck that someone had brought one of the horses out from the stables. It looked as if it was about to be congratulated for its stellar performance during the matches. Horses do love to have their jobs, after all.
At the end, it didn't really matter who won.
Everyone received an ovation and some sort of award. As the league later posted online, at the end of a day that was about inclusion, love, diversity and equality, "everyone was a winner."
The party was still going as I started to pack up. The day was turning to dusk, and a soft light settled on the field.
The day's polo was still the game I knew from my childhood, but the atmosphere was different. There was an unrestrained joy to being at a Gay Polo League match, where silver creatures crawled toward you, lemurs wore diapers, and yet horses still thundered down the field—as they may have done hundreds of years ago when the sport began.
As I walked away, I heard another champagne cork pop behind me.