by

Carlton Ward Jr.

|

November 25, 2019
Florida Wild: The Last Harvest of Apalachicola Oysters
How Apalachicola, Florida's once thriving oyster town, lost its most prized industry due to oil spills, developmental pressure and climate change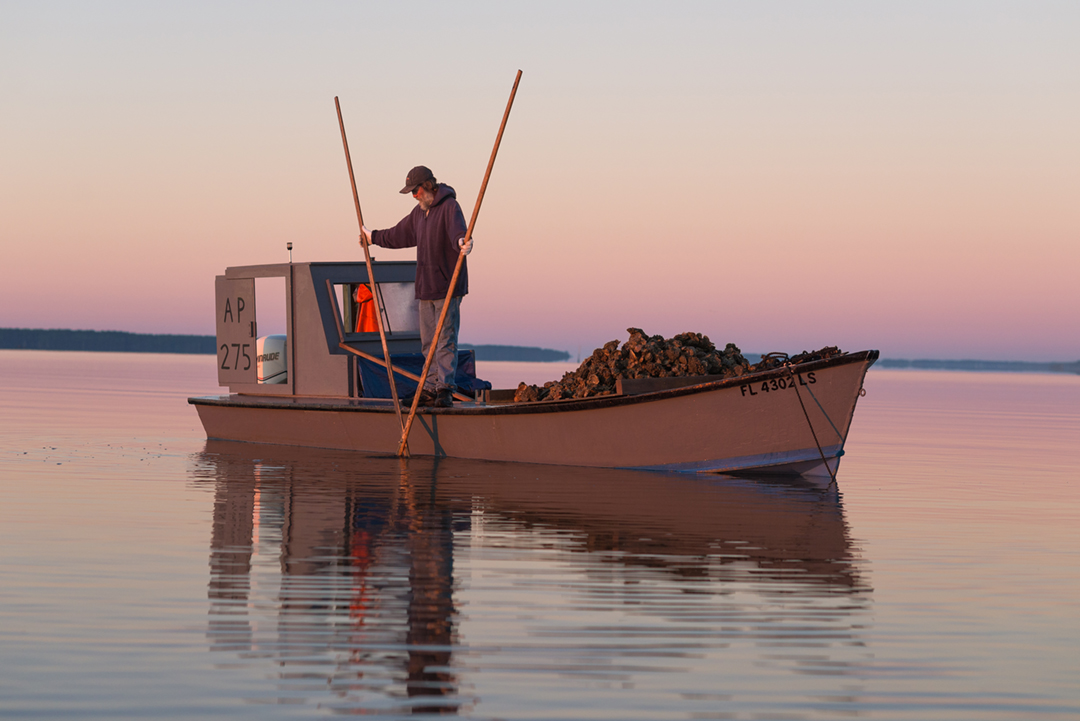 I first got to know Kendall Schoelles in 2013 during a self-imposed assignment to explore the nature and heritage of Apalachicola Bay for our Florida Wildlife Corridor Glades to Gulf Expedition that would be traversing this region the following winter. For me, having grown up on and fallen in love with Florida's Gulf Coast, Apalachicola had long represented the ultimate wild destination—a storied landscape, where a million acres of public land protect a vast watershed.
In my mind, Apalachicola is the Everglades of North Florida. Schoelles had carried forward a legacy protecting the nature that surrounds him by tonging for wild-caught oysters every day on the same family lease where his father and grandfather did the same. Schoelles and his family harvested the oysters sustainably, by not taking too many, and the health of the bay benefited.
During our expedition in winter 2015, our team paddled the Apalachicola River to Apalachicola Bay and spent a day with Schoelles. This was my favorite part of the 100-day expedition and the film, The Forgotten Coast, which chronicles the journey. Schoelles had concerns then. When the Deepwater Horizon oil spill threatened the northern Gulf and the oysters in Apalachicola Bay, large sections were opened for harvest. Oystering in public waters wiped out nearly all the oysters. But Schoelles only took the same amount he would have any other year. When asked why, Schoelles said, "What if the oil doesn't come? If we take too many there will be nothing left for next year. And even if the oil does come and kill oysters, we still need to leave enough of the reefs intact so a new generation of oysters will have a place to grow."
Since I last saw Schoelles, Apalachicola Bay oystering continued to collapse. The decimating harvest before the oil spill was compounded by salinity problems from overuse of freshwater upstream on the Apalachicola River, climate change and oyster thieves ravaging leases like Schoelles'. He stopped oystering in 2016, and the great bay that once provided 10 percent of America's oysters and 90 percent of Florida's is now devoid of them. Had everyone followed Schoelles' example and only taken what nature could replenish, it might be a different story.
---
29°42'41" N  •  85°7'49" W
NOTES
— Habitat—
St. Vincent Sound Apalachicola Bay
— Season —
Winter
— time of day—
Early Morning
— Subject—
Kendall Schoelles tonging for oysters
---
READ MORE PHOTOGRAPHS AND FIELD NOTES BY CARLTON WARD JR.
---