by

Kara Pound

|

November 25, 2019
Change in the Tide for Women's Surfing in Florida
Professional female surfers finally get priority on the podium with equal contest payouts in Florida.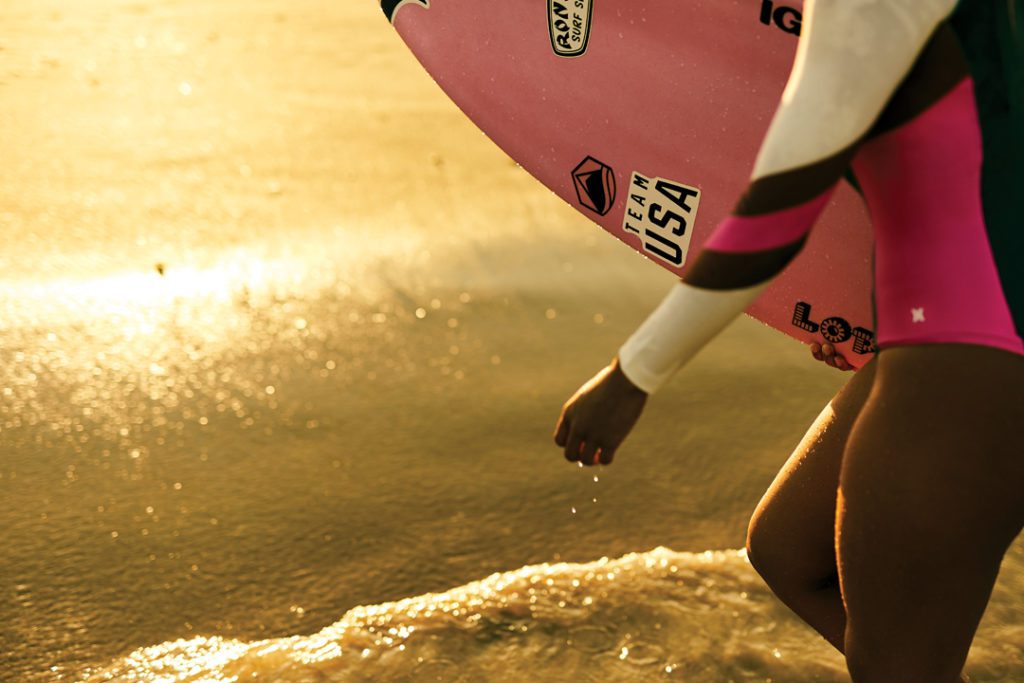 The sun has just started to rise above the Jacksonville Beach Pier on a recent October morning. A few dozen surfers and their families dip their toes in the water and claim the perfect patch of beach to settle in for the day. It's the start of the 36th annual WaveMasters Contest, and Zoe Benedetto is looking to take home a win in the US Assure women's pro division.
At just 14 years old, Benedetto is among the young women carving out a future in a redefining era for female athletes. From Palm City, near Stuart, she's kind and confident. Her smile and laugh are both infectious. When she charges with her hot pink board into the crashing surf for her first heat, it's easy to see why Zoe has amassed an impressive fanbase, wtih 17,000 followers on Instagram, and brands like Hurley and Ron Jon Surf Shop as sponsors.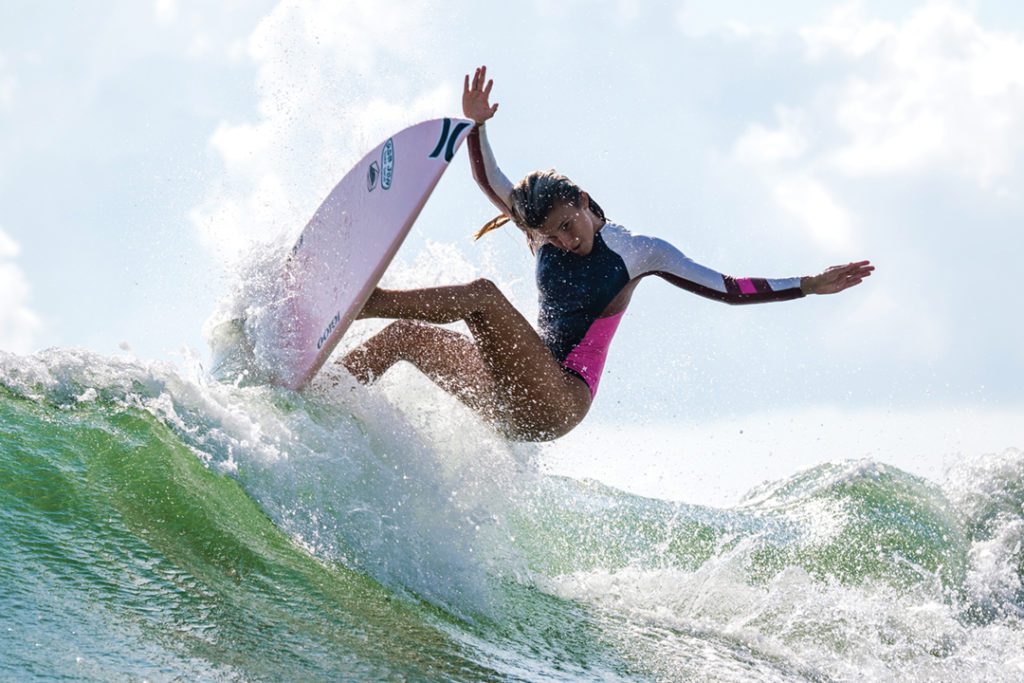 It's Sunday, the second day of the two-day contest, and strong easterly winds have created choppy conditions and frequent head-high waves. The participants of the women's pro division have been on standby for nearly 24 hours. They're finally given the green light, and 16 female surfers start battling it out for first place.
FINALLY ON EQUAL TURF
Though a $5,000 prize awaits the woman who outmaneuvers all others, today the bigger victory lies in the fact that the checks for the WaveMasters women's pros will match those of the men's. In its three-decade-long history, this is the first time that the WaveMasters contest, the biggest in Northeast Florida, has ever paid an equal purse—$10,000 each for the men's pro and women's pro divisions. In full disclosure, Flamingo stepped up to equalize the women's purse, which was previously set at $5,000, to shine the spotlight on these female athletes and change the tide across the state.
"I've been surfing since I was 5 years old, and my first contest was at age 7," Benedetto explains from her perch on the sand, with one hand over her eyes to shade them from the sun and the other flipping her blonde hair. "This is my second time at this contest, and it's great to see us coming to equal terms—playing on equal turf."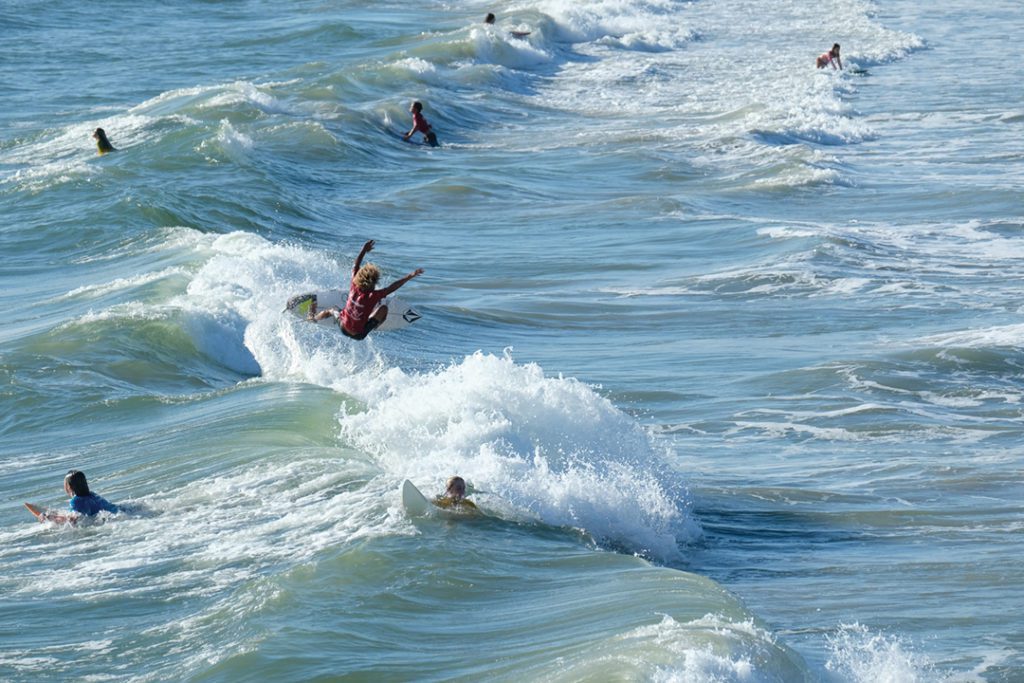 She goes on, "But to be honest, it's crazy that we're even celebrating this. It should have always been this way."
Like women in too many professions, female surfers have fought for decades for equal pay. Since the first professional tour for women began in 1975, females have been competing—and in the case of big-wave surfers, risking their lives—for a fraction of the prize money their male counterparts received. The disparity wasn't just a few dollars. Men won six-figure prizes while women took home half to two-thirds less.
A now-infamous November 1963 article in Surf Guide magazine by surfer Buzzy Trent titled "Big Waves Are Masculine, Women Feminine" gives a glimpse of how drastically attitudes and culture have shifted.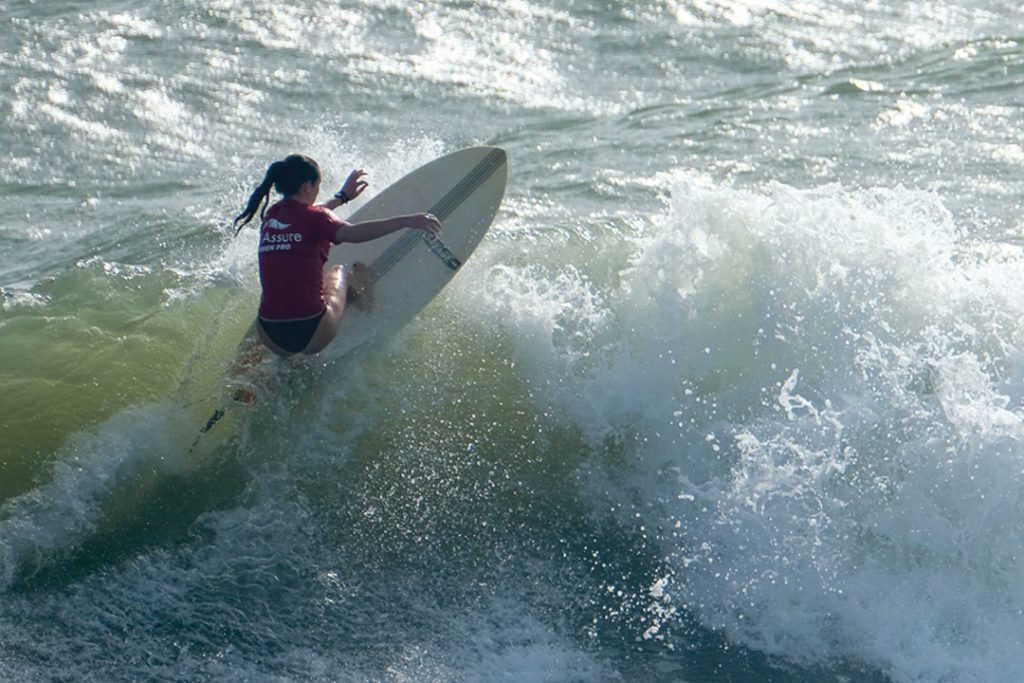 "There's nothing more beautiful than a well-shaped girl riding a 6-foot wave with the wind blowing through her hair," he writes. "But one thing I can't stand is girls riding (or attempting to ride) big waves."
In September 2018, World Surf League (WSL), the governing body for professional surfers, made a big move when it announced that equal prize money would be paid to male and female athletes in all of its events starting in 2019. WSL Vice President for Tours and Competition Jessi Miley-Dyer, who is herself a former pro surfer, is quoted in an article by NPR from last fall saying, "The one thing we wanted to pride ourselves on was being a leader in the space. We wanted to be one of the first sports to do this for the women, and we also thought that it would be a really good stand for us. And it's important as well for sports to pay attention to what's going on in broader society."
She went on to say, "Obviously things are changing for women in the world, which is awesome. So yeah, we paid attention to what people have been saying, and we thought that it was a great time to do it."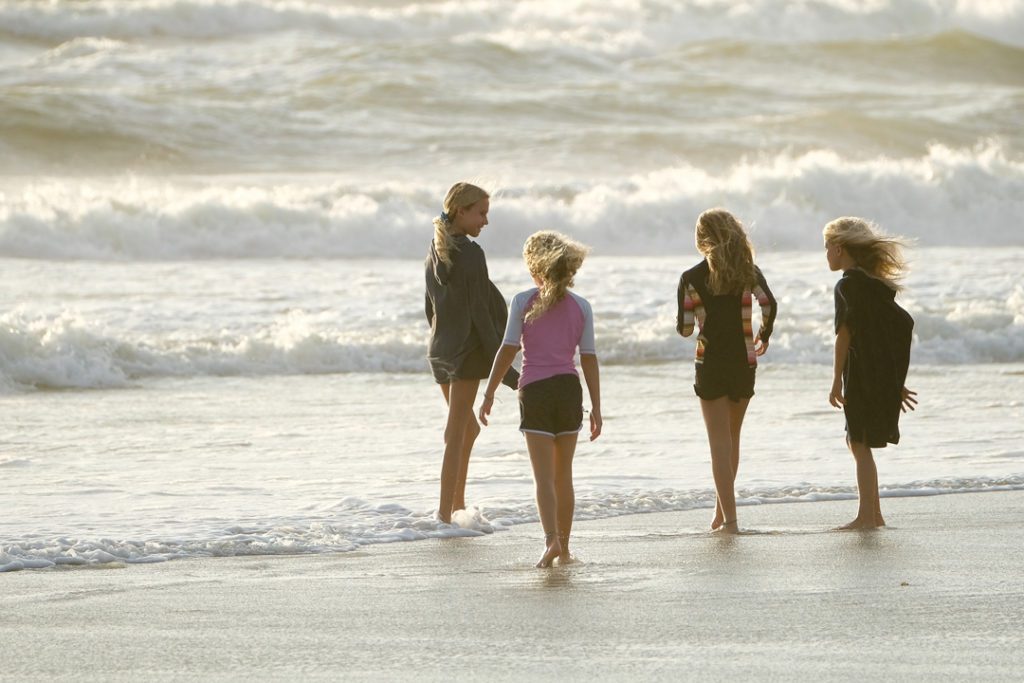 Now the results of those moves are in. When Australian Stephanie Gilmore won the 2018 Rip Curl Pro Bells Beach, she earned $65,000 while her male counterpart, Brazilian Italo Ferreira, was awarded $100,000. But at the 2019 Rip Curl Pro Portugal in October, Floridian Caroline Marks, 17, took home first place and a check for $100,000, the same as Ferreira, again the men's winner. Marks, of Melbourne Beach, is making quite a name for herself globally, as the youngest woman ever to take the No. 1 spot on the World Surf League Women's Championship Tour.
Females have been shredding waves since the 1600s. Spanning the Pacific Ocean from Australia to Polynesia to Hawaii to California and across the United States to Florida, iconic women such as Princess Kaiulani, Isabel Letham, Margo Oberg, Layne Beachley, Sarah Gerhardt and Lisa Andersen helped validate a woman's place in the lineup for young athletes like Benedetto.
THE NEXT GENERATION
At Jacksonville Beach this warm October morning, Benedetto hangs out with surfers and fellow Floridians Abigail Remke, 17, and Sarah Abbott, 15. The three girls were supposed to surf the first heats of the women's pro division on Saturday, but contest organizers chose to put them off a day so wave conditions could improve significantly.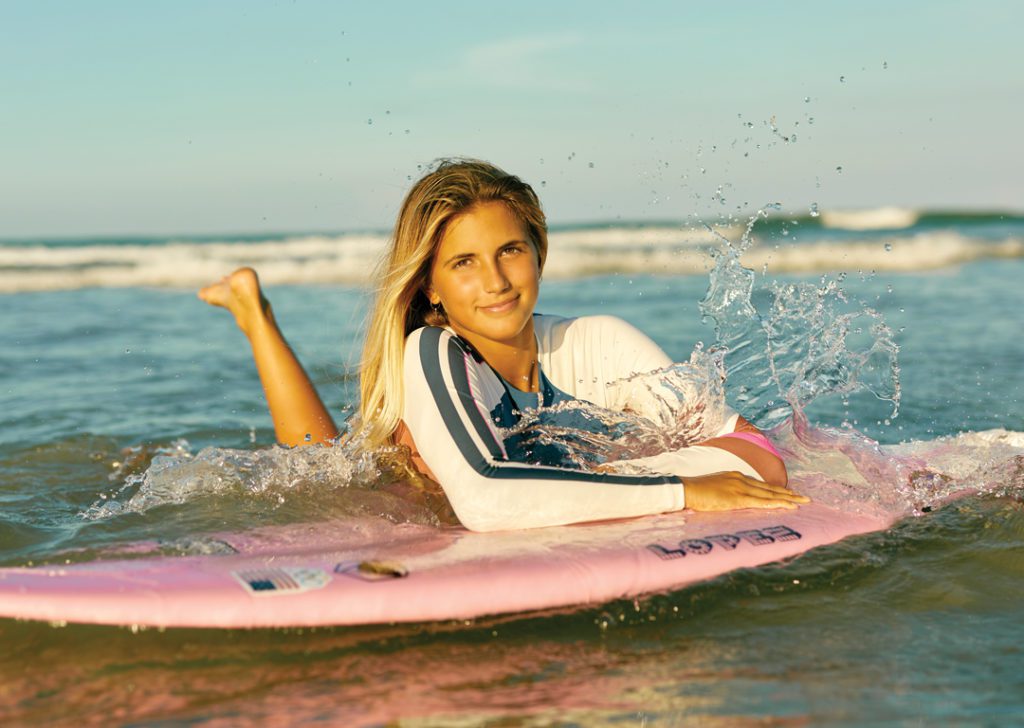 The WaveMasters Contest consists of 22 divisions, which include pros and amateurs, men and women, kids and adults, longboarders and shortboarders. The judges score competitors on wave selection, wave size, their first big move on takeoff, speed, flow, control, progressive maneuvers and "finishing with a bang."
On this particular weekend, surfers like Benedetto have 15 minutes for each division heat and 20 minutes in the final. They are given a five-minute head start to paddle into the pounding surf, while the previous heat finishes up. Once positioned beyond where the waves are breaking, the surfers try and catch the biggest, best waves possible, and their top two performances determine their fate.
The field includes hometown favorite Kayla Durden, a 26-year-old Jacksonville Beach native who has been surfing since age 5 and competing for more than a decade. Durden can't remember how many times she's won the WaveMasters but estimates it to be around four or five.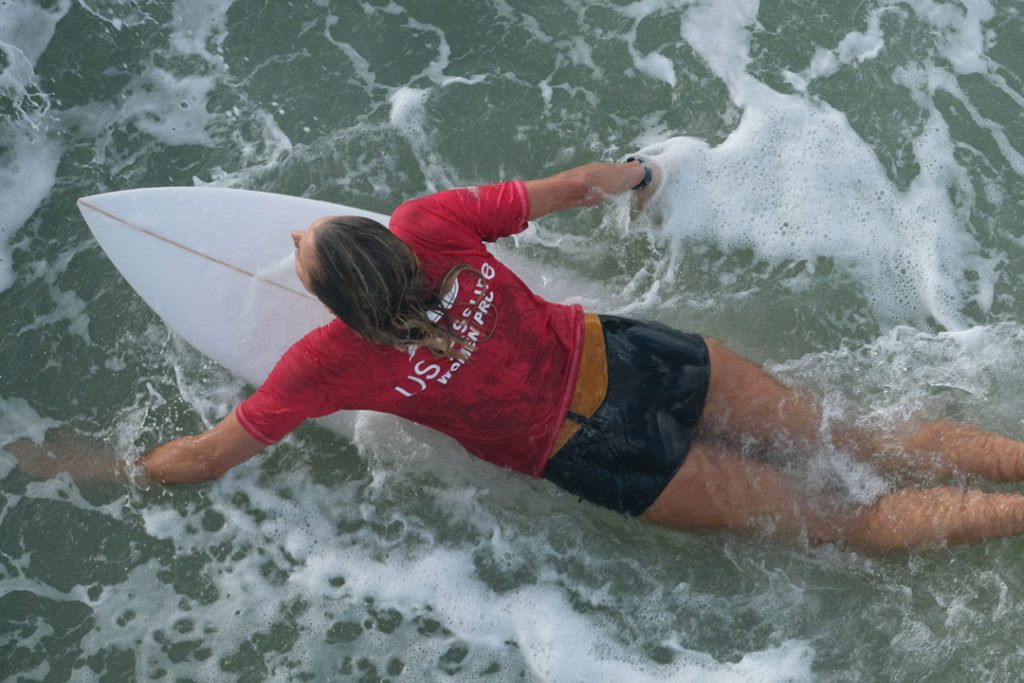 "I teach surfing and high school basketball in the offseason," Durden says from the water's edge after watching one of her students compete in the micro-minis division.
"My hope is that these younger girls coming up in the sport won't even know about the inequality that has been going on for males and females. I've even seen guys getting frustrated with the disparity."
Durden doesn't make it out of the semifinals (a testament to the growing field of female competitors). Benedetto, Karina Petroni, 31, Eden Lange, 17, and Eva Woodland, 18, eventually advance to the finals.
Wearing white, blue, red and yellow jerseys to differentiate them to the judges, the four young women paddle out through head-high waves, hugging the right side of the Jacksonville Beach Pier. For the people watching from the beach, the girl with the hot pink surfboard makes an early play, popping up quickly, carving, cutting and spraying her way from hundreds of yards out to almost all the way into the shoreline. Then she make a U-turn and paddles out in the choppy surf for more.
With two national titles and three East Coast title wins under the National Scholastic Surfing Association, Zoe earned places on the USA Junior National Team, USA International Surfing Association World Junior Team and the USA Olympic Surfing Junior Development Team. The eighth grader is considered among the best up and coming female surfers in the country.
"I'm saving up for a car," she says matter-of-factly when asked what she would do with the $5,000 check that comes along with a first-place finish. "That and I would use some of it to help with travel expenses for the International Surfing Association championship later this month in Huntington Beach, California."
THE FIRST BATTLE WON
WaveMasters is by no means the top surfing competition in the state, but it has a long and respected history in Northeast Florida, and the increased payout has everyone talking and thinking about equality.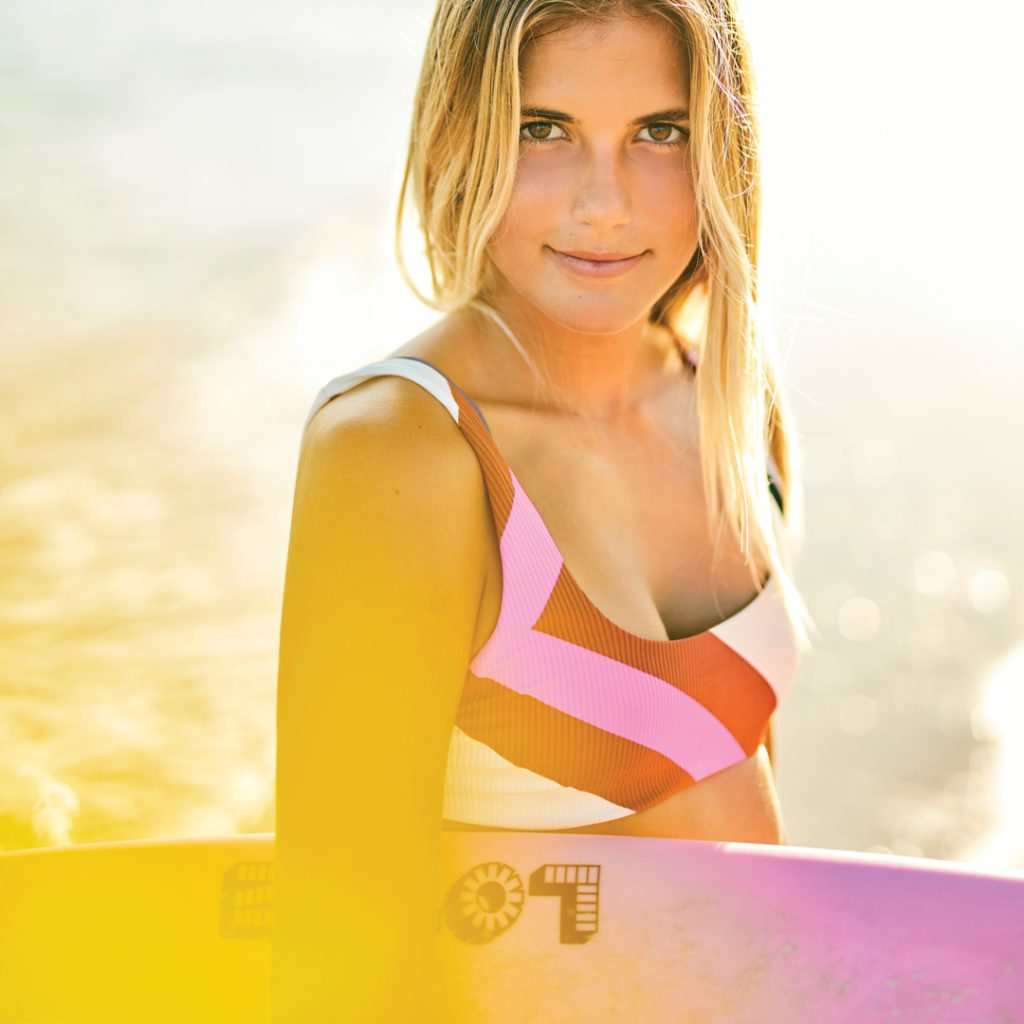 "I believe we still have a long way to go," Woodland says. "But growing up in this day and age, it's amazing to see that the WSL has gone to equal prize money. And hopefully, they start sending the women out in waves of consequence, too, like at Banzai Pipeline or Teahupo'o. Every little victory, like equal prize money or getting to surf good conditions in an event is a battle won."
At Surfer The Bar on Sunday night, hundreds of people, gather to enjoy the camaraderie of the contest and learn the results of the pro division. The four female finalists file onto the stage. WaveMaster contest organizer Mitch Kaufmann takes the mic and before announcing the winners explains that "the males usually perform better, and that's why they make more money in surfing. But today, the waves were big and the girls were putting on a show. It was unbelievable. They were surfing like pros. That was the best female surfing I've ever seen here."
Benedetto surfed her way to first place for the 2019 WaveMasters US Assure women's pro, Woodland second, Petroni third and Lange fourth. After receiving a giant $5,000 check and a shower of Veuve Clicquot, she runs off stage, too young to take a ceremonious sip of bubbly, and into the arms of her mother Christine. Minutes later, the duo vanishes from the still reveling crowd, buzzing with excitement over the new future of women's surfing. They are already driving home to Palm City, preparing for Benedetto's next big break.