Cycle City: Exploring Tallahassee's Trail Network
Suddenly, probably when you weren't looking, Florida's capital became a cycling and hiking mecca.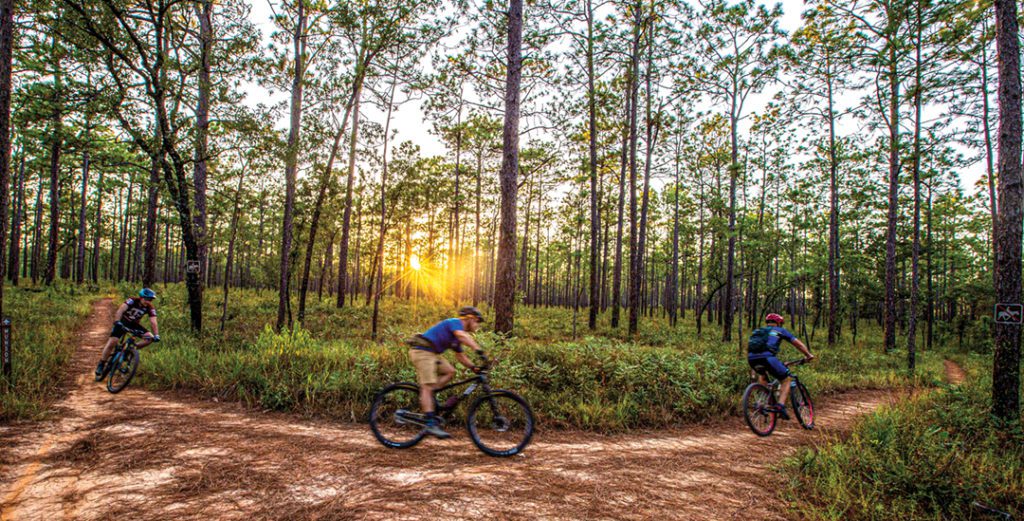 South of Tallahassee, the city's signature block-sized oak trees, covered in Spanish moss as if dressed for a holiday, give way to longleaf pines. They're beanpole trees, those pines, like birthday candles spread out over a frosting of scrub brush. At any given time, they let in only slivers of light, flash-bright at noon and yellow-orange at the bookends of the day. The sound of knobby tires rotating over packed earth announces our group's arrival into the pine forest on a recent fall afternoon. Careening through the terrain on mountain and gravel bikes, we turn toward a sun that's a glowing beacon. Even in a state home to seas of grass and sapphire bays and powdered-sugar beaches, this is one of Florida's most magnificent spots.
It's part of the Munson Hills Mountain Bike Trail System, a tangle of paths of hard-packed clay that wind their way in never-ending lefts and rights. Leading the way are three regulars on the trails of Tallahassee, three middle-aged guys in spandex who regularly bomb into the woods after work to feel like boys again. On our bikes, it takes constant attention to maneuver around roots and trunks and the occasional patch of soft sand. All of us are acting like 12-year-olds—pulling up on handlebars to get air over rises, leaning into turns, thinking about nothing but the ground underneath us. "This is so beautiful," I find myself saying more than once, to which the group responds simply "Right?" and "I know."
They've gotten used to this kind of reaction in Tallahassee. For the past decade, Florida's capital has been remaking itself as a city of nature trails. Yet almost nobody—including FSU grads, cycling addicts and plenty of locals—knows about them.
The trails cover 700 miles of Leon County, and over the course of another decade, that number will grow dramatically again. The county and city plan to connect their existing trails into a network that'll swim through the city and its suburbs, a network that'll rival the paths of most American cities.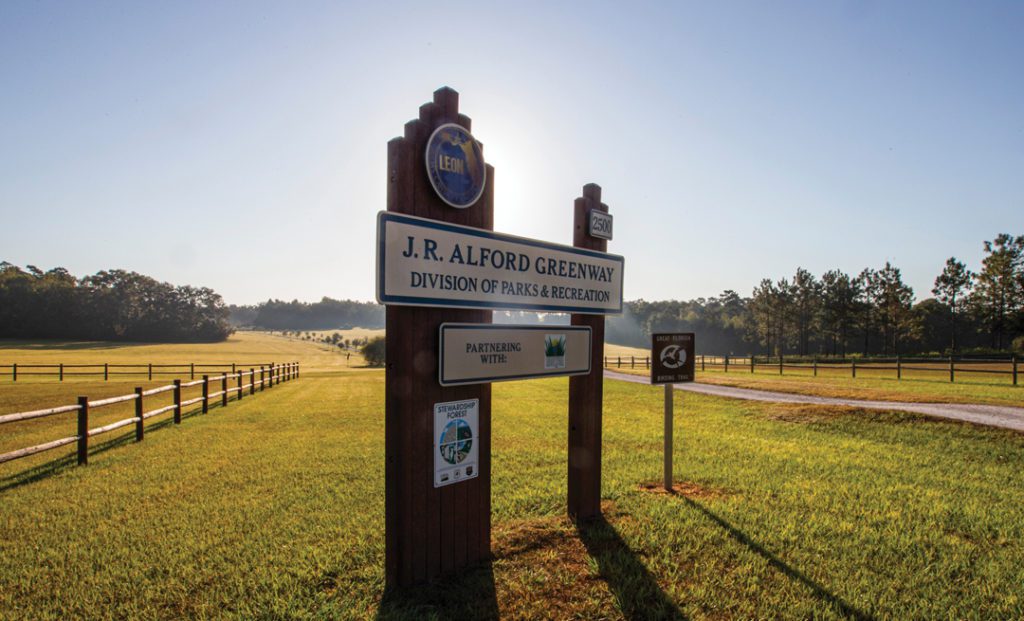 To be sure, those who don't walk, jog or bike might doubt the benefit of investing so much into something used by only a portion of the population. But studies have shown that trails increase a city's happiness, lower congestion and pollution, increase property values and attract businesses.
As many Florida cities struggle to become more accessible to bikes and pedestrians, here's how Trailahassee, as it's now known, began to pull it off—and what it's like to bomb through the Tallahassee forests.
COWBOY UP
Tallahassee's transformation into a biker's dream started about 15 years ago when local cyclists just began showing up to every government meeting. They were sometimes loud, taking the mic whenever possible and demanding something different.
The idea was to simply overwhelm public officials with the concept that walking and bicycling trails could transform the city, says Matt Wilson, who manages the Great Bicycle Shop in town. Now 46, Wilson started riding seriously in high school to get a cycling patch from his Boy Scout troop. He had a job in IT until 2014, when a guy at the bike shop asked him if he wanted a job and he took a major pay cut to be doing something he enjoys.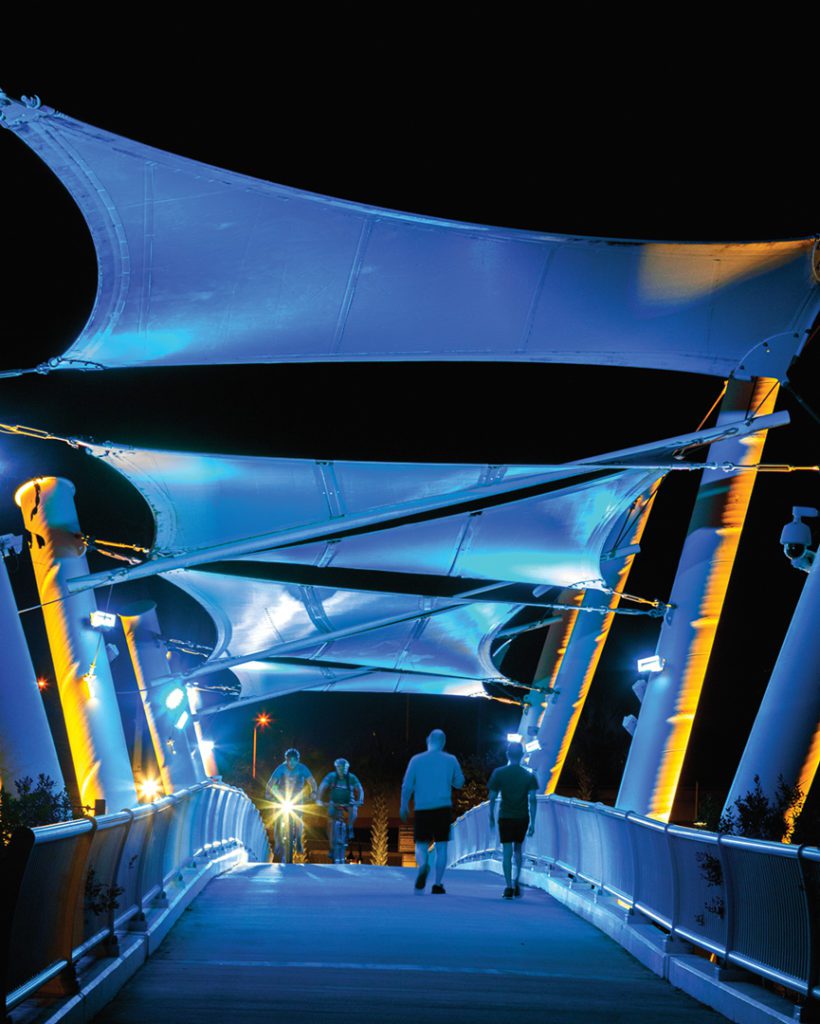 When Wilson started riding in the '80s, Tallahassee's bike paths were what they call cowboy trails—illegally chopped through city parks and state forests. Tom Brown Park's trails were the most popular, trails that mostly required a high level of skill to ride. Many of those guerilla paths were converted in the 1990s into official trails that were good enough to host European mountain bike teams as they trained for the 1996 Summer Olympics.
---
---
But the paths were still a modest, scattered collection of short stretches that couldn't move people around the city. That began to change two decades ago when the Leon County government started thinking about how to reshape the metro area. Tallahassee wasn't exactly a city planned for smart growth, but city leaders figured it wasn't too late to change, recalls Wayne Tedder, who started working with the city 22 years ago.
"We just buckled down and said, 'We're a midsize city. What do we need to do to improve the conditions for our residents?'" recalls Tedder, who's now Tallahassee's assistant city manager.
Creating a more walkable and bikable environment became one of the top priorities of Tallahassee's long-term vision, especially after all those cycling advocates started showing up to meetings, Tedder says.
Wilson recalls a series of meetings held by the advocacy group Village Square that resembled speed dating for public officials, giving people two minutes to pitch ideas to their politicians. "We just made sure there were a lot of cyclists there, so the official would sit down at a table and it just became bikes, bikes, bikes," Wilson says. "We were definitely in their faces."
It helped that, being the capital, Tallahassee has cyclists who also know how government works. For instance, there's Jimmy Card, the president of the Tallahassee Mountain Bike Association, who also happens to be a lobbyist and "just knew how to ask for things."
In 2000, county voters agreed to pay, starting four years later, a penny more on their sales tax to execute a broad vision for improving Tallahassee; in 2014, they voted to extend the penny tax for another 20 years. As a result, the government will be able to spend $700 million on new projects, with $15 million allocated for improving the bike route system. These improvements come on top of hundreds of miles of trails that have recently been cut through public and private lands. Perhaps the most visible of these efforts is Cascades Park, which saw an old toxic dumping ground converted into what now feels like the heart of the city.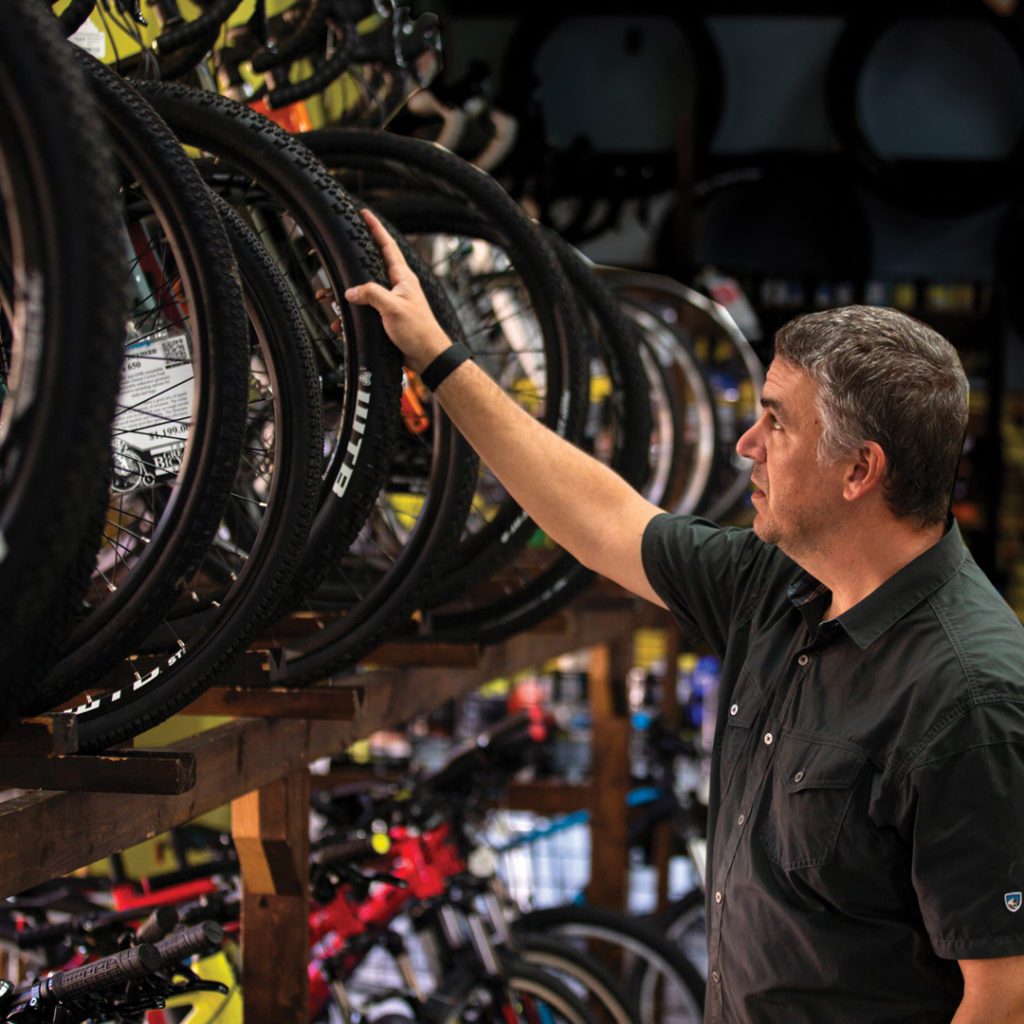 Now with a trail system at over 700 miles, Tallahassee rivals many of the American cities generally considered the best places to mountain bike. Brevard County, North Carolina, has 400 miles of trails, and Park City, Utah, claims 450 miles. After Tallahassee's coming trail expansion, it will easily double those numbers.
While the trails certainly have fans among cyclists and joggers, they've also had their critics. Every time an expansion running through a new stretch of town is announced, some question whether the trails will become homeless camps, grow dangerous at night or lower property values, despite studies that show home prices actually rising after the arrival of bike paths.
Perhaps the most controversial of the plans was a $7.2 million
pedestrian bridge across Monroe Street, connecting Cascades Park to the Capital Cascades Trail. After the plans were unveiled at a charette in 2015, the Tallahassee Democrat carried stories wondering if commissioners got "bamboozled" and were wasting taxpayer money. But when it opened in 2016, the modern suspension bridge quickly became a shining beacon of the new Tallahassee—at night, a rotation of colors illuminates its dramatic tent-like roof.
---
---
The new Capital Cascades Trail now runs south to the St. Marks Trail, which makes a 21-mile beeline to the coast. Along the way, cyclists and pedestrians can also take a sharp right west into the Munson trails and the packed-clay paths through the pine trees.
Munson was the first mountain bike trail Betsy Barfield rode. Now, Barfield is a commissioner in Jefferson County, to the east of Tallahassee, and she's on a mission to continue Leon County's efforts where she lives. "Some of my critics say, 'That's all you think about is cycling.' I tell them, 'Yup, that's what's on my mind.'" She's been fighting with neighbors of the soon-to-come 11-mile Duke Energy Trail to convince them their homes won't lose value once the trail comes in, and she's been selling Jefferson County as a world-class destination for gravel bike riding, maybe the biggest trend these days in cycling.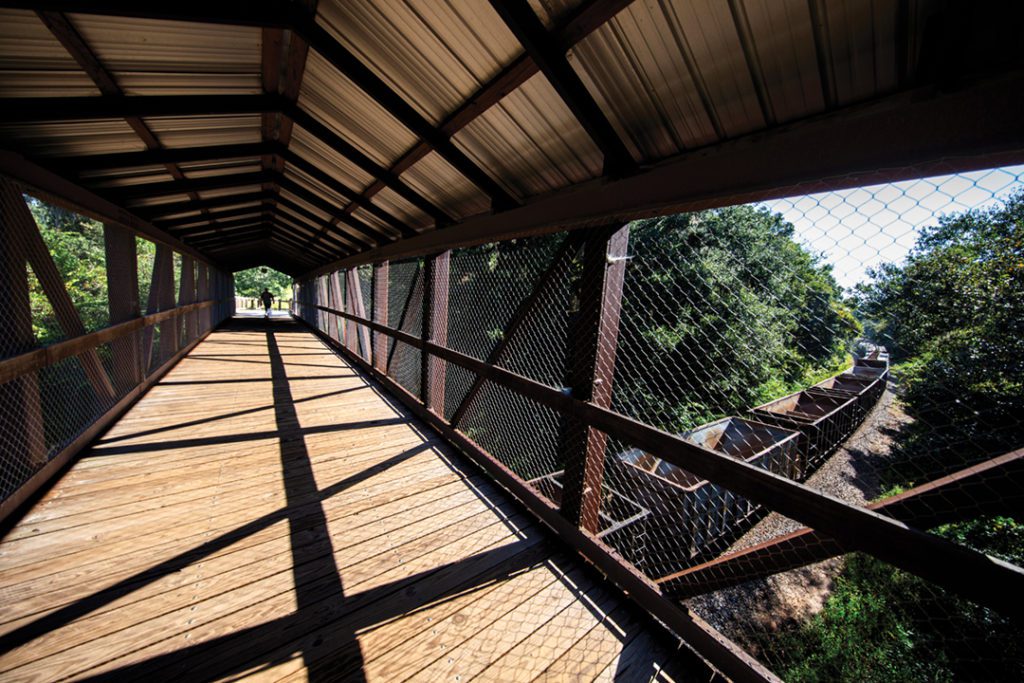 But while Tallahassee has 700 miles of trails, they've never been well connected, often requiring cyclists to cut through neighborhoods or use shoulder-less county roads to get from one trail to another, Tedder, the assistant commissioner, says. Part of the money from the recently approved continuation of the extra penny in sales tax will be used in the next 10 years to connect the trails into continuous loops through the city—from the airport to FSU's stadium, into every park, all of it.
With all of this expansion in trails happening, Tallahassee has plans to apply to the International Mountain Bicycling Association in 2020 to become one of the organization's Ride Centers, cities that are recognized as part of the "pinnacle" class of places to bike. It might sound like a rather obscure designation, but Card says it'll change the way people think about Tallahassee.
"We are about to blow up. If we get that Ride Center designation, it is going to be huge," Card says. "Everyone is just waking up to this and realizing what we have here for cyclists."
A RIDE WITH "THAT GUY"
The morning after our sunset ride at the Munson trails, a group meets at the dusty parking lot for the Miccosukee Greenway Trail on the east side of Tallahassee. It's a 12-mile stretch of firmly packed gravel that cuts through land that was once a post-Civil War plantation owned by the family behind the Fleischmann yeast fortune. The Miccosukee path beelines below massive limbs of old-growth oak trees that keep the sun off cyclists and packs of joggers, dropping the temperature by double digits.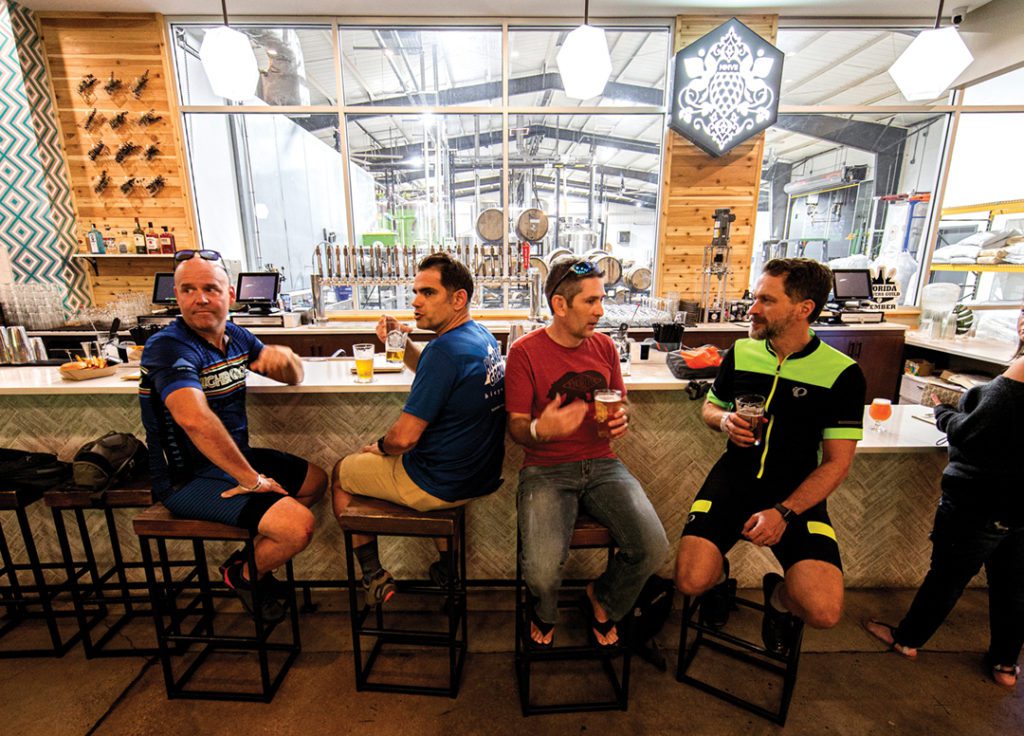 Among the riders is Bryan Desloge, a 60-year-old former IBM exec who got on the Leon County Board of County Commissioners 13 years ago. Back then, he had a fellow commissioner who made the trails his mission. "He would always go on and on, like, 'Do you know what the price of gas is? We need to make this city more walkable.' And I was like, 'Just shut up.' But now, I'm that guy."
As the only Republican on the commission, Desloge originally saw his role as limiting government spending, and trails didn't fit into that vision. But then, he says, he saw the economic benefit it can bring to make a city more walkable and bikable.
That especially rang true after local officials took a trip out to Boulder, Colorado, and talked to tech companies about why so many of them are relocating there. It wasn't tax breaks or infrastructure: it was because employees had access to the city's legendary mountain bike trails.
That story is now used by Desloge to justify building trails as a way to attract jobs to the city. "To the critics who say that trails are outrageous spending, I say it's the best bang for the buck."
Desloge has put together the morning's group of riders, and among them are two of the county's top planners. One of them is 43-year-old Jeremy Floyd, a landscape architect who nearly became a pro mountain bike rider.
Floyd falls in behind the commissioner as we head southeast into the Miccosukee trail's hilly ups and downs. We hit the end about six miles later, stopping for a drink of water in a parking lot shaded by the oaks before turning around.
Talking through deep breaths as we ascend up the steepest part of the trail, Floyd explains that he was living in Asheville, North Carolina, in 2001 when he started applying for jobs in cycling cities, figuring he'd end up in Oregon. He came to Tallahassee for an interview and decided right there he didn't need to apply anywhere else.
Nowadays, Floyd isn't racing anymore, often instead pulling his kids in a carriage attached to his bike on their way to and from school. Many parents have followed his lead, and other groups like the city's Joyride Bicycle Collective, a club that organizes meetups like tours of farmers markets, are helping the city's path systems gain popularity. Floyd also rides with groups of parents who bike their kids to school using the city's path systems.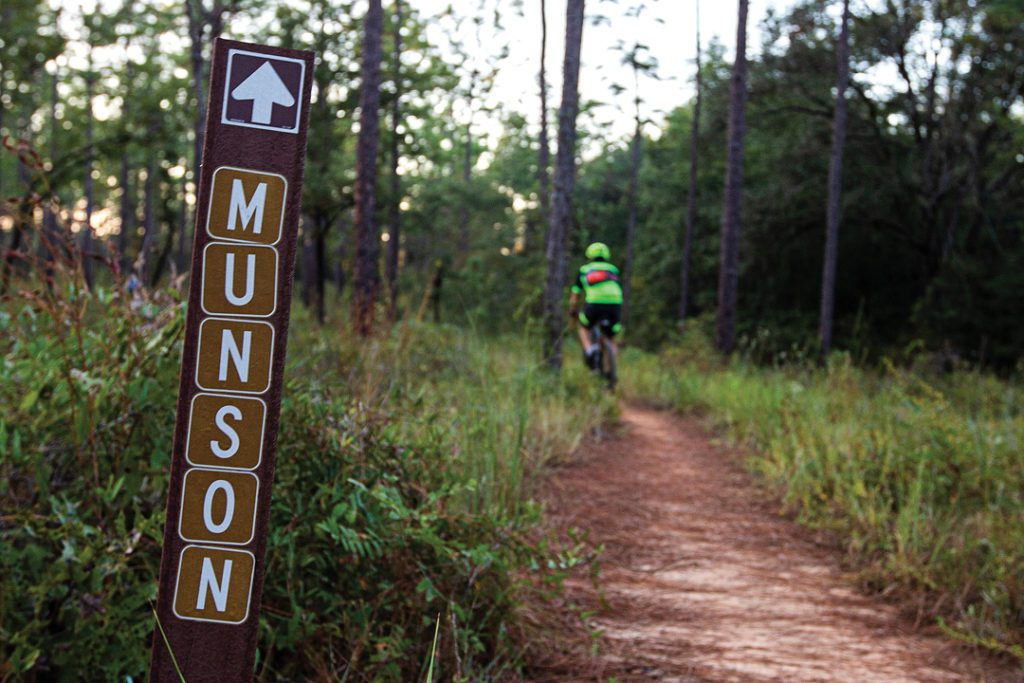 Desloge, who has run marathons, competed in Ironmans and climbed Mount Kilimanjaro and Denali, is uncharacteristically huffing as we reach the parking lot where we started. He admits it's because he has already swum laps and done Orangetheory, making this ride his third workout—all before 9 in the morning.
As some of the group loads bikes onto car racks, Desloge breaks to talk about what's coming for the city, this new interconnected system that will hook all the trails together. The problem, he says, is getting it out there.
"We've got one of the best trail systems in the Southeast, and people who live here don't even know about it," Desloge adds.
After he drives off, Floyd leads a couple of us through a neighborhood to the south and onto the J.R. Alford Greenway, with its pedestrian bridge that swoops up and over a wetland.
We snake around Lake Lafayette and onto the Lafayette Heritage Trail. If we took a turn, we'd end up in Tom Brown Park, but instead we head back to where we parked, requiring a bit of a sprint on a road with no sidewalk or bike lane—luckily, at this moment, no cars are passing by. Don't worry, Floyd reassures: soon there will be a new trail to connect it all.
---
TALLAHASSEE TRAIL RESOURCES
LINK TO: