Fledglings: Songbird Elizabeth Cook
Country artist Elizabeth Cook was poised for stardom until her family life got in the way. Now, she's back in the studio with a new album in the works—and it has a little extra seasoning.
[caption id="attachment_10974" align="aligncenter" width="960"]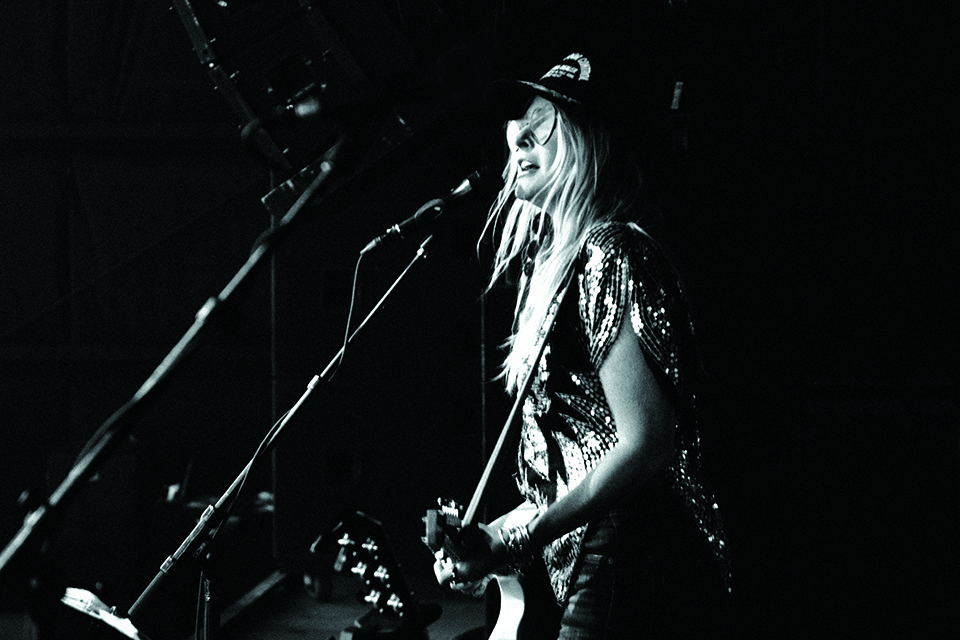 Guitarist and vocalist Elizabeth Cook is drawing attention following a national tour and a new album on the way. Photography by Jace Kartye[/caption]
Wildwood native Elizabeth Cook has lived a life full of the stuff of classic country songs—from her bootlegger daddy and songbird mama taking her onstage before she was in kindergarten to a stint at the Grand Ole Opry and a sit-down on The Late Show with David Letterman.With the wind at her back and a sitcom deal in hand, Cook seemed poised for stardom. But the years after 2011 saw a series of unfortunate events unfold: Her family farm burned; her father, brother, mother- and brother-in-law died in rapid succession; she got divorced; and she checked into rehab. It took five years to get back in the songwriting and recording groove.
In 2010's Welder and 2016's Exodus of Venus, the artist almost sounds like two different people. The same strong voice and sharp song construction that fueled her rise are enhanced by the experience of a woman who has lived the breadth of joy and loss in full. We caught up with Cook in January as she was recording a new album and gearing up for a cross-country tour and trip out to sea with the Outlaw Country Cruise alongside Steve Earle, Lucinda Williams and the Drive-By Truckers.
The years between Welder and Venus were full of personal tragedy. What moved you to go back to the studio?
EC: Tragedy ain't all it was. Literally, the day I began the process of following up Welder with the next album, I was invited to sit on the couch on The Late Show with David Letterman.This came out of nowhere and quickly led to a sitcom deal with CBS and basically two years of partying at the Chateau Marmont in Hollywood. Then the tragedies began. Then the recovery from the tragedies began. I went back into the studio out of necessity in 2015. I wasn't well. I was in a bad relationship and on heavy-handed psych meds. But I stand behind every line on Exodus of Venus. It came from the place I was living. It was visceral, but I wasn't really cognizant. I was still in a bad dream.
Six years away is an eternity in the music biz, almost like starting over. How has your approach to the fundamentals—writing, touring, recording—changed?
EC: I feel more grown up and like a kid again all at the same time. I think I'm less intimidated by it all. Like Lt. Dan at the top of the ship in the middle of the storm on the shrimp boat. I'm still fragile. But whatever. Bring it.
Who are your key influences?
EC: My main influence is just my life. I sing about it in all kinds of ways. The way it sounds is meant to serve the point of telling about it, and nothing more. I am not reverent to any one ilk of instrumental conglomerates. I am a fan of Jell-O.
Where do you see yourself in five years? What's the Elizabeth Cook master plan?
EC: I decline to fill out this job application. That would be an exercise in futility.
---
5 Top Songs by Elizabeth Cook
Dyin
Exodus of Venus

Exodus of Venus
Exodus of Venus

El Camino
Welder

Heroin Addict Sister
Welder

Sometimes it Takes Balls to Be a Woman
Balls
---