by

Diane Roberts

|

February 26, 2019
How Ted Bundy Ended Our Innocence
Diane Roberts doesn't need to see the new Ted Bundy film or Netflix series — she already lived through the horror once.
[caption id="attachment_10978" align="aligncenter" width="960"]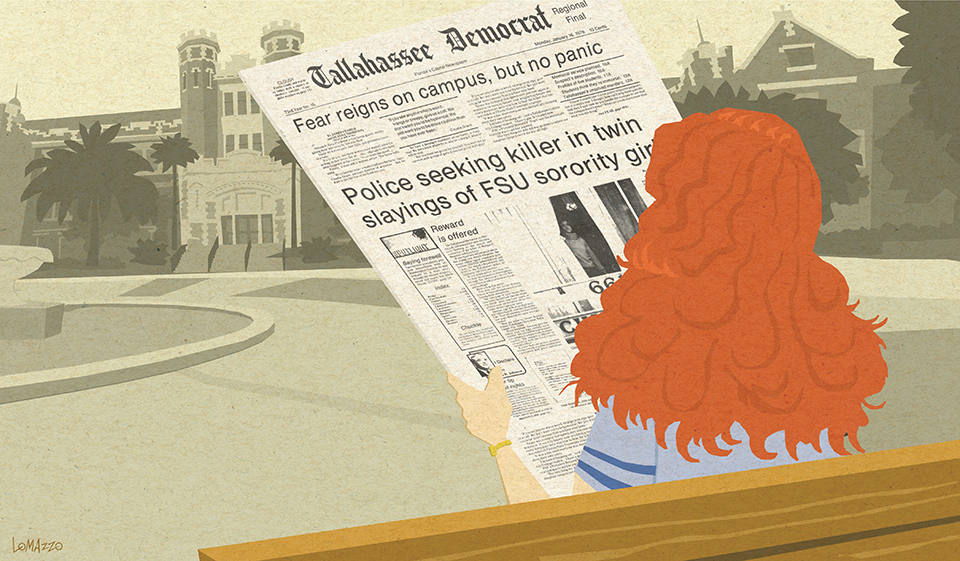 Illustration by Stephen Lomazzo[/caption] We stared at his picture in the newspaper. This guy couldn't be the one. This guy was handsome, in an older-brother way, with preppy hair and a smart blazer, the type our mothers would regard as
Homecoming date material
. In the photo, he was smiling, even though he was handcuffed. He looked relaxed. Not like a killer. During the three weeks since Jan. 15, 1978, when two young women were beaten to death in their beds in the Chi Omega house, we—my sorority sisters, my friends, all the girls at Florida State and me—had imagined the killer as some dark, deformed monster, some evil shadow who never quite took human shape. But there he was, the psychology major and honors graduate from the University of Washington, the one-time law school student who had been a Nelson Rockefeller delegate to the 1968 Republican National Convention—Ted Bundy. We'd been taught that men like him—educated, middle-class—would cherish and protect girls like us. Many of us have tried to forget Bundy. But there's nothing like a polished and plausible serial killer for seizing the American imagination. Forty years later, Ted Bundy still haunts us. Netflix has a new documentary series on him, called
Conversations with a Killer: The Ted Bundy Tapes
, and Zac Efron plays him in the movie
Extremely Wicked
,
Shockingly Evil and Vile
, which debuted at this year's Sundance Film Festival. We didn't learn the whole story until much later, some of it years later. But this is what happened: The night of the 14th, Ted Bundy had been hanging out at Sherrod's, a bar on Jefferson Street next to the Chi Omega house. One of the waitresses, herself a Chi Omega, noticed him checking out the girls. But that's what guys do in bars, right? Especially college bars. He was there, then he wasn't, vanishing into the loud darkness of Saturday night.
---
Like what you read? Click here to subscribe.
---
Around 2:45 a.m., Ted Bundy slipped into the Chi Omega house via a back entrance. That January was freezing, and the lock on the sliding glass door sometimes malfunctioned when it was cold. Bundy crept upstairs with an oak club and went on a silent rampage, bludgeoning to death Margaret Bowman and strangling her with pantyhose, battering and raping Lisa Levy. He attacked two other girls and might have continued through the house, where three dozen girls and a housemother lay sleeping, but somebody at the end of the long hallway got up and spooked him. Bundy ran downstairs to the foyer. It was around 3 a.m. by then. Chi Omega Nita Neary was coming back from a date. She saw him, a man holding a big piece of wood. He ran out the front door and disappeared. Upstairs, Karen Chandler stumbled into the hall. Her skull was fractured. Chandler's roommate Kathy Kleiner sat on the bed, her mouth full of blood. There was so much blood: on the sheets, on the floor, on the furniture, on the walls—even blood on the ceiling. The police came; the ambulances came. They took Margaret and Lisa away. This wasn't supposed to happen to girls like us.
AN INITIATION
I liked fraternity socials and drinking Dixie beer with my Sigma Kappa sorority sisters at The Palace, a dive near the FSU stadium, but I liked to study even more. I was a nerd in chick's clothing. I'd moved back home for the winter quarter of 1978, having decided my sorority house was too noisy and crowded for an English major with an almost-straight-A transcript (except for that stupid B in physics). One bright, cold Sunday afternoon after church, I went shopping at Rheinauers, Tallahassee's nicest store. I was looking to spend my Christmas money on a new dress to wear for the initiation ceremony for our pledges. My old one, the one I'd worn for my own initiation the year before, looked like an undercooked meringue, all puffy and girly. I wanted something more sophisticated for the ceremony in March, my first as an active—a full sister. It had to be white, of course. Some sororities wore black for initiation, but we wore white. And pearls. I pulled out dress after dress: a sequined chiffon halter design (too disco), a Gunne Sax by Jessica with a huge skirt and a lace-up bodice (too hippie) and finally a silky high-waisted number with big romantic sleeves. I stood in front of the mirror and held it up against me, slowly becoming aware there was a radio playing somewhere. The news was on. And suddenly I could hear every word, clear and sharp as an icepick: "Again, police confirm two co-eds are dead, found murdered in their sorority house on the campus of Florida State University … " I stared into my own eyes in the mirror. The radio didn't say which house. There were 16 sororities at FSU. It could be my house; it could be my sisters dead. The silky dress slid to the floor in a puddle of ivory rayon at my feet.
DARKNESS FALLS
On Jan. 7, 1978, Ted Bundy had rented a room in a once-grand old house on College Avenue in Tallahassee, less than a 10-minute walk from Chi Omega. Nobody in town knew then that he had escaped from jail in Colorado, where he was due to go on trial for the 1975 murder of a young nurse. She was his 14th or 15th victim. Nobody knew that yet, either. Bundy stole a car, got to Denver, flew to Chicago, took a train to Ann Arbor, stole another car, drove to Atlanta and caught the bus to Tallahassee. Bundy wasn't his real name. Theodore Robert Cowell was born in 1946 at the Elizabeth Lund Home for Unwed Mothers in Burlington, Vermont. His mother, Louise Cowell, told different stories about who his father was: a sailor on leave, or perhaps an Air Force veteran. Some people thought his father might have been Samuel Cowell, his own violent, misogynist, mentally unstable grandfather. After Bundy fled the Chi Omega house, he broke into an apartment a few blocks away. He beat FSU dance major Cheryl Thomas with the same piece of oak he used to kill Margaret Bowman and Lisa Levy. He drove around the state looking for more victims. On Feb. 9, he raped and murdered 12-year-old Kimberly Leach in Lake City. Bundy returned to Tallahassee, but he was running out of cash and scared the police would soon find him. He stole a VW Beetle and drove west from Tallahassee. On Feb. 15, a Pensacola cop named David Lee caught him near the Alabama border. "I wish you had killed me," Bundy said. "Would you kill me if I tried to run?"
DREAM GIRLS
When I got to the Sigma Kappa house that Sunday afternoon, and found it wasn't us, it wasn't my sisters who died, I felt guilty that I was so relieved. Every sorority woman I knew, from a fellow English major in Alpha Chi to a high school friend who'd pledged Zeta, said they felt the same. In the days after the murders, we slept with the lights on. We cried a lot. We huddled in the rec room. Boyfriends and Big Brothers (fraternity guys "adopted" by the sorority) stayed over every night to guard the house. The Interfraternity Council provided escorts to night classes. Alums came to supervise the installation of combination locks and bolts on the windows. The university sent chaplains, counselors and cops to help us pray, talk us through our reactions and caution us to never, ever go anywhere alone. I didn't know Lisa Levy or Margaret Bowman, though I'd spent time in the Chi Omega house. I rushed them until Pref Parties—one of the final phases of the rush process—until they cut me, which wasn't a shock. The Chi Os weren't all dream-girl Farrah Fawcett blondes (like the Tri-Delts), but they were, to my eyes, glamorous and self-confident. With my inexpertly blow-dried hair and social awkwardness, I wasn't many sororities' first choice, except when it came to keeping up the house grade-point average. Some girls packed up their cars and went home after the tragedy. Some stopped going to class. I escaped into novels—
Pride and Prejudice
,
Jane Eyre
,
Middlemarch
—long novels in which young women conquer their fear.
BUNDY FRIES
In late 1988, Bundy had exhausted all his legal appeals. He had been convicted in 1979 of the murders of Lisa Levy and Margaret Bowman, as well as the murder of Kimberly Leach in 1980. Knowing he was soon to die in Florida's electric chair, Bundy began talking about his long and bloody career, confessing to dozens of murders. He explained how he would pretend to be a policeman or a fireman or he'd hobble around on crutches, ask young women for help carrying something to his car, hit them over the head with a crowbar and drive them off to the woods. Sometimes, he would return to where he left them and rape their dead bodies; sometimes, he would dress them up in clothes he chose, make up their faces, paint their fingernails and do their hair. As though they were dolls. I was in graduate school in England then, trying to finish up my doctorate. But friends of mine at the
Florida Flambeau
newspaper kept me updated. Bundy's execution date had been set for Jan. 24, 1989. The bar that used to be Sherrod's, next to the Chi O house, was now called the Phyrst, and the owner said he was going to serve "Bundy fries." The morning of Bundy's execution, a crowd of 500 showed up outside the state prison in Raiford. Some sold "Burn, Bundy, Burn!" T-shirts out of the trunks of their cars. People sang and chanted. When the white hearse carrying his body drove off, they cheered. Ted Bundy remains part of Tallahassee's dark folklore. Tallahasseeans often called that crime the end of our innocence, when we started locking our doors. But for those of us who were in our late teens and early 20s at the time of the Chi Omega murders, 1978 was our expulsion from the paradise of childhood. I came back to teach at FSU in 2006 after years in England and Alabama. The Phyrst is gone. The house Ted Bundy lived in on College Avenue is now a fraternity house parking lot. The Chi Omega house is still there, though it looks very different now, with a portico and white columns. After the murders, the interior was torn out and reconfigured, erasing all trace of the rooms where Bundy killed Margaret Bowman and Lisa Levy. I'm still in touch with a few of my sorority sisters, but we never talk about the murders. I'll bet they, like me, sometimes think of Lisa and Margaret and all the other girls Bundy murdered. Girls like us. I haven't asked them if they'll watch the documentary series or see the latest Bundy movie, which has been called one of 2019's "most anticipated" films. I won't. I walk past the Chi Omega house at least once a week. I don't need to wake those ghosts. I've known for a long time that the young and pretty and smart are just as mortal as the rest of us.
READ MORE FROM FLAMINGO COLUMNIST DIANE ROBERTS.