by

Eric Barton

|

February 25, 2019
The House that Versace Built: Inside The Villa Casa Casuarina
The story behind Miami's most famous mansion, now a boutique hotel for those who want to spend a night among its opulence
[caption id="attachment_10747" align="aligncenter" width="686"]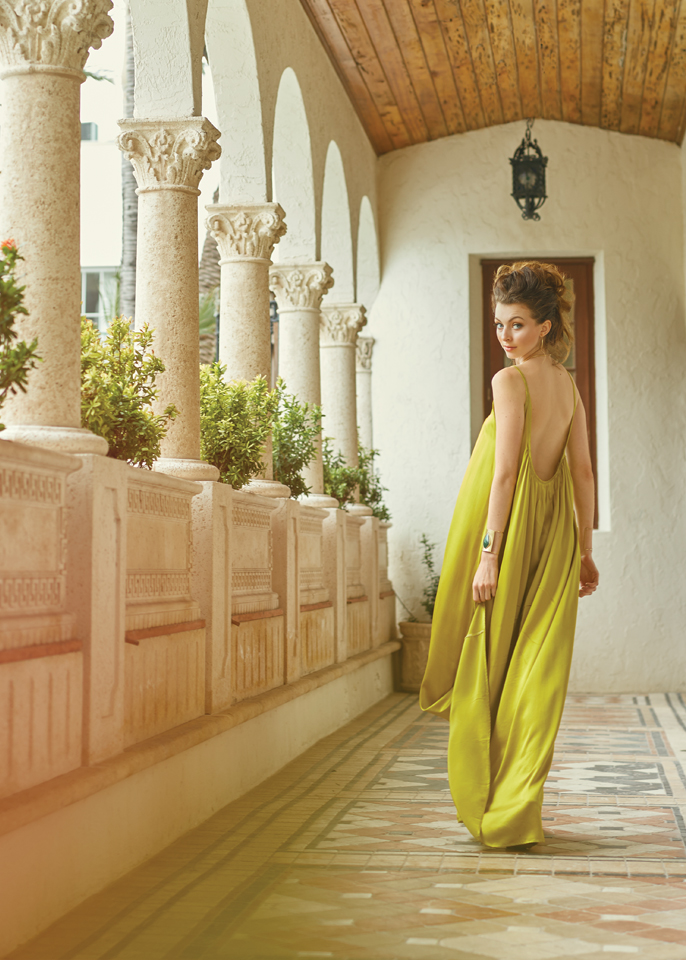 Model Caroline Krystoff at The Villa Casa Casuarina wearing dress by Très Nomad and 18K dueling Malachite Shield cuffs by Cresta Bledsoe Fine Jewelry. Styling by Cresta Bledsoe; Makeup and hair by Jesus Bravo; Photography by Mary Beth Koeth[/caption] The staircase takes a sharp left. Moroccan inlays along the bottom of the wall lead the way. A low slung ceiling requires a near acrobatic contortion to fit. A hand-painted tile promises what's to follow: "Observatory." At the top of the stairs awaits a fairytale, a daydream of an artist. In a tight space no bigger than a walk-in closet, a porthole window not far off the floor lets in morning sun reflected off the ocean. A curved bench seat holds cushions in neon blue velour and throw pillows the color of moonlight. From the bench, the walls of the domed room are finished first in brick. Above that begins an arched ceiling, azure blue, dotted with twinkling gold stars between vertical stripes bringing your gaze upward. It's here that Gianni Versace would spend his evenings. The founder of the Italian fashion house that bore his name would direct a telescope through the opening of his observatory and take in the moon and the stars. It's not hard to picture him, maybe adorned in a housecoat and slippers of his own design, escaping into his imagination in the sky above his Miami Beach mansion, on Ocean Drive. The Villa Casa Casuarina, it's now officially called. And for a steep price, you can be among the few to take in the heavens just like Versace.
A GRAND HOME AND A GUNSHOT
Perhaps it's the coquina steps out front that you picture first when thinking about Versace's home. It's there, where he was slain in 1997, that has become the most famed section of what might be among the world's most photographed residences. [caption id="attachment_10750" align="aligncenter" width="960"]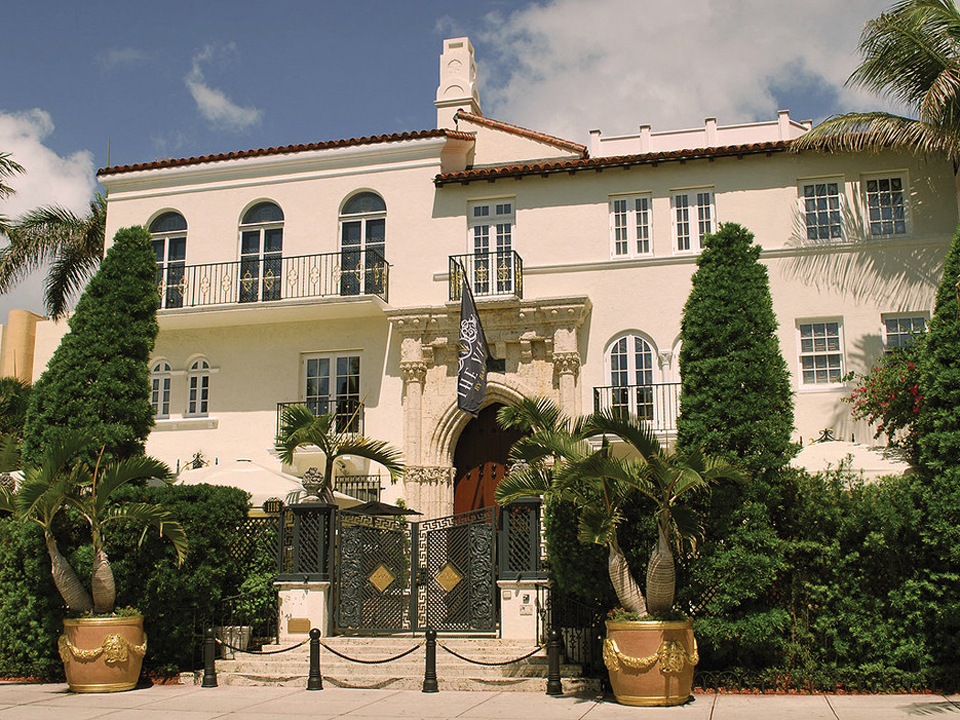 Once designer Gianni Versace's home, the converted boutique hotel is situated on Ocean Drive in Miami Beach. Photography by Ken Hayden[/caption] That's not just because of the macabre fascination of the murder; the manhunt for Versace's killer Andrew Cunanan, who slayed five people in a spree that ended with Versace; or the pop culture references to it that just seem to continue, including last year's appearance in FX's
American Crime Story
, which recently won a Golden Globe for best television limited series. It's likely the home's most photographed spot because few are allowed to continue past the threshold of the high gated entry. On the day of my visit, a woman in a dress with a slit tracing the line up one leg stood sentry, a hand on her hip, as if ready to be placed in a centerfold. It is her job, quite simply, to tell people no.
---
Like what you read? Click here to subscribe.
---
The tourists passing by on always-crowded Ocean Drive ask her "all day, every day," to point out the final resting spot of Gianni Versace. They ask if they can have their photograph taken where he fell. Or maybe they could come in for a look around. But the steps and what awaits inside the home are only for those dining at the restaurant or staying the night. [caption id="attachment_10752" align="aligncenter" width="960"]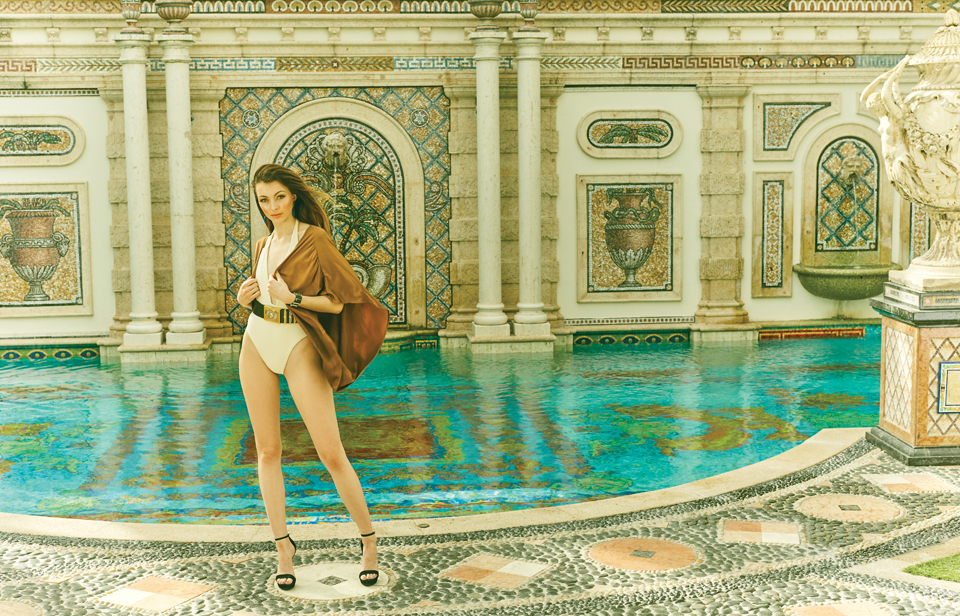 Krystoff by the mosaic pool wearing a one-piece suit by Montce Swim, poncho by Très Nomad, vintage Gianni Versace belt supplied by What Goes Around Comes Around Miami, earrings and cuff by Cresta Bledsoe Fine Jewelry; Photography by Mary Beth Koeth[/caption] Before we walk inside, though, first understand the background of the grand home Versace once occupied. The house was built in 1930 by Alden Freeman, who retired at just 27 thanks to a vast inheritance of Standard Oil money from his father. They say the design took inspiration from the Alcázar De Colón, the Dominican Republic home of the son of Christopher Columbus. It's hard to see the resemblance now between the Alcázar's simple rectangle of unfinished bricks and arches and Casa Casuarina's Mediterranean Revival–style façade. After Freeman died in the home in 1937, it would eventually become, like most of the squat structures that surrounded it, a low-rent building of 24 apartments, named, almost ironically, the Amsterdam Palace. It sat there for decades, like a tarnished silver tea set in a secondhand store. Around it cropped up a South Beach stew of all-night coke-powered discotheques, sleepy buildings for pensioners, and touristy shops hawking crass-slogan T-shirts. The way Versace told it, he found the home by chance. He had arrived in Miami on the way to Cuba in 1992. He asked a cab driver to show him something "fancy and fun." They drove past the Art Deco buildings along Ocean Drive, and then, when he saw the home, Versace demanded they stop. He decided right there he'd buy the place, even though it wasn't for sale. He paid $2.95 million, more than twice what the owner had spent on it just three years prior. [caption id="attachment_10753" align="aligncenter" width="641"]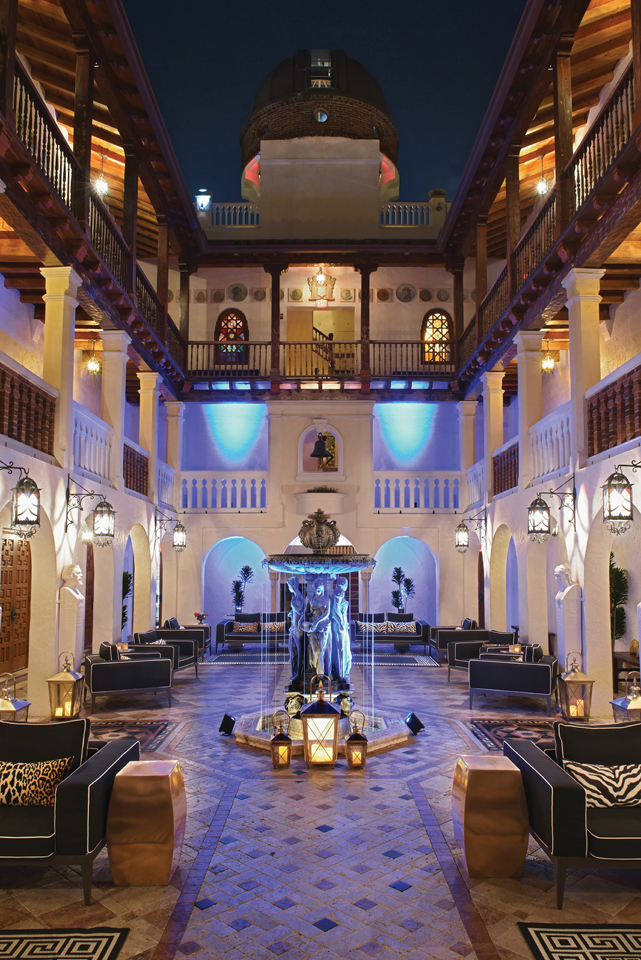 The grand courtyard of the Villa Casa Casuarina with its crowning feature: Versace's observatory; Photography by Ken Hayden[/caption] Having apprenticed as a boy in his mother's Italian dressmaking business, Versace opened his first store in Milan in 1978. Unlike many designers in the industry, Versace took control of every facet of the company, from the lines to store layouts. He defined himself through vibrant colors, animal prints and tropical patterns, challenging previously understated Italian style. Vogue editor Anna Wintour once famously explained, "Armani dresses the wife, Versace dresses the mistress." In an era of neon t-shirts under pastel jackets, Versace embraced Miami Beach style, recalls Melissa Sardinia. She had a franchise agreement to run the Versace stores in South Florida back then and often hosted him when he came to town. She recalls being caught off guard when he declared his intention to buy his home. "I remember the day when Gianni said, 'I'm buying that house on Ocean Drive,' and I'm like, 'What house?'" The Versace store Sardinia operated in South Beach was a pioneer, adding high fashion to a neighborhood otherwise in hard times. Sardinia recalls showing up in the mornings to find the entrance littered with needles and homeless Marielitos, the hard-up refugees arriving from Cuba during the Mariel boatlift, sleeping in the doorway. In addition to the mansion, Versace bought the building next door and leveled it. It allowed him to build a new wing onto the home and the grand "mosaic garden," with more than a million tiles and stones and Versace's Medusa logo in the center. Twenty-four-karat gold mosaics line the pool. [caption id="attachment_10754" align="alignright" width="400"]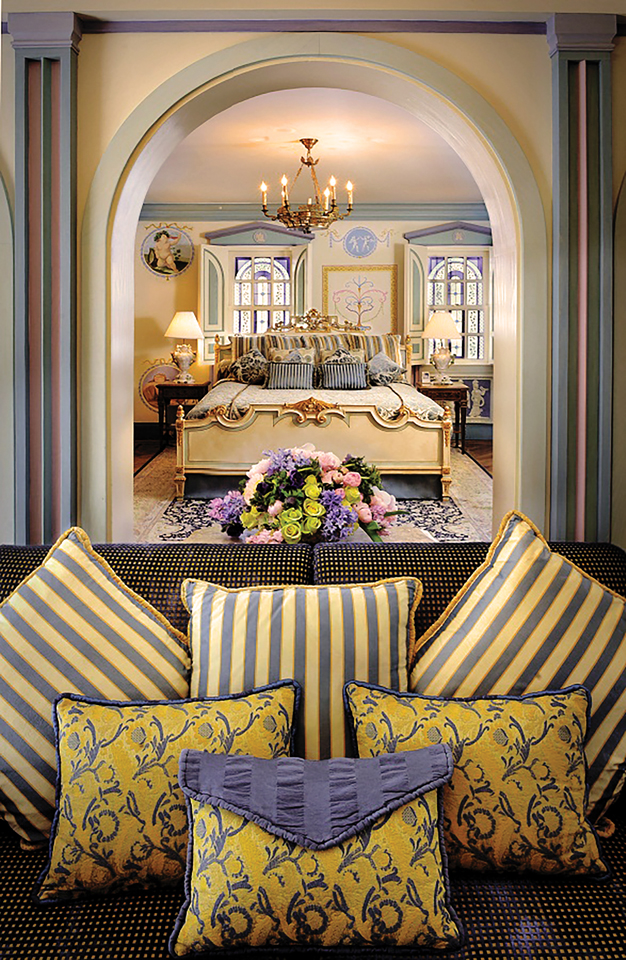 The Azure suite in the villa is designed to evoke Gianni Versace's method of melding influences from multiple styles. Photography by Ken Hayden[/caption] He didn't restore the home as much as he remade it, in a rethinking of the place to match the designer's extravagant style. In all, Versace spent $33 million on the work, ending up with a 23,000-square-foot home with 10 bedrooms and 11 baths. He owned it just five years before Cunanan, who had rented a room nearby for $36 a night, gunned 50-year-old Versace down on the front steps at 9 a.m. on July 15, 1997. At that moment, Italian expat Paolo Buonfante was in his Miami Beach office, on the phone with Versace's sister and business partner Donatella. Buonfante is a modeling agent and was working out the details of an upcoming show, Piazza di Spagna in Rome. One of his models, Elsa Benítez, was scheduled to walk the runway wearing Versace. Buonfante had the radio on in the background and heard vaguely that Versace had been shot. He told Donatella that there had been an accident at the mansion. Not sure if he should deliver the news, he told her to hang up and call the authorities. "She asked me if I was serious, and I repeated that I heard that there was an accident. I didn't know what to say." [caption id="attachment_11024" align="aligncenter" width="960"]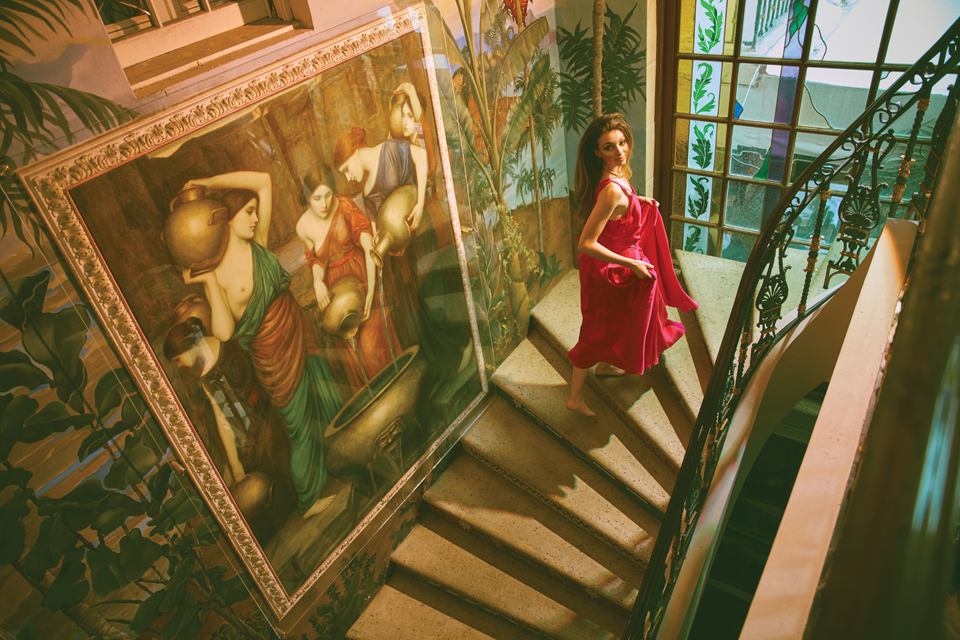 Photography by Mary Beth Koeth[/caption] The murder didn't just take out a fashion legend, but it also set back South Beach's status in the industry. Speaking from his office at DAS Model Management on Miami Beach, Buonfante recalls how the international media's coverage of the shooting painted Miami as a crime-ridden cesspool overrun by drug wars and vagrants. It's undoubtedly true that the beach, and Miami overall, have always struggled with crime. Reporting there in the 1990s, Rick Bragg wrote that "crime in Miami, the city where a man once was arrested walking down the street carrying a human head, seems more spectacular, more threatening." Still, today, Miami Beach crime rates are some of the highest in the state and the nation overall. After Versace's death, the attention brought to Miami Beach's crime problems crippled the fashion industry, Buonfante says. Fashion shoots began moving elsewhere, and with them, the models, photographers and agents. Many of the tropical photo shoots that might have taken place in Miami moved to Capetown. While the industry has seen growth in recent years in South Beach, Buonfante says he imagines the long hit it took after the murder is something that would have troubled Versace. "He loved the vibe in Miami, like a lot of Italians, just like I did 30 years ago." [caption id="attachment_10756" align="alignright" width="400"]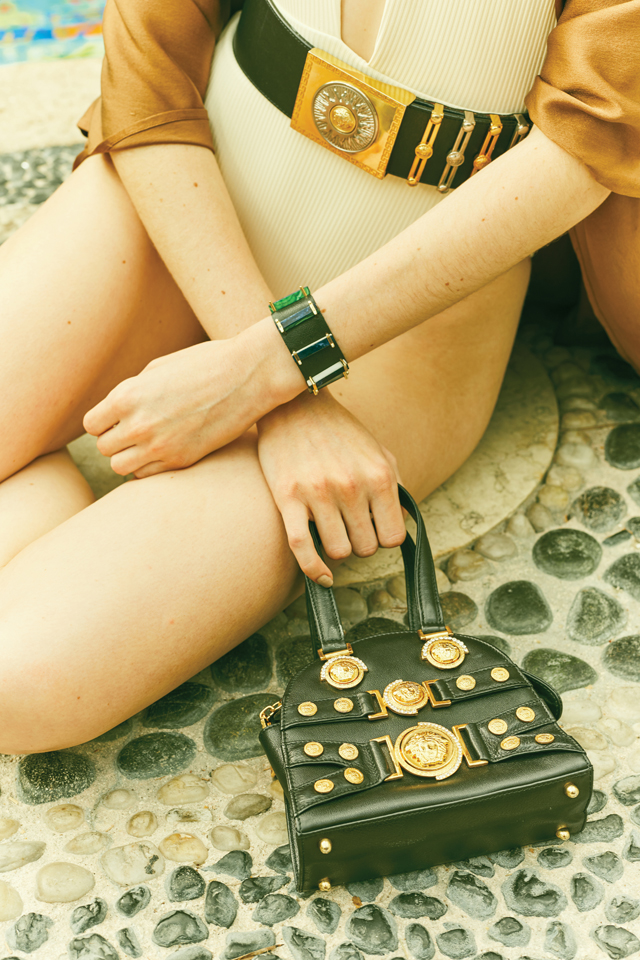 Gianni Versace vintage Medusa belt and leather Medusa bag mini supplied by What Goes Around Comes Around Miami, cuff by Cresta Bledsoe Fine Jewelry; Photography by Mary Beth Koeth[/caption] Donatella took over the company after her brother's death, but her reign would be marked by ups and downs; by 2004, sales had fallen in four of the past seven years, despite price cuts and a renewed effort on products that could sell. That year, Donatella's daughter Allegra turned 18 and, under the terms of her uncle's will, inherited half of the company. The company returned to profit in 2011 and three years later sold a 20 percent stake to private equity firm Blackstone to fund an expansion. This September, the Versace family sold the company to design conglomerate Michael Kors, which was renamed Capri Holdings, for $2.12 billion. The recent sale signals a new era of expansion for the iconic brand, which Gianni made more sought after by Americans when he moved to Miami in the '90s. After the murder, the home sat empty for three years until the Versace family sold it to telecom millionaire Peter Loftin for $19 million in 2000; he used it as a space for special events and, later, a restaurant. He brought in interior designer Katia Bates to restore the property to how Versace first imagined it. But in 2013 Loftin filed for bankruptcy. The famed property landed on the auction block. It was then, though, that the grand mansion finally got a new life.
INSIDE THE MIND OF VERSACE
Chauncey Copeland waits inside the central courtyard of Casa Casuarina with his hands clasped in front of him, wearing a gray Lacoste cotton button-up, blue slacks and the sensible black shoes of a man on his feet all day. Despite being the general manager of the Versace mansion, he owns just one item of Versace clothing: a tie, which he just happened to wear to a party the night before. Copeland has spent four decades in the hotel industry, and when he took over the property four years ago, it was his job to finally make a successful business out of the place."Oh, it's a money-making operation now," Copeland says with unbridled pride. "Once word had gotten out, profits increased 247 percent over the last two years." A native New Yorker, Copeland first moved to Miami—coincidentally—just months before Versace. Copeland had a friend who lived on the third floor of the apartments that occupied the home back then, and he can vaguely remember the simpler appearance of the place. Copeland works for Victor Hotels, a South Beach-based company specializing in boutique properties. It's a family company, which began its life when brothers Joe, Ralph and Avi Nakash started the Jordache jeans empire in New York in 1969. They've since branched out into shipping, an airline, and especially real estate. At auction in 2013, they scooped up Casa Casuarina for $41.5 million, outbidding suitors including Donald Trump. On South Beach, the Nakash family also owns the Hotel Victor, the Breakwater, Ocean Hotel and the Casa Victoria Orchid on Espanola Way. In 2014, they laid down $90 million for the 40-story Setai hotel, which they've turned into a jewel of the island, earning awards and accolades that include a spot on Travel + Leisure's "World's Best" list in 2018. [caption id="attachment_10757" align="aligncenter" width="960"]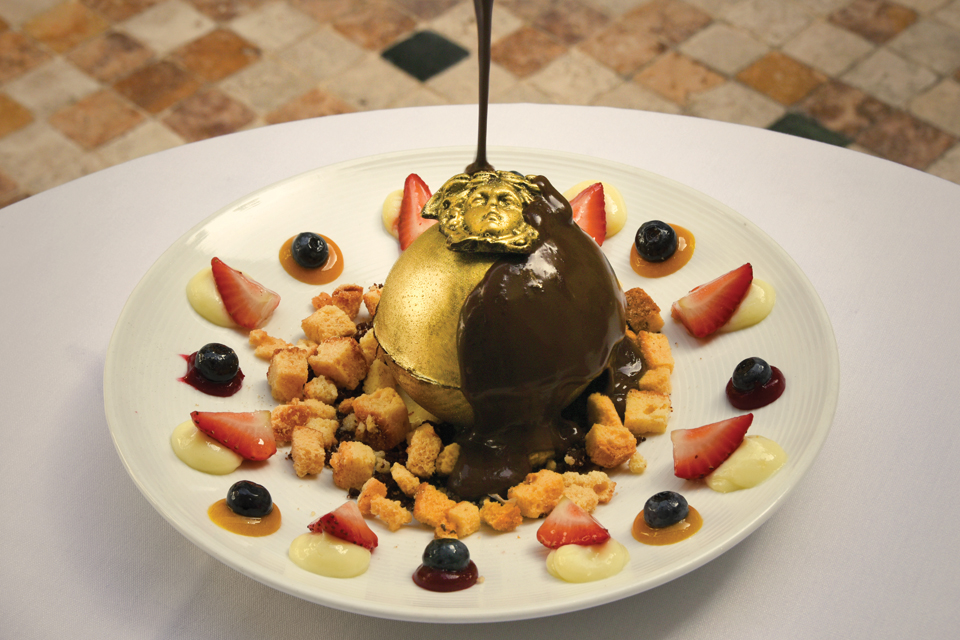 The Villa Casa Casuarina restaurant, Gianni's, boasts a continental menu, cocktails and poolside dining. Photography by Ken Hayden[/caption] Here, though, the Versace mansion holds just 10 suites, starting at $474 during the offseason and running into the thousand-dollar-range per night November through April. There's also a restaurant, Gianni's, with tables dispersed along the front steps, the courtyard, a formal dining room and a patio overlooking the grotto. It boasts a continental menu, rooftop lounge and the promise of access to a portion of the property. The first-floor common areas also host yearly parties during Art Basel, including last year's Bombay Sapphire Artisan Series Finale, hosted by actress Tessa Thompson, star of
Thor: Ragnarok
. To gain access to the swimming pool, the upstairs, the observatory and elsewhere, you must rent a room. Copeland explains that the guests are a mix of those for whom this is an extravagance and those who simply expect this level of opulence. "We get a lot of celebrities staying here. There's that," he explains. "It's also people crossing off their bucket list." There's also those fascinated by the ghoulish. They take selfies at the spot of the murder and want to sleep where Versace's ghost may roam. But Copeland says those are rare. "Just this week I had someone ask me about it," he says of the murder. "First time in a long time." [caption id="attachment_10758" align="aligncenter" width="960"]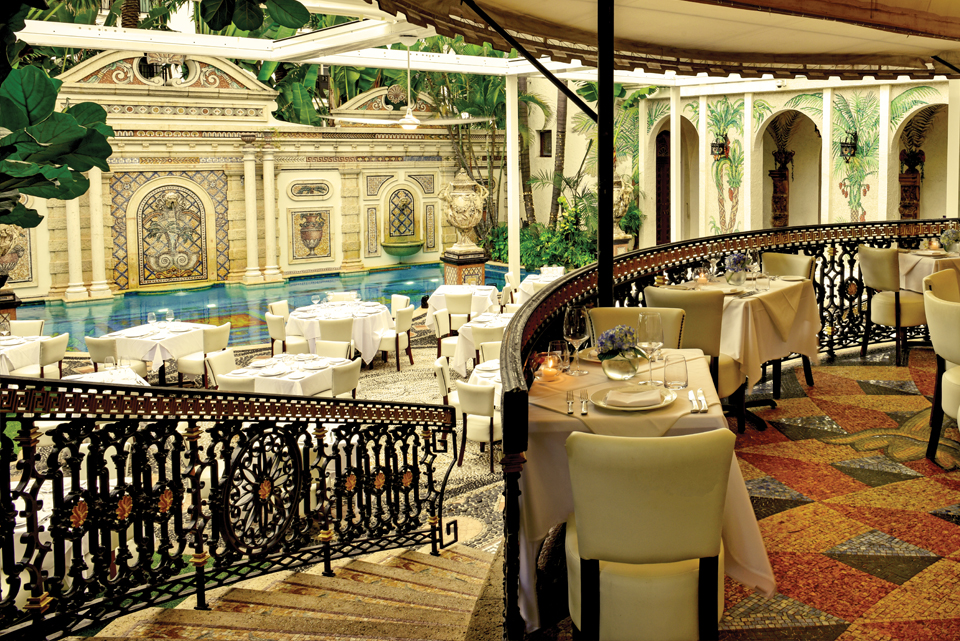 Gianni's dining room set among lush poolside gardens; Photography by Ken Hayden[/caption] Armando Carcani, the hotel's food and beverage manager, say he gets asked about the killing far more often. "On a daily basis," he says. Carcani is a native of Bologna and former manager of nearby Caffe Milano. The hotel hired him two years ago with the aim of raising the dining experience at Gianni's "to the next level." He's sitting at a linen-covered table in the courtyard before lunch begins, his legs artfully crossed, smelling vaguely of cigarettes and cologne and wearing a robin's egg shirt and a navy suit with exposed stitching and a pink handkerchief in the breast pocket. He considers the few Versace items he owns among his prized possessions. Yes, he says, his guests ask him about the murder. "But then every three days or so a man goes down on his knee and proposes right there at the pool." Looking up from the courtyard, Copeland points out some details. They are many, and, for first-timers like me, they are overwhelming. He explains that Versace didn't want a home that simply matched one style. Just like his clothing line, which often blended designs rarely seen together, his home combines centuries and cultures. The banisters running along the open walkways above are Victorian, while arched cutouts in the plaster are Moorish. The exterior and terra cotta roof are decidedly Mediterranean Revival. The tiles and the little flourishes here and there are a mix of Italian, Moroccan, Spanish and probably a dozen other styles. The company maintains an artist on-site to preserve it all. If the courtyard is heavy on design elements, the bedrooms are far more ornate. In the Venus Suite, a bed the size of your average kitchen sits below a ceiling painted like a floral trellis, with a bronze headboard adorned with an intricate leaf-painted stencil pattern. A giant marble diamond leads the way to the bathroom's vestibule, with a circular crimson chaise offering a sitting area below a gold-and-black Greek-style statue, floral designs painted on the wall and a gold chandelier above. It's conceivable to find the antique furniture, Victorian-style paintings and ornate frescoes on nearly every wall both gaudy and lovely at the same time. Still, the place is undoubtedly captivating, a journey into the mind of a designer who cared not for tradition and instead embraced abundance. "The thing about the design," Copeland points out, "is that the more you look, the more you see." [caption id="attachment_10759" align="aligncenter" width="640"]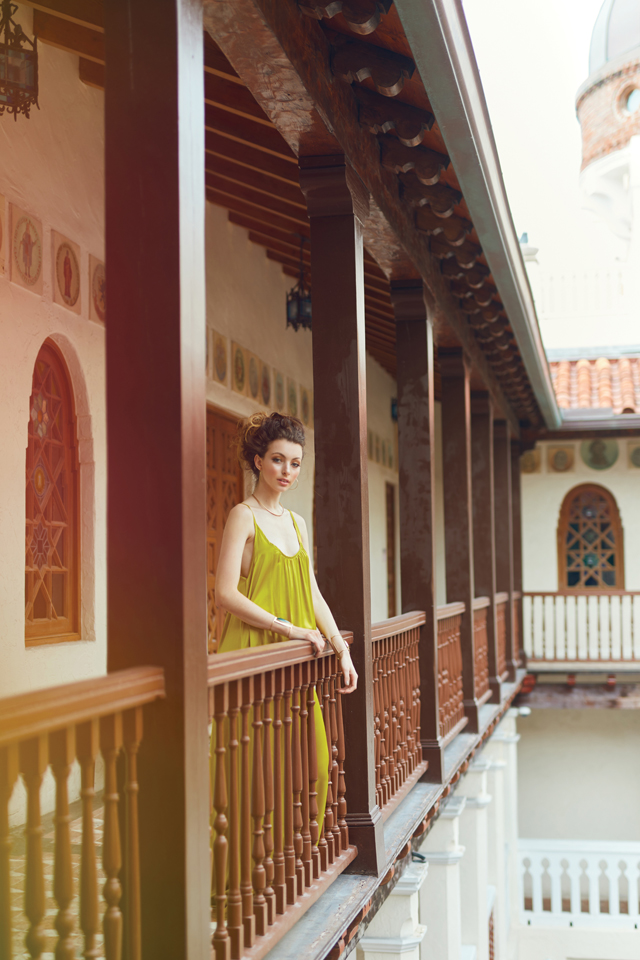 Krystoff in dress by Très Nomad and jewelry by Cresta Bledsoe Fine Jewelry; Photography by Mary Beth Koeth[/caption] The tour concludes in the circular observatory that lords over the mansion from the far end of the central courtyard. Sardinia, who used to franchise the local stores for Versace, recalls nights spent up there with him. There's a common belief that Versace used the mansion to host parties and house guests—famously including the likes of Madonna, Princess Diana and Elton John. But mostly he saw this house as his tranquil respite, Sardinia says, and he escaped to the observatory most nights. Now, Copeland says guests often use it for something special, and a few have proposed or been married in the center of the room, where a speaking voice echoes pleasantly. It's calming to linger for a moment, the stars on the domed ceiling twinkling. The porthole window requires one to bend down to peer out. But it's impossible to take in the view of the mansion's courtyard below or the sand beyond it, as the morning sun gleaming off the ocean hides everything in its glare. Taking a step back, the room is dark again, with only the twinkling stars catching the light. Maybe, like me, you'll imagine Versace there, staring up into the stars. Like the mansion itself, the room is an intimate voyage into the mind of Gianni Versace.
---
[caption id="attachment_11547" align="aligncenter" width="1080"]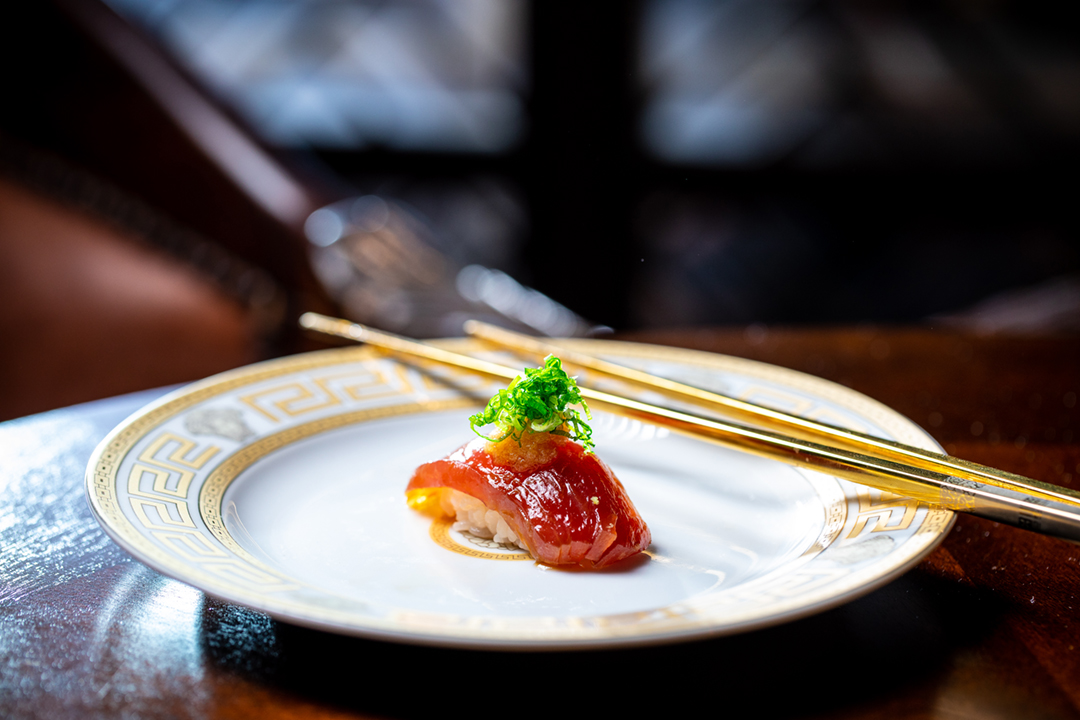 Zuke Akami prepared by Sushi by Bou. Photography Sushi by Bou[/caption]
SUSHI IN THE SUITE
An exclusive speakeasy-style dining experience awaits.
Boca Raton-raised chef David Bouhadana and his partners came up with a concept like no other when they began plopping tiny sushi restaurants in New York City hotel rooms. SUSHI BY BOU now has four locations in the city. Early this year, Sushi by Bou launched at Villa Casa Casuarina, the Miami Beach mansion once owned by the late Gianni Versace. For $125, diners get a key card to access Gianni's 500-square-foot suite, which is converted into a speakeasy-style four-seat sushi bar. The hour-long omakase-style experience includes sea urchin and scallop topped with charcoal salt, cocktails and $30 sake in a self-service vending machine.
sushibybou.com