by

Rob Rushin

|

January 2, 2019
Fledglings: Guitar Hero Rick Lollar
A Tallahassee native carves out a name for himself as a lead guitarist sharing the stage with some of music's biggest acts.
[caption id="attachment_10540" align="aligncenter" width="893"]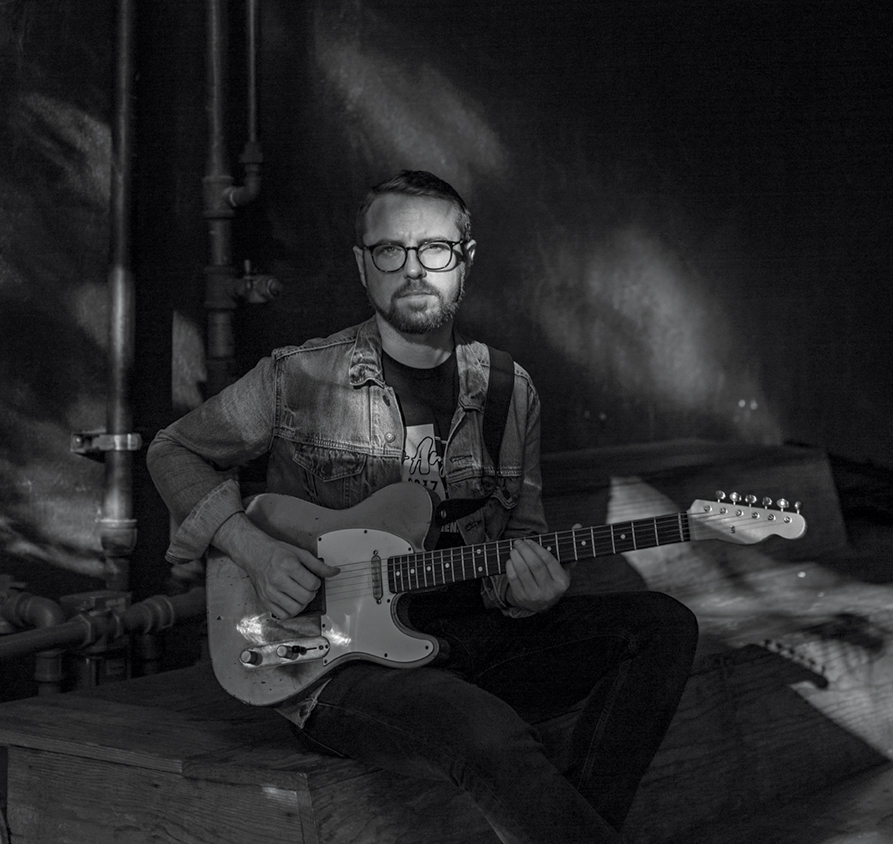 Rick Lollar grew up in Tallahassee but now makes a living playing guitar for big-name acts. Photography by Brian Hall[/caption] Behind every
American Idol
—style success story, consider that army of gigging musicians (on keys, drums, bass, lead guitar) making the person in the spotlight sound great. Success looks a little different for those folks, who play on as many dates and projects as time will allow. After 10 years in Atlanta—including a transformative stint with the legendary Colonel Bruce Hampton—Tallahassee-bred Rick Lollar has established himself as a first-call guitarist for hire in one of America's most competitive music scenes.
Lollar brings his A-game to any style, with sophisticated melodic and harmonic concepts, deep feeling and tone galore. Catch him with Kenosha Kid or proto-folkies Larkin Poe. You might have seen him working with Elvis
freaking
Costello or Dianne Reeves. He pops up regularly in the Atlanta Collective, delivering note perfect performances of classic albums like
Thriller
and
Synchronicity
. Maybe you saw him playing a lower-profile gig, inspiring Aunt Agnes to get her groove on at your cousin's wedding? Rule #1 for the gigging musician: You. Got. To. Work. On the eve of a European tour supporting Grammy nominee Jamison Ross, Lollar spoke to us from his home in Decatur, Georgia, to tell us how he does it.
For years you were the "teen blues phenom" around Tallahassee, protege of guitar guru Mississippi James Stanton. How did you shift into jazz?
RL:
Senior year of high school, I played in the Florida State High School Honors Jazz Band, directed by Rodney Jordan. That was my first contact with the FSU jazz program and it blew my mind. That really solidified my wanting to go to FSU to study with people like Rodney, Marcus Roberts and Leon Anderson.
You have a Tallahassee homecoming scheduled soon?
RL:
Rodney Jordan invited me to come lead the FSU Jazz Ensemble in their annual concert. I'll be doing all the arrangements and playing with the kids. I was in their shoes, and I know how important it is for them. I really want to bring them something challenging and memorable. It's really an honor.
What does it take to succeed as a working player?
RL:
Being able to play anything people throw at me. I can hang in most situations because I love all kinds of music.
I feel incredibly lucky to play music 100 percent of the time. Getting away with it essentially [laughing]. The real challenge is to push as much creative work as I can while maintaining a living. I'm really lucky. Not everybody gets to do this.
What is the master plan?
RL:
I don't have the luxury of being able to chart a grand plan because I am a working musician. This is my living, my livelihood, so that governs a lot of the choices I make.
I'm known for playing guitar in a flashy way sometimes, but that isn't really what drives my love of music. I'm on the verge of figuring out the next move. It's got to combine my voice and my songwriting and guitar playing in a way that doesn't feel extraneous. I don't know when that's gonna happen, but sometime in the next year or two.
---
5 Top songs by Rick Lollar and company
"I'VE BEEN DRIVIN"

 

Soulful Hang by Rick Lollar Band

"Two Good People"

 

The Big Galoot by King Baby

"BUDDY"

 

The Big Galoot by King Baby

"GIRL LIKE YOU"

 

More Of Us by Weisshund

"KEEP ON"

 

All For One by Jamison Ross