by

Jamie Rich

|

August 27, 2018
Jake Owen: The Sunshine Son
Country music superstar Jake Owen opens up about life growing up on the water and in the orange groves in his hometown of Vero Beach, his big Nashville break and how he hopes to pay his successes forward
[caption id="attachment_9179" align="aligncenter" width="986"]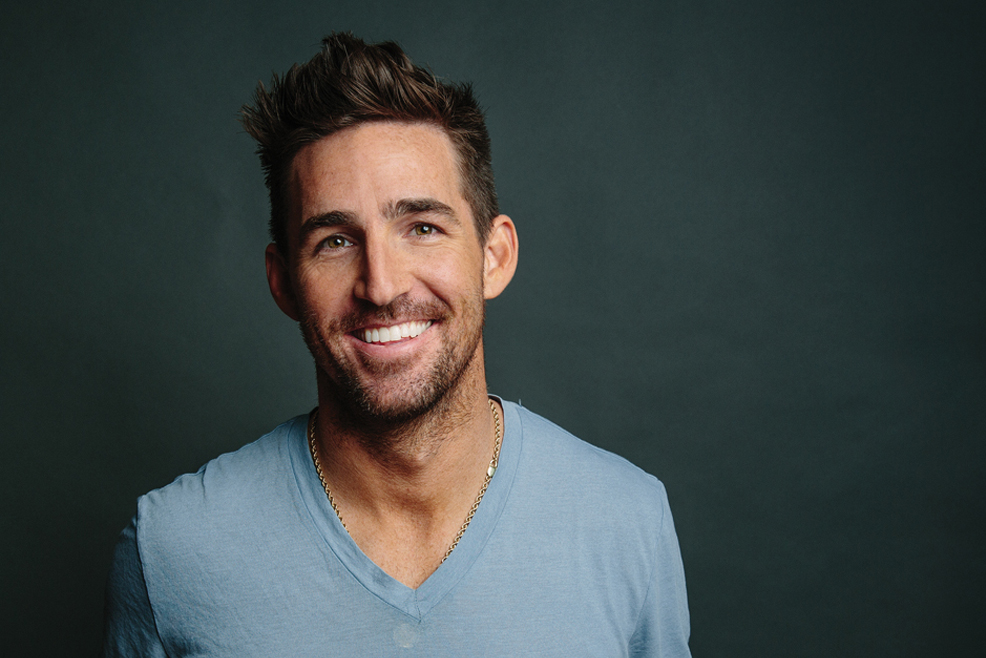 Country music artist Jake Owen made a name for himself with his sunshine-infused sound. Photography by Joseph Llanes[/caption] Jake Owen wasn't supposed to be a musician. As a kid, he filled his days with rounds of golf, innings of baseball and tricks on his wakeboard in the Indian River. Music lessons never factored into Owen's "ocean life" in his hometown of Vero Beach, on the Treasure Coast. In 2000, he moved to Tallahassee to attend Florida State University, where he had hoped to play on the school's golf team. Fate intervened, and at 19, Owen picked up a guitar for the first time and started strumming, becoming a popular act rocking the local bar scene night after night with his band Yeehaw Junction. Longing to perform beyond the moss-covered oak trees of Tallahassee, he changed course before graduating and moved to Nashville in 2003. That decision, and a routine trip to a SunTrust Bank, proved serendipitous. Today the 37-year-old singer, and dad to 5-year-old daughter Pearl, has racked up a slew of awards and seven No. 1 hits on the country charts, positioning him among music's hottest stars. Owen's latest hit single, "
I Was Jack (You Were Diane)
," pays tribute to the classic youthful anthem recorded by John Mellencamp in Miami in 1982, with a nod and a wink to his own days playing that song night after night from a tiny beer-soaked stage in Tallahassee.
Flamingo
Editor in Chief Jamie Rich recently caught up with Owen in between tour dates. Here's a few moments from their conversation. [caption id="attachment_9180" align="alignright" width="450"]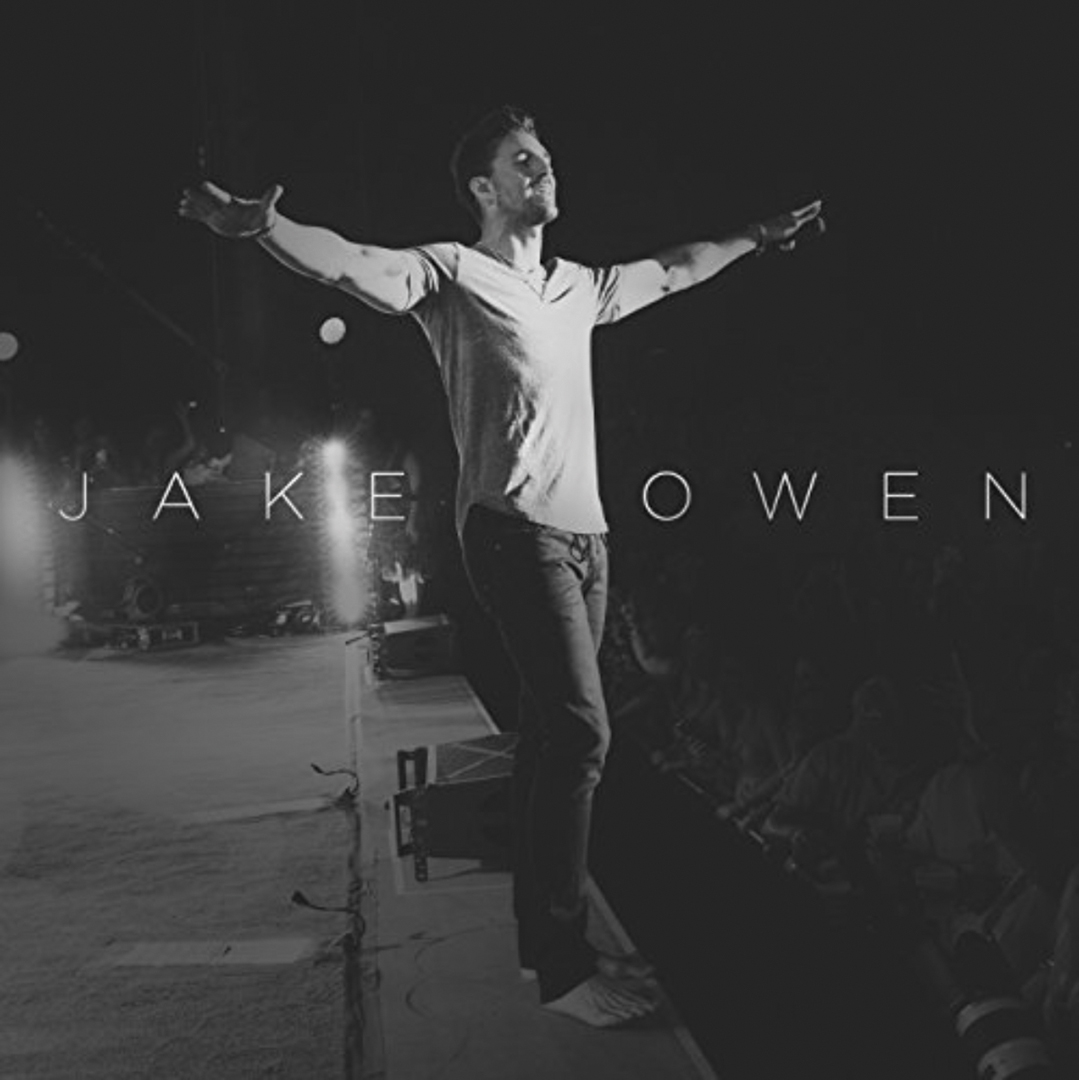 Cover for single "I Was Jack (You Were Diane)" released 2018.[/caption]
How often do you get back to Tallahassee?
JO
: I still get there as much as I can. I love going and watching football games. It seems like every year that I come back is like confirmation of how much older you feel, you know what I mean? I get older. They get younger. But it's a lot of fun. I'm still a big supporter of Florida State and always will be.
Anyone who ever saw you play music there or requested a song probably feels a personal connection. Like, "We were there in the beginning!"
JO
: Yeah, I meet a lot of people like that all over the country now. After they left college they filtered out throughout the United States. I'll be playing a show somewhere, and somebody will come up and say, "Hey, I used to watch you in Potbelly's." And that's always pretty cool. I usually try to catch up with them on what they're doing these days, and it's just kind of cool to see what life does for you.
Your love of golf has been well documented. Did you play golf at Florida State?
JO
: No, I didn't. I went there with hopes of playing and taking a walk-on spot. I hurt my shoulder and then ended up not playing. That's when I started playing guitar. I had to find something to do. [caption id="attachment_9182" align="aligncenter" width="1080"]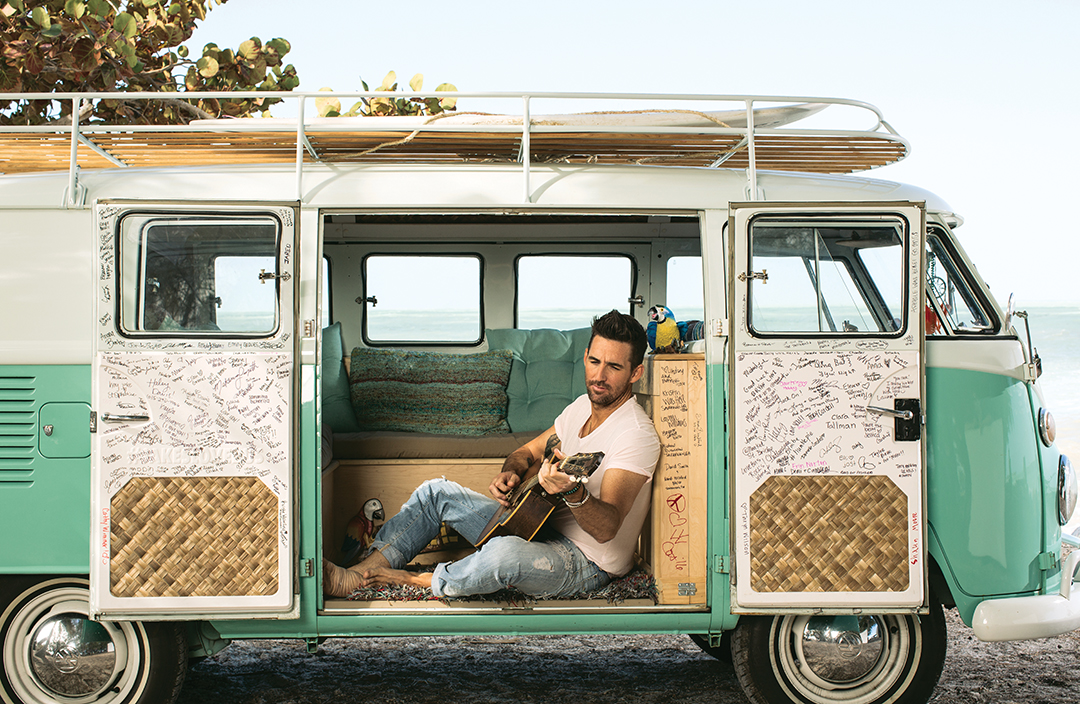 In 2017, Owen drove what he called the "love bus" on a road trip across Florida, stopping to perfom along his way down to Key West. Photography by Joseph Llanes[/caption]
So how did that happen?
JO
: Looking back on it, I was pretty bored considering I wasn't doing what I had intended on doing. I don't really know how to explain it other than, just sit there and work at it. I played long enough to where I'd learned a few songs that I figured I could go play for an hour or so by myself somewhere. I stopped at Potbelly's one day and asked if I could play. [The guy] said, "Yeah, you want to play tonight?" So I played that night, and I started playing every few nights. Then I started a band.
---
Like what you read? Click here to subscribe.
---
Your band was called "Yeehaw Junction." Have you ever been to Yeehaw Junction?
JO
: Yeah, many times. I mean the only way to get to Tallahassee [from Vero Beach] is to take the turnpike to 75 North, and you got to leave from Yeehaw Junction off of Highway 60.
Were you writing your own music back then?
JO
: I was. I was writing a lot of my own songs. It's like anything: You can always become a cover singer and just sit around and play "Sweet Home Alabama" every night and have people tip you because they want to hear "Free Bird." Or you can take a chance on playing your own songs and hoping that one day people will take care of you and give you money for your own songs. I just got to a point where I wanted to do bigger things. I still find that there's nights where I play songs that I played when I was in college. But I just wanted a little bit more out of life.
HARDWORKING MAN
When you went to Nashville, was there a big break for you?
JO
: I moved to town. Didn't really know anybody. Started writing some songs with people that I would meet. Meanwhile, I was still just trying to set up things, like finding an actual place to live. I was starting a bank account, and the lady at the bank asked me what I was doing. I told her that I moved to town to play music, and she said, "I'd love to hear your songs some time." I gave her an album, a CD of songs that I had, and the next thing I know she passed it along to someone else. And they called me and said, "Do you want to come chat with us at Warner/Chappell?" I was pretty excited. [caption id="attachment_9184" align="aligncenter" width="1080"]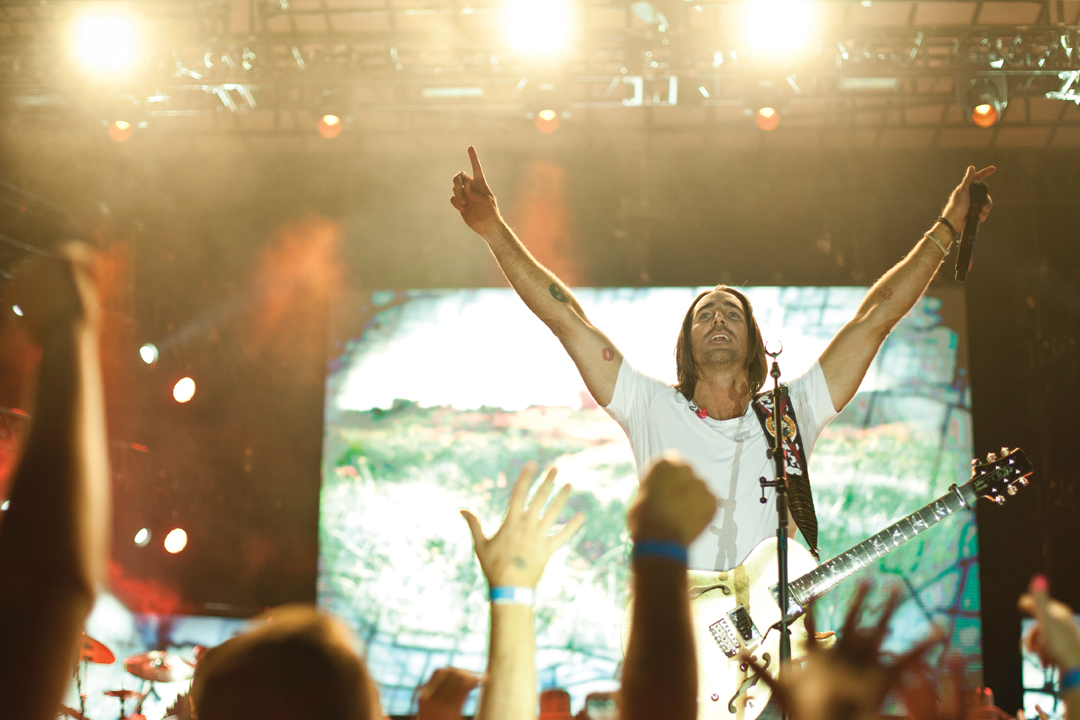 Owen performing on stage at the Porter County Fair in 2014, with a patch of the Florida flag on his guitar strap. Photography by Mary Beth Koeth[/caption]
This banker just happened to put your demo tape in the right hands?
JO
: Yes, and she's still my banker.
It was only a year and a half from the time you moved to Nashville until you put out your first album. That's pretty fast.
JO
: Yeah, I wasn't waiting around. You can get distracted doing a lot of different things and get caught up in the wrong circles with people that are going to tell you they can do this for you, do that for you. I made a point to always surround myself with the right people. I've just kind of stuck with those people, worked hard, and they kind of streamlined me into the big machine of the music business.
Were you one of those guys slogging it out in the honky-tonks?
JO
: No, no. I mean, I put my hard work in, but that's kind of a misconception about Nashville, that you have to be some guy who's been there for 10 years and performed around the Broadway honky-tonks. I moved there because I love music. I looked at it as, I want to be a singer on the road, doing what I'm doing now in Tallahassee but on a larger scale. And the only way I can do that is go to the place where they make that kind of thing happen. When I moved to Nashville that's all I thought about. I didn't think about girls. I wasn't thinking about being famous. I wasn't thinking about money. All I wanted to do was work. The main goal was getting to a place where I could travel around the country and see places I had never seen before and enjoy life. And find a way to have a job that never felt like a job.
RIDING THE BREEZE
Is being a Floridian in country music a challenge? The state isn't typically associated with Southern culture.
JO
: Florida, as we all know, is a melting pot of a state, and where I grew up, I got the best of both worlds. I got to live the ocean life. And then I'd go out west of town in the orange groves, in the agricultural side, where we could get out there and go hunting and fishing and do the things that anybody in any other state that's so-called country is doing. And there's so many great musicians that have come from Florida. Like John Anderson, one of the most awesome honky-tonk singers ever. You know Mel Tillis is from Florida. Tom Petty is from Florida. Lynyrd Skynyrd is from Florida. The Allman Brothers. There's just an amazing well of music. Gary Stewart. From classic country music to rock 'n' roll. So I had a lot of influence growing up in a lot of different ways. [caption id="attachment_9185" align="aligncenter" width="1080"]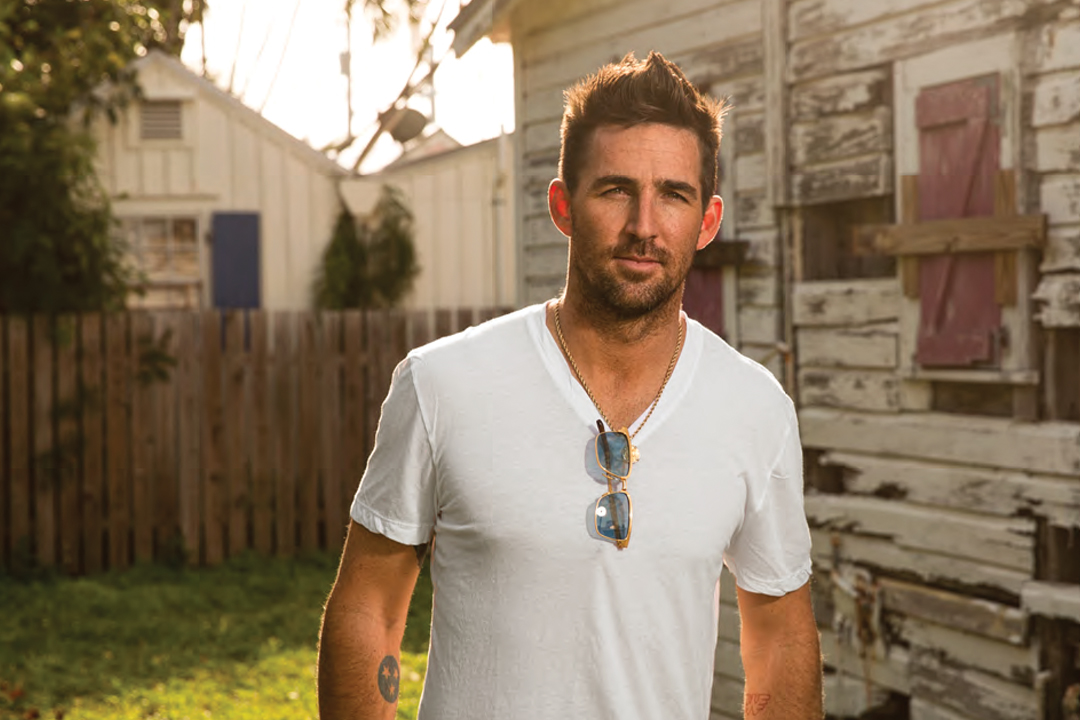 Owen taught himself how to play guitar as a freshman at FSU. Photography by Joseph Llanes[/caption]
What drew you to country music?
JO
: I just always liked country music. I like the stories. I like the way that the fans support it. There's something about country music where people are accessible, and it's a more real, down-home kind of format. Growing up in a family where we're all raised on good morals and values, that's the kind of the thing I like.
Who were some of those early musical influences for you?
JO
: John Anderson, Tom Petty, everything that was on the radio. Alan Jackson, Brooks & Dunn, '90s "rock 'n' roll" music, '80s "rock 'n' roll". I listen to everything. That's a very hard question to answer, but the fact of the matter is, if I only listened to a few, I wouldn't be singing at all.
Was there a moment when you Thought, "This is going to happen"?
JO
: I felt like getting to Nashville was definitely one of the main parts of things taking a turn. There's a lot of people in my life who said, "You mean you're going to drop out of college and just go off your gut feeling that you think you can do this? What happens if you don't? You don't have a college education." My thing was you can always get a college education. You can't always move to Nashville at 22 years old when you don't have any other responsibilities in life.
DAYS OF GOLD
What has been the highlight of your career?
JO
: The highlight of my career is the fact that I can look around me and see a group of guys that have played with me for over 10 years, that have fed their families and made a living playing songs that I wrote, and they're very well taken care of and they take care of me. Then I look at my foundation and how much money we've raised for not only St. Jude Children's Hospital, which is an amazing organization, but all the kids and local charities in my home town of Vero Beach. And that to me is what I look at and think, "Wow, this is what matters." And it's really fulfilling to know that you can chase a dream and that the end result can be giving back to people and organizations I'm passionate about. [caption id="attachment_9186" align="aligncenter" width="1080"]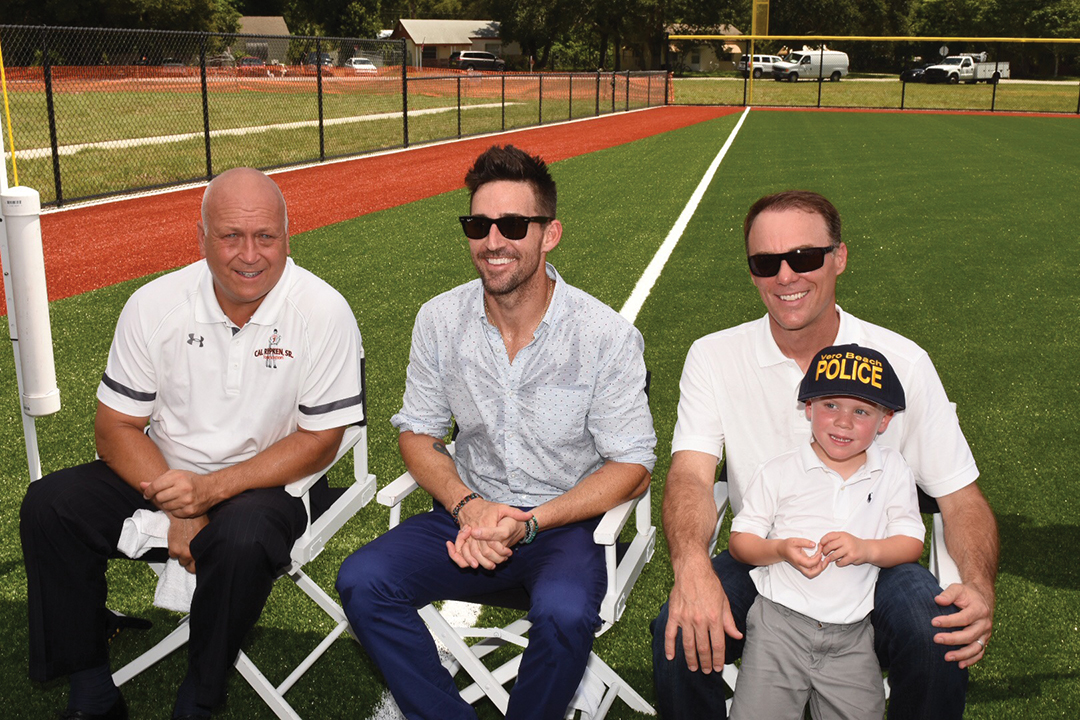 Owen with Cal Ripken Jr. and NASCAR driver Kevin Harvick at the ribbon cutting of Jake Owen Field, which serves the youth of Vero Beach. Photography courtesy of Jake Owen[/caption]
What does the Jake Owen Foundation do?
JO
: When we started this, my whole deal was to be able to help people in ways where people can't help themselves. There's not one particular thing. We're always looking, I'm always listening to people that have things they're going through, and that's when I get on the phone with our board for our foundation and say, "These people really need help. How can we help them?" I definitely have a passion in my heart for children, because I have a child of my own. But we help anybody who is in need, and that's what I'm proud of.
How do you raise money?
JO
: Well, we have incorporated a golf tournament called The Great Free Open. Over the last few years I've brought the No. 1 golfers in the world to the small town of Vero. Jordan Spieth, Jason Day and John Daly came last year. And then we do a big concert and sell lots of tickets, and all the money goes back toward our local foundations. Everything from Autism Speaks. My little nephew is autistic. And then we got Boys & Girls Club, Habitat for Humanity, and then St. Jude Children's Hospital. They take care of everything. They don't charge anyone to come to that hospital. There's no bills. It's all taken care of by people who make donations.
You'll be co-hosting Real Country with Shania Twain this fall. Why did you decide to get involved with a contest show?
JO
: I love finding, helping and developing people who have a passion like I did when I moved here. Waylon Jennings made a famous quote a long time ago that you have to care about the music. If you don't, you shouldn't be doing it. He said it's not about the publicity or the fame or the money. And you better not be doing it just because it's a way to make a living, because that's not always going to be the case. He said you have to believe in it, and you have to believe in the music you're making, and you have to mean it. And I think that says a lot for the people that are going to be on this show, or people that aren't on this show, that are just moving to Nashville or just trying to make it in the music business. You have to believe in what you're doing. You have to believe in the music you're making. [caption id="attachment_9187" align="aligncenter" width="1080"]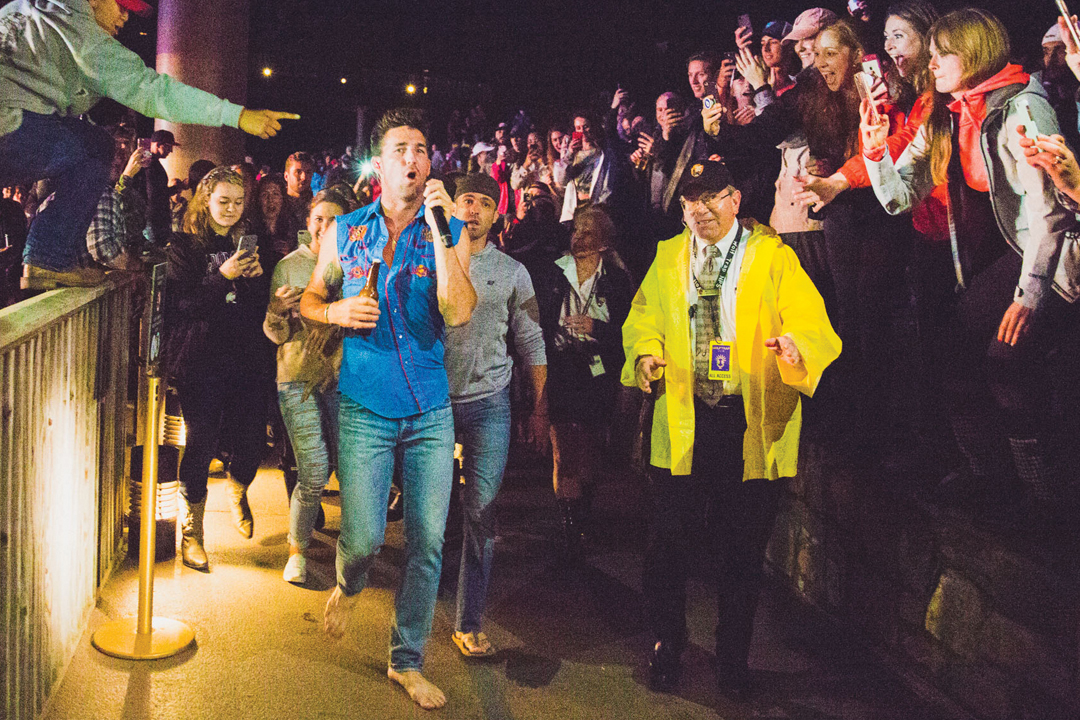 Owen runs through the crowd at a show in Vienna, Va in 2018. Photography courtesy Jake Owen[/caption]
---
BEST OF JAKE
The country crooner shares his hometown spots to kick back and cool off in Vero Beach
Go-to fish tacos?
Best burger?
Fave dive bar?
Waldo's 3150 Ocean Drive
Top Local Beer?
Must-play golf course?
Wake boarding spot?
You know, in the Intracoastal, where I hurt my shoulder.
You're still out flipping tricks?
Wherever there's a boat. Wherever there's water.
---