by

Rob Rushin

|

August 27, 2018
Bringing Back the Funk with P-Funk Legend George Clinton
For 50 years, George Clinton and his super-group Parliament-Funkadelic, aka P-Funk, have reigned as the mother ship of funk music, inspiring contemporary hip-hop artists the world over. For the last 20 years, Clinton has found sobriety and solace living at his home near Tallahassee. With the release of his latest album and a world tour, the 77-year-old proves he can still rock sequins and "tear the roof off the sucker."
[caption id="attachment_9114" align="aligncenter" width="1080"]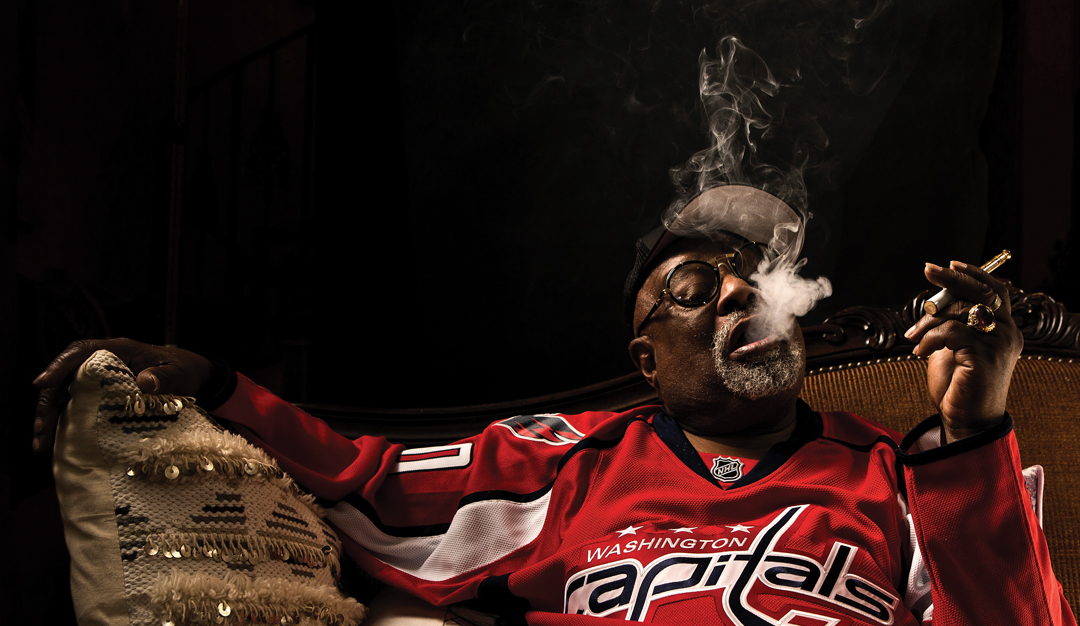 Clinton at his Tallahassee home in June 2018; Photography by Mark Wallheiser[/caption] I am a few miles north of Florida's capital city, driving down a dirt road, well off the main drag. I'm looking for the home of one of American culture's true originals, the one true Dr. Funkenstein, captain of the Mothership and shape shifting Trickster Supreme. George Clinton is a living bridge across seven decades of popular music, from Jersey street-corner singer and staff composer for the pop music machines of the Brill Building to reigning mastermind of
Parliament-Funkadelic
and godfather of hip-hop. Of Clinton's 65 singles, five hit No. 1 on the R&B charts. Some of popular music's most memorable (and highly sampled) songs include Clinton's hits "Tear the Roof Off the Sucker," "Flash Light" and "Atomic Dog." The sound of P-Funk—featured in dozens of movie, television, and video game soundtracks—has deeply influenced several generations of musicians. In 1997, the Parliament-Funkadelic gang joined the Rock & Roll Hall of Fame, inducted by Prince, a close friend and collaborator. In 2014, a replica of the Mothership went on display at the Smithsonian National Museum of African American History and Culture. Conventional wisdom holds that Clinton, along with James Brown and Sly Stone, deserves credit as the creator of modern funk. Too simple to be the whole story, sure. Also: inarguably true. [caption id="attachment_9116" align="aligncenter" width="1080"]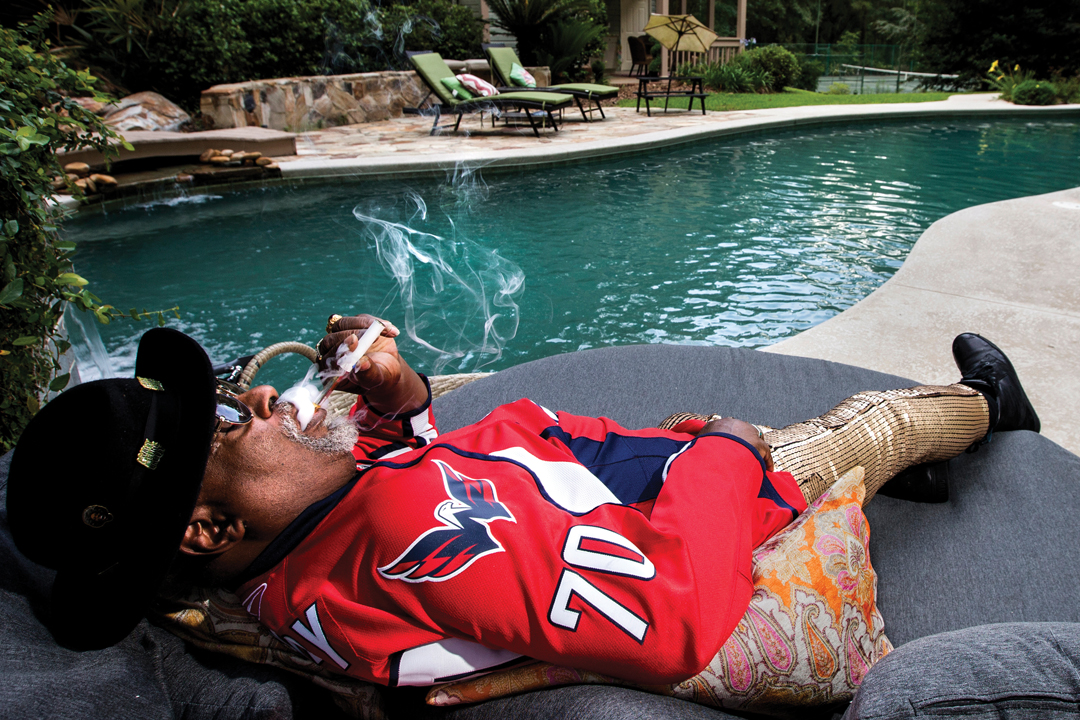 Clinton at home, toking poolside; Photography by Mark Wallheiser[/caption] Now he says it is time for one last tour around the world before he hangs up his traveling shoes in 2019. I finally find the Clinton property by following my ears. An outdoor sound system pumps "Pain Management," a track from
Medicaid Fraud Dogg
, Parliament's latest album. I wander by the fleet of touring vans and cars with "C Funk" and "P-Funk" on the license plates, past the tennis court and swimming pool, and up the path to a seriously huge front door. [caption id="attachment_9118" align="alignright" width="450"]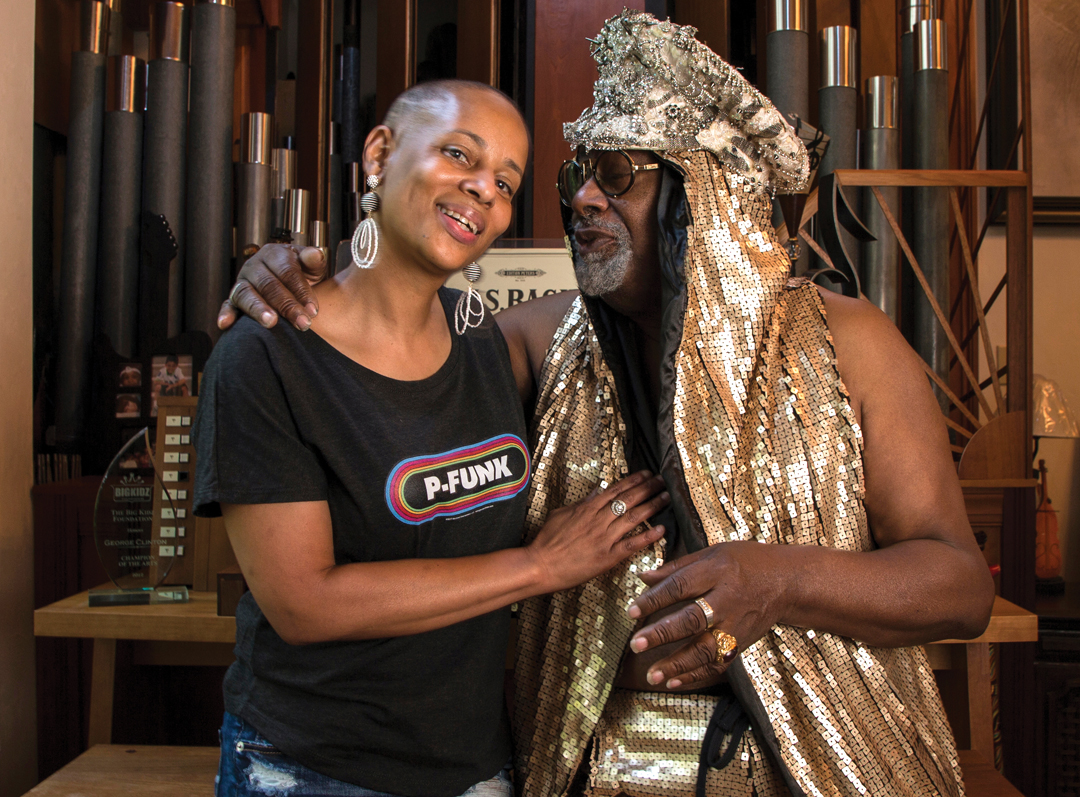 Clinton and his wife Carlon by the pipe organ at their home in Tallahassee. Photography by Mark Wallheiser[/caption] His wife, Carlon, early 50s, who has a closely shorn scalp and is wearing a P-Funk T-shirt and exquisite dangling earrings, greets me with a warm welcome, even after I mistake her for one of George's daughters. She laughs. "I get that all the time. I just look 20 years younger than I am," Carlon says. (A little while later, a woman delivering groceries—right after she realizes she is in the presence of George Oh-My-God Clinton, who gathers her up in a bear hug that pretty much made her day, year and lifetime—makes the same mistake.) She leads me into the living room, where the legend was relaxing in standard Panhandle uniform: flip-flops, shorts, ball cap. But his ultra stylish eyeglasses—round plastic frames rimmed with gold—and Washington Capitals jersey ("I met the team's owner on a train. Turns out he's a big fan," Clinton says) suggest that the man greeting us with a big smile is not your typical Florida man.
THERE'S NOTHING THAT THE PROPER ATTITUDE WON'T RENDER ... FUNKABLE
How the founding father of
One Nation Under a Groove
came to live in a remote and superficially unfunky outpost in North Florida is a rags-to-riches-to-rags-to-redemption tale. In the mid-90s, a serious crack addiction left Clinton with limited options when he hit Tallahassee for a gig. Clinton had lost his family farm in a messy legal dispute with a former business partner. "It was a mess, but I'm not gonna boohoo about it because nobody wants to hear that shit," Clinton says during an expansive conversation at his eight-acre property north of Tallahassee, several miles from his downtown recording studio.
---
Like what you read? Click here to subscribe.
---
After years of renting around the area, they bought this spread five years ago. Massive live oaks blanket the sky. They have dozens of birdhouses, a sizable carp pond, a pool house that serves as George's painting studio and a huge garden. "This is my peace," Carlon remarks as she digs up some large onions and pinches off some fresh mint. [caption id="attachment_9124" align="aligncenter" width="1080"]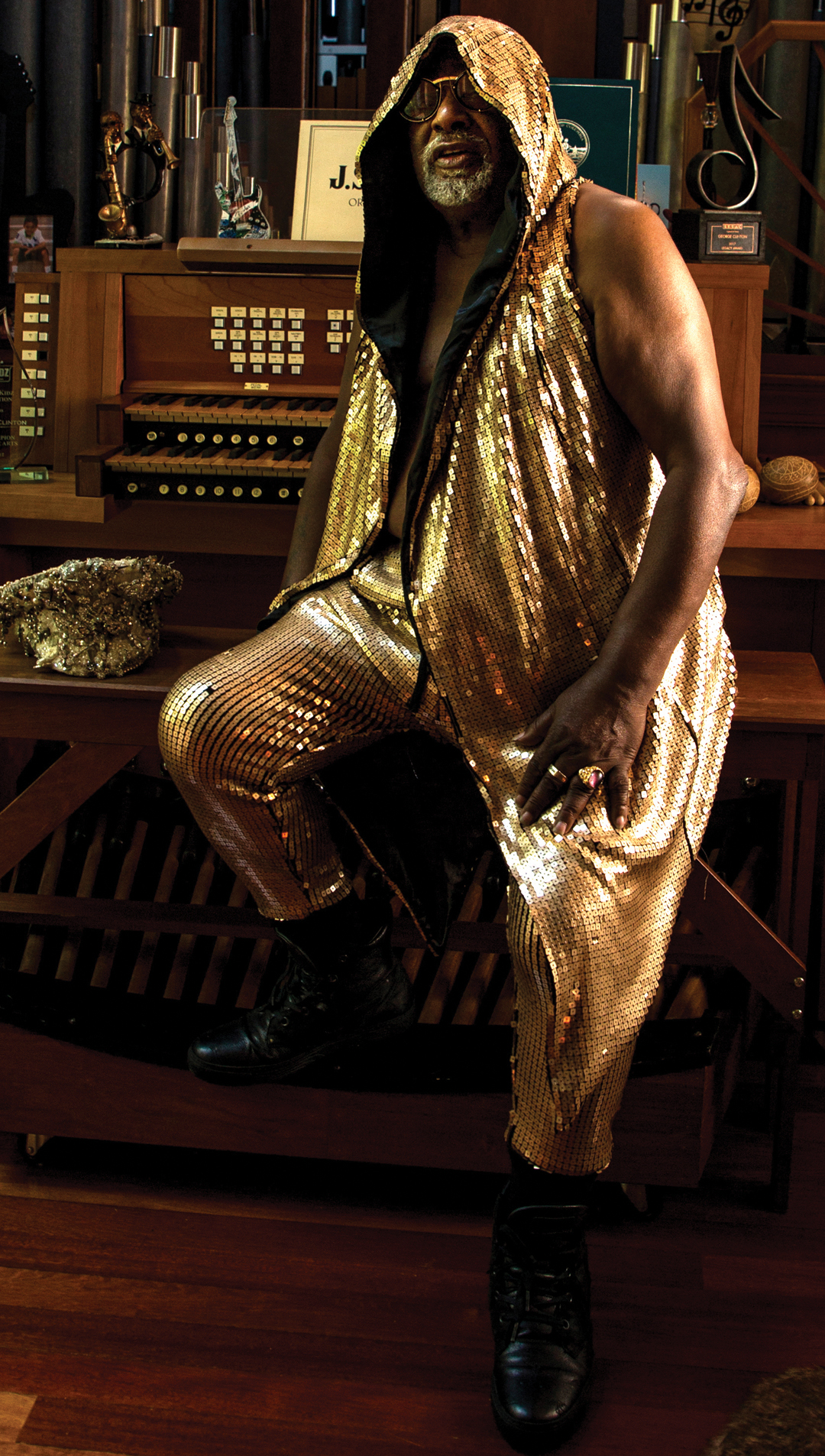 Clinton moved to Tallahassee in the mid-'90s with a serious crack addiction. Photography by Mark Wallheiser[/caption] Carlon explains that she spotted this house and made her husband take a look. He was resistant until he walked into the living room and saw the built-in pipe organ. "I knew I had to live here when I saw that," he says. "Do you play the organ?" I ask. "Man, I don't play shit. Never have. I know what I need to hear, though, and I know how to get players to do it." So many kids and grandkids come and go they call it Camp Clinton. When I inquire about the Wi-Fi password, Carlon hands me a multipage brochure with a Camp Clinton logo. Once they complete their on-site recording studio, this will be a self-contained world apart. "I used to think I had to be up and out, all the time," Clinton muses beneath his personal oak canopy. "But when I got here, I realized I could just sit down and be. I used to stay up 'til dawn. Now I like to go to bed at 8 o'clock and get up at dawn to listen to the birds singing." [caption id="attachment_9130" align="alignright" width="450"]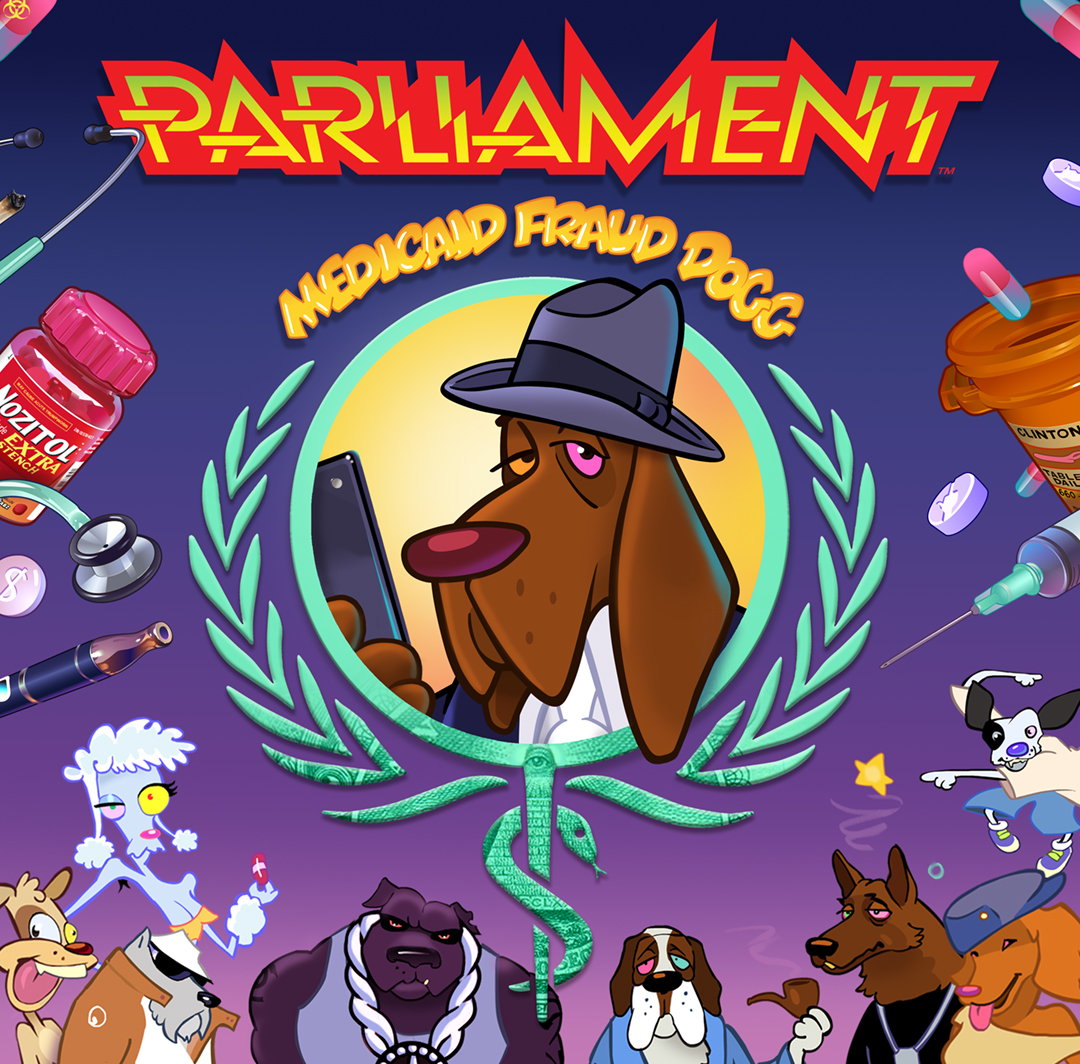 Medicaid Fraud Dogg album by Parliament, released May 2018. Illustration by Overton Loyd[/caption] The situation clearly suits him. In 2014, he dropped the first newly recorded Funkadelic album in 33 years, the 33-song
First Ya Gotta Shake the Gate
. This year brought
Medicaid Fraud Dogg
, a 23-song epic about the disastrous state of health care in an over-medicated society. This fall, Clinton promises another couple dozen tracks under the P-Funk All Stars banner, tentatively titled
One Nation Under Sedation
. All this while taking that planetary victory lap ahead of retirement.
THERE'S A WHOLE LOT OF RHYTHM GOING 'ROUND
Tallahassee gives Clinton access to a deep pool of local talent. Percussionist Michael Bakan, a Florida State University professor of ethnomusicology, got to know Clinton after featuring him as a guest artist at FSU's annual Rainbow Concert. That collaboration peaked with a wild version of "Atomic Dog" arranged for gamelan, a traditional Indonesian music ensemble. It also led to Bakan and a few students cutting tracks for
Medicaid Fraud Dogg
. [caption id="attachment_9136" align="aligncenter" width="1080"]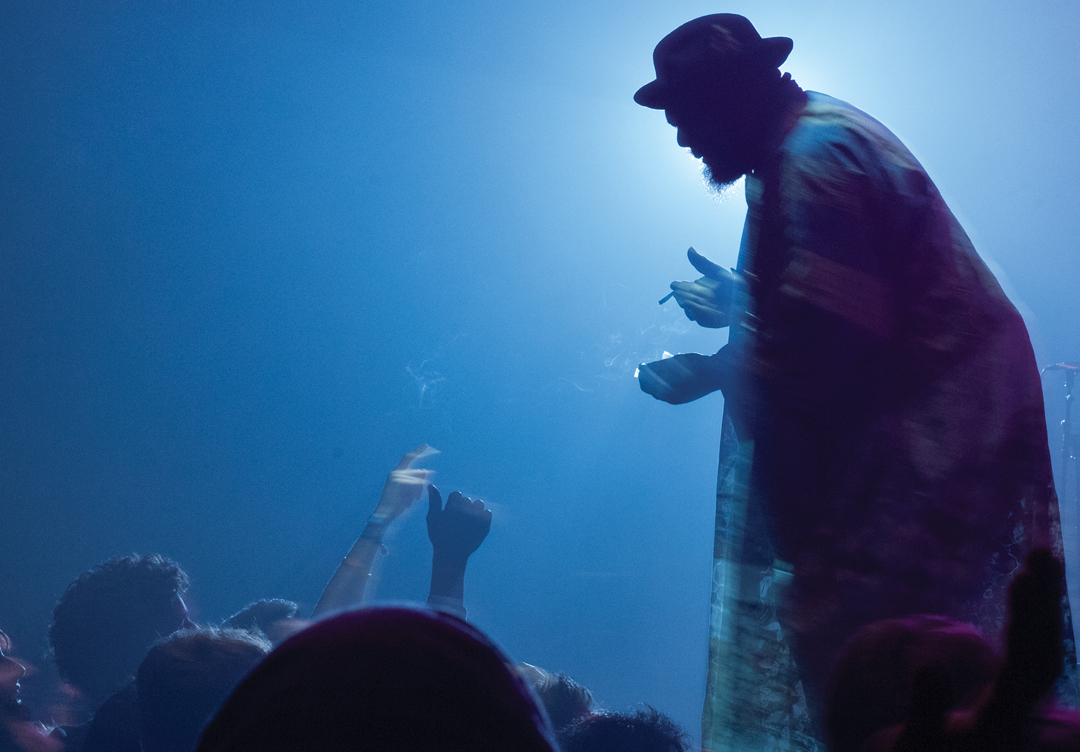 Clinton, on stage, insists P-Funk is about the group, not the individual. Photography by William Thoren[/caption] "It seemed like he wasn't really paying attention, so I figured I'll just try some things out," says Bakan. "He's looking off in space, and suddenly he says,
'That.'
So I start again and he says, 'No, no, no. Wait. Now. Now stop. Now keep going. Stop.' As the day unfolded, I realized that essentially when you're in the studio with George, you're like his hands. But he's not a percussionist, so he doesn't physically have the chops, but he knows exactly what he wants to happen once he's heard it. Once he hears the sound, it's like he immediately has an entire road map of where that sound is going to be." Bakan laughs. "I've worked with [avant-garde composer] John Cage, and the strange thing is that you would think there couldn't be two more different kinds of musical artists than John Cage and George Clinton. But that's the closest I've ever experienced." Along with the abundant local talent, Clinton holds longtime P-Funk family close, guys like bassist Lige Curry and Dewayne "Blackbyrd" McKnight—a genuine guitar hero in the mold of P-Funk legend Eddie Hazel. Clinton says they keep the original
Mothership Connection
alive and vital. Drummer Benzel Cowan, son of longtime P-Funk trumpeter Bennie Cowan, was dandled on the knee of Bootsy Collins as an infant, a man born to funk. People who come into George's orbit tend to stay there. Case in point: As we wander the property, George points at the house. "See that apartment there? Overton lives there. He's still living with us." [caption id="attachment_9139" align="alignright" width="450"]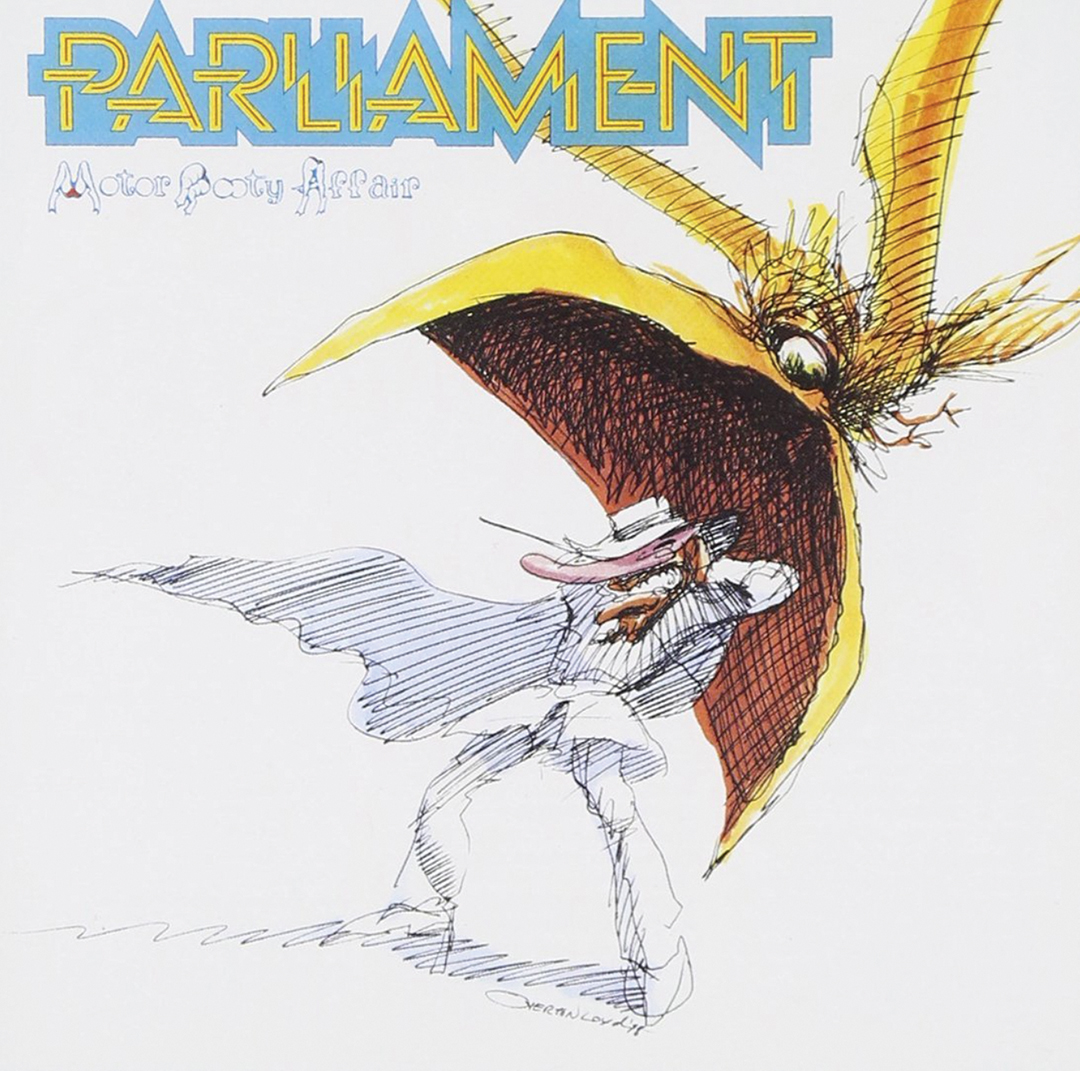 Motor Booty Affair album cover; Illustration by Overton Loyd[/caption] Overton Loyd created the comic book insert, depicting the eternal battle between Sir Nose D'Voidoffunk and Star Child, for
Funkentelechy
vs. the
Placebo Syndrome
. He also designed the cover for
Motor Booty Affair
, the "Atomic Dog" video, and the artwork for
Medicaid Fraud Dogg
. "P-Funk is a family thing," Clinton says, not for the first or last time during our afternoon together. Camp Clinton's secret weapon is Carlon, a savvy administrator, promoter and self-taught legal eagle who makes sure that Clinton's visitors enjoy the finest hospitality. They met at a concert in the '80s. Later on, Clinton needed some help sorting out contract entanglements, and the two fell in love over legal documents. "You can't spend time with George and not fall in love with him," she says like a love-struck schoolgirl. So George fell in love with his lawyer? "No, I'm not a lawyer. But I taught myself how to be one, and we won that case in LA court, too. Still kicking that guy's ass," she said with a laugh.
"I'M STILL HARD AS STEEL"
Friends, inquisitive friends Are asking what's come over me
These opening lines from Parliament's first hit, 1967's "(I Wanna) Testify," about a man transformed by love, resonate with George Clinton in 2018. After a lifetime of elaborate theatrics and ferocious mountains of sound, the man I visit seems at peace with himself and his legacy, surrounded by family and nature. Yet even as Clinton prepares to leave touring to the next generations, he plans to work the studio "hard as steel. Started hard as steel, and I'm still hard as steel." [caption id="attachment_9143" align="aligncenter" width="1080"]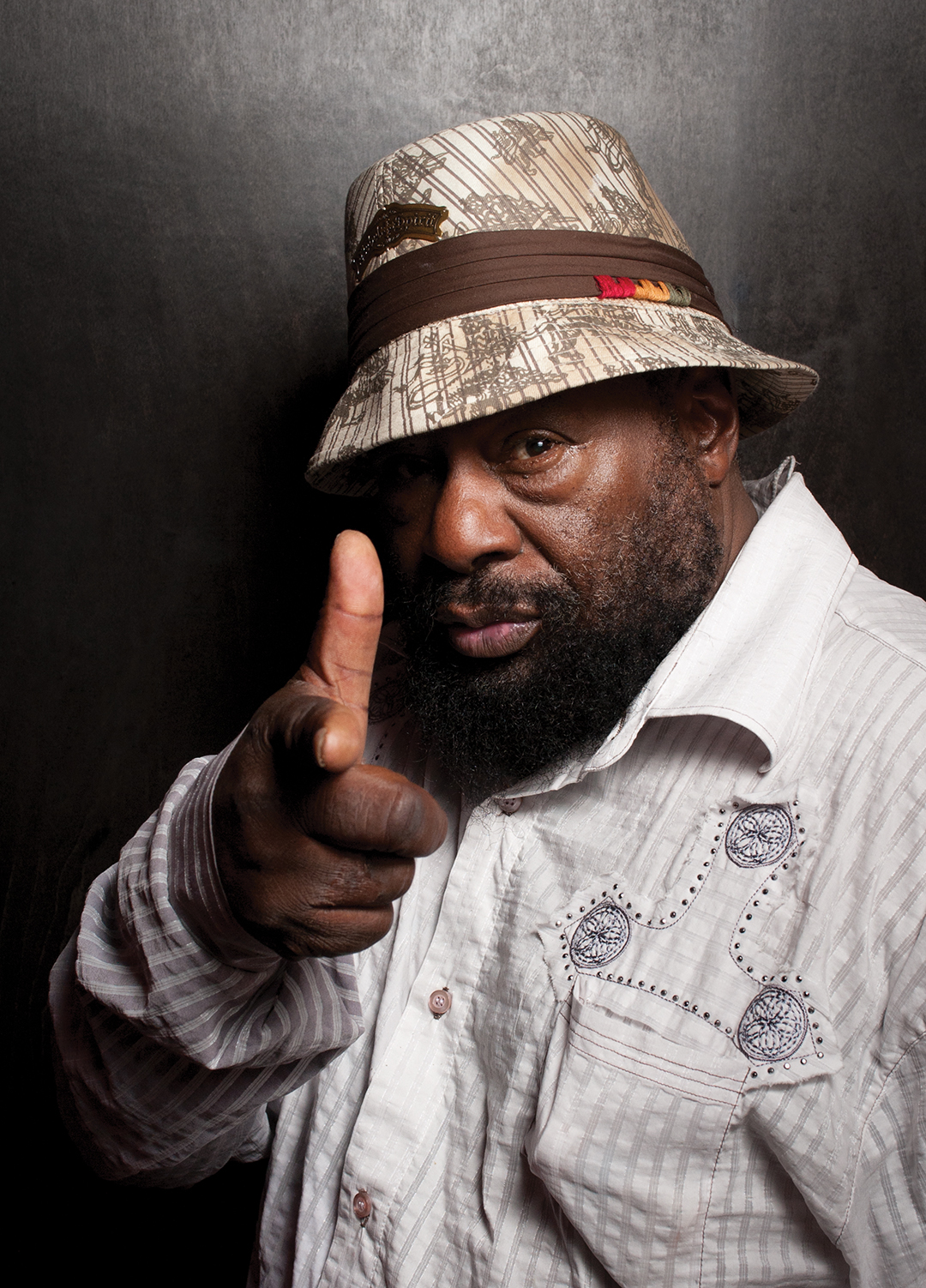 Earlier this year, Clinton released his latest album, Medicaid Fraud Dogg, calling out big pharmaceutical companies and the prescription drug addiction gripping America. Photography by William Thoren[/caption] And still sharp as a razor. He is a mesmerizing storyteller with an astonishing recall of detail. For example, shortly after "Testify" hit the charts, it became clear that the music world—hell, the whole damned world—was changing. George knew he needed to change with it. "I'm just thinking about this today. I went and saw
Fantasia
and 2001 at the same time. 1968. You know, you're talking about Disney's animated visual concepts showing primordial ooze with classical music, and then you got 2001, Arthur C. Clarke, you know, past the primordial and out the other end into that star baby." So that's where the whole Mothership idea comes from? "I got a whole bunch of other stuff too, you know. I must have just got loaded with all the information to whatever was going on through that period of time." [caption id="attachment_9146" align="alignright" width="450"]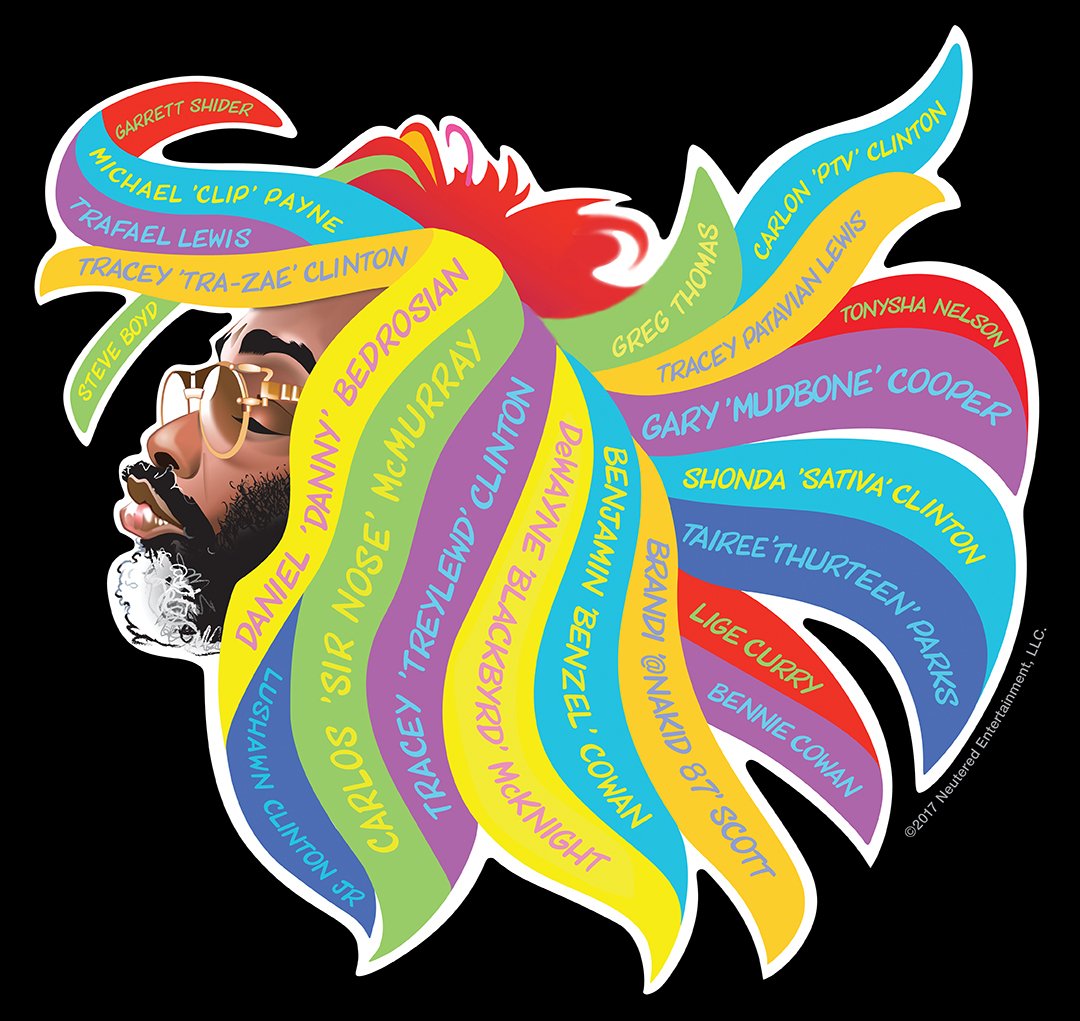 Overton Loyd's Hair Band illustration lists the members of P-Funk in George's iconic dreadlocks. Illustration by Overton Loyd[/caption] Clinton has always been a cultural omnivore. Our conversation covers Smokey Robinson,
Star Trek
, Jimi Hendrix, Iron Butterfly,
Blade Runner
,
Chariot of the Gods
, King Crimson, Frank Zappa and the Art Ensemble of Chicago, whom he calls "the P-Funk of jazz." And Kanye West. Asked whether Kanye might be turning into the funkless seducer described in his song "Sir Nose D'Voidoffunk," Clinton laughs, a beautiful chortle rising from his belly. "That's the best way to say it. Sir Nose, yeah. His nose is definitely kind of growing," he says. "He's going to have to watch his nose, going to have to check his nose out." We talk about Clinton's fellow astral traveler Sun Ra, the legendary pianist and leader of the band the Solar Myth Omniverse Arkestra. When they met in the '80s, Clinton realized they were basically up to the same thing. "They were doing what we do—the costumes, the space travel—just doing it in jazz. It's beautiful." Reminded of their shared background in doo-wop, Clinton flips through his encyclopedic mind that fires his musical imagination. "Yeah, he was in Chicago then. Those harmonies he was after were deep. Nobody was doing that kind of thing except maybe Smokey. We were all singing unisons, nothing like that." [caption id="attachment_9149" align="aligncenter" width="1080"]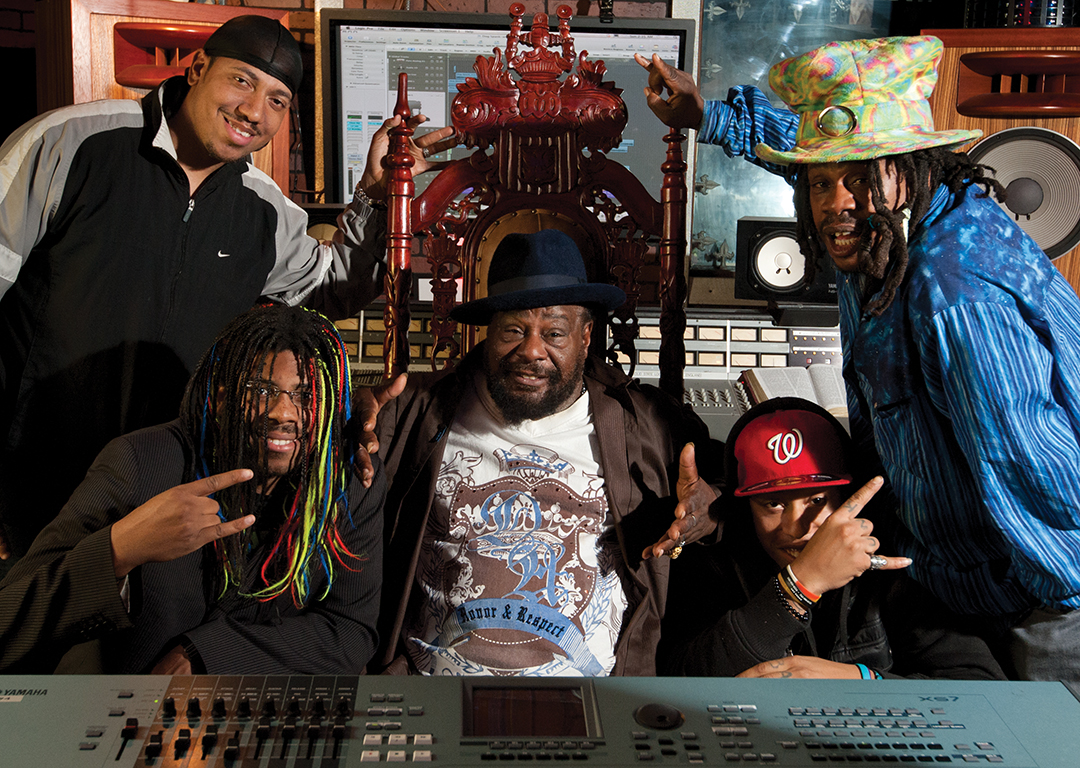 Clinton in the studio with family and friends; Photography by William Thoren[/caption] Younger Clintons keep him up to date on new trends and talent, leading him to collaborations with the likes of Scarface, Thundercat, and Kendrick Lamar, whose album
Damn
was awarded the 2018 Pulitzer Prize for music. George also collaborated on Lamar's 2015 album,
To Pimp a Butterfly
, which earned Lamar the Grammy Award for best rap album. "I was telling Kendrick jazz was going to be the next thing in hip-hop, not knowing that his record was all in that. I don't know if he already had it like that, but there's lots of jazz in his ammo. I use a lot of that flavor on
Medicaid Fraud Dogg
. "You know that kind of music gives it an elevation. It's still hip-hop, still storytelling, but he actually had some arrangement. You can't just call it making beats, you know, just making a beat on the computer. That shit had to be written. Somebody went to school for a lot of that stuff he's putting down. You didn't get that from no Casio." Meanwhile, Carlon begins livestreaming Clinton on Periscope, while Clinton sits at the pipe organ, sporting a stunning sequin ensemble, singing along with Sinatra in some funky ba da bing.
That's the beginning—just one of the clues You've had your first lesson in learnin' the blues
IS THERE LIFE AFTER FUNK?
In his memoir, Clinton writes that, "Getting high laid me low. I'm not especially judgmental about drugs, but I can't ignore the fact that they interfered with my ability to do what needed to be done." [caption id="attachment_9152" align="aligncenter" width="1080"]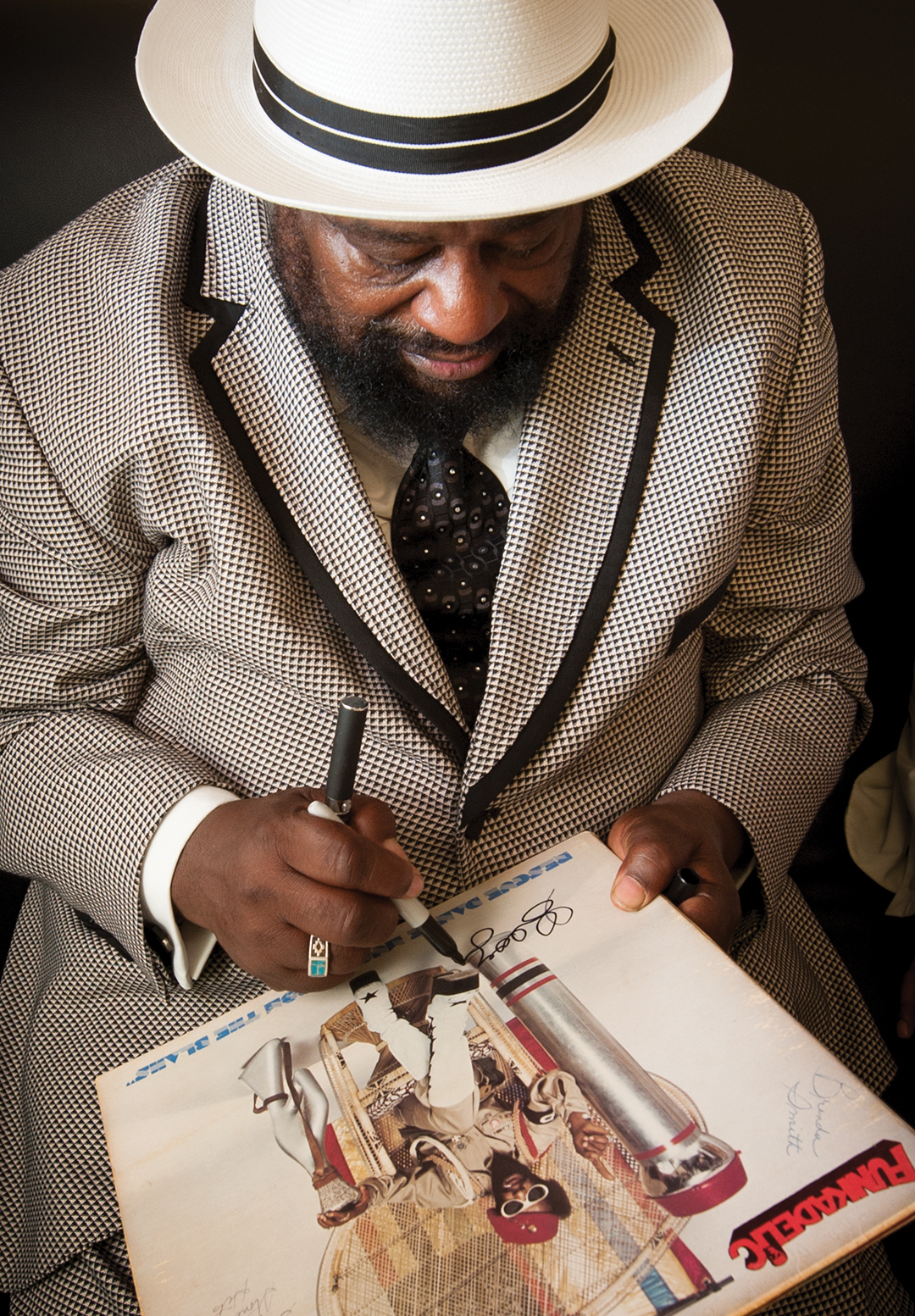 Clinton's songs are among the most sampled of all time. Photography by William Thoren[/caption] Beyond all the humor on
Medicaid Fraud Dogg
, Clinton is dead serious about the themes behind the new album. Looking at addiction through the lens of someone who knows, he compares Big Pharma to street dealers. "Drugs are really more dangerous now," he says. "I quit, but I can still see all the people my age walking around, you know, that same dazed look like it was street drugs. And most of them got prescriptions. Now it's legal. So the pharmaceutical companies, same as though it was still street drugs, they get people hooked on stuff, but now they got a legal way of doing it with prescriptions and stuff, people don't have a chance. If you stop taking them, you're in trouble. So they get a captive audience and they can advertise that shit on the radio and TV and internet. They give you the cure for the pill they gave you for something else and that happens three or four times before you realize you taking meds for other meds." Clinton's 29-year crack addiction nearly killed him. Hospitalized in 2011, he kicked his habit. Aside from medical marijuana, Clinton takes no drugs at all. "I'm glad I got out of it," he explains. "I still had enough energy and inspiration to write all this. That was my energy for fighting harder again, along with my life, you know, family and everything. It was fun just building up the energy to get going again." At age 77, he remains a vital force, his imprint on rock, funk, soul and certain gauzy corners of jazz as extensive as any artist of his time. Aside from being among the most frequently sampled songs, the P-Funk melange also spawned a mythology that established both the recognizable tenets of Afrofuturism and a philosophical ethos that boils down to a bold declaration of psychophysical liberation: "Free your mind, and your ass will follow." While P-Funk's indisputable creative peak remains their string of roughly two dozen '70s masterpieces, the recent material is lighting up a new, international generation of listeners.
First Ya Gotta Shake the Gate
has been streamed or downloaded 2.5 million times since its 2014 release.
Medicaid Fraud Dogg
drew about half a million streams and downloads in its first month of release. Clinton maintains a relentless touring schedule: A week after our visit, he embarked for Europe, Scandinavia, Iceland and the British Isles. This year he and the band will barnstorm the States and take a trip to Japan. More important, with trusted family handling both creative and administrative duties—playing and singing, running the office and keeping a steady stream of treats coming off the grill—P-Funk can keep funking after Clinton is gone, much like the Ellington and Basie organizations have kept those torches burning. If we—and they—are lucky, our kids' grandkids will be shouting "Make my funk the P-Funk" while fourth- and fifth-generation Clintons navigate the Mothership. Then again, King Lear had only three daughters, and that situation got pretty messy. Over 60 years, George Clinton emerged as keeper of the funk and one of the most recognizable frontmen in pop music. So what about succession? Who will fill Dr. Funkenstein's shoes? [caption id="attachment_9153" align="aligncenter" width="1080"]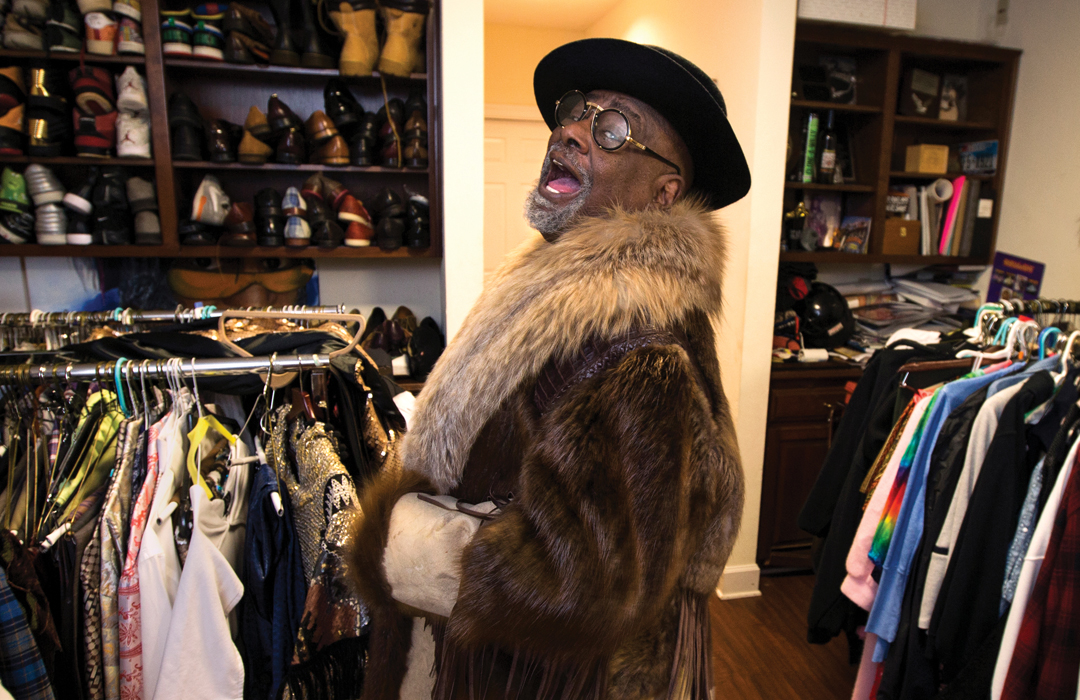 Clinton, known for his outrageous wardrobe, has an entire room at home dedicated to clothing, shoes and accessories. Photography by Mark Wallheiser[/caption] "They all know they're doing it as a group, and the group has been set up to function as a
group
," Clinton says over a feast of steaks, ribs and garden-fresh vegetables poolside. "They'll find the focal point. They can figure out how they want to keep it going forward because the group is the group. Long as they don't get it twisted and think it is them individually, don't let those trivial things that usually get in the way of groups. … Some of those excuses be good as hell, but you ain't really thinking about the big picture." Clinton passes the baton with a clear mandate: Maintain the funk, the whole funk and nothing but the funk. "Ain't nothing better than when that music is coming together on stage. There is comradery you developed, whether you know it or not. Despite the bullshit, that tightness you got supersedes everything," he says. But what will George do when he leaves that life behind? "Man, I'ma go fishing, like every day. And I'm gonna write another book. I'm thinking about calling it
Stupid Shit I Did on Drugs
. I'll get all my friends to tell me about all the stupid stuff we did and collect it all in a book." He laughs again, that same up-from-the-roots-of-his-soul laugh we have been digging all afternoon. He might be serious. Maybe. You never know until that funk comes down.
Fantasy is reality in the world today I'll keep hanging in there That's the only way
—"Fantasy is Reality," Parliament, 1977